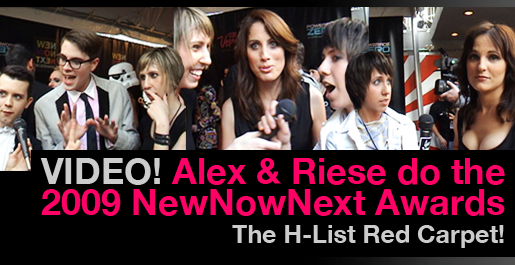 At last we have wrung every last drop of material out of Logo's Second Annual NewNowNext Awards. Well, not necessarily. There's always the possibility of a behind-the-scenes B-roll tape!
Soooo … check us out on the red carpet interviewing The Big Gay Sketch Show's Kate McKinnon & Nicol Paone, comic Erin Foley, girlfriends hot model Jessica Clark & trainer Lacey Stone, Jeffery & Cole (The Very Good Looking Gay Boys), Del Marquis of The Scissor Sisters, the world-famous Alexi Melvin of Alexi's Closet, Ongina from RuPaul's Drag Race and The Paradiso Girls, who sing a lovely song about getting a girl drunk so Lil' Jon can take advantage of her while she throws up.  You will also witness brief, flashing moments of our total professionalism and skills with interviewing people about nonsense!
We present the full cut — all ten lovely minutes — of the NewNowNext Awards Red Carpet starring Riese and Alex (sidenote, as of 3:30 PM EST, it was still processing, so it might not be at full quality quite yet):
This illustrious homosexual ceremony, hosted by A;ex's Number One Feeling RuPaul, will air on gay-channel Logo on June 13th.