Today on Autostraddle: As Autostraddle grows, we hope to feature a lot of good personal essay style stuff happening here 'cause it's hard to find that kind of stuff for lezzes. For now! Here's one! Crystal does Sydney: Snatches & Sly Foxes. Andddd Carly is your Wednesday Televisionary!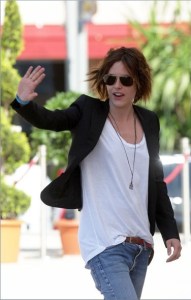 + Greenwich, Connecticut is the new hotspot for New York-based gays looking to get hitched. (@nytimes)
+ Katherine Moennig (SHANE) spends another relaxing vaycay with Mama Chaiken at the Monte Carlo TV Festival. Photos suggest she left the hotel several times, was in full costume. (@variety, etc.)
+ Also seen exiting a building: Lindsay Lohan, exiting Samantha Ronson's place as she so often does now that they are totes back together! (@celeb gossip)
+ There's a gay couple up for US Weekly's Dream Wedding Contest vote for them right now to make up for all the other contests we have lost, like Prop 8 and American Idol. (@usweekly)
+ I know I said I'd never talk about Miss California again. But then Miss California, Carrie Prejean gets shitcanned. (@foxnews)
+ David Archuleta comments on Adam Lambert's coming out: or rather, reporter aggressively attempts to make David stop talking about music, start talking about Adam's sexuality. (@ohnotheydidnt)
+ Jezebel: Susan Orlean Asks, Is Writing Harder For Women? And I relate.

It's still much more acceptable for a man to put his personal life on hold for work than for a woman to do the same. I've had a lot of conversations with other writers about this, and women almost always report feeling guilty for placing work above relationships — not just with kids, but also with friends, parents, significant others, etc. Anna H. says that when working on her book many years ago, she "had to TELL people that I would not be calling, emailing, socializing for 7 months, and, even though I was upfront about it, I still felt very guilty." Male writers I've talked to, in contrast, sometimes view social life as an imposition, and rejecting it as an almost moral act, a la Thoreau.
+ Kathy Griffin on David Letterman:
+ Lesbian couple, kids denied family rate at pool: The Lava Hot Springs State Foundation says the five don't fit the definition of a family. (@foxnews)
+ Could Republicans Make New York the 7th State for Gay Marriage?: Gay Democratic Senator Thomas Duane is reportedly furious with his fellow Dems for refusing to pass marriage legislation, may join the other party, giving more support to the ouster of Sen. Malcolm Smith as majority leader (and giving Republican Sen. Dean Skelos the post).(@queerty)
+ Intern Jess: "I guess we should start stocking up on booze, antacids, and weed. @IleneChaiken tweeted for the first time today. It read: Just sitting down to start writing The L Word movie."
Riese: Oh that's so cute! That IS the way that we live! Stars ARE just like us — they too spend way too much time working on projects that will never sell!!! Also — is that really Ilene Chaiken? I doubt it.

+ I wish they'd done this in college, it would've made things less confusing –  Women inmates segregated for looking gay: For more than a year, Virginia's largest women's prison rounded up inmates who had loose-fitting clothes, short hair or otherwise masculine looks, sending them to a unit officers derisively dubbed the "butch wing,wp_postsprisoners and guards say. (@ap)
+ In American Primitive, Gwen Wynne seeks to understand the place of family and same-sex relationships in our culture by fictionalizing the situation she found herself in as a child in the 70s when her mother died and another man moved in with her father:

Auto-Straddler of the Day – A Classic:

from Intern Jess: I think the creativity gods just exploded… Lady Gaga touring with Kanye West. Word has it they will be performing together as one long set.
+

from Carly: I've recently started taking my lunch to work everyday and I recently found this adorable laptop lunchbox. It's bento-style and totally cute. I might have to consider getting one of these.