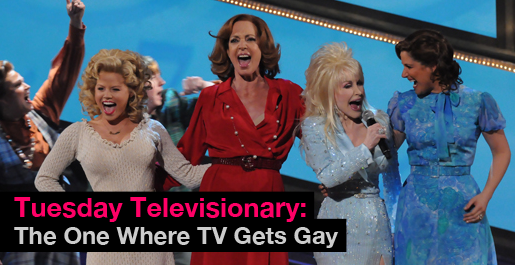 Hello babies. Lots to talk about today, so let's get to it!
First off, we have BREAKING NEWS: Sam and Lindsay are possibly back together. Ok that is all. Oh and Adam Lambert is gay, in case you didn't know that.
Intern Nicole has alerted me to the Advocate's interview with Grey's Anatomy's Dr. Bailey, Chandra Wilson. She talks briefly about the lesbian storylines on the show, and also she's one of the best actors and characters on Grey's so indulging in this interview is totally allowed. Thanks, Nicole!
Also, and this is mostly because Riese's favorite show is Intervention, Hulu has the entire first season of Intervention streaming online. Go get your fix! Also, casting news: Katee Sackhoff will be on 24 next season as a data analyst (hmm) who dates Freddie Prinze Jr.'s character (what?!) but has a dark secret (oooh!); Evan Rachel Wood will be on True Blood playing a lesbian vampire queen; and as Riese already reported, Claire might be getting a lesbian buddy on Heroes.
Finally, I have discovered my summer drink. This is really key, I can never drink my winter drinks in the summer. A bit off-topic, but what are your summer drinks? My former summer drink was pear vodka, sprite, and pineapple juice, if you're looking for something fruity. But I digress…
You might have noticed that this post contains Monday shows (as in last night), and that's something new I'm going to be doing. I want to be as up-to-date as possible with these columns, so when it goes up on Tuesday now it'll contain Monday night's recaps as well (I mean, I'll try).
Anyway, without further ado…
The Carlytron TV Awards for the Week Ending on 6/08/09
The Gayest Thing I Have Ever Seen Award

The Tony Awards aired on Sunday night, and not only were they the gayest thing on TV all week, they were probably the gayest thing on TV ever. Probably gayer than last year's Tony Awards. Host Neil Patrick Harris (my TV boyfriend) was awesome and adorable, the Billy Elliot kids were adorable, and Hair was awesome (if you're in New York go see it, you will not be sorry). The gayest part was obvs the opening number, wherein there were a great deal of sound issues, Bret Michaels broke his nose, and the finale included the casts of like 8 musicals singing "Let The Sun Shine In" along with Liza Minelli, Elton John, and Dolly Parton. That's the gayest thing ever, even on paper, but you should just see for yourself:
The 'I Can't Believe This Happened' Award
Umm, did you guys catch Obsessed last week? Man, I thought the premiere was intense, but this one blew it away! The official description lists the episode as such:
Nicole has an incredibly unique type of obsession that keeps her from being able to enjoy time with her mother and brother.  If their hands aren't the way she wants them to be, she has a panic attack. And when her mother says any word with a "K" sound, Nicole has to make a strange noise with her throat. Meanwhile, Trina has constant  violent thoughts that torment her, such as "Could I  hurt my best friend?" and "What if I  harmed that man?" These horrible thoughts pop into her head with such consistency that she's begun to believe they could come true. Nicole and Trina hope that cognitive behavioral therapy can help them deal with their problems.

Gripping, right? It was amazing. Trina's exposure was holding an actual knife to her therapist's throat. Her therapist knew that Trina wasn't capable of murder and that it would be fine, but it was VERY UNSETTLING to watch. Then she took her to a gun range and after firing off a few rounds she was all cured! Nicole was doing a lot better by the episode's end but still had a lot of work to do. I can't tell if this show is making my OCD better or worse. The new episode aired last night but with all the Weeds, etc. excitement I just couldn't get to it.
The Awesome New Show Award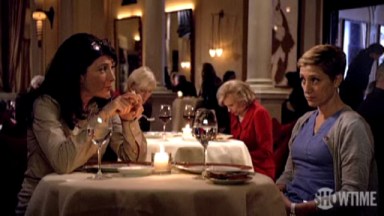 Nurse Jackie premiered last night on Showtime and I think I liked it! I mean, I know I liked it. I think it'll be a good show. I'm definitely going to keep watching. Edie Falco is great as Jackie, a nurse in NYC with a painkiller addiction and a lot of moral gray areas. In the pilot she trades pills for sex, has an affair, forges a driver's license so that a recently deceased patient becomes an organ donor, steals money and UGG boots, and saves a woman choking in a restaurant. Peter Faccinelli, as always, plays a douche bag. Eve Best, who I looooove (she was amazing in The Homecoming on Broadway) plays another doctor, and there are two other nurses, a gay boy and a sorta mousey girl, who are great as well. Well-written, well-acted, and did anyone else sense a little lesbian tension between Jackie and Best's character? No? Just me? All right then. Probably just projecting.
The Funniest Thing I [Probably] Saw All Week Award
My Life on the D List premiered its new season last night, and Kathy got to perform with Bette Midler! I love Kathy Griffin; I think people either love her or hate her but I'm a fan. Confession time: I haven't actually had a chance to watch this yet. Um. But! I know that it'll be the funniest thing I saw all week.
The 'A Former L Word Cast Member Was On TV' Award
Leisha Hailey had a small role on the Lifetime made for television EVENT Maneater, sponsored by Vasoline. I refused to watch it but my darling roommate Matthew did, so here he is to tell you about it:
I love Sarah Chalke. Who doesn't? But I had some reservations about her starring role in "Maneater: a Lifetime Summer Event presented by Vaseline Aloe Fresh". Yes, the blatant integrated marketing was somewhat nauseating… bottles of Vaseline make several cameo appearances. My dry skin appreciates the sentiments though.

To my surprise, the made-for-TV movie was not that bad… and it has a pretty amazing cast, including my second favorite yogurt spokeswoman (after Jaime Lee Curtis), Leisha Hailey. Alice, er… I mean Leisha plays a frumpy bleeding heart liberal who works at a shelter fordown-on-their-luck women (of course), who moves in with down-on-her-luck Sarah Chalke and helps her grow a heart of gold. Judy Greer (Kitty Sanchez from Arrested Development) plays one of Sarah Chalke's clueless L.A. socialite friends. Hilarity ensues.
The FINALLY Award
Finally, So You Think You Can Dance got through the multi-city, multi-episode auditions and got to Vegas week. Though, to be honest, I could have skipped about 3 hours of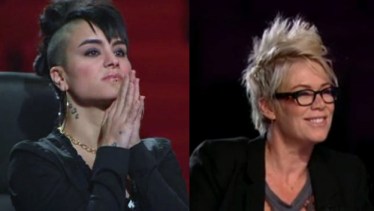 content and been all right, but whatever, it's still better than last season's 8 million hours of stupid audition footage. They narrowed the field down to the Top 20 who will begin competing this Wednesday night. I love this show for so many reasons: cute talented kids dancing like crazy, ridiculous judges' reactions (HOT TAMALE TRAAAAAAAAIN), and wild lesbian hair. Mia Michaels and Sonya Tayeh — two of the choreographers/judges on SYTYCD and sick-talented contemporary dancers in their own rights — both have like, the dykiest haircuts ever. I love it. They're also hot and talented and somewhat crazy-seeming. Mia was really mean to everyone and Sonya got really emotional, which is pretty average for both of them. I look forward to seeing the competition get underway this week!
The Hot Girl of the Week Award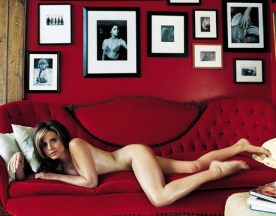 I am so happy that Weeds is back on so I can finally give Mary-Louise Parker the Hot Girl of the Week Award!
Quick background: I love this show.
I've been a fan since the first season and while I'll admit that last season got a little dark, I still loved every minute of it. I am always amazed at how Weeds can go from hilarious to poignant to terrifying to heartwarming in a matter of minutes. It's extremely well-written, well-directed, well-acted, well… you get the idea. Anyway, I love love love Mary-Louise Parker. I even sat through the recent stage production of Hedda Gabler just to see her in person! She's one of my favorite actresses and is suuuuper hot (and is often naked on the show).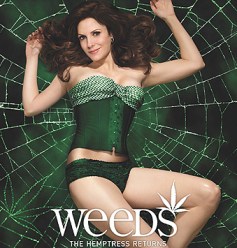 In last night's 5th season premiere, we are treated to Nancy's terrifying and abusive boyfriend forcing her to go to a doctor of his choosing to make sure that she's actually pregnant with her baby, Nancy sends Shane off to live with her sister (this is totally Alanis Morisette right? Or is it Jennifer Jason Leigh? They're both guest-starring! Yay!!), and — hilariously — no one wants to pay the ransom to save Celia. This show always manages to balance feeling hopeful and bleak in a way that always keeps you guessing. I'm excited to see where this season goes, I can't believe it's the 5th one already! Also interesting, Shane and Isabelle have grown up right before our eyes! They look so much older than they did last summer, wow!
The Hot Crazy Mess of the Week Award
As per ushe, this goes to the Real Housewives of New Jersey. This week, Dina got exceedingly emotional about her daughter going abroad, there were weird dance lessons and (drumroll please) the truth! About! Danielle's shocking past! Finally! Came out! It was sorta anticlimactic, having already read the Gawker piece and knowing what the book was all about, but the girls' reactions were really funny. They were all like "omg we can never be friends with her now" which seems weird, because if one of my friends was a former crack whore I'd be ALL ABOUT being their friend. But, diff'rent strokes. Even more priceless than that was Danielle's reaction to their bitchery, which involved an over-the-top conversation with her Best Gay:
Tron out!
[ad#postads]