Shamikah Martinez is founder of the all ladies comedy troupe Candy Slice Comedy, Upright Citizens Brigade performer, improviser, and YouTube personality. The New York based comedian is half of the EmotiStyle duo whose tag line is, "If you're going to wear your feelings, they should look good." That seems relevant to your life.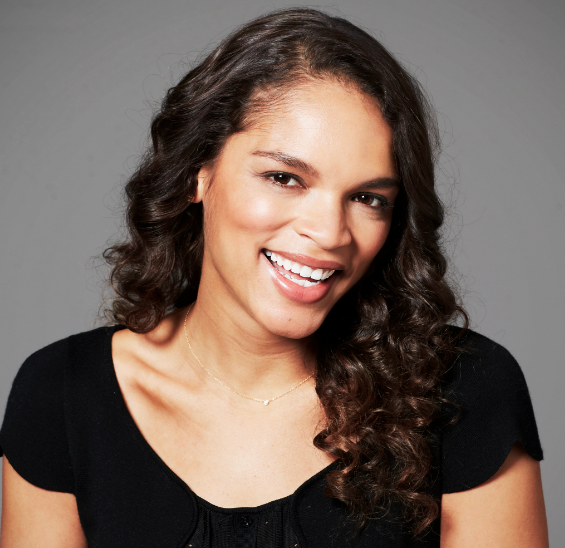 A music video you produced for Fall Out Boy was nominated for a VMA and you got to attend the award show which is so dope! What was the most exciting part of the night?
Thank you! First off, having our work nominated and getting to go to the VMA's was a serious explosion of excitement in itself. BUT I have to say what tipped it over the edge is when Justin Timberlake and I locked eyes (I'm 76% sure he was looking in my general direction). We were sitting to his right when he was performing on the keyboard and he looked right over like, "come on put your hands up!" and my hands went right up. Plus I squealed when N'Sync came out. I don't care. I'll admit that.
Who do you think are some of the best dressed television characters?
This is a hard one. I almost never like what TV characters are wearing lately. Doesn't it seem like a lot of them are dressed like a Sears catalogue? (Sorry Sears.) Oh wait, I do love Joan's outfits on Mad Men. And Jessa on Girls. And I like that Louis C.K. always has that black t-shirt thing going. Like, "This is what I am comfortable and the most ME in"–so in a sense he is best dressed (for himself). This isn't totally TV related but my red carpet fashion crush right now is Lupita Nyong'o. I ADORE EVERYTHING SHE PUTS ON HER BODY.
Do you have a favorite live sketch/improv look (outfit-wise) and what makes it fitting for that?
FLAT SHOES! I don't have a favorite look other than that. I hate the way super high heels feel. It's like foot jail. I love a good flat shoe, Keds, biker boots, or Doc Martens. This is both for life and for performing.
I know you do twoprov with your EmotiStyle partner, Molly Austin. Do you ever use improv as an idea generator for your other projects together or has anything you've ever done in an improv scene sparked an idea for something you eventually made?
Yes, always! We are constantly improvising. It's our shared one true love. Most of the music videos we have made have started on an idea that we'll improvise off of and riff on until we have a finished product. Our show actually is partially improvised too. We pick the outfits out ahead of time, but we improvise all that dialogue. TJ & Dave are our improv duo heroes and we can only hope to one day have a full length show that fantastic (and also maybe go on a double date with them).
Did you know that www.candyslicecomedy.com is now a site for porn
coupons and how does that make you feel?
HAHAHHAHAHAHHAHAHAHHAHAHAHAHAHAHAHAHAHAHA I did NOT know that! But now I do. (Thank you!) I can't stop laughing about this. And either can anyone else in Candy Slice. It's so the opposite of what any of us or our group was. It feels like a prank and I love pranks.
If you're in or near New York, you can catch Shamika and Molly's anniversary show on April 2nd at Under St. Marks Theatre at 8pm.
YouTube: EmotiStyle
Twitter: @missmartinez