Recently I had the opportunity to photograph the hilarious and hot ladies of Candy Slice, a NYC all-female comedy troupe of eight who met in the improv program at the famous Upright Citizen's Brigade Theater and named their group after late comedian and SNL-star Gilda Radner's "Candy Slice & The Slicers."
The troupe performs their monthly variety show, "Up Late With Candy Slice," in Manhattan, and their self-produced videos have garnered over a million hits on YouTube, including their very own behind the scenes spoof of the Beyoncé and Lady Gaga video for "Video Phonewp_posts(which also appeared on Perez Hilton):
+
The most amazing thing about that video? They wrote the parody BEFORE the actual "Video Phone" video was released! They're obviously oracles.
In the era of Tina Fey, Wanda Sykes, Amy Poehler and Kristin Wiig, Candy Slice is an example of a growing trend of confident, funny ladies taking over the comedy scene.
For the shoot, I had the help of talented wardrobe stylist, Sara Medd, who brought the bright threads, accessories, and lots of sweet props. We listened to Gaga, played with hair fans, and ate a lot of candy. Riese and Alex came by to ask the girls some inappropriate questions.
---
+
.
Hi! I'm Riese! This is our interview, which we did on camera. Because so much of the pleasure of the Candy Slice Comedy Group is PHYSICAL, we've included some screenshots here & there for you. But probs you will be craving more, which is one of two reasons why we're putting together a behind-the-scenes video of the interview and our subsequent photoshoot to debut later this month. The second reason for the video we can't tell you yet, it's a BIG SURPRISE. Get excited, these girls are f*cking hilarious… and cute! And maybe one or two of them are maybe partially or fully gay… which is really just the icing on the cake of awesome.
So here's our interview with Jennifer (who is also our Calendar Girl for January!), Anna, Kirsten, Shamikah, Claire, Regina and Julie!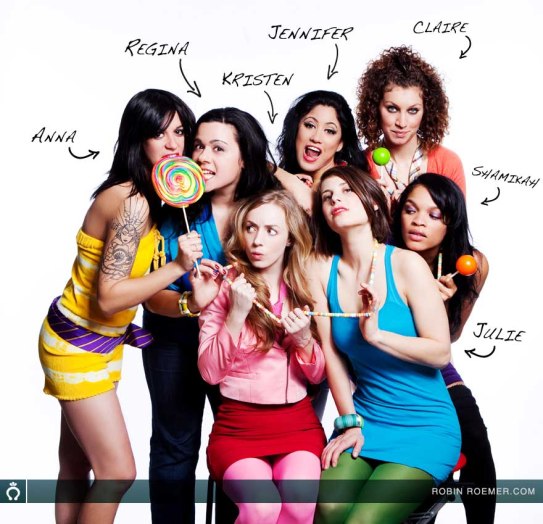 In the Beginning …
Riese: How did you guys all meet?
Jennifer: Well, we all met at UCB. Upright Citizens Brigade Theatre.
Anna: That's not true. That is a lie! Tell the true story.
Kristen: It's sort of a – sort of a… we are all involved in UCB but most of us met through Shamikah.
Shamikah: None of them had a brown friend. Alright? This is what happened: each of them was trying to get a brown friend and I was like "Oh my gosh all of you do improv.wp_postsSo then we all got together and MESHED.
Claire: It was our conduit.
Jennifer: I'm brown in the summer!
Riese: What was the timeline?
Kristen: We started getting together – there were six of us over the summer and then we brought in two new members in the early fall, Julie (she waves) and Tracy who is not here, but she's still in the group.
Anna: Tracy plays Lady Gaga in the Beyonce/Lady Gaga video.
Alex: Where is that bitch? Get her here.
Anna: I wish that we could, but I think she's out of state. What state is she in?
Kristen: I think she's in St. Louis.
Anna: I thought she was in Illinois?
Regina: I think St. Louis is partially in Illinois.
The Candy Spice Girls
Alex: So which one's like Sporty, which one's like Scary? What sort of Slices do we have here?
Kristen: (to Shamikah) You're our Ethnic Slice.
Shamikah: You can tell she only has one brown friend, she doesn't know what else to say to the brown people.
Claire: Jennifer's definitely Sexy Slice.
Kristen: She's even sexy by accident, when she's not trying.
Shamikah: Yeah, we're like, "What funny thing can we do?" And Jen's like, "I can do the salsa in a bikini. That's funny right? That's funny."
Jennifer: That's me. Yeah.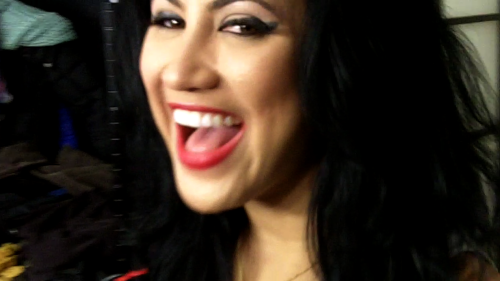 Anna: Claire's really good at playing a stripper. I don't know why.
Claire: I like it.
Shamikah: Claire plays guys. She's played a man in like every skit.
Claire: And I like playing guys.
Anna: She's a man or she's a stripper.
Riese: So you like to play sexually powerful roles.
Claire: Yes I do.
Julie: Kristen is a wizard in most of the skits.
Kristen: Or a ninja.
Jennifer: A ninja wizard. She's really good at playing E.T.
Kristen: Or E.T. Mythical creatures, magic …
Julie: They all do this ..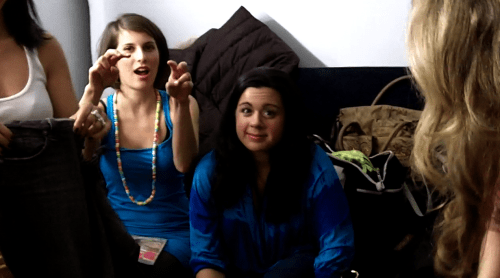 Regina: And then it's in your face and it's scary. It's wizardry!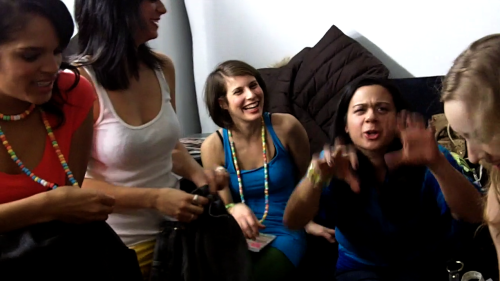 Anna: Regina's like the "voice of reason who sounds like she's been smoking since she was five years old" type.
Regina: [in long time smoker voice] Yeah, they have to listen to this a lot. That's what they get. It keeps them in line. The little gal-pals, they love it.
Anna: I think my favorite is when she played Tinkerbell in one of our shows. And she was in her Tinkerbell costume and she was just like "Mwahhahhaaaaa". It was terrifying for the children.
Regina: They loved it.
Hopes & Dreams
Riese: What's your ultimate dream as a group?
Anna: To go to Disneyworld.

Kristen: No but we want to make stuff up, we want to be able to do whatever we want and produce it. So our dream is a place where we can all come together, and if we have an idea we also have a platform, people to act in it and funny people to do what they need to do. What's really awesome about these girls is that you're like, "Hey put on this wig and act like a giant in fairyland," and they're like, "OK". And that's a cool thing. Right?
[EVERYONE AGREES]
Kristen: Orrrr act like Adam Lambert, whatever you wanna do.
Jennifer: Or E.T.
Alex: I heard a little something about an Adam Lambert video. Did you guys do that?
Anna: Ohhhhh — yeah. Claire is gonna be playing Adam Lambert. She plays a really good Adam Lambert. She also plays Josh Groban in a sketch we have coming up. Give us your Josh Groban.
Riese: Yeah, do it. (pause) DO IT!

Claire: [singing] You raised me up, so I can stand on mountains. You raised me up!
Shamikah: So we were doing this in an elevator in Regina's building and there was a guy with his poodle and I was like, "It's okay, can your dog be in the video? Keep singing Claire!wp_postsAnd he was like — [does "brush your shoulders off" motion]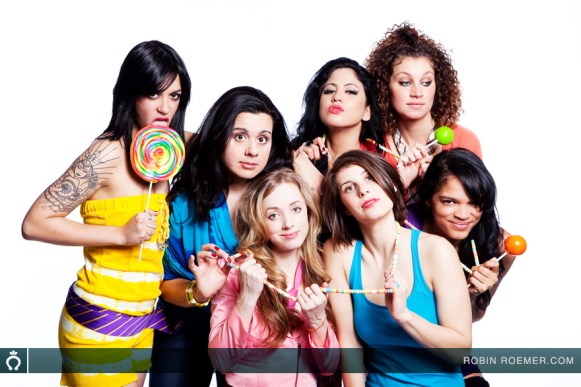 Anna: We like to make fun of social networking sites like Facebook a lot. We just find them ridiculously funny, even though all of us are obsessed with them.
Jennifer: Not all of us. Julie is not on Facebook.
Julie: (shakes her head and points) Neither is Kristen.
Shamikah: Kristen goes on the Candy Slice Facebook.
Kristen: And I'm on Twitter. Forty-two followers.
Regina: What!? Suck on that!
Anna: Remember back in the day when you wanted to hang out with your friends? But you had to call their house and if they weren't home you couldn't – it was like their mom and she was like (deep mom voice), "Oh, she's at the mall, sorry.wp_postsAnd you couldn't get a hold of her? That's Kristen.
Kristen: (waves) Hi!
Anna: Then pagers came out and she wouldn't have any of that.
Kristen: Oh yeah, I'm mysterious.
Claire: Julie's good at playing psycho killer housewives. And her facial expressions are awesome.
Julie: I'm either myself or a disaffected version of myself [says this in a disaffected voice]. And those are the two things that I work on.
Life on Stage
Riese: Have you had any ideas for skits that totally failed that you thought were going to be awesome?
Kristen: Most.
Anna: No.
(laughter)
Alex: You guys perform onstage, right?
Claire/Shamikah: January 22nd.
Regina: (angry smoker voice) Mark your calendar Alex. Mark it right now.
(laughter as Alex marks her calendar)
Alex: Tell us about those shows.
Kristen: Let's tell them about our terrible, terrible improv show.
Anna: Which one?
Kristen: We had a terrible, terrible show that was really bad. It was a Halloween show and we decided to wear costumes and…
Anna: Someone said it was a bad idea in the first place. [it was Anna]
Kristen: Anna thought it was a bad idea in the first place. And she was right. She's always right. She's not always right. Right?
Anna: Wrong.
Kristen: OK, so we all went 100% on our costumes and forgot that we had to show up and do improv, so every single scene was reduced to screaming or some sort of…
Jennifer: Airplane, we had an airplane scene!
Kristen: With screaming and everybody in the scene. Then we had sort of the lowest common denominator in improv is like "I'm blackwp_postsor "rapewp_postsand we had that in every scene practically. So we were really mad at ourselves.
Claire: It was a great learning block.
Kristen: And we all made ourselves watch the video of it. Which was so painful.
Jennifer: But it was cool because we are all in costume, so maybe you didn't know. I was the Grinch. I was the Grinch!
Claire: I was dressed up as a piece of shit.
Regina: Literally, she was.
Shamikah:We wanna do a show that's like late night, but with improv in it. We're gonna be Chelsea Handler soon. [Anna disagrees] She's the only female on late night! She is! There's nobody else!
Anna: We're like the Sarah Silverman, if Sarah Silverman was more than one person.
Riese: Wanda Sykes.
Kristen: Oh yeah, that's right.
Shamikah: She does late night?
Regina: C'mon, brownie.
Shamikah: How do I not know what every brownie is doing? So our show is like; we do an interview, and then some improv, a musical guest, it's like a late night TV show.
Alex: That sounds cool.
Regina: Improv for musical guests, which is actually really awesome, audiences really enjoy that.
Kristen: And our guests are celebrities.
Jennifer: A-listers.
Shamikah: We had Angelina Jolie.
Kristen: Amanda Peet.
Jennifer: Brad Pitt, those kids, they join too.
Shamikah: Those kids, we had to improvise with them, improvising with kids is not easy.
Anna: Especially when they don't know English.
Shamikah: Or how to talk.
Claire: They just always try to steal the spotlight.
Kristen: Especially babies are the worst though because they are just so cute.
Shamikah: Oooh actually, we did have a recent video semi ruined by a baby. I shouldn't even say that, but the baby wouldn't stop! We thought it would be a good idea to have the baby in it, but she just cried the whole time.
Kristen: Candy Slice hates babies.
Anna: No, no stop, that's bad PR.
Regina: The number nine Candy Slicer will not be Baby.
Jennifer: We lovvvve babies.
Shamikah: Candy Slice kills babies!
Regina: What? Comedy! COMEDY!
(laughter)
Leaders of the Pack
Riese: Do you guys have positions within the group?
Anna: Yes. I'm the marketing director. Everyone, spit your gum out.
Shamikah: I'm the creative director of the group.
Riese: (to Claire) What's your position?
Claire: Jen and I are co-chairs of the Social Chair.
Riese: Oh, what does that entail?
Claire: Basically we do the party atmosphere. Par-taaaay!
Riese: You sound like your job is like the culture guy on Queer Eye.
Jennifer: (puts a tissue over her mouth) I use the tissues and I try to lure you to come to our shows. (laughter) No, we create events, you know, we put amazing events together.
Shamikah: Fundraisers…
Jennifer: Fundraisers, and like everything under the sun.
---
+
NEXT:
"We all do different things, whether that's Kristen doing her Dungeons & Dragons thing, or the rest of us, doing normal people things."
Pages: 1 2See entire article on one page