Claire: Jen came up with a cocktail that we're gonna pitch to do after our shows at different bars and around the venue. Because it's kind of cool after the show to have everybody come and hang out together, it's such a fun vibe.
Jennifer: So, our cocktail is called… come on, you already know…
Riese: The Candy Slice?
Jennifer: The Candy Slice Cocktail. And the phrase is – "It will sweeten your life".
Riese: What's in it?
Jennifer: Pomegranate, pink sugar on the rim –
Anna: Rim job!
Jennifer: Vodka, triple Sec, lemon soda, and maybe a cherry on top.
Shamikah: Just watch now it's gonna be an Autostraddle cocktail.
Regina: And they'll be like "it sweetens your life."
Anna: It'll get you the girls you want any time.
Jennifer: Really, it's just a slice of candy on the side.
Riese: (to Kristen) What's your position?
Kristen: I'm the Brand Overlord.
Regina: What the f*ck does that mean?
Riese: Do you realize that none of you guys have positions that sound real?
Kristen: We're not real people!
Regina: What? Finance Emperor doesn't sound real to you all of a sudden?
Shamikah: Autostraddle doesn't have a Finance Emperor???
Regina: You guys need to get with the program.
Riese: We have a Chief of Important Matters.
Anna: [pointing to Kristen] You have to understand that this girl, she plays Dungeons and Dragons.
Riese: Still?
Regina: [laughs] Still.
Kristen: [fakes offended] Haha still.
Regina: We all do different things, whether that's Dungeons & Dragons thing, or normal people things.
Riese: Are you the Dungeon Master?
Kristen: [Her eyes light up] You know about the Dungeon Master! You play Dungeons and Dragons.
Riese: I used to be a Dungeon Master for my brother and his friends.
Kristen: The Dungeon Master is a great honor!
Riese: I did plan ahead with snacks.
Kristen: It's a great thing, Dungeons and Dragons. An imaginative world is an asset.
Riese: It's good when your real world is like, "You're weird."


Kristen: Yeah!
Anna: Some people do drugs, some people play Dungeons and Dragons.
Riese: Some people do both.
Kristen: And you know what, Dungeons and Dragons is cheaper.
Riese: So you're the Dungeon Master?
Kristen: I'm the Brand Overlord.
Riese: Which sounds similar. [To Regina] And you are?
Regina: I am the Finance Emperor. That wasn't a joke. You tried to make it a joke but I'm the Finance Emperor for reals.
Anna: That means we trust her with our money and God knows why.
Julie: I am Show Guru. With Tracy, Lady Gaga, who is not here. So we book all the acts and co-ordinate with theatres and things like that.
Anna: I do marketing. So I do things like making everyone spit their gum out when we're doing interviews. I basically oversee the YouTube page and I started the Funny or Die page. I'm trying to get us out as a brand. I know that sounds so corporate and awful and horrible and unfunny.
Alex: That doesn't sound so horrible to me.
Anna: Thank you. I'm basically trying to get our image unified.
Shamikah: Everyyyyywherrrrre.
Anna: To the people. Seriously, it's really important for me that us as group have a connection with our fans!
"We think the best part about comedy is the connection. And energy and getting everybody collaborating and that makes every show successful, even when it's bad."
Anna: They voted Marketing Chair.
Riese: Oh these are elected positions?
Regina: Yeah, these are elected.
Kristen: The reason we decided to do this was because there are eight girls and I don't know if you've ever done anything with eight girls –
Riese: I've never had eight friends.
(laughter)
Riese: No, I have done things with lots of people, we tried to plan a party with eight girls.
Kristen: It's hard right?
Riese: Autostraddle is like fifteen girls. It's like thirty when we're all together. And I have to manage them all day. But hey, I don't even know what they're doing right now, they're probably on g-chat.
(laughter)
Riese: But yeah, yeah! It's hard! Plus I'm the CEO of Ideas, so I can't judge your titles.
Kristen: Seeee, right! And we got together one night and decided we needed to vote for some positions. We were kind of worried about it because you know – ladies, right?
Riese: Right.
Anna: What do you mean "ladies?"
Regina: That we're ladies.
Anna: Oh that we're ladies? What's wrong with that?
Riese: That you'll pull each others hair out and stuff.
Regina : And scratch each other.
Anna: Bitch!
Kristen: Exactly, but everyone was working together and it was a quick meeting and nobody was mad, right guys?
[combination of people mocking her "right guys" and agreeing]
Anna: I don't know (shrugs) I think most of us are kind of like, "Oh, OK, whatever."
Regina: We all really want it to work. So we were like, "Alright, let's come together and do this."
Jennifer: Be productive.
Rising Starlettes
Anna: But I know as Marketing Chair that the most important thing is that if people are interested in what we are doing. We wanna be able to connect with them and actually talk to them and even if our stuff gets bigger…
Shamikah: Even WHEN our stuff gets bigger.
Anna: Even when our stuff gets bigger, [to Shamikah] You're so conceited, God!
I want to make it a point that we stay connected with other comedians and other people that are interested in what we're doing because without those people, who would we be doing this for? I mean, we do it for ourselves, but obviously we do it for other people.
Kristen: That's actually one of the great things about the shows that we do every month. That we use up-and-coming comedians in the community and well, everybody wants a gig and we've created some really great friendships and partnerships with people that have come in and done a musical act or done an interview. And also our fans are best friends and our families and just people we like to hang out with anyways, so all the time we do shows it's kind of like a party. Everybody ends up laughing and having a good time because we like each other and we enjoy going out afterward and talking to them. We think the best part about comedy is the connection. And energy and getting everybody collaborating and that makes every show successful, even when it's bad.
Anna: Cause we just drink and forget about it.
Claire: We do have a pretend hope stick that we pass around and it's passing around positivity throughout the group.
Riese: Wow, you guys sound very Lady Gaga-ey.
Anna: I've never even seen this spirit stick.
Kristen: Well, you were in Chicago.
Anna: Oh was that the one time I was on Skype in a coffee shop yelling SO WHAT ARE WE GONNA DO FOR OUR NEXT VIDEO and everyone around me was like "SHUT UP!"
Kristen: And then your face kept freezing but we thought you were being really still.
Anna: You never know.
The Show Goes On
Kristen: We have one show a month and our first show is January 22nd at Gotham City Improv and it's at 10pm. And it's $6 and it's either BYOB or we have perhaps a little beer there that we might be selling by donation at a very reasonable price.
Jennifer: And we may have the Candy Slice Cocktail.
Kristen: We might have that there, too.
Anna: And what's that made of?
Jennifer: I told them that already.
Anna: And what's our website?
Kristen: www.candyslicecomedy.com (others sing dot cooooommmmm) OK. January 22nd. February… (looks at Julie)
Julie: Guys I don't know the answer to that one.
Regina: You gotta check your email, that's why she sent all those emails!
Anna: We've gotten into a bad habit of signing all of our emails, "Labia." I don't know why. Instead of "Love," it's "Labia, Julie."
Regina: It's cause of the line.
Kristen: It's cause of camel toe, the camel toe line during our Beyonce Video, and realizing that like we all have them! We DO.
Anna: I just feel like we're neglecting the clit.
(laughter)
Riese: And that's always a big mistake.
Shamikah: Male comedians, guys, get to joke around about their junk all the time and everyone laughs so I think that we can pretty much joke about whatever we want. So if you wanna be like Dear Vagina Lips, then great.
Kristen: I think we should do a cool February Vagina Monologue.
Riese: Oh yeah, you should.
Kristen: Like the vagina dia –
Anna: And the vagina is actually talking.
Riese: Yeah where the vagina dialogues, where someone is talking with the vagina, has anyone done that yet?
Kristen: Or where two vaginas are talking? (does vagina hand puppets)
Anna: My last show that Kristen was at I actually had people talking to my vagina. [Kristen says nothing] Back me up here.
Regina: I played her vagina once.
Anna: She did, she played my vagina. She came around and was like (vagina voice), "Hellllooo".
Jennifer: I had a show, too, not too long ago at the Wow theater where I came out of a vagina.
[collective wow]
Jennifer: I was being born.
Claire: We could get two live camels.
Riese: And just let them run around?
Alex: I love how Claire just busts out with that. You've been quiet this whole time and then–
Jennifer: Well once we started talking about vaginas, she just had to say something.
Kristen: Well you get enough vaginas into a room …
---
+
If you want to check out Candy Slice in action, their first show of the new year will take place at Gotham City Improv on January 22nd.
Find them on Facebook, follow them on Twitter and visit their website!
Also check back right here, 'cause we'll have a behind-the-scenes video and more collaborative efforts coming your way this month!
Photographs by Robin Roemer. Styling by Sara Medd.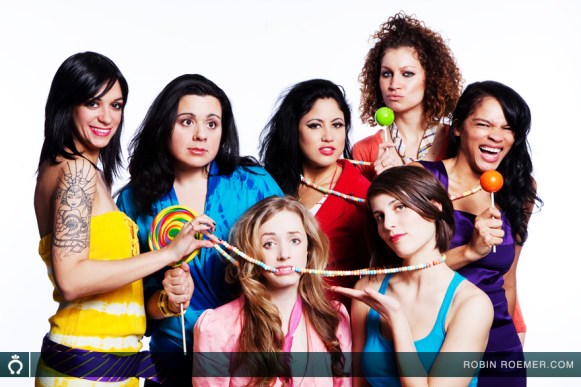 Pages: 1 2See entire article on one page