I know, I know, I'm late with this recap, and I'm truly sorry, and I did the best I could – I wrote most of this on an airplane back from A-Camp – but this wasn't an episode I wanted to rush through. There's a lot to unpack here, so let's get started.
We pick up where we left off, with Superman inexplicably attacking Supergirl. Rhea explains that she used silver Kryptonite on him, so where we see Kara pleading with her cousin, he sees Zod threatening to destroy Earth.
So Kara has no choice but to fight him. She still tries to talk to him, and at first is just playing defense, but soon Kal takes the fight into the city, and Supergirl knows she has to stop this.
Alex and Maggie see something afoot on the DEO screens and Alex knows Kara is in trouble.
They follow the heat signatures to the fight and watch and Superman and Supergirl have one of the most beautiful fight scenes I've ever seen. They're in a fountain and there are slow-mo punches and full body slams and dramatic music. Kara gets knocked down but she never backs down, and eventually manages to render Superman unconscious.
Then promptly collapses.
Alex runs to her and holds her, truly the only way she could have helped in this particular fight. And all Kara needed.
Kara wakes up in a soft soft-glow dream where she wishes she could stay in bed all day, telling Mon-El about her mother and the necklace she gave little Kara before sending her away from their disintegrating planet. But then she realizes she can't stay in bed because she's not in bed at all, but in the Fortress of Solitude. Kal is there too, but when he wakes up, he recognizes Kara as Kara and doesn't see Zod anymore.
Meanwhile, back in National City, while her ex-mentor is destroying the world around her, Lena is in her office, drinking and knocking over chess pieces. She's tired of playing these games.
Lillian comes in, and Lena immediately blames her for giving her the mommy issues that got her into this Rhea mess in the first place. Lillian sort of apologizes and suggests maybe she should have been focusing more on Lena instead of Lex. She's impressed with Lena's portal, even though it wasn't used for Lena's original purpose, so she gives Lena a box Lex designed to get rid of Kryptonians and says if anyone can rejigger it to get rid of Daxamites instead, it's Lena.
In the fortress, Kal is letting the events and the news of this mysterious silver Kryptonite wash over him – he really did see Zod – when he realizes something. "I was at full strength," he says. Kara, assuming he was commenting on the difference between green and silver Kryptonite, says they don't know that, he was out of it. But he remembers everything, and he was at full strength. And she beat him.
he doesn't sound too surprised or jealous or incredulous. He sounds impressed. And proud.
Alex asks him if there's a weapon in the Fortress that can help them, another murder beam perhaps, but instead Kal offers information, records about the old wars between Krypton and Daxam.
They fly back to the DEO, and Kara says she's going to invoke Dakkam Ur, so she gives Rhea a ring and, head held high, challenges her to a one-on-one duel to settle this, once and for all.
Mon-El is worried about this plan. He even goes so far as to suggest Superman go instead. And forgetting everything that's ever happened with Mon-El, ignoring every time we were frustrated with him, or his relationship with Kara, this moment here is all you need to see to know that he isn't right for Kara. She's about to go into one of the most important fights of her life and he's not even just asking if she's sure this is a good idea, he's blatantly doubting her. But luckily Kara's self-worth isn't tied up in what he thinks she is or isn't capable of. She beat Superman. She's Earth's champion. She'll be the one to fight for it. She doesn't have time to make him feel more comfortable with this plan, so he has to get on board or get out of the way.
Alex checks on J'onn's unconscious body and asks him, again, to wake up. Being Director Danvers is fun and all, but they need all hands on deck for the one. J'onn dreams M'gann standing where Alex just stood.
gives him True Love's Kiss and he wakes up, disappointed to find she was never really there in the first place.
One of the first things J'onn sees when he wakes up is that the "Supergirl v Queen of Daxam" fight is being marketed like a professional boxing match. J'onn points out that this could attract bystanders so the supercousins don their glasses and go to chat with Cat. Who, upon seeing Clark Kent, turns the flirt up to 11.
It's a wonder to behold, truly. Cat immediately starts telling them to take care of their Guardian situation and Kara says she's hardly seen him all season anyway so what harm is it to let him do a little vigilante-ing? But anyway that's not why they're here. They explain why they want her help de-sensationalizing the fight and she says it's because the ever-handsome Clark asked, but probably it's also because she sees the truth in it, but she agrees to do just that.
She looks at Kara and asks her if Supergirl is ready for the fight. Kara swallows hard and gives a little nod. Supergirl told her she was ready. Cat smiles softly at her and says she's betting on the Girl of Steel. (I'VE MISSED CAT GRANT SO MUCH. I feel like the sail on our ship has finally been mended. Like we were getting along relatively fine with the oars and rudders but this feels so much BETTER.)
The supercousins' next stop is the Luthors. Two Luthors, two Kryptonians, tensions are high, but they're on the same side for once. Lena shows Kara her box – sorry, sorry, I had to – and explains that they configured it to put enough lead in the air to be harmless to humans but toxic to Daxamites.
Kara acknowledges with a twinge of sadness that this would include Mon-El, but tells Lena to start working on it, just in case.
And back at the DEO, Mon-El supports that notion. Because, despite his flaws and the fact that I still don't think he's right for Kara, Mon-El truly has grown over the course of the season. He says he won't be the one thing holding them back from saving the planet.
Then it's task assignment time. Winn is sent to help Lena, Mon-El will be Kara's second during the battle, and Kal has to spar with his cousin to keep her spry for the fight.
During a break in sparring, Kara explains to Kal that things were finally starting to align for her – she had her dream job, a sweet superhero gig, a loving family, and her first serious boyfriend. But now she's wondering if having it all is just a fantasy. But Clark says all.those things are intertwined; the people you love are a superpower all their own.
It's a very cute cousinly advice bonding session.
Okay! It's time! Let's get ready to rumble! Kara, Rhea and their seconds meet on a rooftop. The men step back and the women press their fists to their chests and agree to fight, for Earth.
Rhea is quicker than she looks, and Kara gets knocked down a few times, but there's a reason this episode is called "Nevertheless she persisted." She gets up again and again and again. But as they're fighting, more Daxam ships arrive, and Kara realizes Rhea isn't fighting fair. So Kara sends Mon-El to fight on the ground, joining Superman and J'onn in saving civilians from Daxamite invaders.
Alex is left in charge at the DEO again, Maggie as HER second.
Rhea then gets surprisingly still. She taunts Supergirl, even letting her get a punch in. And much to Rhea's delight, she starts to bleed. You see, when the ruins of Krypton settled over the surface of Daxam, it became part of the people there. So Rhea has Kryptonite in her blood.
Back at L Corp, Lena and Winn finish the box.- working together adorably; I'm really into Winn and Lena as science buddies – and Lillian snatched it from them and presses the button immediately, ignoring Winn's protests. When nothing happens, Lena puts her sassy little hand on her sassy little hip and says OBVIOUSLY she didn't start miraculously trusting her mother. Supergirl is the one with the button to activate the lead cloud. Supergirl is the only one who can call this fight.
So everyone fights. Mon-El saved a kid, delivers some quips, truly on the road to being more like Kara. Even M'gann is here (for real this time) with backup White Martians to help turn the tides.
Supergirl is weakened by Rhea's Kryptonite blood, but she will not be defeated. She fights through the pain, she surprises Rhea, me, maybe even herself, by getting to her feet and overpowering Rhea, even in her weakened state. Rhea, desperate, tells Kara that even if the Queen of Daxam falls, their problems won't be over. The fight won't magically end.
Alex confirms this by telling Kara that the Daxam ships are all locked to fire on schools, hospitals…they'll destroy the whole city no matter what.
So Kara knows what she has to do. She doesn't ask for permission or reassurance, she doesn't wait for validation, she doesn't hesitate. She says she's sorry to Mon-El, but then she presses the button.
The Daxamites get what Winn once called "space asthma" and start beaming back up to their ships. Rhea reaches out to her son, but he isn't on her side of this. He never was. So she collapses into dust.
Mon-El starts to falter, his face contorts in pain. Kara, having defeated the enemy, focuses now on Mon-El, watches him struggle to take a full breath, pleads to her sister for a solution. What can she do? How can she fix this?
But Alex, though it breaks her heart to say it, says there's nothing TO do.
So instead Kara asks how much time. Alex says there's no way to know – they mentioned earlier that since he's been affected by their yellow sun longer than the other Daxamites, he'd be able to survive a little longer, but Alex doesn't predict he'll survive the hour. So Kara has Alex prep the pod Mon-El came in at the start of the season. Kara's voice shakes as she gives him her mother's necklace and tells him she loves him. He says the truest thing he's ever said: No matter where he ends up, he'll be better because of her. She kisses him and puts him in the pod and watches him leave, her eyes filled with tears but her head held high.
And I won't lie to you, my eyes teared up, too. Because Kara Danvers did everything right, and she still got her heart broken. She had to choose between Her People and the person she loves, and even though it wasn't a hard choice for her at all, it still sucked to be put in that position. But at least she found a way to let him live, even though he has to go far, far away and never come back. (lol just kidding he ends up getting sucked into a portal at the end so I'm sure this isn't the last we've seen of Mon-El, HOWEVER, Kara still did right by herself in sending him away.)
Back at the DEO, Kara is standing on the balcony, looking out at shooting stars, wondering if one of them is Mon-El. Kal comes out to say goodbye and asks if she's okay. She says yes – "of course" actually – she did the right thing. She has no doubts about that. But that doesn't mean she's not still a little sad. Kal tells her that it's more complicated than "the right thing". That sure, she knew it was the right thing to do, and maybe it didn't even seem like a choice to her, Kara Zor-El, Champion of Earth, but it was a decision, and she made it. Kal says it's one he might not have been able to make himself. He says again, though meaning it slightly differently this time, that she's stronger than him. She doesn't duck her head and disagree, she doesn't retort with "you're strong too", she doesn't do any of the things so many women on TV (and in real life!) would have done when given such a compliment. Instead she says, "Thank you."
Inside, M'gann tells J'onn that the White Martians she came down with are allies she found when she went back. Turns out she's not the only one who has regrets about what their people did to the Green Martians; so they're forming a rebel alliance to make tomorrow better. She heard J'onn's mind call out to her, so she came, and she'll stick around for a while.
Alex is next to step onto the balcony to talk to Kara (Maggie again keeping a respectable distance) and addresses her sister with a soft voice and so much kindness. She reminds Kara that earlier this year, when she felt more broken than she ever felt, when she did something that seemed impossibly hard and it broke her heart, that Kara held her and said she was proud of her. Alex says it didn't make her feel better in the moment, but it was something that stuck with her. And right now it's time to return the favor. Alex steps closer to Kara and says, meaning it with her whole heart, "I'm proud of you." Alex asks if she wants some sister time to make her feel better, but Kara wants Alex to be with her girlfriend. Alex asks one of the best things you can ask a person you want to help, "What do you need right now?" And all Kara wants from Alex right now is a promise that she'll hold onto Maggie and never let her go, to be grateful for every minute they have together and hold tight to what they have right now.
Alex looks thoughtful for a moment and nods; this is a thing she can do, for her sister and for herself.
After Kara leaves, Maggie comes out on the balcony and nestles into the crook of Alex's neck.
Maggie assures Alex that Kara will be okay; if there's one thing we've learned about Kara Danvers, it's that she's resilient af. Maggie says it's a Danvers trait; those girls don't break easy.
As Maggie is saying this, Alex interrupts and surprises Maggie, me, and even herself by saying, "Marry me." Maggie's initial response is a simple, "Excuse me?" Surely she heard that wrong. But then Alex repeats it again, a sure smile on her face, an added "please" for good measure.
And Maggie Sawyer just BEAMS.
I'll admit, after my heart stopped doing backflips about how freaking adorable they were, I wondered – is it too soon? But then I rewatched the scene, all the way back from when Alex came out to talk to Kara, and I thought about all they've been through in a relatively short amount of time. Kara's aunt was thought to be dead, then she wasn't, then she was evil, then Alex had to kill her. Their father was lost, then he was found, then he was maybe evil, then he wasn't, then he was lost again. Alex came out, thought she lost her shot with Maggie, then kissed the girls she wanted to kiss. So maybe it's fast. Maybe they've only been dating a few months. But their lives move faster than most. One day you're a bartender at a gaylien bar, the next you're leading a Martian rebellion. One day you're a photographer, the next you're a vigilante. One day you're the Queen of All Media and the next you're in a yurt. One day you're in love with the champion of earth, the next Earth is uninhabitable to you. One day you're having pizza with your girlfriend, the next you're kidnapped and put in a glass box that slowly fills with water until you're almost dead. Alex watches all of these wild changes, she helps when she can, but some things are out of her control. Just today her baby sister pleaded with her for help, asked her what to do to save her boyfriend, and Alex had to say that there was nothing. It was entirely out of her control. So of course she took the reins on her own happiness. Of course she wants to cling to what joy she can while she can. Everything changes so fast when you work for a secret supernatural government agency and your sister is a superhero. Hell, everything changes so fast when you're a queer TV recapper with a relatively ordinary little brother. Alex and the people she loves have all lost so much. She's not going to lose Maggie.
So I'm happy. Overjoyed, truly. Don't we deserve this cheesy happy ending? Alex's arc this season has been thoughtful and beautiful and expertly executed. The speeches have been stunningly written, and every moment, little or big, has been acted brilliantly by Chyler Leigh. Floriana Lima plays perfectly off her, and Maggie quickly strut right out of what could have been a one-note "Alex's girlfriend" kind of role. Their story has been heavy where it needed to be, but never overwrought. It was light where it could be, but never over-the-top. And frankly, I'm writing this recap on the way back from A-Camp, where the buildings were all named after dead queer fictional characters, and there was a whole round in TV Trivia about queer female character deaths, and combined they didn't even cover half of them. So I'm going to do like Alex did and take the reins on this one. It makes me happy and I'm going to let it. And I'm going to point to it whenever a writer or creator tries to use the "we had to create drama to make it interesting" excuse when they fall into a harmful trope. Do I wish Alex and Maggie had more screentime? Sure. Kara's relationship with Alex will always be the most important relationship on this show, but Alex's relationship with Maggie was an emotional crux of this entire season.
It's been a shitty year. Over a year now, honestly. For the world at large, for the country, for queer people. Hell, even just for me personally. Everyone I know is tired on an existential level. But we're all still fighting. Because we're strong as hell. Alex and Maggie's story being pivotal to the second season of a DC owned prime time show, a show that teenagers watch, that parents watch with their children, a show with classic characters from comic books that so many generations have read, gives me hope. It gives me strength to keep on fighting. We've come so far in the twenty years since Ellen came out in The Puppy Episode of her TV show. And we've got so far to go. But we've got some great folks on our side. We've got writers who write lines like, "Why would your being gay ever let me down?" We've got Chyler Leigh standing up for Alex's right to love who she loves, for Maggie's right to kiss the girls she wants to kiss, even when getting pushback from her own family. And that's just on this show. I'm so grateful for this storyline, and for this show.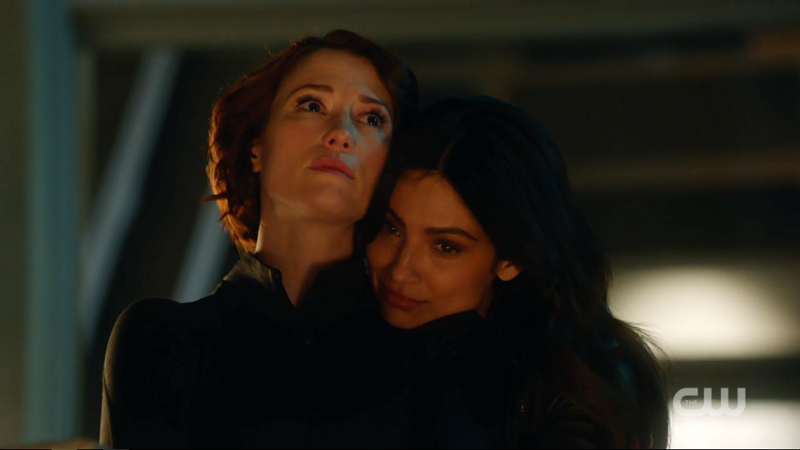 Anyway, the queer stuff isn't even the only thing about this show that fills my heart with joy. Case in point, Cat Grant shutting off a report about how Cadmus is claiming credit for getting rid of the Daxamites and calling it "fake news." And then, in her own Cat Grant way, asking Kara why the heart she wears on her sleeve is bleeding.
Kara sits down and explains that the man she loves is gone and that it hurts like hell. Everyone she cares about is in a happy relationship, and she's wondering if it's just not in the cards for her. Cat says that the pain will go away, she promises; she's been there. And that the pain isn't anything to be ashamed of. In fact, it's what makes her strong. That vulnerability, that emotion, it's what makes women stronger than they often get credit for. Cat's voice softens from her usual sass factory and tells Kara she accomplished great things this year, ticking off all the articles Kara wrote, that Kara can't believe she read from her yurt.
(Side note, I went to a few yurt parties at camp this weekend and can confirm it's life-changing. #takeyouryurtoff)
Cat tells Kara she's on a hero's journey. That she can soar over this setback. It was the thousandth time Cat has made a reference like this, and the thousandth time I shouted CAT KNOWS at my screen, and, to my surprise, it was the last time, because as soon as Kara excuses herself and leaves, Cat says, "Go get 'em, Supergirl."
And y'all I don't cry happy tears but my eyes burned a little even just typing that.
To wrap up the season and set up next year, Mon-El gets sucked into a portal of sorts and we get a flashback from 35 years ago of some space nuns sending a baby they don't care enough to call anything but "it" into space to "reign" or whatever.
But most importantly, we see Supergirl take to the skies. She's devastated, she's unsure of a lot of things, but one thing she knows for sure. She is Supergirl. And she has a job to do.
Like Kara, we're tired from fighting. We keep getting our hearts broken despite our best efforts. But we're on the right side of this. So also like Kara, we're going to keep getting up, keep moving forward. There are tears in our eyes, but our vision is clear. We'll keep flying, we'll keep fighting. No matter what.