+ Morgan
+
You can walk into the theatre to see Avatar in two ways: You'll either go in wanting to like it or wanting to hate it. Either way, you'll probably get what you want.
James Cameron's Avatar is such a visually beautiful film that if you want to like it, you'll be able to ignore the badly written script and the overly predictable plot. You'll also have to ignore science, because Avatar pushes the laws of physics, evolution and just about everything else out of mind. But you really can ignore all of Avatar's faults-the movie just that pretty.
In a way, the weak script is kind of a benefit. Not having to think during the film gives you more time to appreciate the beautiful visual detail of Pandora's environment. Not to mention its occupants the Na'vi, a race of super tall, super skinny, super strong cat-people. The Na'vi are able to interact directly with their surroundings: the plants glow with bioluminescence in their presence, lighting their way at night and creating fiberoptic light shows. The world is full of pulsing lights, beautiful greens and blues (the Na'vi color palette) and a menagerie of fantastical animals, all of which are intimately connected.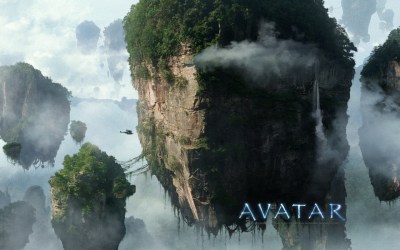 Michelle Rodriguez provides at least one part of Avatar that's effortless to love. Rodriguez shines in her role as military helicopter pilot Trudy Chacon. Her skin shines too: she's glistening with sweat and sexiness in almost every scene. For a sci-fi/action movie, Avatar gives female characters like Chacon more screen time than most other films in the genre.Avatar does have its high points, but I'll admit that I went in as a skeptic.
I knew that I'd spend almost the whole movie being annoyed by any number of logically improbable things. How could the journey between Earth and Pandora be possible? How could those mountains float? How could evolutionary processes produce organisms remotely similar to Earth's? Let alone a society of intelligent two-leggers in a land of trees that are for the most part just a black light acid-trip version of ours.
But hey, oh yeah, it's a movie! And an action movie, at that! You don't need even vaguely accurate science. Though you might need some other stuff to make a pretty film into a good film. Like a good script, for starters.
There's no real depth to the dialogue in Avatar– everyone says what they mean and what they think in the simplest way possible. The storytelling in the movie was equally weak, with no subtlety whatsoever. There's always a lot going on, but the storylines intersect in overly simple, predictable ways.
While the strong female characters in Avatar were nice, the movie didn't make any huge leaps in overcoming Hollywood's habitual lack of minorities in significant roles. For a film ostensibly about acceptance and tolerance, Avatar lacked diversity in a pretty big way. There was little racial diversity and there were certainly no LGBT characters to speak of. For a movie that seeks to send so many "progressive" messages, both social and environmental, the exclusion of non-Na'vi marginalized communities seems like a bit of an asshole move.
Overall, I thought Avatar was a good movie. Maybe not a great movie, but a good one.

+ Sam
+
I was excited to see Avatar. The trailer gave me goose bumps, so I started looking into it a bit more, reading about the revolutionary camera, the totally immersive CGI and the 3D experience. But soon enough, the Avatar media blitz and hype became overwhelming and my initial excitement was quelled by overexposure.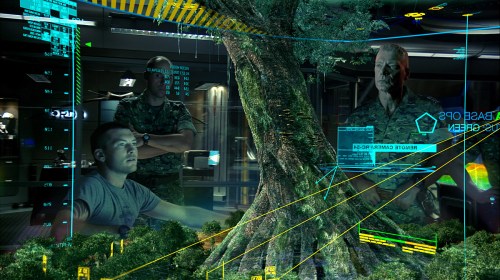 Now, after finally seeing it, I'm left with mixed feelings. On one hand I think the time and effort put into the creation of Pandora made it incredibly aesthetically appealing. I was charmed by Pandora's floating mountains, its array of inventive fauna and its spectrum of blues and greens.  The use of 3D in this case seemed to enhance the movie rather than distract from it by being gimmicky.
Beyond the ambiance of Pandora, there's always the ambiance of the female cast members. Michelle Rodriguez as an aviator-sporting, tanktop-wearing bad ass coupled with Sigourney Weaver's Dr. Grace Augustine, a smart and sassy headstrong scientist, were undeniably cool. And the tail interface that the Na'vi used to connect with the trees and animals was a really interesting concept that I think was executed well. Although they kinda looked like a cross between fiberoptic cables and glowsticks covered at the end by fur.
The problems with Avatar began for me when I stopped being intoxicated by the look of the movie and tried to get into the plot. The story lacks nuance and follows a very well-tread path à la Dances with Wolves. The archetype of "the noble savage" comes on a bit strong with the Na'vi. The story's oversimplication of the tale of a native race really left a sour taste in my mouth.
Avatar scores a lot of points for visual execution, but it falls short of becoming an epic sci-fi classic. James Cameron may have wanted to inspire a new generation of diehard fans with his film, but the Na'vi language won't become the new Klingon any time soon.

+ Kim
+

I am going to preface this by saying I did not see Avatar in 3-D because that is way too fancy for my hometown's movie theatre.
Avatar tells an age-old story condemning the evils of imperialism. To mix it up this time around, James Cameron's tale on the classic anti-colonialist tale gets set in outer-space with some mech warriors and Sigourney Weaver!
Unfortunately, in this particular retelling I don't think the writing was pushed far enough. But maybe I just expect a script that's been in the works for 10+ years to be a little more compelling.
On the plus side, when you get bored with listening to the poor dialogue and the trope of a male former conquistador seducing an exoticized/eroticized female native, there's plenty to just look at.
There's nothing wrong with deciding to create a new spin on an idea that's been done to death (see: Dances With Wolves, Pocahontas, Fern Gully) so long as you do, in fact, bring something new to the table- and not just visually.
Despite this storytelling setback, Avatar was a completely engaging movie experience. Every time I spotted an inconsistency, a plot hole, a line of filler, or some far-fetched pseudoscience I was almost immediately seduced by a beautiful landscape, a strangely-garbed alien or some Metroid-style monsters.
I am okay with that. And I'll probably see the the sequel(s) and continue to be okay with that. Avatar will certainly be remembered for its stunning visual effects, not its underwhelming script. I think that James Cameron is probably okay with that too, laughing all the way to the bank.


+ Taylor's Editorial Note
+
While I have not seen Avatar because A) I have a pretty intense fear of heights and am a bit wary of the 3D experience following some mid-90s IMAX mishaps B) I'm not sure there are boobs and C) I forgot, my comprehensive knowledge on the topic of the movie can be expressed thus:
Also I love large, vaguely feline, shamanistic blue aliens, as evinced by my World of Warcraft avatar (see what I did there?). Which I think puts me somewhere between the animated version of Englishman John Smith and some kind of post-jingoist hippie.