In the days following Casey Johnson's death last Sunday there's been a lot of talk about what in the heiress's life and relationship was "realwp_postsand what wasn't. The ring, ex-girlfriend Courtenay Semel told the press, was not real, nor was it really 17 karats. Casey's much-touted heiress fortune was also not real — multiple sources confirm that Casey's family had cut her off. Tila's pregnancy wasn't real either, in the strictest (only) definition of "pregnancy" — due to Tila's apparent struggles conjugating verbs, she announced, "I'm pregnant!" when she really meant, "I'm going to be a surrogate parent for my brother!" Some of their body parts, including Tila's breasts and Casey's lips, aren't technically real, either.
But what about that other thing that isn't real? That thing us gays don't really wanna bring up, lest we involve such a controversial and unstable figure in our very serious, very real, fight for marriage equality? What about the engagement, y'all? What about the potential of an actual marriage for Tila Nguyen and Casey Johnson? 'Cause that engagement wasn't, after all, real, because Tila and Casey cannot legally marry. I mean we all admit that, right?
We don't like to discuss this vague conceptual notion of lawless "marriage," or even acknowledge publicly that our engagements aren't as "real"/significant as straight couple's engagements. As Julie Goldman so deftly targets in her Commitment Ceremony video, when we use the same language for our ceremonies that heteros do, we're only playing along. It's important for our movement that we play along. We don't like to talk about the "fiancée" in quotation marks because it's offensive and disrespectful to include quotation marks, as it implies illegitimacy. The press must exclude quotation marks because that's the politically correct thing to do and we get pissed every time we see "marry" in a headline. But let's "get real" here: gay marriage is not the same thing as straight marriage right now. It is, in practice, really only gay "marriage."
Gay relationships in America exist in a sort of Lawless Netherworld: couples exist free of paper trails, free of proof and, unless they've been together forevs, free of pressure to take complicated property and offspring-securing measures. There is nothing in charge of our hearts besides the bodies that hold them in. Well — we have rights, sometimes, like if something complicated like a custody agreement goes to court; we're SOMETIMES protected by gender-free laws that govern all citizens, but besides that, we're left to navigate & delegate our relationships on our own.
Oddly, this lack of legality is rarely discussed in emotional terms. We often speak of what marriage could offer dedicated, long-term couples; but rarely do we discuss how the impossibility of marriage has shaped how ALL gay relationships evolve here in The Lawless Netherworld; and subsequently how these relationships are considered or ignored by the rest of this country's citizens.
++
I'm not here to defend Tila Tequila, or to defend her enemies or to subjectively judge anyone. We don't know Tila, Casey, or any of Tila's friends or family members. I'm not defending Tila's actions or condoning her relationship or the legitimacy of her behavior, nor am I arguing that anyone on Casey's side is acting on anti-gay prejudice — in fact, quite the opposite. I'm arguing that we all make concessions for a gay-marriage-free universe; and these actions aren't driven by intolerance or hate. That's precisely the problem.
See; the fact is, Tila Tequila is alone in the Lawless Netherworld of Homosexual Relationships, and all she's got left are her feelings. The fact is that Tila Tequila and Casey Johnson were engaged, and the world couldn't care less. Had Tila been a male celebrity trainwreck rather than a female one — mentally ill or on drugs (as alleged) etc. — well, that would've been a very different story because of the potential legality at stake. They would've been required to pay attention to her controversial methods of grieving, basically, and they all might know a little more about what went down.
So now Tila's sad and alone and aggressively loathed by the public. She's also legally excluded from any formal support. Tila's not well. She's screaming with manic intensity into cyberspace about her feelings and her memories of Casey's feelings. Tila's visibly aching to prove, SOMEHOW, that she mattered to this woman who died, and that this woman mattered to her:
So stop blaming me for her death, i was the ONLY one there for her.
Casey loved me & that is why she chose ME to be her fiance! So enough with blaming me 4 her death!
I miss her so fucking much I can't take it anymore! I don't know what to do….I've never lost a fiancee before…I miss her so muchh
click on the video link below to see PROOF of how EXTREMELY CASEY WAS AND IN LOVE SHE WAS AND HOW READY SHE WAS TO START A NEW LIFE WITH ME!
Well I Can't Bring Her Back Now But At Least I know the Love Between us WAS REAL & They CAN NEVER TAKE THAT AWAY!
Casey was happiest when she was w/me. She LOVED living alone with me at my house and our 3 dogs. She told me she wished they would let us B!
These words and videos are all she has, and it's all any gay relationship has in Tila's home state of California: at our best of times, and in our worst of times.
+
If Lola hadn't interviewed Tila for AS in December (a tough piece to put together 'cause of conflicting feelings about Tila's body of work), I doubt I'd be talking abut this. But all of us here at Autoatraddle are kind of fascinated by our own fascination. It's SO WEIRD because it's SO UNLIKE US that we bizarrely ended up being one of a handful of non-paparazzi sources who directly chatted with the couple in their home during their relationship. Lola remembers:"for what it's worth, [Casey] said hi to me on the phone and made Tila laugh and they sounded genuinely adorable & couple-y. It was for real cute, and I truly wished the best for them — albeit against all odds. This seriously bums me out, no matter what ugly truths may lay beneath the surface." So that's what we know from the only reliable source Autostraddle has.
Despite this fascination, however, before I go on I want to admit there's only so much of the Tila-Casey story I can take before risking brain death. So apologies ahead of time if I'm missing some important fight/event; but it actually doesn't matter as I'm trying to look at broader issues here.
Like this issue: Everyone in Casey's life is legally entitled to ignore Tila.
+
Considering the intensity, insanity and/or (allegedly) drug-fueled energy lacing the Johnson-Nguyen union, it's not far-fetched to imagine that the two would've wed before Casey's death had such a thing been legal — a là Pamela Anderson, Britney Spears, Dennis Rodman, Nicholas Cage et al. That would've required a pre-nup (or not) which (either way) would've probs inspired a Serious Johnson Family Intervention. If Tila was a man, the alleged drug use or potential mental illness wouldn't prevent the two from marrying, but it would pose a very real threat to Casey — and vice versa (though it seems no-one is exactly looking out for Tila anymore).
Marriage or engagement would've enabled Tila to make medical decisions for Casey and also held her accountable for endangering her if that was the case. There'd have been lawyers, financial disclosures and well, Tila would've kept the dogs Casey's friends retrieved earlier this week.  All the "alleged" things thrown around this week would have proof or not; we'd know for sure if Tila was supporting Casey financially (we suspect so). But not since Anna Nicole Smith has a widow been so swiftly discredited. (Furthermore… unfortunately for Tila, she's a skilled gunman — not with that gun she posted on Twitpic, but at shooting herself in the foot. Which doesn't help.) I think legality would've settled a lot of things and improved the situation for everyone involved here on both sides.
In the paparazzi video of Nicky and Bijou taking said dogs from Tila's home, one of the "paps" badgers Tila, clearly hoping for the censor-free TMI they always got out of her: "If she's your  fiancée or wife, why are they taking all of it?" I know what that made me think, but Tila, bless her tiny brain, just shrugged, and cried.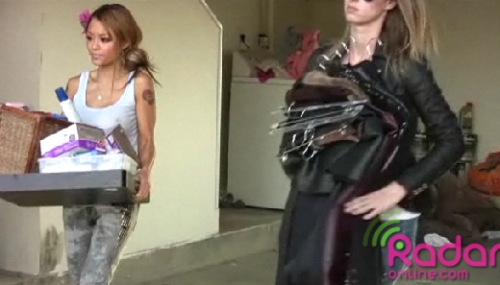 But the law is the law. If Casey did have family money, her parents wouldn't need to get alarmed about this bad relationship 'cause Prop 8 protects Tila from automatically obtaining any. If friends felt the relationship was toxic, a pending wedding would've prompted a more urgent, forcible intervention 'cause laws are serious like that and if the relationship was a good one, then Tila would currently have protections she deserves. The fact that a wedding hadn't been planned makes sense for a gay couple, as the ceremony isn't "real" anyhow; but that detail would've been an important piece of information when assessing the seriousness of a straight relationship.
Using their legal right to ignore Tila's stake doesn't make the Johnsons or Casey's friends homophobic at all. (Although Casey's parents were one of George W.'s top campaign contributors, sidenote.) We're all complicit if accused of treating gay relationships differently because marriage isn't a real possibility.
For example: we're sometimes relieved to never fear that a long-term girlfriend will one day demand having that conversation about putting a ring on it. Closeted celebs are protected by a paper trail-free string of secrets. A lesbian won't log on to Facebook and see their ex-girlfriend married and if she does, she may guiltily remind herself that it's not "real" and therefore could be quickly broken up should she return to your loving arms again. Come on, you know you've done that!
I'm not arguing that monogamy or legal marriage is an inherently "better" form of human union; however, because our culture was built around it (gender roles, etc), it is very different and esteemed here. Marriage applies solid, technical structures to an emotionally-driven partnership. For all the benefits legality provides for successful marriages, it also has benefits for unsuccessful ones –in emotional times, a legal framework can protect the emotional investment.
Marriage certificates, despite how freely straight people often obtain them (Britney Spears!), mean something. Courtenay and Tila could settle the soulmate squabble with a piece of paper — that's the proof. As the public, we don't need the proof 'cause it's not our business. But these papers and these laws are things you wish you had sometimes because only having feelings is fucking SCARY when you're in a crazypants relationship! Maybe straight people don't deserve this legal protection either and we should all just grow up, but well they DO have it, and so we want it too. Because who among us hasn't had or known of a crazy girlfriend who got away with shit a crazy husband never could: adultery, abuse, stalking, stealing, abandonment?
We don't like to talk about that side of it because that's where straight people mess marriage up, and we focus on what looks good for our movement: loving dedicated couples who are denied hospital visits, child custody, or the pension of their deceased partners.
We don't look at those crazy-ass toxic relationships that were so intense they carved a hole in your heart and you knew, no matter how deep the emotional connection, that at any minute your loved one could get up, walk out the door, and never speak to you again, and that it wouldn't matter if you'd paid their bills or built a life around their demands. There is nothing tying you together besides your feelings. And that's really frightening.
+
Because we have no legality, no protection, and no papers; instead in the case of Tila Tequila and Casey Johnson we now have one of the messiest almost-widows of all time. "Dyke Drama" is partially a result of this terrifying lawlessness. We have a lonely, possibly mentally ill tweetaholic who is loathed by the people who peddle her story. This woman is presently claiming her 'wifey's' dying wish is for her to smear the reputation of an old friend via large unflattering photographs. And her relationship, according to the majority of her state's residents, is also not worthy of respect. This is A HOT MESS.
When celebs like Charlize Theron and Angelina Jolie refuse to marry til the gays can; we often wonder, "Well what good does that do?" Well, I get it now. We've forgotten about the flipside: it's not about the kind of relationship they're not going to have, it's about the Lawless Netherworld relationship style they're consenting to have instead — the kind of relationship we have as our only choice. It is, in fact, fairly impressive solidarity.
And regardless of who is right, wrong, good, or bad, I'd like to suggest that this situation might mean more to the GLBT community than tawdry celebrity gossip and that maybe, just maybe, it presents us with the opportunity to advocate not only for the functional, smiling gay families on pro-equality ads, but also our human dysfunction — in all its raw and ugly shamelessness — for better and most certainly for worse.