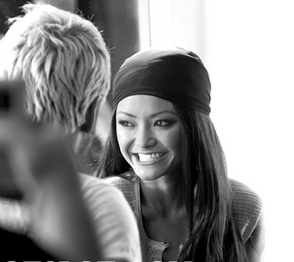 Tila Nguyen, now known as "Tila Tequila," was born in Singapore on October 24th, 1981, to French Vietnamese parents who emigrated there after the Vietnam War. A year later, her family moved to a strict gated community in Houston, Texas. A young rascaly tomboy, Nguyen was eventually sent to boarding school for her "combative behavior" and upon returning home she got mixed up with drugs, joined a gang, tried to turn her life around, and eventually fled her hometown at the age of 16 for Queens, New York with $300 dollars in her pocket. She returned to Houston when the money ran out and worked as a stripper. Eventually she was discovered at the Sharpstown Mall by a Playboy scout, which launched her modeling career.
Tila first showed up on our radar in 2007 when MTV began airing the abominable bisexual dating show A Shot at Love with Tila Tequila. Did you, like us, watch it anyhow, like the guiltiest guilty pleasure ever? Did you see Season Two and if so, were you also struck dumb around episode 205 when you realized that Tila was serious? You know; about love? Remember? Lisa the hawt softball player was sick of "the game" and hating the player, some dude named Bo got busted in the chin fighting with another male contestant, and Tila was crying about how she really did just want love and you realized OMG, those aren't alligator tears. And maybe, like us, you felt empathy. Hang on to that.
+
See, now that Tila's come out as a big ol' lez, the fact that she built her empire by amassing male sexual desire & affirmation is suddenly way more interesting. It's just so easy to hate on Tila, like she's her own worst enemy, and so when we were ragging on Tila a few weeks back about her lesbianism, we floated an idea — Why don't we just call her? Why don't we just talk to Tila Tequila?
So: forget that her ideas about relationships and her catty "retaliations" against celeb "haters" can seem very seventh grade. Forget all the pent up hatred you've let seethe over the years and forget her crazy videos, her crazy blogs, and the very bad-for-bisexuals TV show.
If you forget everything you think you know about Tila Tequila, she's actually pretty fun to talk to. Admittedly, I went into my interview with Tila this week expecting very little. No, she's not a rocket scientist, and I still don't understand or like a lot of the things she's said and done. But during our half-hour phone conversation, she made me laugh easily and endeared herself to me.
So take it or leave it, here's our shot at Tila Tequila.
---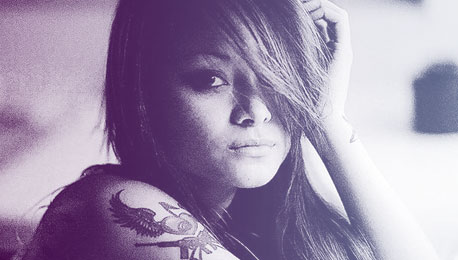 Lola: I feel like there are a million things I need to ask you, because you're all over the news these days! So first off, how has coming out as a lesbian affected your life?
Tila: It's really changed my life. I'm happier than ever, because a few weeks later I got to announce my engagement to my fiancée, Casey Johnson. My life is just totally different than I had ever imagined! It's really good; I'm really excited!
Lola: Did you have an "a-ha!" moment, where you realized you were a lesbian and not bisexual?
Tila: Well, that was the moment where it kind of scared me. I started realizing it for a long time, but I was in denial, of course. Recently, after the whole incident with [Shawne Merriman] – and even before that – I kept thinking back, "What's wrong with me? Why do I always pick the wrong guys? Why am I not attracted? Why am I always single?" I started asking myself questions like that, and thinking, "What was the longest relationship I've ever been in with a guy?" That was only six months, and it was a long distance relationship. And the fact that he was totally like a girl [laughs] played a huge factor in me realizing, "Oh, my gosh!" I picked guys that I thought girls like me were supposed to date. I thought that girls like me would date football players, even though I'm not attracted to them.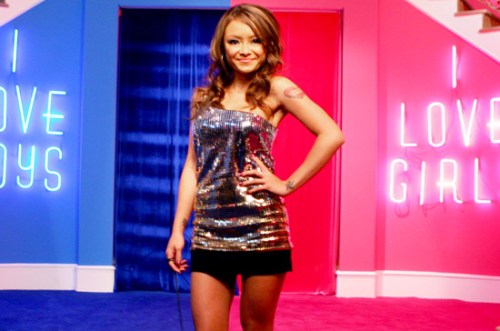 Lola: Right, because you're a "sex symbol".
Tila: Right, because I didn't have that connection, I didn't know what I was supposed to do. That was my "a-ha!" moment [laughs]. That's when I realized I only had sex with guys, but I would kick them out immediately, and I felt disgusted. And they'd always call like, "Why are you dissing me? You're a little player." I'm not a player – I just think it's disgusting!
Lola: You got this bad reputation, even though it was actually because you're gay.
Tila: Right, that was really weird.
Lola: So, your longest relationship was only six months. Do you think marriage will be a struggle for you? That's a huge leap!
"I just want people to see me for who I really am, and not how the media always paints me. I am so not that person. I'm actually really caring, and I'm not a wreck."
Tila: Well, I think marriage is a struggle for anybody. The first week after announcing our engagement, we had a lot of talks. Within a week, I felt like it was five months. [laughs] We had talks about everything. You have the first couple weeks of butterflies, where you're like, "I love you! We're gonna be together forever!" And the next week is like, "OK, these are the rules. If you want this to work out, this is what we have to do."
Lola: That sounds so gay.
Tila: [laughs] It's so gay!
Lola: You know, the lesbian processing…
Tila: Exactly, it's like the U-Haul stereotype, moving in the next day. She brought in her two dogs – you can hear them barking now [laughs] – and all her stuff. And it started driving me crazy, because I have to work. So, we had to sit down and talk for a couple of days. We went through it all, and now we have a schedule worked out, and it's really amazing.
I told her, "Look, your past relationships are not like this one. The past is the past. Love is about being selfless. Maybe in your past relationships, you were selfish, where you expected your partner to do everything for you. But everything I do for you is selfless." You have to start thinking about the other person first, how things will affect them – and blah-blah-blah, all that gay stuff! [laughs] So now, it's working out really well, because she and I understand that we're supposed to be in each other's lives to enhance, to be a bonus, not a distraction or an aggravation.
Lola: Totally. Now that you have that part out of the way, are you two planning the wedding?
Tila: We've actually been talking about that. We were really excited, but then we realized that we can't get married in Los Angeles. I'm friends with the Kardashians, and they're allowed to get married. I'm happy for them, but it makes us realize, "Wow, we're not allowed to get married." All of our friends, especially Casey's, live in L.A., but in order to make it a legal marriage, we'd have to go somewhere like Iowa or Vermont. I think that's really unfair.

So, we're trying to figure that out, whether we'll have just a fun wedding ceremony for all of our friends here, and then get it legalized in one of those other states. We're really fighting for gay rights. Now I understand what it feels like, because we really want to be together, and it sucks that we can't have a lavish, wonderful wedding and share it with everyone here. We're still planning it out.
[noise in the background] Oh, here she is! She knows I'm doing interviews right now, so she's going into the other room to do her work. [dogs barking] And keep the dogs quiet, honey! [laughs]
Lola: Aww, is that her dog in the background?
Tila: Yeah, my dog is a good girl; she doesn't bark. [laughs] Casey, say hi! [Casey says "Hi!" in the background]
Lola: Hi, Casey!
Tila: Oh, my God. [laughs]
Lola: It sounds crazy!
Tila: Yeah, chaotic. The dogs just knocked over a vase, but Casey's gonna clean that up! So, let's put on a smiley face and continue our interview. [laughs]
Lola: Well, how do you react to gossip, like Courtenay Semel badmouthing your relationship with Casey?
Tila: I think Courtenay is really, really sad and lonely. Casey and I have nothing to do with her. The funny thing is, the minute Casey and I got engaged, the first thing I did was write to Courtenay. I said, "Hey, I know we haven't spoken in over a year, but out of respect, I want you to know that Casey and I got engaged. I hope you can be happy for us, because we're really happy. We're really looking forward to starting our lives together, and starting fresh, with no drama. I hope you're doing well; I just wanted to tell you this out of respect."
+
And – proving that money cannot buy you class – this girl is out there slandering us, doing sit-down interviews about us, saying our rings are fake, saying Casey's broke, blah-blah-blah… Why doesn't she just leave us alone and let us be? She's trying to press charges, and go after Casey, doing all this crazy stuff… I just wish that she could find love, and someone to love her one day, so she'll understand. 'Cause when you're in love, you don't care about other people's lives; you're in your own world.
Lola: Right, you don't waste time trying to bring other people down.
Tila: Yeah, Casey and I just lie in bed and we plan our future. We spoke to my brother yesterday about having the baby. We're excited! Courtenay is the last thing on our minds. I'd just like to tell her and anybody else who's trying to bring us down, "God bless you all. I hope one day you can find true love like Casey and I have found. Let us be, and if you don't have anything nice to say, don't say anything at all." We have better things to do, like raising a family! [laughs]
Lola: Yeah, tell us about that!
Tila: Well, I'm in the process of adopting a daughter – Casey has a three-year-old daughter, named Ava. We have a lot, a lot, a lot of things going on! [laughs] Casey and I joke around that we should have a show called The Dysfunctional Functional Family. [laughs]
Lola: Would you want to have another show? You had a dating show, but your real life sounds way more interesting.
Tila: Yeah, I think a reality show about this life would be really hilarious and fun, because it's very family-oriented. It's very chaotic. It's very dysfunctional, yet functional. [laughs] We're lesbians having a baby, but I'm [carrying a surrogate baby for my brother].
Lola: It sounds like a soap opera, but it's real. [laughs]
Tila: [Casey interjects] She just interrupted my interview, and said "functionally dysfunctional" – put that in bold!
Lola: You should market that to MTV.
Tila: Yeah, I think that would be a really great TV show, because it would open people's eyes to something important, such as gay marriage and how normal it can be, just like any other family. We have a daughter, we have three dogs, and we have a beautiful home. I'm working, and she's doing her thing.
I'll be this short, little, fat, mean pregnant woman. I'm not gonna give a f*ck about paparazzi. I'm gonna have rollers in my hair, wearing my pink pajamas, 500 pounds, throwing pickles at the paparazzi, saying "F*CK YOU!"
I'm having my brother's [surrogate] baby, and Casey said, "Wow, your brother sounds really hot." I went, "Shut the hell up! You're disgusting." [laughs] That's when I thought, "Oh, my God! This is really dysfunctional." That's when we came up with that idea. I told her that we'll be walking down Robertson, and I'll be wearing my pink Teletubbies pajamas. I'll be this short, little, fat, mean pregnant woman. I'm not gonna give a fuck about paparazzi. I'm gonna have rollers in my hair, wearing my pink pajamas, 500 pounds, throwing pickles at the paparazzi, saying "FUCK YOU!" [laughs] And I told Casey she's going to have to roll me around in a wheelchair, 'cause I'm not gonna walk.
Lola: See, when you're pregnant you can get away with that.
Tila: Exactly. I can get away with being mean, and wearing no makeup, having meltdowns on the street. That's OK, because I'm pregnant! [laughs]
Lola: Do you think you'll want to have your own kids with Casey, after you give birth to your brother's baby?
Tila: I think right now, there's enough on my plate. [laughs] I think that will be way later down the line, absolutely. But right now, I think getting all this started is exciting enough. We'll start here, and later on we'll talk about having more.
Lola: Let's get sappy – When did you fall in love with Casey? What's the story there?
Tila: It's funny, because I used to hate her. Casey and I used to hate each other, because we knew the same people. Within Hollywood circles, it's like high school gossip. We'd never met each other or seen each other face-to-face, but we always heard about each other and I really hated her. Then I finally met her, through personal stuff we were going through. So, I reached out to her, and we became friends. We just clicked really immediately.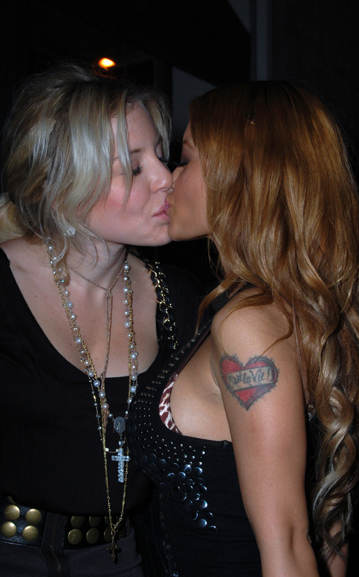 Lola: Aww…
Tila: And then one night, she came over like a train wreck. I had to tell her, "Casey, calm down. Breathe. It's not the end of the world." I fixed her hair a little bit, we started playing dress up… and then, next thing you know, we got engaged.
She is not at all the person the media made her out to be, what her fake friends made her out to be. She's actually very beautiful, and I'm trying to help her see that about herself. She is truly a beautiful and loving person, as am I. I think God put us together for a reason, at this time in our lives. I really believe in love at first sight.
Lola: Yeah, once you actually saw each other in person! [laughs] That's so sweet.
Tila: Fate, serendipity, whatever you want to call it. I feel very blessed.
Lola: Sorry to switch to such a dark subject, but what's happening with your case against Shawne Merriman?
Tila: It still really upsets me. I could have easily given up on it, moved on with my life, and not have to deal with it. It's really dark and negative, and brings me back to a dark time I do not want to remember. The only reason I'm still continuing to fight for it is because I know what's right; I know that he knows what went down, and I know that God knows. And I know that doing this will give a lot of women faith again. A lot of women wrote to me, and they were so excited to see me fighting back. When my case got thrown out, a lot of those women disappeared, because they got scared. They thought, "Wow, if nobody took Tila Tequila seriously, then nobody will ever believe me either." It's costing me a lot of money. People don't realize that I'm paying a lot in lawyer fees, and I don't have to do that. But the reason why I am is because I want my justice, and I want justice for all other women out there. You don't have to stay quiet. You can be strong, and fight for it, and not be afraid, no matter what. That's why I'm continuing this battle.
And I have my wife and family to support me now, so I think everything is happening just the way it should. I'm happy.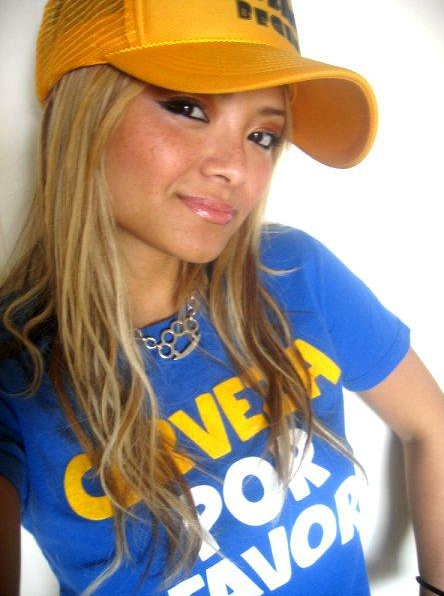 Lola: That's good to hear. What's the hardest thing in your life? Because it sounds like you're doing really well now.
Tila: The biggest challenge right now is the way the public views me. I've always been very outspoken, very carefree, and I stand by what I say. I stay true to myself. The biggest thing I'm trying to change right now is the way people view me. They only know me from A Shot at Love… which was five years ago, you know? I just want people to see me for who I really am, and not how the media always paints me. I am so not that person. I'm actually really caring, and I'm not a wreck. I know exactly what I'm doing; I'm just a little wild. I'm definitely not a librarian, or a nun…
Lola: And you've got a mouth on you…
Tila: Yeah! Exactly, but at least I'm honest about it. I stand by that.
Lola: Do you think that the lesbian community has been more accepting of you now?
Tila: Half of them have been pretty supportive. The other half, who don't know me well, have been really judgmental. Recently, there was this gay blogger – I'm not gonna say who, 'cause I don't want to give him any more publicity – who blasted on me, saying, "The LGBT community doesn't want you, ho! Have a seat!" I think it's rude, and his hatred toward me reflects his own self-hate. Certain people can't handle seeing a strong, sexy woman, and so they slam on us. People like him should shut up, and just be grateful that there are more public personalities fighting for gay rights. Instead of talking shit and slamming me, he should be supportive, because I'm out here being an activist and fighting for gay rights. I think what he's doing is sending out a really bad message to straight people, and he's hurting himself by doing that, too.
Lola: Right, within our own community, people try to tear down each other. It's so counterproductive.
Tila: Yeah, it's really sad! It doesn't make sense to me; we should stick together. Hopefully, after people read this interview, it will change their minds about me. But if not, it doesn't matter. I'm still happy. I'm still going to fight for our right to get married. I'm going to buy my Teletubbies pajamas, and throw pickles at paparazzi!
---
Follow Tila Tequila on twitter and check out her website, Tila's Hot Spot.