This review contains spoilers for Queen & Slim
I was in bed scrolling through Instagram when I saw the footage of Alton Sterling's murder. I wasn't prepared. It left me gasping aloud, not even aware I'd started crying. Innocuously nestled between pictures of friends at the beach, taking selfies, was the video of his shooting. It happened so fast, I wasn't sure what I was seeing. When I finally did register it, I was stunned, both unable to believe his murder was real and upset at my own astonishment.
Let's be clear, Queen & Slim isn't that. But it's not much of a departure.
The film opens with two gorgeously dark-skinned people on a painfully lackluster first date. Already I feel myself getting pulled in just out of sheer thirst — it's so rare to see deeply hued people as romantic leads. We find out early on that Queen, an attorney, had responded to Slim's months-old Tinder message because her client was sentenced to death row and she didn't want to be alone that night. They continue muddling through the awkwardness of the evening until Slim is pulled over while driving Queen home. Almost immediately it's clear that the white officer is angry, and his anger is in need of a target. Things escalate quickly, ending with a bullet in Queen's leg and Slim shooting the officer dead in self-defense.
They embark on a harried journey through Ohio to Kentucky, then on through Nashville to New Orleans where Queen's uncle lives and can offer some aid (trans actress Indya Moore is one of his girlfriends). As they drive, their backstories take shape, along with tentative plans for escaping their present circumstances. Along the way they discover that they're the accidental heroes to whole swaths of Black folks exhausted by police violence. Unsurprisingly, many others see them as villains. Their actions spark a revolution across the country with uprisings against the cops carried out to inevitable, horrific ends. With the help of Queen's uncle and his motley crew of ex-military comrades, a plan is hatched to get the pair to Florida and, from there, on a plane to Cuba. So they can be free, "like Assata."
They don't make it. Not to Cuba, not even to the plane. Dropped off yards away from the aircraft, Queen and Slim smile in disbelief, running towards their freedom and looking so relieved as the impossible becomes real. The thing is, they had us believing it was possible, too. There were audible gasps and shouts in the theater as numerous cop cars become apparent in the distance. I was among them, having let myself believe that they had a chance. Both characters were brutally killed on the tarmac.
The fact that I identified so heavily with the movie speaks to some strengths in Lena Waithe's script. Her unwillingness to translate cultural moments and references acted as an invitation to relax into our shared tongue. The dialogue was restrained in parts but also lush in the moments where more was needed. While there were times I found myself filling in plot holes, I didn't really mind because of how successfully swept up I became in the film's more successful moments.
The movie was a first for her and also for director Melina Matsoukas, who is perhaps best known for directing Beyoncé's "Lemonade.wp_postsVisually, the film is an absolute stunner. One of its biggest triumphs is its unyielding tribute to Black life and Black living in the U.S. south. As the pair travel from Ohio to Kentucky, to Nashville and on to New Orleans, we're shown the naked beauty of the south, unadorned by contemporary attempts to make it less Black and less poor than it is. As a southern transplant myself, it was so refreshing to see familiar landscapes outside of a framework that presents them as blights or problems.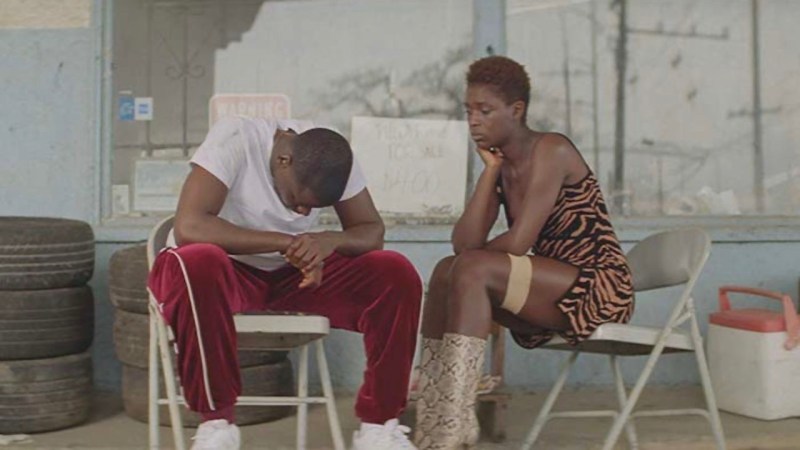 The love that emerges between the two characters is equally as stunning. Brilliantly and subtly acted by both Turner-Smith and Kaluuya, Queen and Slim's connection may be borne out of necessity but is affirmed in their ability to balance each other through moments of grounding and of flight. When one panics, the other holds them steady; and in turn when the reality of their plight starts to wear, the other breaks the tension with much-needed levity. All this, alongside an impeccable soundtrack, made the couple's journey towards each other and their precarious future all the more irresistible.
But maybe that kind of fiercely magnetic beauty is all the more noticeable when it's gone. Queen & Slim gave me so much of what I needed but ultimately dug into a wound that may never really heal. Viewers were asked to suspend their disbelief about some of the more dubious plot points — Queen as a lawyer who mouths off to a cop clearly escalating in aggression strikes as one glaring example — in the same ways they were simultaneously compelled to believe that another life was possible for them.
Queen & Slim's narrative of fugitivity was far from sexy, all too familiar to Black and Brown folks who understand this precarity as inherent to our being. Each character reminds the other that they are Black and they are criminal, a harsh reminder of how Blackness has pretty much always been wrapped up in illegality, as existing on the "wrongwp_postsside of the law.
That I keep questioning myself and my own desires for a freedom unbridled by these restraints is probably evidence of the imaginative muscle I need to strengthen. In the final moments, in the morgue, the funeral, the street corner memorial, I felt silly for believing any other ending was possible. In all honesty, that thought sent me spiraling.
I know my partner Karen had a similar experience, too. I know our visceral responses were informed by the individual heaviness we carry and the collective weight of Black and Brown queer struggles. The movie just hit too close to home. I can't help but wonder if it really is too neat, or too saccharine, to envision them actually getting on the plane. Where would the movie have taken us if they'd actually touched down in Cuba? If they'd actually been able to fully evoke Assata Shakur's legacy? Yes, the narrative is grounded in the present moment, in the ways Black people have always existed, but can't fugitivity become a freedom realized in this life? Is it too much to ask that we finally get to see us win?
Queen & Slim left me as rife with contradictions as the film itself. At once I was hungry for more images of the characters' lusciously deep skin, and simultaneously I was overfed on images of that skin covered in blood. Waithe's recent comments on her (white) influences and a Twitter storm about the controversial casting call for Queen all left me wanting more from her and from the movie. Her comments betray a limited view of Blackness that, in turn, seems to limit her character's potentials.
I think Queen & Slim is beautifully, tragically of the culture, if not for it. It's a film certainly reflective of our current moment and of our history. Perhaps, my envisioning of a utopia or even just a place that lets us live might be better satisfied by looking elsewhere. Maybe the answers to most of my questions lie in other films and applying less pressure to this one. So much of this movie's burden lies in its rarity, a burden we know isn't shared by white films. It's especially important to mark this moment for Waithe and what she has accomplished as one of few queer Black women, and far fewer masculine presenting, in Hollywood.
For a work touted as blackness for Black people, Queen & Slim ultimately offers not hope or a way forward, but more images of beautiful Black corpses added to the growing canon of Black death for consumption. And I'm simply not able to keep bearing witness.
After the movie, Karen and I sat in the theater for a few minutes before I turned to her and said, "I need a drink.wp_postsShe agreed: "We can't end the night like this.wp_postsWe promptly headed to a queer bar, not even caring that we were two of just a handful of women. We were just happy to be surrounded by loud-talking, bass-heavy QPOC joy.