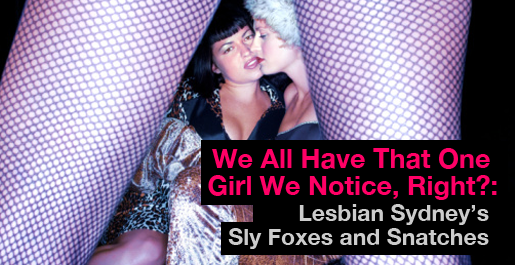 In Part One, I took you on a journey to 'The Bank' in Newtown, which hosts one of Sydney's most prominent lady parties. If you didn't read it, you probably should, otherwise what I write today may not make sense. There's a chance it won't make sense anyway, all I'm saying is that reading it may increase the odds.
We all have that one girl we notice, right? The one who cuts straight through the crowd. Mine works in my office building in North Sydney. She's had my attention for about a year now, ever since I first saw her wheeling her bicycle through the foyer, into the elevator and straight into my heart. Out of all the girls I see every day, straight or gay or otherwise, this one is the most stunning… shaggy shoulder-length hair, tall lean frame, strong square jaw… you know the type. I don't know her name or where she lives or what she's like, and I have no real interest in finding out. For all intents and purposes, she is a unicorn. One that I'll see tonight. 
Which is to say there are a lot of things that are mockable about the girl-on-girl scene and its respective scenesters, but there's also an opportunity for secret, special magic to happen. Somewhere between the time when I was young and coming out and would've been lost without these places and the present time, when I prefer to judge from a distance, I forgot about that. These are the crucial spaces where familiar eyes infer a similarity beyond common geography, it's where we looked and are looked at …
But I digress.
Queer Central, Wednesdays @ The Sly Fox – Enmore Road, Enmore

Roxy, her 'crew' and I leave the Bank at 11pm and walk down the road to an ancient pub named The Sly Fox, located in Enmore. If there's one thing that can be said about the Sly Fox, it's that it's dodgy in the most perfect way.
Roxy & friends think the underage kids outside are having the better party and I decide to go inside and verify. The fancy booths and classy bars of the Bank are a forgotten memory here, where we sit on rickety bar stools, order vodka tonics from tough looking bar tenders and pry our shoes from sticky, alcohol-soaked timber floors. I feel more at ease here because I like things that are trashy. I like that right now there is a mob of queering girls cheering on a drag king troupe who are lip-syncing to an emo anthem.
When their act took the stage I was apprehensive, then confused, then amused, and eventually wishing it would go on forever because it was so weird and fun.
A friendly butch girl at the bar tells me she favours the Sly Fox 'cause it's less pretentious than other venues. When I admit that I'm not a regular, she quickly whips out some Sly Fox lesbian folklore; her ex-girlfriend allegedly once saw Ruby Rose and Jess from the Veronicas make out in the very spot that we were standing. Her ex was also at Woodstock and dated Ellen, probs. Before not too long I realize I've lost Roxy and since it's approaching midnight, I dash back to The Bank to meet up with Kendall.
It's been so long since we've seen each other, I ask her if she's been at The Bank all these years. She says no, revealing that she often goes through 3-month cycles of regular attendance and then longer periods of abstinence. Our old crowd, she explains, stopped showing up. They grew old, paired off and purchased cats. Or they just burned out. Kendall jokes, "you know, it's exhausting being this fucking scene every week."
Snatch & Grab, Thursdays @ The Phoenix Bar – Oxford Street, Darlinghurst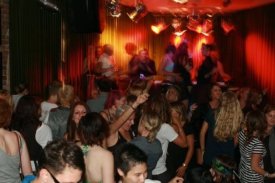 Snatch & Grab (affectionately referred to as simply 'Snatch') is on Oxford Street, a gay district of Sydney predominately favoured by the boys.
I'm gonna level with you here: I've frequently mocked Snatch & Grab, and up until now I've refused all invitations to attend the event for no other reason than my intense dislike of its name. Apparently it's not beneath me to judge a venue that I have never stepped a foot inside of. For a reason I cannot quite explain (except that it may or may not somehow be related to 'Twat, the Night'), the word 'Snatch' makes me uncomfortable. So the last thing I expected was for Snatch & Grab to become my favourite girl-on-girl venue.
We rock up to the Phoenix Bar, Roxy & Crew lead me down a small stairwell into an underground venue that's empty for all but 12 girls – there are two door bitches, a lone bartender, two girls ordering drinks, three girls hula hooping on the empty dance floor, and four girls standing awkwardly to the side watching. Those four girls are us, obviously.
Do I talk to her? What would I even want to say? Are we catching eyes because she recognizes me or because I'm staring at her like a weirdo or because she has thought about making out with me in the elevator, too?
Roxy, sensing my cynicism, suggests we are unfashionably early. There are more girls outside on the pavement than inside the venue, so we head upstairs and sit in Oxford Street's gutter for an hour until Roxy declares that it's safe to return to the club.
Roxy's right. We re-enter a brand new atmosphere; the room is packed with chilled, casually-dressed girls who are simply enjoying — well — chilling. The DJ blares Uh Huh Her real loud, so loud that my internal organs are shaking and we have to move to the other side of the room to be heard. There, we slide into an empty booth and are joined by some Roxy's friends. One of them I recognise and, judging by the invisible daggers she's hurling at my head, clearly the last time we saw each other I had left a good impression. Lest I get glassed*; we relocate to someplace more central and crowded.
That's when I see her: the girl from my dreams office building.
Do I talk to her? What would I even want to say? Are we catching each other's eyes from across the room because she recognizes me or because I'm staring at her like a weirdo or because she has thought about making out with me in the elevator, too?
And then I do the exact opposite of what I would've done a few years ago.
I leave.
——————
During the adventures of this week, I kept trying to compare the scene now to what it was a few years ago when I was a regular. Possibly because I was trying to convince myself that it was the scene that had changed, not me. The reality is that the only difference between then and now is that I'm older. For the last two nights, I've stayed out 'til 2am. Dragging my sorry ass out of bed at 6am for work the next morning is more painful than I remember.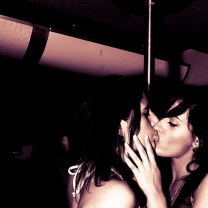 I'm exhausted and it's not even the weekend yet.
Once upon a time I'd do this week in, week out, Wednesday to Sunday, rinse and repeat, without breaking a sweat. Those were a few of the best years of my life — but also, the trashiest and unhealthiest.
So I forced myself to stop, 'cause being exposed to the same places and same people every night can be too much of a good thing in the worst possible way. It's like an addiction, almost — if you're consistent enough then eventually the comedown begins to outweigh the high, and you realize you've gotta go cold turkey or bust.
If you're naturally reckless then these environments can bring out the worst in you, they offer so many opportunities to fuck up.
So maybe I just miss being younger or stupider, when I could rightly claim that I didn't know better. It's clear that the sense of support and community provided by the lesbian scene in Sydney has a lot to offer girls, and good clean fun can be had, if you want it. But have I ever wanted good, clean, fun? Will I? Is my cynicism just intellectually veiled nostalgia?
Or maybe the same thing will bring me back to the Bank or Snatch or the Sly that always did, and always will, as long as girls exist and I like them: the one who cuts straight through the crowd, and what it means to see her there, and all the trashy, reckless, secret possibilities of the night, and the life we live in it.

* GLASSED (Aussie / UK slang) Bar brawling, when someone stabs you with a broken bottle or glass.