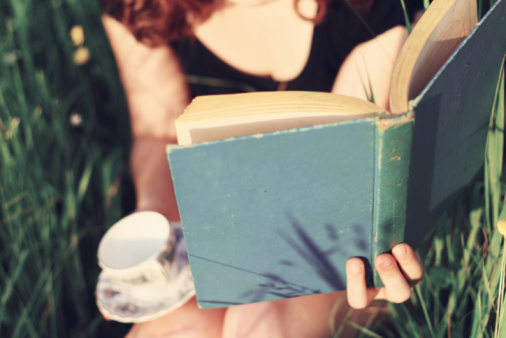 In response to our first in a series of three Autostraddle Roundtables about feminism, several of you requested a "reading list" to introduce you to some of the basic literature grounding the feminist movement. Simple enough, right? Well, we knocked our heads together and came up with about 5 billion books, which is probs the difference between bloggers and people with PhDs?: they know how to write concise, clear, focused syllabi?
So here's your list ladies. Get in your hammock, lie on your porch, hide in your emo cave and READ SOME MOTHERFUCKING BOOKS, IDIOTS!
This list focuses primarily on the American feminist movement. Feel free to suggest some books outside of that scope in the comments! Unless otherwise noted, the descriptions in italics are from the back of the book.
We've also included some "Team Picks" from our friends and from us!
Everything is listed in order of publication date. The following color codes will also help you on your journey:
Purple: Women of Color
Pink: LGBT
Blue: Sex
Green: Body Image & Women's Health
Orange: Pop Culture
---
+
Big Books Covering Expansive Periods of Time:
+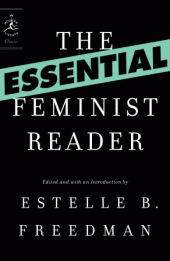 The Essential Feminist Reader (Modern Library Classics)
Edited by Estelle B. Freedman:
"…selections span more than five centuries. Moving beyond standard texts by English and American thinkers, this collection features primary source material from around the globe, including short works of fiction and drama, political manifestos, and the work of less well-known writers."
Sisterhood Is Global: The International Women's Movement Anthology
Edited by Robin Morgan:
"The anthology features original essays Morgan commissioned from a deliberately eclectic mix of women both famous and less known-grass-roots activisits, politicians, scholars, querillas, novelists, social scientists, and journalists-representing 70 countries, from every region and political system, with particular emphasis on the Global South."
Sisterhood Is Forever: The Women's Anthology for a New Millennium, Edited by Robin Morgan:
"Over 60 original essays Morgan commissioned from well-known feminist leaders plus energetic Gen X and Y activists — is a composite mural of the female experience in America: where we've been, where we are, where we're going. The stunning scope of topics ranges from reproductive, health, and environmental issues to workplace inequities and the economics of women's unpaid labor; from globalization to the politics of aging; from cyberspace, violence against women, and electoral politics to spirituality, the law, the media, and academia. The deliberately audacious mix of contributors spans different generations, races, ethnicities, and sexual preferences"
The World Split Open: How the Modern Women's Movement Changed America.
by Ruth Rosen:
"For anyone who wants a thorough introduction to the modern American women's movement, this is it: a rousing story of the revolution by a history professor who participated in its struggles."
Transgender History
Edited by Susan Stryker:
"Covering American transgender history from the mid-twentieth century to today, Transgender History takes a chronological approach to the subject of transgender history, with each chapter covering major movements, writings, and events."
Women of Color and Feminism
by Maythee Rojas:
"Maythee Rojas offers a look at the intricate crossroads of being a woman of color. Women of Color and Feminism tackles the question of how women of color experience feminism, and how race and socioeconomics can alter this experience."
Daring To Be Bad: Radical Feminism in America 1967 – 1975
by Alice Echols:
"If we are still debating the relative importance of gender, class, and race, combating the power of capitalism and patriarchy, this valuable study shows that the discussion owes much to the radical feminists who hewed out the outlines of these issues."
---
+
Dawn of Time to 1959
+
1792: A Vindication of the Rights of Woman, by Mary Wollstonecraft
1879: The Doll's House, (play), by Henrik Ibsen
1892: The Yellow Wallpaper and Other Stories, by Charlotte Perkins Gilman
1892: WOC – A Voice From the South, by Anna Julia Cooper
1931: Living my Life, by Emma Goldman
1929: A Room of One's Own, by Virginia Woolf
1949: The Second Sex, by Simone de Beauvoir
---
+
Sarah, Associate Editor:
The Awakening, by Kate Chopin
I first read The Awakening in high school. I didn't realize why yet,
but I loved everything about it. Yes, even the ending.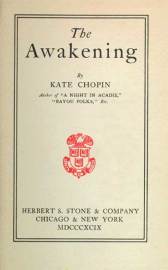 ---
+
1960 to 1969
+

1963: The Feminine Mystique by Betty Friedan – "This is the book that defined "the problem that has no name," that launched the Second Wave of the feminist movement, and has been awakening women and men with its insights into social relations, which still remain fresh, ever since. A national bestseller, with over 1 million copies sold."
1967: In Search of Our Mothers' Gardens: Womanist Prose, by Alice Walker
1967: Diary of a Mad Housewife (a novel), by Sue Kaufman.
1968: SCUM Manifesto, by Valerie Solanas – "…the Manifesto, for all its vitriol, is impossible to dismiss as just the rantings of a lesbian lunatic."
1969: Black Women's Manifesto; Double Jeopardy: To Be Black and Female, by Frances M. Beal
1969: Sexual Politics, by Kate Millett
+
---
+
Laneia, Executive Editor:
Rubyfruit Jungle by Rita Mae Brown:
[QUEER]
Obviously this novel isn't specifically about feminism, but it was one of the first books I read that questioned gender roles in a way that really opened my eyes. I credit it with giving me the nerve to take control of my life.
---
+
1970 to 1979
+
1970:The Female Eunuch, by Germaine Greer:
"The publication of Germaine Greer's The Female Eunuch in 1970 was a landmark event, raising eyebrows and ire while creating a shock wave of recognition in women around the world with its steadfast assertion that sexual liberation is the key to women's liberation."
1971: The Dialectic of Sex: The Case for Feminist Revolution, by Shulamith Firestone.
1971: Our Bodies, Ourselves: A New Edition for a New Era (Boston Women's Health Book Collective) by Judy Norsigian.
1972: Memoirs of an Ex-Prom Queen, by Alix Kates Shulmans – considered "the first feminist novel."
1973: Toward a New Psychology of Women, by Jean Baker Miller
1973: Fear of Flying (novel), by Erica Jong
1974: Lesbian Nation: The Feminist Solution by Jill Johnston
1974: Against Our Will: Men, Women, and Rape, by Susan Brownmiller
---
+
1980 to 1989
+
1980: On Lies, Secrets, and Silence: Selected Prose 1966 – 1978 by Adrienne Rich
1981: Ain't I a Woman? Black Woman and Feminism by bell hooks:
"In this classic study, cultural critic bell hooks examines how black women, from the seventeenth century to the present day, were and are oppressed by both white men and black men and by white women. Illustrating her analysis with moving personal accounts, "Ain't I a Woman" is deeply critical of the racism inherent in the thought of many middle-class white feminists who have failed to address issues of race and class."
1981: This Bridge Called My Back: Writings by Radical Women of Color, by Cherie Moraga
1983: Women, Race, & Class, by Angela Davis
1984: Sister Outsider: Essays and Speeches (Crossing Press Feminist Series), by Audre Lorde
1984: Feminist Theory From Margin to Center, by bell hooks
1985: The Handmaid's Tale, (novel) by Margaret Atwood:
"I was reading this novel when 9/11 happened and it scared the shit out of me." (-Riese)
1987: Borderlands/La Frontera: The New Mestiza, Third Edition, by Gloria Anzaldua:
"Anzaldua, a Chicana native of Texas, explores in prose and poetry the murky, precarious existence of those living on the frontier between cultures and languages. Writing in a lyrical mixture of Spanish and English that is her unique heritage, she meditates on the condition of Chicanos in Anglo culture, women in Hispanic culture, and lesbians in the straight world."
1989: The Woman Warrior: Memoirs of a Girlhood Among Ghosts, by Maxine Hong Kingston.
---
+
Riese, Editor-in-Chief:
Appetites: Why Women Want, by Caroline Knapp (2003)
[BODY IMAGE + HEALTH]
Even if you've never suffered from an eating disorder, Knapp's insights on how society has encouraged women to submerge desire and exalted expressions of restraint is worth your attention. A quote:
"the female journey in [the clash between the desire to satisfy appetities and the fear that they may overwhelm us, control us] can be exeprienced and expressed in particularly painful and confounding ways, women beng the gender born and raised on the notion that the female appetite is limited and curtailed to begin with, that female hungers should be reined in, permitted satisfaction in only the most circumscribed, socially sanctioned ways."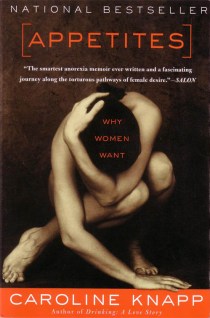 ---
+
1990 to 1999
+
1991: Backlash: The Undeclared War Against American Women, by Susan Faludi:
"Far from being "liberated," American women in the 1980s were victims of a powerful backlash against the handful of small, hard-won victories the feminist movement had achieved… the alleged "man shortage" endangering women's chances of marrying and the "infertility epidemic" said to strike professional women who postpone childbearing are largely media inventions. She finds evidence of antifeminist backlash in Hollywood movies, in TV's thirtysomething , in 1980s fashion ads featuring battered models and in the New Right's attack on women's rights. This eloquent, brilliantly argued book should be read by everyone concerned about gender equality."
1991: The Beauty Myth: How Images of Beauty Are Used Against Women, by Naomi Wolf:
"Feminist Naomi Wolf argues that women's insecurities are heightened by these images, then exploited by the diet, cosmetic, and plastic surgery industries. Every day new products are introduced to "correct" inherently female "flaws," drawing women into an obsessive and hopeless cycle built around the attempt to reach an impossible standard of beauty. Wolf rejects the standard and embraces the naturally distinct beauty of all women."
1992: The Persistent Desire: A Femme-Butch Reader by Joan Nestle
1993: Stone Butch Blues (novel), by Leslie Feinberg
1995: Where the Girls Are: Growing Up Female with the Mass Media, by Susan J. Douglas
1995: Schoolgirls: Young Women, Self Esteem and the Confidence Gap by Peggy Orenstein
"Following a 1990 poll which found that girls suffer plummeting self-esteem and reduced expectations as they enter adolescence, journalist Orenstein visited two California middle schools to take a more personal look at the statistics."
"+


1995: Gender Outlaw: On Men, Women and the Rest of Us by Kate Bornstein
1997: SEX – Whores and Other Feminists, edited by Jill Nagle
1997: Pomosexuals: Challenging Assumptions About Gender & Sexuality, edited by Carol Queen, Lawrence Schimel and Kate Bornstien
1997: Sex Changes: The Politics of Transgenderism, by Patrick Califia-Rice
1998: The Body Project, by Joan Jacobs Brumberg
1998: The Vagina Monologues, by Eve Ensler
1998: The Guerrilla Girls' Bedside Companion to the History of Western Art, by The Guerrilla Girls
1999: Can't Buy My Love: How Advertising Changes the Way We Think and Feel, by Jean Kilbourne
1999: The Bust Guide to the New Girl Order, edited by Debbie Stoler and Marcelle Karp
---
+
Natalie, Contributing Writer
Gender Trouble: Feminism and the Subversion of Identity by Judith Butler
[QUEER/TRANS]
Really heavy on the theory…but gets to the heart of feminism – which is, I think, to analyze and break down false/artificial binaries, dichotomies, hierarchies etc. and challenge, challenge, challenge "norms."
---
+
2000 to present
+
2000: Feminism Is for Everybody: Passionate Politics, by bell hooks
2000: Women and Power in Native North America, by Laura F. Klein (Author) and Lillian A. Ackerman (Editor).
2000: Tales Of The Lavender Menace: A Memoir Of Liberation, by Karla Jay.
2000: Slut! Growing Up Female with a Bad Reputation, by Leora Tanenbaum
2000: Manifesta [10th Anniversary Edition]: Young Women, Feminism, and the Future, by Jennifer Baumgardner & Amy Richards:
"Manifesta, which is far less shrill than the name suggests, urges young women to pick up where their mothers, aunts, and adult mentors left off. Their challenge? To fulfill feminism's promise of justice, equality, and sexual freedom for all. Complete with appendixes to teach novices the nuts-and-bolts of community organizing, this book is a reasoned and passionate call to action and an exciting how-to guide for both burgeoning and seasoned Third Wave feminists."
2001: YELL-Oh Girls!, by Vickie Nam.
2001: Turbo Chicks: Talking Young Feminisms, by Lisa Bryn Rundle, edited by Lara Karaian and Allison Mitchell.
2002: Jane Sexes It Up: True Confessions of Feminist Desire, by Merri Lisa Johnson
2002: Colonize This!: Young Women of Color on Today's Feminism (Live Girls)
2002: Cunt: A Declaration of Independence Expanded and Updated Second Edition, by Inga Muscio
"This is particularly relevant for women with feelings about the tampon-industrial complex." – Riese
2002: Nickel and Dimed: On (Not) Getting By in America, by Barbara Ehrenreich
2003: Reading Lolita in Tehran: A Memoir in Books, by Azar Nafisi
2005: Women and Madness: Revised and Updated, by Phyllis Chesler
2006: BITCHfest: Ten Years of Cultural Criticism from the Pages of Bitch Magazine.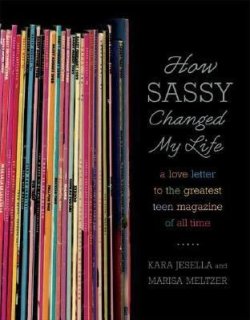 2006: Female Chauvinist Pigs: Women and the Rise of Raunch Culture, by Ariel Levy
2006: Virginity or Death!: And Other Social and Political Issues of Our Time, by Katha Pollitt
2007: Whipping Girl: A Transsexual Woman on Sexism and the Scapegoating of Femininity, by Julia Serano:
"With her first full-length book, biologist, writer and musician Serano positions herself as a Betty Friedan of the transsexual community. Making a case that trans discrimination is steeped in sexism and that trans activism is a feminist movement, Serano delivers a series of articulate, compelling and provocative essays that unmask many of the misconceptions surrounding transsexualism, gender and feminism."
2006: We Don't Need Another Wave: Dispatches from the Next Generation of Feminists, by Melody Berger
2007: Full Frontal Feminism: A Young Woman's Guide to Why Feminism Matters, by Jessica Valenti
2007: How Sassy Changed My Life: A Love Letter to the Greatest Teen Magazine of All Time, by Kara Jesella and Marisa Meltzer.
"autostraddle is based on this book more or less" -Riese
2008: Feminism and Pop Culture, by Andi Zeisler
2008: Yes Means Yes: Visions of Female Sexual Power and a World Without Rape by Jaclyn Friedman and Jessica Valenti
2009: The Purity Myth: How America's Obsession with Virginity Is Hurting Young Women, by Jessica Valenti
2009: When Everything Changed: The Amazing Journey of American Women from 1960 to Present by Gail Collins
2010: Girl Power: The Nineties Revolution in Music, by Marisa Meltzer
2010: The Kaleidoscope of Gender: Prisms, Patterns, and Possibilities (Third Edition), edited by Joan Z. Spade and Catherine G. Valentine
---
+
Marisa Meltzer, Feminist Author:
Enlightened Sexism: The Seductive Message that Feminism's Work Is Done, by Susan J. Douglas
"This book exams pop culture from the early '90s until the present and posits that there's more lip service paid to feminism than ever, but without the politics to back up real societal change."