I talked (complained) about it endlessly before leaving for Uganda. My parents worried about it ("don't join any protests, honey!"), my friends joked about it (one gave me a copy of our college newspaper with the headline crossed out and replaced with "Student Arrested in Ugandan Gay Bust") and I, upon arriving in Uganda for a five-plus months stay, tip-toed nervously around it for at least a few weeks.
I'm gay. And Uganda has some… troubles. With gay people.
Maybe you've heard about the bill currently in Ugandan parliament that not only outlaws homosexuality, but includes the death sentence for "aggravated" homosexuality, whatever that means? Also, the definition of homosexuality here includes anyone who "touches another person with the intention of committing the act of homosexuality." So no flirting, y'all! (I broke this law last night though honestly it was more "hope" than "intention")
But I'm not here to talk about things like, "if I come out to my director, she could be imprisoned for three years." You can find that on the internet and in the actual text of the bill here.
I'm here to reflect on what I've seen and experienced in the two months I've spent here so far, as an American woman of color studying abroad in Kampala, Uganda.
+
The Brand New Closet
For the first week I was even hesitant to come out to the other American students in my program and what surprised me the most was how hard it was. I don't think of my identity all tied up in my sexuality and I still don't, but keeping quiet about it made me realize just how much a part of my life my queer identity is. I don't really think I've ever gone through a part of my life in the closet. I generally told people as I became more comfortable and figured out things about myself. There was never a time where I may have wanted to tell someone, but felt compelled by some outside force to keep quiet. But now there was.
Should I implicitly lie, using gender-neutral pronouns when I tell back-home stories, or should I just not tell stories? I've always enjoyed talking about experiences truthfully and explicitly, and suppressing that wasn't easy.
I started out by dropping some female pronouns while talking to a girl who I thought was kinda cute, just to see her reaction. Later that night, we were playing "Never Have I Ever" and she busted out with "Never have I ever had sex with someone of the same sex." She said this while looking at me and laughing. [Note: she said this completely un-maliciously, and probably because there is literally nothing else she hasn't done.]
"But you're been a threesome!" I said while putting a finger down.
She shrugged, "It was pretty centered around the boy." Okay? But I was out and also drunk, telling my stories with relish while asking the group to not let me get so drunk that I start hitting on women.
Overall, a productive night.
+
Don't Ask Don't Tell
In the first week of the program, my director addressed the topic during orientation, briefly– very briefly.
She said: If you're gay, don't tell any Ugandans, not even your family. The program directors are the only ones you can talk to about this. If homosexuality comes up in conversation, try to remain neutral, don't reveal your opinions. David Kato was murdered by someone trying to rob him, the fact that he was gay [he was not only gay, but the most vocal gay rights activist in Uganda] has nothing to do with his murder. And that was it. That was the talk. I made eye contact with the other queer girl across the table. Uh-oh.
+
Home & Away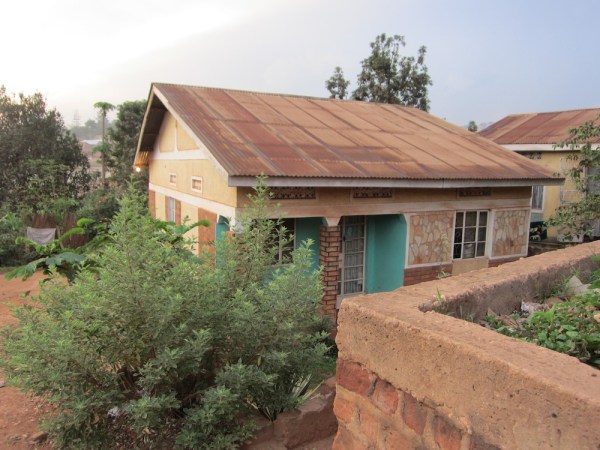 Many people had conversations about queerness within the first night of their homestay. One girl had to listen to her family talk about how wrong homosexuality is while Ellen played on their TV. Richard Simmons was the guest.
This girl's sister watches The L Word.
THE L WORD.
"It's a good show."
Say whaaaaaatttt????
Most of my homestay and my general interactions with other Ugandans were uneventful. I had to take a photo of my cousin and I in a cross-dressing fashion show when I was about five and he was nine and looking at it in the states, I thought it was funny and cute. When my host family here saw it, I was slightly mortified and quickly turned the page. I eventually took out the photo.
But how would I make it through an entire semester without talking about queer stuff?
Because also: it was a conversation I wanted to have, eventually.
+
Only God Has That Power
The first conversation about homosexuality happened with my brother, Chris. We were sharing a small bottle of waraji (millet gin, not recommended) on the back stoop when he started talking about a guy who'd friend requested him and then said some "inappropriate things" that caused my brother to consequently block him.
The way he shook his head, implying that the details were too appalling to share — "And, uh, I had to block him."
"So, what do you think of the bill?" I asked.
It was time.
Chris explained that homosexuality wasn't natural and it was against God. "But it's not natural for men to kill other men too," he said. "Only God has that power. To decide who will live and who dies." He shrugged, "but you let them, those who committed homosexuality, out of jail, and then they do it again."
I wanted to say "DUH" but instead I didn't. The linguistics of the phrase 'committed homosexuality' implies that it was a one time act, a mistake.
Oops! I just committed homosexuality again!
Let's be honest, someone is gay. Someone is a lesbian. Someone is queer. IS. It is a state of being. A part of someone. Not some act they just accidentally do one day, especially not here.
But that's just how everyone here thinks, and I'm not here to bash anyone's beliefs. I love my family. I respect them and they respect me. My mother here is an amazing strong woman who supports her whole family on self-created enterprises. They're not ignorant. But homophobia is just the norm here and you can't ever blame the individual for a systemic issue. Chris told me that if the bill went up for referendum, it would have passed.
+
+
I'm One Of You
I've seen some queer women here, I've seen some butch-looking girls maybe three times in two months and I want to run up to them and say, "I'm one of you! I'm one of you!" Or maybe not that. Maybe I could just start a conversation with them and know that they understood.
Then one night at a club I saw this cute girl and she seemed queer. Just how she danced with her friends and how uninterested she was in the guys there. We made eye contact and I went to dance with her and her friends for a while and I got their numbers.
I thought about texting her the next morning but what was the point, really? We could hang out a lot and have sex, but what then? I'd leave for the US in July and she'd still be in Uganda. What if I bring out her inner queer and am I overestimating myself to worry that I had the potential to ruin this girl's life? Yes. But with so much on the line, what could I think?
+
+
New Ideas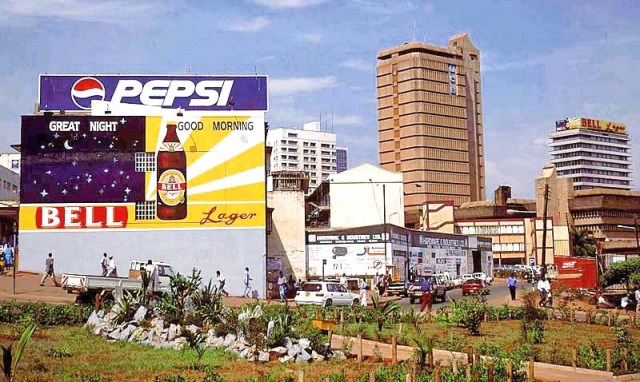 This Peace Corps volunteer who'd spent over a year here told me that it's just more like being gay isn't talked about here. It's a completely new idea and people tend to reject the unknown.
That response seemed like a cop-out.
+
+
Carry Me
We were driving somewhere and my friend was arguing in favor of using surrogate mothers in order to equalize the workplace. Pregnancy leave, she explained, was the last remaining legitimate excuse for men to get promoted instead of women. She was very well-articulated. If surrogate mothers became normalized for ambitious women then they'd remove the final excuse. Furthermore, it would place the parenting responsibilities more equally between the mother and the father.
I imagine I'll want to carry my own (theoretical) children when the time comes but I could see her point. But everyone else was totally disgusted! Really, I'd never seen a consensus quite like this amongst my group. It's just wrong! they said, to pay someone to carry your child for you. WRONG!
Don't you see the parallel between the way you're reacting right now and what the Peace Corps guy said?, I asked. Nope, they didn't. I know homosexuality and surrogate pregnancy are nothing alike but I thought the analogy worked. Everyone was mad at me for implying they were closed-minded.
+
+
I Wanna Hold Your Hand
Homosexuality practically doesn't exist in the Ugandan mind. They're always surprised when I mention having heaps of queer friends back home. This absence actually allows for MORE freedom in how people of the same sex express fondness for each other. Men hold hands crossing the street. My mother has no problem affectionately touching my lower back or ass. Maybe men are more willing to hold their friends' hand when nobody ever supposes homosexuality. But men hold hands in India, too. So maybe there's some cultural reason I'm totally blind to.
+
+
Night Dancers
I met one moderate Ugandan! I found him at a rafting company. He explained that he believes what people want to do, they can do. The (white) owner of the company was gay and more-or-less out.
The problem, the guide said, was how the international community handled news of the bill. It conflicted with Uganda's autonomy. Uganda was dependent on these countries for funding, the relationship there was tricky. Because if Uganda was rich, they could do whatever they wanted. They could make everyone believe in Night Dancers!
Night dancers are a terrifying idea. They are people, drugged up on something, who dig up graves and eat the corpses. If you catch one, they'll kill you to protect themselves. Everyone here believes in them, and if you talk about them long enough with your friends (especially friends who are so well versed in drug culture, they have stories about what drugs the night dancers may be using), walking home becomes effing scary.
+
+
Colonialism
What the raft guide said made sense, sorta. But at what point do the rights of the individual come before the majority consensus? In this case, I firmly believe the rights of the individual wins.
Then if you consider the history of colonialism (that thing where more powerful nations imposed their will upon East African countries), it gets even more twisted. Can other states take advantage of these historical power differentials to do something (which I believe is) right?
Obviously I don't support this bill, but I face some moral questions about my role here, as someone who opposes the majority.
+
+
Leaving
This account comes off as relatively positive, or at least neutral, so I want to emphasize that it reflects my personal experiences here. I do not know what it is like to be born here, to live here permanently.
I may be sane only because I know I am leaving. I also, as I assume most do, want to have a good experience studying abroad, so I am more likely to reflect on my experiences in that light. I only have one more month here before I transition from student to tourist, and already the group is getting sentimental. When studying abroad or traveling, even the worst experiences become just that; experiences. Something to look back on and tell your friends about while gesticulating wildly to enhance the story. This disclaimer is important, because there has to be a queer community here, even if I haven't been able to find it, and their story would be much different.