On January 3rd, David Kato — a leader of gay rights group "Sexual Minorities Uganda" and one of Uganda's most visible gay activists– won his case against Ugandan newspaper Rolling Stone, which had taken it upon itself to out more than 20 people its editor believed was gay in 2010. In addition to successfully suing the paper, Kato secured a high court injunction that would block all media from outing people perceived to be homosexuals.
In "More Homos' Faces Exposed," the Rolling Stone paper (no relation to the US music magazine) published the names and photos of 14 gay men under the headline "Hang Them." David Kato was among those pictured.
In the middle of the day on January 26th, unknown assailants entered David Kato's home and bludgeoned him with a hammer. Kato died on the way to the hospital.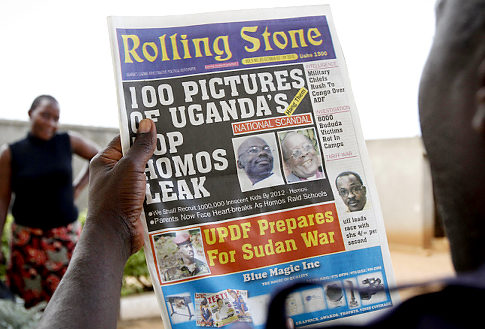 In the Guardian UK, blogger Nsubuga remembers her friend:
Much of our identity is in our name. David's identity was his ethnic group and clan. "Kato" means he was the second twin at birth. I do not remember ever asking him about his elder twin. Is he or she even alive?
Who was David? A small, thin man, with sparse hair and dark skin. It was always the eyes that held you: wild and staring, possessed, passionate. And the voice: high and stubborn, insistent on having his own way. David was fearless. Simply fearless. He was arrested at least twice. He became the "litigation officer" because of his speciality in negotiating the maze of the justice system.
…in Uganda, such exposure has a price. In court, David was chased by anti-gay activists. Strangers knew he was gay. Even at home in Mukono they also knew.
On Monday, I spoke to him on the phone. His email had been hacked; we needed to do something about it. Yesterday evening, we got the call that he was dead.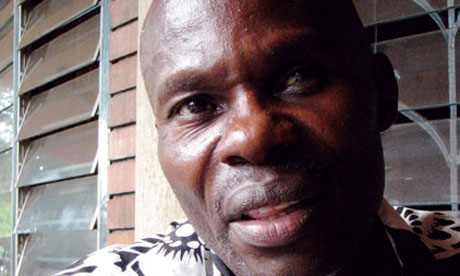 The International Gay and Lesbian Human Rights Commission, in solidarity with Uganda's lesbian, gay, bisexual and transgender (LGBT) community, is calling for the Ugandan government to denounce David's murder and "impartially investigate this heinous crime and ensure the safety of all LGBT Ugandans." In a statement from the IGLHRC:
"We are shocked and saddened by the news of the murder of David Kato,wp_postssaid Cary Alan Johnson, IGLHRC Executive Director. "David was an important leader of the Ugandan and East African LGBT movement. While the circumstances of David's death are not fully clear, I have no doubt that homophobia in its many vicious forms is responsible for his tragic death."
Johnnie Carson, the top US diplomat for Africa, said "We are horrified and saddened by the murder of prominent human rights activist David Kato in Uganda yesterday afternoon." He said this on twitter, the world is weird.
Meanwhile! Police in Uganda are saying that homophobia isn't to blame! It's probs just theft!
And! According to the UG pulse, local "moralists" are celebrating Kato's death. Neat.
So, the police have arrested one man, Arnold Senoga, in connection with the killing, and they're looking for Nsuburga Enrock, an activist Kato had bailed out of prison who was staying with Kato. Surprisingly enough, they've decided to blame Kato's friend, the only human other than Kato who was STAYING in Kato's home, despite the fact that every available report says the assailant was a stranger who ENTERED the home. Olivia Benson would never let that shit fly.
"His homosexuality has not come up as an issue in the preliminary investigation At the moment, we think theft is the most likely motive. Nsubuga Enock, who had been staying with Kato, was well-known for committing robberies and had almost been lynched in the area before."

Nabakooba said items were missing from Kato's home, including a briefcase, and that neighbours had seen Enock leave the house dressed in the activist's clothes.

"We are now trying to establish what relationship Kato had with Enock, whether or not they were relatives and why Kato posted his bail," Nabakooba said.
What say the editors of Rolling Stone, the newspaper which enjoyed outing gay people for sport? This:
"There has been a lot of crime, it may not be because he is gay. We want the government to hang people who promote homosexuality, not for the public to attack them. We said they should be hanged, not stoned or attacked."
A school teacher, Kato became a prominent campaigner in recent years, especially taking on the Anti-Homosexuality Bill, which called for the death sentence to be imposed for some homosexual acts. At the BBC, friends remember David Kato:
"David was always proactive and also very authoritative. He seemed to want to be a leader in every way."
-Poline Kimani, Gay and Lesbian Coalition of Kenya
"He looked like a small unassuming person but when he got up you couldn't help but sit up and listen."
– Rebecca McDowall, Student
"I keep hearing his laughter in my head – it breaks my heart."
– Julian Pepe, colleague
We've been following the situation in Uganda for a while now and its proposed "Kill the Gays" law. If you haven't already, you need to watch the Vanguard Documentary "Missionaries of Hate" from Current.TV — it's an eye-opening look at how US evangelical Christians are playing a role in the Kill the Gays movement. Also worth a look is Rachel Maddow's reoccuring "Uganda Be Kidding Me" segment.
The proposed anti-gay bill, which Obama described as "odious," has been put on the backburner, but it remains before parliament. Nevertheless, anti-gay sentiment is still rife. Homosexuality is illegal in 37 countries on the continent of Africa.
Kato's lawyer, John Francis Onyango, said: "Kato was much more conscious of his security these days. He was conscious that something could happen."
Kato's twin brother, John Malumba Wasswa, feels "lonely" without his brother. "When my brother wanted to do something then no one could stop him," Wasswa said. "He was very brave."