Our girl Portia is the February/March 2011 covergirl for Bust Magazine, one of the few remaining feminist magazines still found newsstands. She speaks openly about her discomfort with playing the role of the ingenue:
"… And that was a problem, because I didn't want to play, like, the provocative temptress. I don't like that character, and it's really not because of my sexuality, it's more because I'm not an exhibitionist in a sexual sense. For me, sex is very private. I'm a little prudish, and I'm a little old-fashioned in that sense. I now love being a sexual person, but I don't like to show it on the outside. I don't lead with sexuality, and I don't like it when other people do, men or women. It's just not part of my makeup."
Yesterday was Ellen's 53rd birthday (I know!) and tons of celebs stopped by (mostly as a surprise) to wish Ellen a Happy Birthday, but the highlight was def Portia, wearing a white satin gown and platinum blond wig, surprising her with an impression of Marilyn Monroe singing 'Happy Birthday.'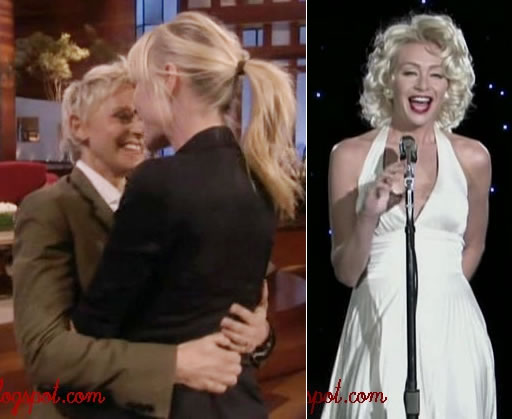 Pink also surprised Ellen by hijacking her monologue to provide some LOLs and a song:
Also, I hear people talking about football a lot lately and Portia & Ellen FlipCam'd themselves partaking in such football excitement.
I just Wiki-stalked Portia and learned that her birthday is coming up on January 31, just a few days after Ellen's. Happy Birthday Ellen & Portia! You are our bright shining hope!
(screencaps courtesy of ellenphotovideo.blogspot.com)