A great-sounding pair of headphones are something that every girl and guy should own, but probably don't – thereby making them the the perfect holiday gift for practically everyone you know.
Below are a few of the more impressive headphones and earphones that've entered into my life recently. If you don't see something you like, also check out this extensive headphone shopping guide we created earlier this year.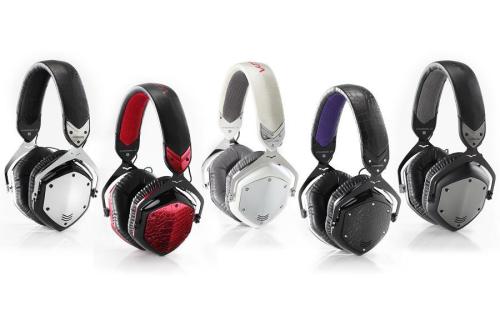 V-MODA 'Crossfade LP' headphones
The Crossfade LPs are the perfect gift for any girl who likes to wear her 'phones like a fashion accessory, or probably should because that's hot.
These are the most stylish and comfortable headphones I've owned to date. They're not cheap – but they don't look it, either; they come available in 5 slamming colors and feature braided fabric cabling, 24k gold plugs, plush foam ear cushions and steel frame. The LPs don't fold up, however they do come with a hard travel case that's packed with all the accessories you could ask for including a smart phone-friendly cable with built-in remote and microphone. And if you get the pearl white model like I did, they may or may not make you look or feel a little like Lindsay Lohan. Whatever that's worth to you.
The sound quality might not live up to the expectations of a serious audiophile, but it's very close – it's good enough to impress the vast majority of music lovers whose music collection favors pop, dance and hip hop. Tegan & Sara also sound really good on these, don't worry I checked.
See the full Crossfade LP range.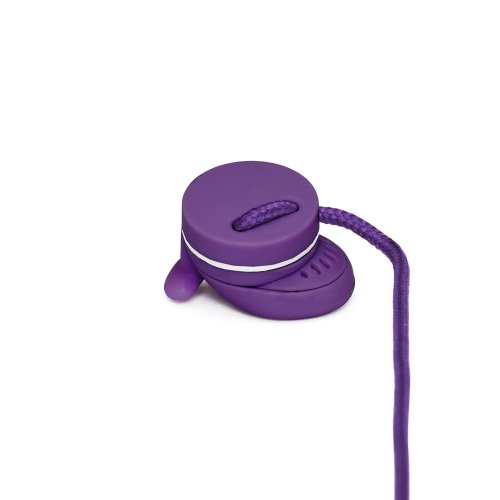 Urbanears 'Medis' Headphones
The new Medis headphone range is truly like nothing I've ever seen before. Their brightly colored rope and plastic construction kinda make them look like a novelty or child's toy, however the sleek packaging and decent sound quality will be enough to assure your gift recipient that these are a solid pair of mid-range headphones and not something you picked up at the Rite Aid on the way to the party.
The Medis are a compromise between over-ear and in-ear 'phones. Their most defining feature is the 'EarClick technology' – a fancy name for a rubber lever that anchors the ear piece into the opening of your ear without invading your ear canal. The design takes a little while to get used to, but once you do they fit as comfortably as traditional in-ear models (or more so) and sound just as good. Also unique is the cord, which features a mic and remote for your smart phone and is constructed from matching woven fabric, a touch which appears to be hot on the headphone market right now.
These come in 12 neon colors, check out the full Urbanears range.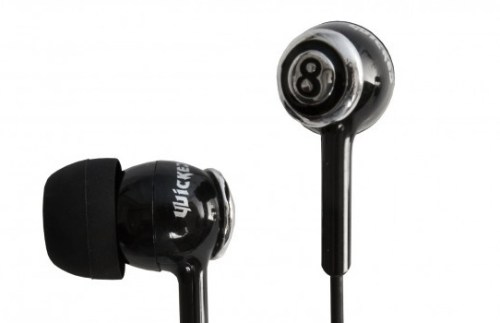 Wicked Audio 'Wicked Empire' Headphones
My 15-year old self is ecstatic about the latest phones from Wicked Audio. They sport an obvious punk inspired design, which is fitting 'cause coincidentally (or not) they perform their best when pumping rock, punk and metal at loud volumes. Various Wicked Empire models are available, all with hardcore names like "Bones" and "Ace," and earpieces that have been decorated with 8 balls and skulls and other symbols of teenage angst and rebellion.
The audio quality exceeded my expectations considering the retail price. They deliver a clear sound that doesn't distort or get muggy, not even when turned up to eleven. The only potential con is that they're designed with a traditional thin black cord that make me nervous about failure. Not the buds, though – they're fitted with a chrome finish and rubber tip, and seem solid enough to withstand your everyday badass punk rock wear and tear.
See the full Wicked Empire range.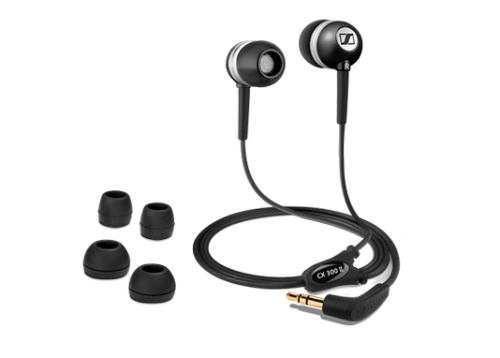 Sennheiser CX300 II Precision In-ear Headphones
There is nothing sexy or fun about these headphones. They lack special features and flashy accessories, there's no microphone or remote or other bells or whistles. Even the packaging is completely dull. However, they sound excellent. The 'precision' part of the title is apt, these 'phones amplify all genres clearly and with absolutely no muffling or distortion. I think you'll be hard pressed finding a better sounding pair of in-ear headphones in this price range.
Note: The CX300 has a traditional build that's proven to be durable for everyday use. However, I've discovered that if you tread on them while walking at a confident pace then they will most definitely break. So try not to do that.
What headphones have impressed you lately? Share the details below, the more recommendations the better!