One of the most common type of Audiostraddle emails I receive – second to daily press releases from Team JBiebs – are from readers looking for headphone suggestions. I'm serious. At least once a week, someone asks me for headphone recommendations. Everyone is obsessed with headphones. What is wrong with you people. Anyhow, so here they are!
Locating the perfect pair of headphones can be tricky (and expensive!) business. Unlike clothes or music or cars or many other items, where headphones are concerned you can't exactly try before you buy. This makes recommendations crucial, lest you want to risk wasting hundreds of dollars on mediocre headphones that make your head & heart hurt.
I'm going to share the few gems I've discovered, ranging from headphones to ear phones, from budget models to the high end. And joining me are two audiophiles who actually know what they're talking about: music blogger Jess G. and  Intern Daphne, who are both trained sound engineers.
If style is your top priority, don't forget to check out Style Editor Becky's various fashion & accessory guides which feature headphones of the smokin' hot variety. Also hopefully you already know that paying full retail for headphones is insanity. That's why we've linked each recommendations to Amazon.com, which usually offers a 30 – 50% discount.
If you have any recommendations or warnings about a pair of headphones you've tried, we we wanna hear them! Share your feelings in the comments section.
Headphone Recommendations
from Crystal:

Audio-Technica ATH-ES7 "Earsuit" Headphones
Amazon Price: $299.00
I became curious about these Audio-Technica headphones when I noticed they were being worn by not one but three hipsters riding on my bus. They were so shiny! So reflective! So sleek! I had to buy them immediately. They're the first pair I've seen that I can wear in public without fear of looking like an air traffic controller.
They're labeled "Earsuit" because they've been designed with the corporate audience in mind. The flat mirror-finish stainless steel cups provide a sleek look while their light-weight, portable design allows them to be flattened for a laptop bag or suitcase. The sound quality is decent, particularly the mid-range and mid-bass, but you're mostly paying for the aesthetics. They're not 100% noise canceling which is a deal-breaker for many, but not me – I don't like hearing my heart beat under the music.
Con: The mirror finish is pretty, but a magnet for fingerprints and scratches so you probs don't want to take these backpacking. They come with a polishing cloth and pouch, you'll need them.
Sennheiser HD205 DJ Headphones
Amazon Price: $46.66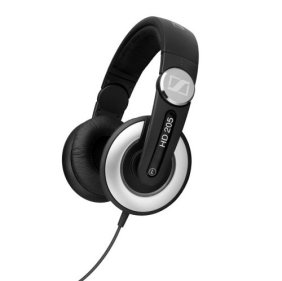 Sennheisers are widely known for producing some of the best quality and best value headphones on the market, you'll almost always get great sound for the price you pay.
The HD 205 DJs are some serious cans that are super durable and feature a twist cup that allows you to beat juggle while tuning the ladies Carmen style. They noise cancellation is excellent and the sound quality stands up to more expensive models on the market.
Con: These are heavy duty, with emphasis on heavy – they get uncomfortable when doing long-haul listening. My gf now uses these for her music/guitar/recording/studio-type stuff and recommends them to anyone with similar needs.
Technics RP-DH1200 DJ Headphones
Amazon Price: $114.95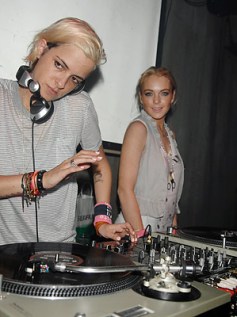 I haven't tried these but Samantha Ronson wears them. And she scored Lindsay. What else do you need to know?
from Jess G.
Sennheiser PX 100
Amazon Price: $79.99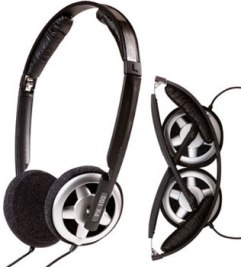 Tiny, sleek ear buds and big, bulky headphones are favored by the majority of music listeners, but not me. If you recall the uncomfortably headphones from the days of the Discman, wipe your memory clean. The Sennheiser PX 100 headphones are a classic over-the-ear open headphone with improved, pivoting ear cups and foam pads on the headband. They fold up for easier stowing, and their sound is clean – you'll hear pans and stereo effects you never knew existed.
If you like a silent sound chamber then these aren't for you, as they don't really block external noise. And they won't win any beauty pageants, either. But on the bright side, no thief will yank them off your head. The Sennheiser PX 100s are discontinued, but you can still buy them, or their updated model (the PX 100-IIs), online.
Sony MDR-7506 Professional Large Diaphragm Headphones
Amazon Price: $84.95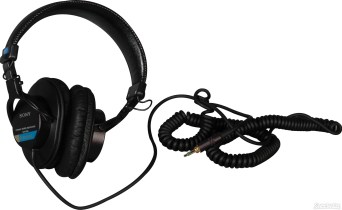 The PX 100s are my anytime headphones, but the Sony MDR-7506 Pros are my go-to if I'm cutting and mixing audio. They're an industry standard, you'll find them lying around any studio or radio station and it's not without reason. They're crystal clear from the lows to the highs, and they can stand a fair share daily use and abuse.
from Intern Daphne:
Bose QuietComfort 15s
Amazon Price: $299.95
These are so comfy and quiet, but my heart weeps when I see the price tag. How's the sound, you ask? Bose sound. Really decent all round sound. They have excellent sound cancelling which means the mids and highs can get a little sharp, but this depends on the recording and genre of music you're playing. It doesn't outweight the quiet comfort of these headphones. I could talk about these headphones for hours, but my advice is to try to find a pair and have a listen.
Sennheiser PXC 250-II
Amazon Price: $150.00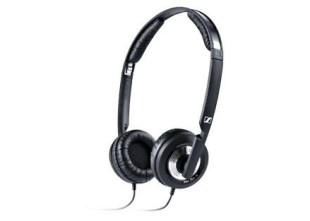 At first I was going to list the higher-end Sennheiser PXC 450 model here, but their somewhat bulky design and aggressive bass isn't for everyone. So I've settled on the PXC 250-II's instead. Their smaller design makes the NoiseGard™ noise cancellation technology a little bit less effective, but in terms of value for money I think they're the better option. They have a really, really good overall sound with no dominant basses or unclear peaks. The design is compact but still comfortable, and they're built from great quality materials.
Sennheiser HD 228 Headphones
Amazon Price: $36.94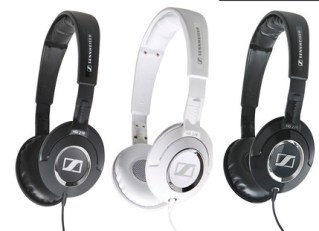 I bought these Sennheisers recently for everyday use and I totally love them. They're great quality with a very portable, neat and comfy design. You really get your money's worth, plus more. I just can't say anything negative about the sound. It's typical Sennheiser sound: a bit of a heavy bass but the mids and highs are perfectly balanced. Although these are actually are marketed as "bass enhanced," I didn't experience them as such. And while they aren't noise canceling, you can't really tell, which makes them great value for money.
Sidenote: Sennheisers also impress music contributor Stef, who has previously recommended the HD202s.
Next page:
In-ear headphone recommendations.
Pages: 1 2See entire article on one page