In-Ear Headphone Recommendations
from Crystal:

Sony Fontopia In-Ear Headphones
Amazon: $13.49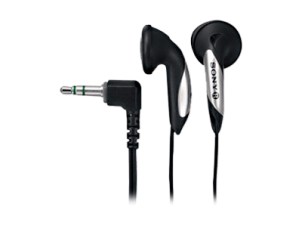 I have no idea which specific model of Fontopia earphones I currently own, but I've tried a few different models and have been pleased with them all. Fontopias are a great multi-purpose earphone, with a simple design and durability that will see them survive the depths of your messenger bag or your bedroom floor. I've found that the sound quality is very good for the price you pay, which isn't much at all.
from Intern Daphne:
Ultimate Ears Triple.fi 10 Pro
Amazon Price: $249.99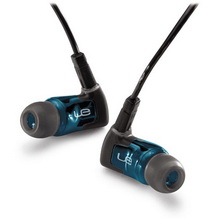 I highly recommend the Ultimate Ears Triple.fi 10 Pro to every Audiophile with some extra bucks, because listening to Lady Gaga or Tegan & Sara through these little beauties will make you wet your pants. They're actually IEMs (In Ear Monitors), but are compatible with any device that has a 3.5mm jack, like an iPod. Seriously you guys, the sound that comes out of these little earphones is phenomenal. With three drivers, the sound is perfectly balanced and very clear. The design isn't bad either.
Shure E500PTH
Amazon Price: $298.00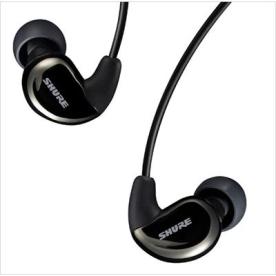 For just under $300 dollars you get breathtakingly accurate and clean sound. Put some music on, clear the room and close your eyes, I dare you not to groove – it's like the band is playing right in front of you. The buds have passive sound isolation, but fear not if you're a leprechaun-eared homo like me – this Shure model comes with many different fittings.
An added bonus for many is the push-to-hear button which allows you to have a conversation without pulling out the earphones. I don't believe in that technology though. A small negative is that the earbuds are large, but then they did have to cram 3 drives in there. Overall they get an A from me.
Klipsch Image S4
Amazon Price: $80.00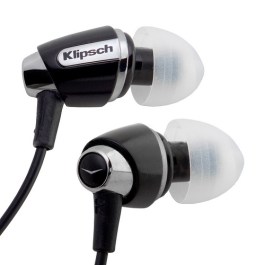 Aaaand we're back in the double digits. Again, great noise isolation. I love noise isolation. This Klipsch model provides excellent all-round sound and the small earbuds are surprisingly comfy. I don't think the design is very good, but they've made up for that with great sound. Quality and sound-wise, you get much more than the $80 dollars you'll pay for them.
Bose TriPort In-Ear Headphones
Amazon Price: $64.88
Not everybody will agree with me, but I like these Bose TriPort earphones. They have great clear, all-round sound with extra bass that really lets you swing – although the high and low isn't always that perfectly balanced. If you stick to powerful and danceable music these are great for everyday use. They're maybe a little overpriced and not as comfortable, but they are great quality. It takes a while to get used to these Bose in-ears, but once you get to know them, you can't not like them.
What we don't recommend:
There are some not-so-awesome brands and models out there, here are some that we've experienced.
Crystal Doesn't Recommend Skullcandy
I recently forked out $50 for Skullcandy in-ear headphones after the brand was recommended to me by a number of people. They look great, they block out a lot of external noise and they fit in my ear nicely – but the sound quality is f-cking awful. I don't believe that so many SC fans could be wrong, and so I'm going to assume that the particular pair I purchased are a lousy model or have some sort of technical malfunction.
Intern Daphne Doesn't Recommend WeSC
WeSC produce some of the most uncomfortable headphones I've ever experienced. They're not expensive, but you still pay too much for what you receive. Comfort levels aside, they're not made of great quality materials and blast your bass driver really fast which makes the sound crackily and horrible.
Intern Emily Doesn't Recommend Apple
I've only ever used the earphones that came with my Apple iPod and I hate them! They suck! With the pair that I have now, the left earphone only works if you twist it around a little bit and so I'm constantly sitting on the bus holding my earphones in a particular position. Also the right earbud casing fell off and, while I was able to reattach it, I'm now constantly in fear that I'll be electrocuted if it rains.
Pages: 1 2See entire article on one page