Are you ready? Are you really ready? I don't think you're ready. I know I'm not ready. Anyways, ready or not, here's more or less what went down during the Prop 8 appeal hearings, cobbled together from a variety of Internet news sources because no one on the Autoteam has a TV. See what I mean? You aren't ready.
A quick recap to bring everyone up to speed: this is an appeal brought by the Yes on 8 side in an attempt to change the ruling Judge Walker made back in August, which was to declare Prop 8 unlawful. (You can read our post on it, which includes the 138-page decision that we obvs had a lot of feelings on, to catch up.) The hearing will determine whether this appeal has enough ground to stand on that it should be taken seriously; if it's not shown that the apellants have "personal, concrete, particularized interest" in the outcome of this case then their appeal can be thrown out. In order for an appeal to have standing, the people bringing it to court should be able to prove that they're directly experiencing negative effects from the ruling that they're appealing. For obvious reasons, the question of whether straight people in California are affected by Prop 8 is a pretty contentious one, and was actually kind of the point of the original trial. Whether or not the appeals court seriously entertains the idea that the Yes on 8 side has grounds to object to the ruling will determine whether this case moves forward.
That said, we can get on to the events of the day! (Narrated with the help of Prop 8 Trial Tracker.)
The event took place in a much smaller courthouse than the original Prop 8 trial, and while technically open to members of the public, only those who could fit inside the space were allowed entrance. Some people had apparently been waiting since 4 am (the hearing began at 10 PST), so they obvs got first crack. A+ for effort guys. As for the rest of us, hey, good thing this was broadcast live, yeah? Look at all these old white men!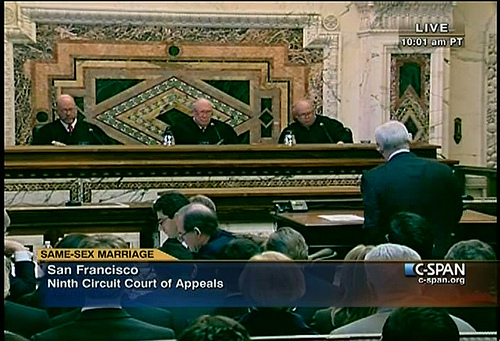 The official festivities begin with Charles Cooper, a Yes on 8 attorney that many of us remember well and fondly as saying a lot of insane shit that we had to work though in therapy later. He begins by talking about the legal concepts of constitutionality and standing, which are the main points that this hearing is meant to explore, and also uses as an example a case on the public school "moment of silence" in New Jersey. So far I do not understand 100% of what is going on, and unfortunately I think that's about me and not Cooper. Embarrassing.
Oh, ok; I think he was bringing that case up as an example of a time when the traditional understanding of "standing" was set aside. The judge asks if Cooper has any federal examples of this happening, and obvs he doesn't. There is another case, Strauss something, which pertains to this situation in a way I don't understand, possibly both attorneys wore striped ties or were deeply sexually repressed or something, and Cooper talks about this for a while, to what effect is unclear.
I'm not feeling real good about the hearing at this point, to be honest, because while the original Prop 8 trial focused mainly on our hearts and stuff, this seems like it is mostly about legal stuff that sounds like magical chanting to me. Where is Jessica. Let me give you an example:
Now, in Arizonans, Justice Ginsburg says that proponents do not have Article III standing, that is to say whether they have standing under the judiciary article of the Constitution.  Cooper is trying to avoid that comparison, by pointing to the prior New Jersey case (Karcher).  In Karcher, the Legislative officers were given standing.  As noted, Karcher was before Arizonans, so it must be read in context of Arizonans.
I KNOW RIGHT?
Now we're arguing for "Imperial County to have the right to have standing for representing the entire state." I think that was in the Wizard of Oz, no? I would not blame you if you, as a layperson who only wants to know if you are going to be able to watch adorable weddings at City Hall in the near future, skim this section. I think the key takeaway here is that the Bad Guys are trying to find nitpicky legal reasoning for why their beef with Judge Walker is legitimate, and the judge is failing to be super convinced. "Reinhardt is lambasting Tyler for not knowing the answers and instead of saying he doesn't know, jumping around the issue." Okay, wait, I see how we're playing this: Tyler is saying that county clerks would be affected by changing the current status of Prop 8, and since they're state officials in the technical capacity of performing the state duty of assigning marriage licenses, that the state is affected by Prop 8 and therefore has standing to make an appeal. Hot damn. I feel like Tyler just broke into the refrigerator and ate an entire wheel of cheese. I'm not even mad, I'm just impressed. You – really? That's your argument? Okay! I'm in! Let's do this thing! Apparently the fact that there are no county clerks in the building is a hindrance. I guess they were supposed to find one and have him testify as to how oppressed he was? I don't know! I'm excited to find out!
Now Boies is up to bat, and asks the court some to-the-point questions about the passage of power in the marriage process and what relationship county clerks actually have to the injunction against Prop 8. "Reinhardt asks, are the clerks of Alameda and Los Angeles counties bound by injunction? Boies says no. Marriage is a statewide, not local/municipal, concern." There's some elaboration of this point, but the fundamental fact is: the duty of a county clerk is not basically changed by Prop 8, or more specifically its repeal. So, no standing for an appeal? That's what I'm hearing over here. But then again I've also listened to "All The Lights" 8 times in the last hour, and have no legal education, so maybe don't listen to me.
There's some discussion of the attitude of the state administration towards the bill – I think that since this entire lawsuit is kind of breaking new ground, no one is entirely sure whose court the homosexual ball is in. One of the judges is wondering whether the Attorney General and Governor Schwarzenegger effectively nullified Prop 8 already by not appealing the injunction themselves (Cooper and Tyler don't represent the governor's office). As far as I can tell, no one answers this question. Actually watching the C-SPAN broadcast may, in retrospect, have been helpful.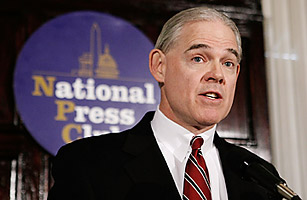 The gist of Boies's presentation right now is to remind us all of the strict requirements that the legal definition of "standing" actually says an apellant needs to meet: "one does not have standing to act as defendant unless he/she/organization has personal, concrete, or particularized injury."
He maintains that under these conditions, the county clerk isn't affected, and therefore has no standing – I think that Cooper & Co are in fact bringing this appeal in the name of the county clerk, which is why she's being beaten over our heads like a foam noodle in a public pool. Apparently the scope of the injunction is very specific and doesn't apply to this woman, although Boies does allow that the registrar "have to change the form and content of the marriage license." Hoo boy! Exciting!
Cooper gets back up for five more minutes and says something annoying and childish about the two cases he's already referred to, and, if this transcript is right, literally tells the judge to "ask the California Supreme Court." Specifically they should "ask them" because allowing "the will of one judge" to supersede the will of voting Californians is evil and wrong. It's just totally weird because that's, like, a judge's job? And, like, not the job of the voting public? But hey, what do I know, I'm just a dumb blonde who learned everything she knows about the judicial system from School House Rock. This still might be more than Cooper knows, though, so.
Now we're taking a quick recess before moving on to the next part of the hearing. The judge divided the hearing into two sections beforehand, which is pretty neat and I didn't know you could do: the first hour was for discussing standing, which we did, and the next hour is to discuss the constitutionality of Prop 8, specifically whether or not its discriminatory nature denies gay Californians their constitutional rights. Are you pumped? Yeah totally me too.
And OH SHIT SON this looks way better than the first section already; Judge Hawkins just asked Cooper if racial segregation in schools could be reinstated by popular vote, which is really kind of a brilliant question that I think gets to the heart of the issue. Cooper is like "well, uh, no." There's a small Prop 8 trial flashback where Cooper says that this is totally different because there's a "rational basis" for denying same-sex partners marriage, and there wasn't in the case of segregation. I almost feel like he has maybe forgotten that by saying this, he will then be required to explain what that rational basis could possibly be, but hey, it's his funeral.
When pressed on this issue, Cooper talks about procreation, which was the h8er's go-to argument during the trial, "redefinition of the institution" blah blah blah, and then pushes it further by saying that "you cannot separate the two," meaning the word marriage and the nebulous social "institution" he loves so dearly. Specifically, what he says is "If we do, what we are left with is a genderless institution that bears no comparison to the real institution of marriage." I am still genuinely fascinated that someone thinks that gender is an inherent defining characteristic of "the real institution of marriage," but sure, let's continue.
Cooper and the judge also have a back-and-forth about the Romer case, which I understand took place in Colorado; an amendment that would have changed many basic facts of life for gays and taken away a whole host of rights was defeated in court. Cooper argues that this was different because it affected many rights, not just one, and the judge asks why that makes any difference. Cooper… doesn't know.
The H8er's arguments here are less original and interesting than in the first section, mostly because they don't really have any. They're doing the same thing they did during the trial, which was to hold forth like a revival tent preacher on how procreation is the building block of the red-blooded American marriage and how changing the definition of the word is the last crumbling social building block that will allow our culture to dissolve entirely and give the world over to Zool and her army of giant killer marshmallow men, as detailed in the 1984 documentary Ghostbusters. But since the only evidence they have for these things is those facts themselves – i.e. procreation is necessary for marriage because everyone knows that marriage requires procreation – so basically things are getting a little tiresome up in here.
When asked about the details of a referendum and the fairness of taking away people's families at the ballot box, Cooper says that the voting public forms "a tribunal over the Constitution," which sounds insane to me, sorry. I am getting the sinking feeling I get every time the Yes on 8 side talks in court, which is "I think they are maybe making all this up?" Here's TrialTracker's breakdown:
The argument seems to be boiling down to the word. This is shaky ground for Cooper. He is now arguing that marriage (the word) is just special. He is arguing that marketing is somehow enough of a reason to discriminate. Cooper and Smith are going back and forth, looking at Roemer, and whether states can be damaged constitutionally by acting towards giving rights.
Now the other half of the Dream Team is up, and Olson is talking about how the Supreme Court has never worked on the definition of marriage as one man and one woman for any other case involving marriage – when "ruling in the context of prisoners, contraception, divorce, other cases [they have said] that marriage is (a) liberty (b) privacy (c) association (d) identity… [the] Supreme Court has said this 14 different times." He refocuses the flow of the discussion from voter's or state's rights (the "good of society") to individual rights, which is, uh, what America is about. Specifically the individual's right to marry their partner when it doesn't affect a single other soul in the world, which is what we're looking at here. He's kind of just recapping what happened in the original trial, which makes sense because he and Boies did a really thorough job taking apart the h8er's arguments there, and bringing all that back to the judges' attention really should be enough to end this hearing. He adds that Cooper's argument doesn't "stand up to even the lowest level of rational basis."
Olson has the Chief Deputy City Attorney of San Francisco, Therese Stewart, here to talk about the anti-gay animus that drove Prop 8. She doesn't have to talk for long; she states that "equal protection doesn't allow the state to enact a measure based on a view that some people are unworthy," which describes the situation nicely I think. Cooper rebuts by making farting noises with his armpit. Just kidding, he says some irrelevant stuff about Loving v. Virginia. Not impressed.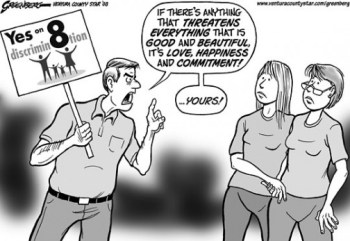 Both Olson and Cooper make closing arguments; Olson's are carefully chosen and elegantly presented, going to the the fact that no one has ever been shown to experience harm because of a same-sex marriage and that the California court system's treatment of gay people is irrational, haphazard and unjustified. Cooper's is an annoying reiteration that yeah, totally, "singling out a class of people" would be wrong, but not protecting marriage! Sometimes I like to imagine Cooper's words as if he had just inhaled a tank full of helium, and then it makes things a little easier.
SO! There we have it. Where does that leave us? Where are we? Where is my wallet? We don't know yet what the court decided. The pointed questions that the panel of judges asks have lead some to believe that they're already a little skeptical about Cooper's arguments, but bear in mind that while they're aware of everything in Walker's ruling, this panel of judges isn't required to draw the same conclusions he did, so while Cooper & Co did a really terrible job proving any of the points they brought up today in the actual trial, that doesn't guarantee anything. And everyone involved in this case is very aware of its potential scope – if it makes it to the Supreme Court in the right capacity, Prop 8's fate could have huge consequences for DOMA, so everyone is being very careful. Some believe that the California judges want Prop 8 to end, but without being responsible for what could be nationwide consequences:
Federal appeals court judges Monday seemed headed toward a decision that could reinstate same-sex marriages in California while avoiding a ruling of national sweep that would invite U.S. Supreme Court action. The judges explored at least two routes that could achieve that goal. One would be a ruling that California, having granted marriage rights to same-sex couples, could not take them away by popular vote. The other would avoid a decision on the constitutional issues by declaring that gay-marriage opponents lacked the legal standing to appeal a lower court striking down Proposition 8, the 2008 ballot measure that amended the state Constitution.
The panel could release its ruling at any time; we have no idea when that will be. Stay posted for more, and continue work on the small altar to Boies and Olson that you've been building behind your dresser. We'll let you know as things develop.