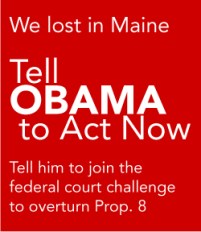 NEW HAMPSHIRE: The Maine vote might also fuel an effort for a referendum in New Hampshire to overturn that state's gay marriage laws. Two proposals are being drafted in the N.H. House: One would repeal the law Gov. John Lynch signed in June and re-establish civil unions; the other is a constitutional amendment that would charge voters with deciding if "the state shall only recognize the union of one man and one woman as marriage." Seriously, if this keeps going …
Okay, I had to stop reading the article about halfway down because strange veins started appearing in my forehead. Thanks, Mainers, for ruining all of New England! No really, good job taking the refuge of same-sex marriage and turning it on its head. You're setting an example even finer than that of our federal government. What a fantastic country we live in.
You can click on that icon there to tell Obama to act now to overturn Prop 8 and follow through on the commitments he made at the HRC Speech.
NEW STRATEGIES: Speaking of Maine, the New York Times thinks the defeat of marriage equality may make gay rights activists rethink their national strategy. You may recall last year around this time when the exact same issues were raised, and then we re-strategized, and yet we still failed, perhaps because people who don't like us — or don't care — still don't like us, or still don't care. The article is a pretty good comprehensive look at the state of the equality movement right now. There's also this gem: But now, with Maine voters dealing a rebuke to their Legislature, it is far from clear whether elected officials — including the president — will risk political capital on gay rights. Actually, major politicians weren't willing to risk political capital long before Maine happened, but this certainly isn't helping. (@nytimes)
But don't get too discouraged. This handy chart shows how much more accepting the younger generations are. I wish the future would just get here, already, before I lose my good looks and no one wants to marry me anymore. (@good)
FORTH WORTH RAID: The Fort Worth, Texas, police department suspended three officers on Thursday for misconduct that occurred during a raid on a gay bar. The suspensions were only 1-3 days, though, so that's not exactly a lasting slap on the wrist. The misconduct was actually something about not filing paperwork properly, not for using excessive force in the raid, despite the fact that one patron ended up in the hospital with a minor brain injury. Here's the bar owner's take: The discipline falls far short of what should have been done to those officers," he said. "We suspend our bar staff for overpouring longer than that." The chief of police did apologize for the incident, and some policy changes were made as a result. (@dallasnews)
ENDA: The Senate held a hearing on ENDA yesterday, a bill that would outlaw discrimination in the workplace based on sexual orientation or gender identity. No Republicans showed up to the hearing. (@sfblade)
GLENN BECK: BUT LOOK THE ONION IS MAKING FUN OF GLENN BECK. "There is no greater tragedy than having Glenn Beck outlive your child."

Victim In Fatal Car Accident Tragically Not Glenn Beck
+
LOOK IT'S SARAH SHAHI!
+
Look at how hot Natalie Portman is!