Hello Autostraddle.
Some of you may have noticed that lately our music coverage has been honed pretty squarely on this band we love called Tegan & Sara. It's been fun, too –  the record was released, the competition has been drawn, the photoshoot is up and we've even documented their take-over of Spinner.com! And all of it has actually gotten us even more excited to talk about music with you guys more often. And so the time has come for us to start seeing other artists.
But before we do, let me tell you about some exciting changes that've happened. Take a look around – we've done away with the monthly 'Hot Hot Fix' thing and have replaced it with a little something we call 'Audiostraddle'. Audiostraddle is what happens when a record company intern mislabels your package of free CDs, and you like their name better. 'Cause that's how magic typically happens around here, free CDs and interns. And the mad skills of our design/developer team of Alex and Tess.
Audiostraddle's going to be all about features that are shorter, more specific and more frequent and way more fun. You'll see album reviews, concert reviews, interviews, features, top 10 lists, galleries, you name it. This first post is unusually long, however, it'll be smaller from now on.
Audiostraddle will all be possible with the help of a mini team!
Heading up the team will be me, Crystal your Music Editor, obviously, along with two of your favorite interns:
Intern Emily Choo

Emily Choo likes Canada and poetry. Coincidentally, she's lived there for a long time, in the same city as Sara Quin! They've never met, but you know if they did they would hit it off right away. She lives by one rule and one rule only: LOL.
+
Intern Hot Laura
Laura is a tiny girl who lives in Philadelphia. She likes talking to her grandma on the phone, being domestic [but with sass], and making things with her hands. She's definitely happiest warm, especially when blankets and heart-bending music are involved. Her friends say she's chronically inappropriate, but really she's just trying to dance.
And we will be occasionally joined by two new junior music writers —
Isabelle hails from Melbourne, a city that's sort of like Sydney but with better coffee and worse weather. Isabelle likes going to concerts and writing about them, which is fortunate for us 'cause she's really good at it.
+

Jane lives in New York City where she interns for a record label and lists her two main interests as 'queer things' and 'music', which means 'queer music' is her bag. She has seen "Back to the Future" over a thousand times.


Today we've also special guest contributions from Intern Vashti who has been holding hands with Beth Ditto, and Intern Jess who's had the pleasure of seeing Tegan & Sara live. But first, here's a few new artists that have caught my attention and may capture yours –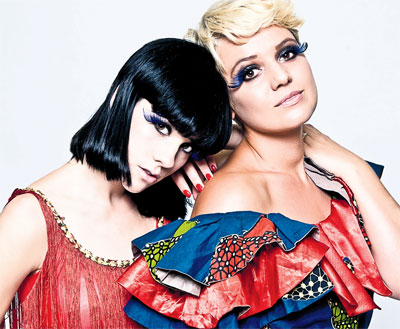 Fan Death
Every now and then, I see a music video that is so clever and brilliant and fun and unique that I wish I'd thought of it. Fan Death has just released one of these and it's better than that one with all the treadmills. The video is called 'Reunited', and the band is the talented Canadian electro-pop duo of Marta Jaciubek-McKeever and Dandelion Wind Opaine (no kidding). 'Reunited' features special guest appearances by a young Axl Rose in his bandana'd glory as well as Lisa 'Left Eye', Bjork, Marilyn Manson, Billy Corgan, Courtney Love, Prince and many many more, basically what I'm saying is that if you haven't seen it then you need to go and watch it right now.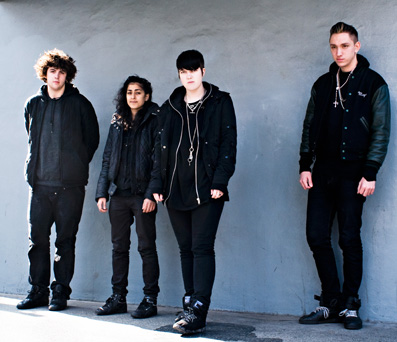 The xx
The xx are four 20-year old lads and ladies from the UK who wear a lot of black and have never met a drum machine they didn't like. These kids were the talk of the town at last month's CMJ festival in New York and have won the affection of Pitchfork, who gave their debut album an 8.7 rating and compelled me to buy it with the observation that "singer-guitarist Romy Madley Croft seems all but incapable of uttering a line that isn't a come-on, a post-coital musing." So watch this space, these kids are going somewhere. They're independent and so I encourage you to buy the album, you'll probably dig it if you like The Kills or The Velvet Underground or the music on The xx's website.
Speaking of acts who tore up CMJ, I have it on good authority that all female pop trio Warpaint deserve an honourable mention for their showcase. It's worth checking them out on myspace.
Lindsey Ray
Lindsey Ray is an up-and-coming LA-based singer/songwriter who has collaborated with great songwriters such as Tim Myers (formerly of OneRepublic) to create songs you've probably heard in a Target commercial or Lifetime TV movie. Lindsey's since worked with producer Bill Lefler (Dashboard Confessional, Gym Class Heros) to create her anticipated debut EP, out November 12. There are EP launches are in LA on Nov 13 and NYC on Nov 19, you can find out the full details here. And while Lindsey may hail from Maine, rest assured she's the kind of girl who'd have voted No on 1.
Don Diablo, Grant Smillie and Ruby Rose
What happens when two renowned DJs team up with a less-experienced but smokin' hot lesbian DJ to release a dance compilation and a killer press photo? Crystal is probably going to write about it. Neon Essential Vol. 2 is the collective effort of Don Diablo, Grant Smillie and Ruby Rose, who have each mixed a disc in this 3-disc set. Dance isn't exactly my genre, so I'll admit that I'm a little surprised with how much I dig this album. Highlights include Bertie Blackman's Thump (TV Rock remix) and the Bloc Party's One More Chance (Alex Metric remix). Ruby's mix is my preferred of the three, she showcases some stellar music preferences by kicking off with Phoenix's Lisztomania (Yuksek remix) and then remixes of Empire of the Sun, Lily Allen, Peaches and The Grates, mixing them all together in one big eclectic electro epic.
The Cassette Kids
The Cassette Kids are getting a lot of attention right now, potentially battling Bridezilla for the title of Australia's new indie darlings, albeit a title they might be too cheerful win. They're so hip it almost hurts, starting with the band name itself and continuing on with skinny jeans, loose-necked man-tanks and a new music video, 'Lying Around', directed by a high end fashion photographer who I am not familiar with but apparently is very important. Overall I think the Cassette Kids back up their style with talent, check them out and see if you agree.
After the jump: Vashti sees The Gossip and Jess sees Tegan & Sara, with setlists & all!
GUEST SPOT:
Vashti sees The Gossip in their hometown,
holds hands with Beth Ditto.
Wonder Ballroom – October 24, 2009
+


Last month, The Gossip had a show in their collective hometown of Portland, Oregon and I was lucky enough to snag a ticket before they sold out. I've only recently been introduced to their music and so I only knew songs from their new album Music for Men and damned if I knew any of the lyrics. HOWEVER, that didn't keep me from joining my friends in the front row where we were only about 10 feet away from Beth F*cking Ditto. Fun fact: she held each of our hands for at least 15 seconds and yes, it was the best thing ever.
On a scale from 1 to 10, The Gossip and opening acts Boy Joy and MEN don't mess around. These bands know how to put on a show. The audience was 100% in the zone the entire time with everyone singing/dancing/moshing/[verb]ing all over the place. I can honestly say it was one of the best concerts I've ever been to, second only to Metric but that's mainly because Emily Haines is my hero/wife.
Since The Gossip still hasn't hit mainstream media, their fans there are the hardcore, dedicated ones who've been there from the start. Especially with this being a homecoming show, the excitement was infectious.
GUEST SPOT:
Intern Jess goes to Tegan and Sara,
becomes the envy of lesbians everywhere.
Town Hall – October 31, 2009
+

It's pretty interesting to attend a concert where half the audience is in costume (and it's not a Lady Gaga show). Although Tegan & Sara were dressed in basic black for their Halloween show in New York City, their producer Chris Walla (Death Cab for Cutie) was spotted in the crowd as Kenneth the Page (30 Rock). Just as Tegan herself promised Autostraddle, the set list was divided into 5 sections, playing the Sainthood material in 2 groups, surrounded by OBGs (oldies but goodies). She actually verbalized this in detail for the audience, effectively storyboarding the entire set list before it took place.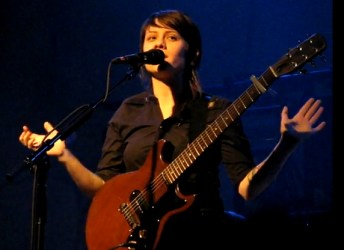 Fun facts:
Tegan broke a string 4 bars into Don't Rush leaving Sara and the band to vamp while she swapped guitars
Tegan also explained the two security guards at the foot of the Orchestra section pleading with everyone to not take it upon themselves and jump on stage. As the show went on these security guards were seriously WAY into the music, bopping around and everything.
Sara launched into a monologue about a new crush after watching the Robert Altman film, Short Cuts and declared her love for "1993 Julianne Moore." FYI, Julianne Moore is head-to-toe naked in this movie. One of the aforementioned security guards kept repeatedly turning around to look at Sara during this story which was amusing in it's own way.
Song Count By Album:
Sainthood: 13
The Con: 7
So Jealous: 4
If It Was You: 1
Set List:
The Con
Walking With a Ghost
I Bet it Stung
Speak Slow
Arrow
Don't Rush
Hell
On Directing
Red Belt
The Cure
Northshore
Night Watch
Soil, Soil
Knife Going In
Like Oh, Like H
Nineteen
Where Does the Good Go
Alligator
Paperback Head
The Ocean
Sentimental Tune
Someday
Back in Your Head
Living Room
Call it Off