Feature image by Levi Hastings
Several years ago in this very column I talked about the then-upcoming queer comics anthology Beyond. Beyond was a collection of sci-fi and fantasy comics focused on queer characters and stories, without any of those tragic queer tropes we see so often in media. I was happy to support its initial opening for submissions, happy to support it on Kickstarter, and happy to read it and spread the word about how great it was once it was published. And now I'm very, very happy to talk about the Kickstarter for the second volume of this great comic, Beyond Anthology 2: Urban Fantasy and Post-Apocalypse Edition. With it's lineup and editors and theme, I'm absolutely sure this volume will be just as amazing — if not better than — the first.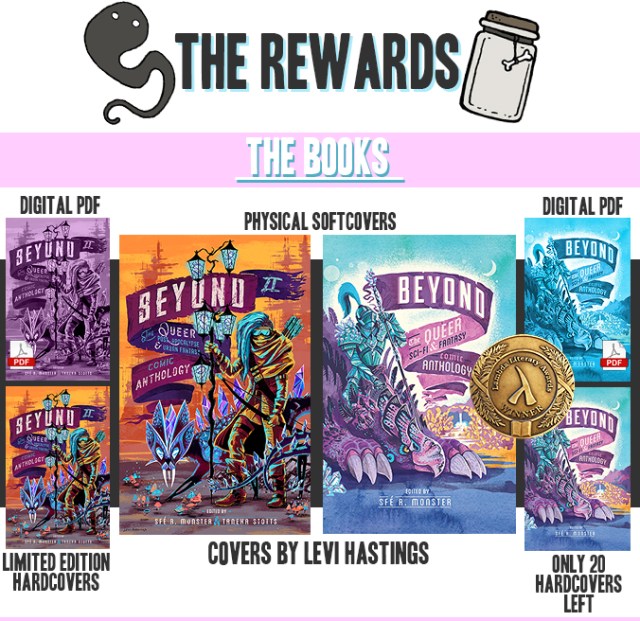 Beyond Vol 2 features 350 pages of 27 new stories made by 39 different contributors and is edited by Sfé Monster and Taneka Stotts. While the first volume was more general science fiction and fantasy, this new volume focuses on stories that are about post-apocalypse and urban fantasy settings. According to the press release, there are stories about "renegade city fae, post-apocalyptic bicycle gangs, reclusive monster boyfriends, and mysterious sewer-dwelling mermaids. Each story celebrates and showcases unquestionably queer characters as they explore back-alley faery rings, secret magic markets, and wander the dusty, rust-ragged edges of society after the end of the world!" This sounds so great, you guys, I can't wait to read it.
In the first day of the Kickstarter campaign, they made more than half of the money they're looking for, but they're not there yet! There's still plenty of time to join in backing the project. For just $15 you can get a PSF of the new Anthology, plus a wallpaper pack. If you didn't get the first volume, you can pick up both pdfs for just $25! If you're more interested in holding a physical copy of the book in your hand, that can be yours for just $30. Other rewards include a bookplate, postcards, enamel pins and more! There are plenty of ways to support these great queer creators and end up with some amazing stuff.
The list of contributors includes a lot of artists and writers I love, and a lot I'm sure you do too. Alan Capes & Shauntae Ball, Alexxander Dovelin, Aliza Layne, Bishakh Som, Cat Parra, Evan Dahm, GHOULKISS & Katie Cunningham & Chan Chau, Jaylee Warren & Kelly and Nichole Matthews, Jen Henkes, Jenelle Elizabeth & Danae Wilding, J. Doyle & Ursula Wood, Keezy Young, Kiku Hughes & Sara DuVall, Levi Hastings, Mar Julia, Mary Verhoeven, Paul Reinwand & Steve Foxe, Reed Black, Ria Martinez & Samantha Cox, Rica March, Sam Garvey, Sarah Stern, Sfé R. Monster & Jam, Shivana Sookdeo, Sonia Liao, Stephanie Hovden, Taneka Stotts & Genué Revuelta.
There are 29 days left in the Kickstarter campaign, head over and show your support!
New Releases (May 10)
Tomb Raider 2016 Vol 2 Choice & Sacrifice TP
Batgirl and the Birds of Prey #10
Gotham Academy Second Semester #9
Jessica Jones Vol 1 Uncaged TP
Atomic Blonde: The Coldest City GN
Red Sonja Long Walk to Oblivion
Tank Girl: World War Tank Girl #2
---
Welcome to Drawn to Comics! From diary comics to superheroes, from webcomics to graphic novels – this is where we'll be taking a look at comics by, featuring and for queer ladies. So whether you love to look at detailed personal accounts of other people's lives, explore new and creative worlds, or you just love to see hot ladies in spandex, we've got something for you.
If you have a comic that you'd like to see me review, you can email me at mey [at] autostraddle [dot] com.