Welcome to Drawn to Comics! From diary comics to superheroes, from webcomics to graphic novels – this is where we'll be taking a look at comics by, featuring and for queer ladies. So whether you love to look at detailed personal accounts of other people's lives, explore new and creative worlds, or you just love to see hot ladies in spandex, we've got something for you.
Header by Rory Midhani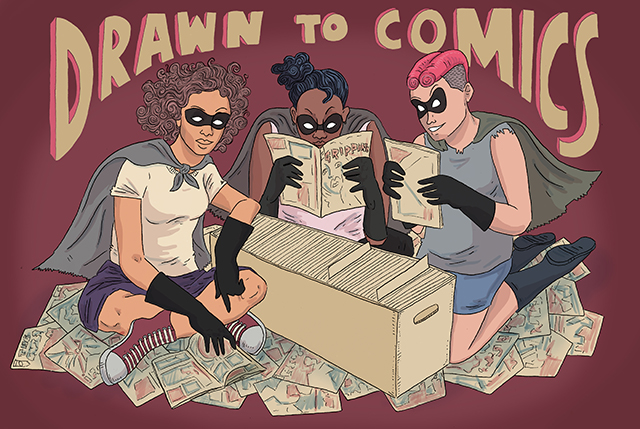 ---
While I'm busy scouring bookstores, comic book shops and the internet for comics starring queer characters and telling queer stories, two editors are at work putting together a new anthology that will make my job a whole lot easier. Sfé Monster and Rachel Edidin have announced the launch of their new Science Fiction and Fantasy comics anthology called Beyond and they are seeking submissions. The two editors are tired of seeing the same old stories and characters over and over again and they think that it's time for queer stories to step into the spotlight and onto the pages of Beyond.
We want to see people like us as heroes—slaying dragons, piloting spaceships, getting into trouble, and saving the day—without having to read their queerness from between the lines. We want to see beautifully crafted stories, in the mediums and genres we love, that reflect and celebrate our own experiences of gender and sexuality—and a spectrum far beyond.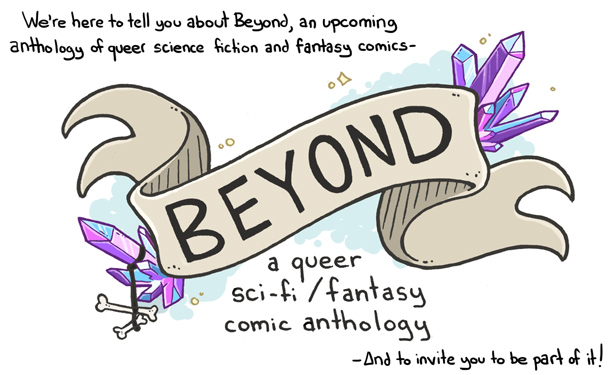 Both editors identify as queer and have a long history working in the world of comics and and Sci Fi/Fantasy. Edidin spent time as an editor for a major comics publisher and has also written for Wired.com, Comics Alliance, io9, Sequential Tart and Girl-Wonder.org, as well as having her writing featured in publications including Chicks Dig Comics, Womanthology, and Adventure Time. Monster is the creator of the pretty great webcomic Kyle & Atticus as well as their work on other comics and zines. With the anthology in such capable hands, it's really exciting to see where they are going to take it. They say that  "…in both SFF and comics, there's a long tradition of allegorical and subtextual queerness… it's better now than it was in even the recent past, but we want more." With that in mind, they decided to put this anthology together.
Some of the writers and artists that will be contributing to Beyond have already been announced on the website. So far, Edidin and Monster have gathered together quite an impressive roster of talent that will be featured in the anthology. This includes Fiona Staples, the artist for current-best-comic-in-the-world Saga; Ignatz, Lulu and Eisner winner and creator of the comic Finder, Carla Speed McNeil; best selling fantasy author Seanan McGuire; webcomic creator and Womanthology Smut Peddler contributor Blue Delliquanti and Google doodler Sophia Foster-Dimino. They're looking for more creative individuals and teams to help round out this roster in order to get a diverse group of creators and stories.
Monster and Edidin have been busy answering questions over at the Tumblr for the anthology. There they have been explaining exactly what they mean by Sci Fi/Fantasy (no straight up horror or bizarre, no setting other genres in space), making sure the submissions aren't just a bunch of stories about "tragic queers" or analogies about the one straight person on a gay planet, setting an age limit for contributors (18 at the time you submit) and letting us know that while a hard-R rating is alright, no rated X stuff please. They also explain exactly how they want submissions to be formatted and how the submissions will look once they are published. They want to make sure that this anthology has Sci Fi and Fantasy stories that actually have queer characters in the forefront, not just as tropes or extended metaphors, that the stories and art are high quality and that the book has a wide range of contributors, and they are doing their due diligence. Everything is looking like this anthology will end up being a very professionally made and well-put together entry into the world of queer comics.
If you're interested in submitting (and hopefully a bunch of you are), they're opening up their submission box starting October 15 and closing it December 15, 2013. After they choose which submissions they will include, Monster and Edidin plan on launching a kickstarter campaign and self-publishing the book. Creators will be paid for their contributions and will receive royalties and some copies to sell. In order to submit, you must have a complete creative team (whether that is just you or you and your friends), a title, page-count, a plot description, samples and creative team bios. All those interested can check out the website for more information. This anthology already features several creators who are sure to be found in future installments of Drawn to Comics, so I can't wait to see who else will be included and what kind of stories they will bring to the table.
---
If you have or know of a comic that you would to be featured on Drawn to Comics you can email me at mey(@)autostraddle(dot)com.