I really love Tegan and Sara. I love their music and I love their dynamic. Tegan & Sara interviews are hilarious. Their banter on stage is not only part of their performances, it seems to be part of their everyday dynamic as sisters and a band. So when I was offered the chance to take some stills of Tegan and Sara, I snuck in to hear two interviews first. Did not disappoint.
The last time I took pictures of these two it was 2007 and they had a large gap of time afterwards and said they were just going to go back to their hotel and relax. After they left, I kicked myself for not inviting them out but maybe it was my innate fear of being rejected by cute girls that stopped me.
This year was a bit different. As their popularity grows, my time with them at MTV Studios shrunk to a 15 second time slot where I popped off a few shots of the twins against an already set up backdrop before they were whisked away for a series of interviews and shoots that took them from 9 in the morning into the evening. They're such busy girls now, which is great for them!
So that was my not-so-glamorous-but-still-completely-worth-it shoot Tegan and Sara experience of the year! I also said hi from all of us at Autostraddle because obvs we are big big fans and we LOVE their newest album, Sainthood. Perhaps we will get our very own private extensive glamorous photo shoot with them, but until then, here are a few stills from the interviews and from My Fifteen Second Shoot!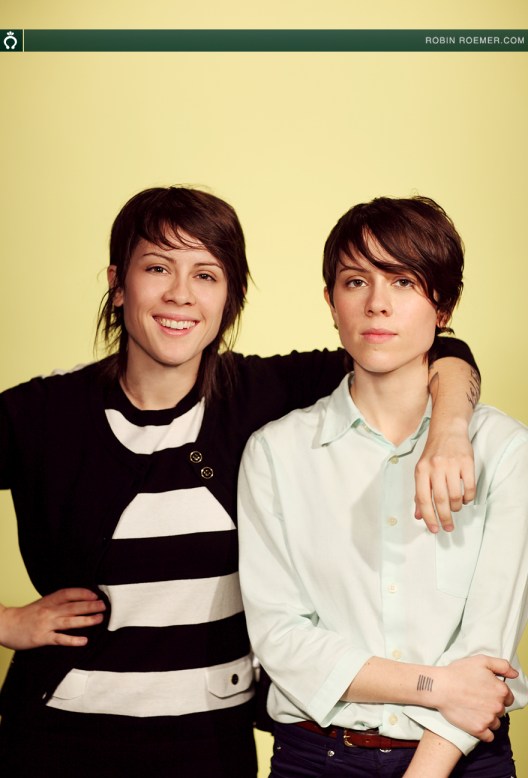 ---
Before you go!
It takes funding to keep this publication by and for queer women and trans people of all genders running every day. We will never put our site behind a paywall because we know how important it is to keep Autostraddle free. But that means we rely on the support of our A+ Members.
Still, 99.9% of our readers are not members.
A+ membership starts at just $4/month.
If you're able to, will you join A+ and keep Autostraddle here and working for everyone?
Join A+