LADY GAGA: Lots of Lady Gaga news today! The world  premiere Beyoncé and Lady Gaga's "Video Phone" video will world premiere on-air and online on Thursday, November 5 in the U.S. at 5:30 p.m. EST, and worldwide MTV channels will debut the video in 162 countries following the airing of the MTV Europe Music Awards from Berlin.
Lady Gaga visited Z100 Studios in New York to be on the Elvis Duran Morning Show, where she totally fangirled out 'cause she's been listening to the popular radio program her whole life. It was an awesome interview. She also reveals her Halloween costume (she went as herself, knowing she'd blend right in to the hoards of Gagas) We've excerpted the part where she talks about gays and the Equality March. Gaga, who is bisexual, points out that in NY, a straight couple who have been together for seven years earn a "common law marriage," but gay couples who've been committed all their lives can't get any kind of marriage at all.:
LISTEN: Lady Gaga on Z100 talking about gay rights
Lady Gaga told the Sydney Morning Herald, "I'm a performance artist and this is what I do. Art is a lie and every day I kill to make it true." Regarding her MTV Music Video Awards performance, "That, for me, was the first truly original thing I've done. I wanted to do something that was emblematic of the death of celebrity. The demise of the blonde women that we worship, kind of paint a picture of Marilyn Monroe with a bottle of pills in her hand."
Christopher Walken did a dramatic reading of Poker Face on a British talk show over the weekend. If there's one thing that makes Lady Gaga better, it's Chris Walken. (via @jezebel)
Also President Gaga is going to be on the cover of Flare's December issue. They even have a photo of her in the nest getup from the VMAs, aka her best outfit ever.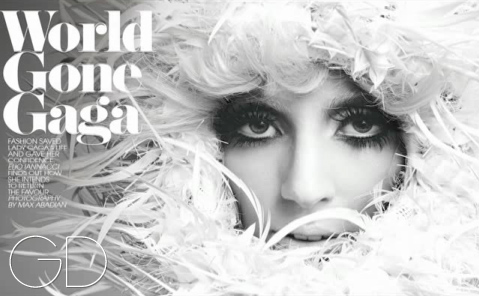 What a title really: Wanda Sykes: Just another of Fox's black, lesbian, same-sex and interracially married, Saturday night talk show hosts
CHAZ BONO: The 2009 Out 100 will feature our collection of the 100 gay men, women, and trans people who have made 2009 a year to remember. This year's theme is a gentle nod to the days that shaped, delighted, and terrified us all and made us who we are today — school days. We've dubbed Chaz Bono (below, shot by Jason Bell) "Most Likely To Reinvent." (@out)

BOOKS: AfterEllen interviews mystery writer Patricia Cornwell.
LOHAN: Another day, another most-likely-totally-bullshit Lindsay Lohan rumor. This time she's "snogging" Jennifer Aniston's man, "Gerard Butler." Yawn. She allegedly told the "3am girls" that "I just want to find someone who loves me back. I feel like I'm going to have a heart attack every time I think about the break-up. I came here to get away from it all. I'm ready to have fun now." It's almost like Lindsay's just a character they insert into whatever story they want to tell. (@daily mirror uk)
LESBIAN TV: Former Corrie star Tina O'Brien has reportedly won the chance to play the role of one of Anne Lister's lovers. The period drama covers the life of Lister, born in 1791, who is often called "the first modern lesbian" for her openly gay lifestyle. (@stv)