Tegan & Sara is the band you listen to after a huge fight with your girlfriend and it's the band you listen to while you spoon on your couch with your girlfriend and her five cats and their lyrics are the ones you use as Facebook status updates whenever you're feeling mood-swingy. You will probably meet your next ex-girlfriend at one of their shows, packed wall-to-wall with alternatively lifestyle haircut-sporting lesbians.
So when Autostraddle asked me if I wanted to be their West Coast correspondent for the Tegan & Sara Spinner.com recording session they'd been invited to, I basically did a happy jig and thanked the lord that I'm one of the few — if not the only — writer they know in Los Angeles.
I was nervous 'cause even though I really love their music, I've never been able to tell Tegan & Sara apart. I'm a terrible lesbian, I know, my friends are embarrassed to know me. So maybe I wasn't the most deserving person to attend the session but I wasn't gonna tell Autostraddle that. Well except I guess I am telling them right now.
I CAN'T TELL TEGAN AND SARA APART.
The day of the taping I nervously introduce myself in the main control room as I mostly try to avoid gawking at the gazillion dollars worth of recording & filming equipment lining every inch of the room. I find my seat and am faced with nine TV screens broadcasting Tegan & Sara from every single possible angle simultaneously. I feel almost voyeuristic with all these angles, it's like God's MTV or something.
They tune their guitars and talk privately amongst themselves while preparing for sound check, and I am struck with two major realizations: I really have no idea which is which. Although, in my defense, even the head audio engineer had a hard time telling them apart, at one point talking into his headset with "Rob, Tegan is closest to you. No, wait…Sara…no…Te…No wait, yes Sara."
The second realization? I have the exact same haircut as Sara. Awesome.
Or Tegan's?

OK so; Tegan is the one with the longer haircut or what I like to call a "fashion mullet," and Sara's the sister with the shorter haircut.
See… they're both wearing black jeans & black button-up shirts so aside from the haircuts, the only major distinguishing feature is that Sara has a black guitar and Tegan has a brown guitar.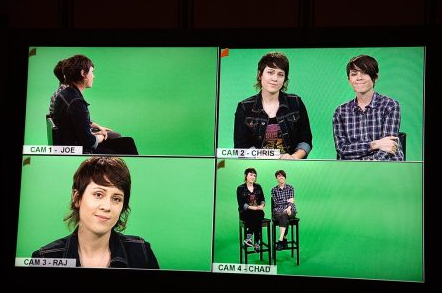 For the 20 minutes of soundcheck, I just couldn't stop literally staring at the television screens like a lovesick fan, goofy grin plastered on my tweeny face. But it wasn't just me — everyone in the control room was transfixed as they hopped through snippets of a few songs. They're basically hypnotizing. They're beautiful and there's TWO of them. (And they're lesbians!)
They talk to each other in surprisingly soft voices. Sara shuffles nervously in place and Tegan doesn't seem to be comfortable with all the cameras, but they try to busy themselves with their instruments or talking to their band — drummer, keys/guitar and bass.
But everyone feels much better when the drumroll begins and the band breaks into its first song, "Hell."
Their perfect union is clear from the moment the music starts. Tegan's in the lead, leaning into the microphone singing almost with her eyes closed. She only opens them to harmonize "I know you feel it too" with Sara. Tegan's brown eyes burn through the cameras and I wonder who she's singing to, and if this special girl can bear to listen to this song without her heart hurting real bad.
T&S are content with the recording of "Hell" and between songs, their makeup artist darts in to fix their makeup and coif their legendary 'dos. I LOL watching them 'cause the makeup artist is literally twice as tall as the girls, which makes them look like the cast of Little People, Big World, and also because he's dressed like he just returned from a hunting expedition. Regardless the girls look flawless, so he's clearly got this on lockdown. Although really how hard is it to make these girls look flawless?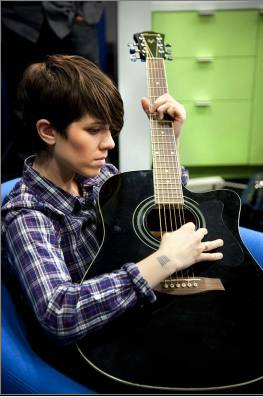 Tegan drinks Red Bull and Sara makes the crew laugh while they prepare for "On Directing." This is Sara's song, I feel like it's about being so crazy for someone that you end up sounding "like a teen" when you talk to them. Actually Sara also sings with her eyes closed but when she opens her eyes to the camera it's obvious she's thinking about someone she's head-over-heels about and it makes me sweaty-palmed and nervous.
I haven't actually spoken to anyone else in the room, but when I look around I see every guy and girl totally captivated by both girls as they smile, nod and tap their fingers. They look like people who see bands so often that they're hard to impress but today we're all Tegan & Sara's biggest fans.
By this point, my fingers are itching 'cause I'm aching to TWEET from what I now call "The Experience," but there is no service in this building. Damn the man. So many witty introspective things to say and precious moments to share. That's right, precious moments.
Tegan & Sara are preparing for "The Cure" and joking about how they wish they had some whiskey and pizza in the green room. I hope they're only half-joking because I really want pizza.
The omni-vision the studio is providing is allowing me to see the girls like I can only imagine close friends see them – the result is very endearing and humanizing.
I notice that even though Sara is more talkative when it comes to trying to make the crew laugh, she is surprisingly shy when it comes to asking for levels to be raised or lowered – she's usually spacing out, thinking deep thoughts or chewing on her guitar pick while Tegan does the outspoken perfectionist thing. Tegan seems like the older & more protective of the two, often turning to Sara and checking in that she's happy with the sound, or if she needs anything. Tegan is a perfectionist, she hears things wrong with songs that no one else hears; perhaps it's this attention to detail that makes the duo so good.
The omni-vision the studio is providing is allowing me to see the girls like I can only imagine close friends see them – the result is very endearing and humanizing.
After recording "The Cure" a few times, Tegan drinks some more Red Bull and jokes that it's good enough and if the crew just splices pieces of each recording together, the song will be perfect.
For their final song, synthesizers are brought out for the girls, as they get ready to play Sara's "Alligator." Tegan tinkers away on her synthisizer, accidentally pressing a wrong button that prompts the keyboard to explode into a sequence of noises and whistles. She jumps back three feet, looking sheepish, and laughs & blushes: "That was awkward."
She changes her expression, approaches the keyboard again and looks pleased with herself as she starts playing the sequencer. I'm practically bouncing in my seat as I watch her, please baby Jesus, please please please let them break out into an impromptu song. Please make real life more like television!
"Alligator" is probably my favorite song to watch be performed. Shakers! Keyboards! Bass! Drums! Cute girls singing! Oooh something shiny! Even though the synth sound is very different from most of the other multi-guitar songs on this album, I really like the contrast of the playful melody with the difficult subject of infidelity.
Once the song wrapped, we all retreated to the common area for pizza (YES!!) and other deliciousness. Now, if you've heard "Alligator" already, you know it is an incredibly catchy song, so of course I was whistling it as I made my way down the empty hallway, following the delicious pizza smell.
I barely noticed a girl in all black cross my path, and practically swallowed my tongue when I realized that it was Sara!! She looked at me and smile-laughed, knowing full well that I had been whistling her song, as I stopped and said something awkward along the lines of "good job with that last song, it's good. Great, no. It's really great. Yeah." As she continued to smile and graciously say "thank you."
Leaving that outstanding impression behind, I made my way to the food and tried to drown my sorrows with cookies. Eventually the whole crew and the two girls join us, all making conversation about everything from dinosaurs to "The 4-Hour Workweek," because Tegan is currently reading it and she claims it changed her life.
The girls are incredibly charming and normal, and I am so happy that this whole experience only made me respect them even more as musicians. They really are amazingly talented and it is so clear that they love what they do more than anything. As we all part ways, and they make their way to the green room to get ready for an on-camera interview, we all wish them good luck and in a style very much her own, Sara turns around and says, "Thanks guys, we'll do our best not to embarrass you or ourselves."
Check out all the videos from the Interface recording session here