Welcome to the first installment of Star Trek N00b! I have never watched a Star Trek episode all the way through. My family members weren't huge sci-fi fans, and they'd flip the channel whenever Star Trek came on. I am embarking on an epic nerd rite of passage, chronicling my reactions to every episode of Star Trek: The Original Series (TOS). I also want to start further dialogue about the queer elements in Star Trek. I understand that this series pushed mainstream boundaries of race, religion, species identity, gender and sexuality. Re-capping Star Trek seems like the perfect place to discuss the queer perspective in nerd culture. Watch along here and offer your own nerdy queermo thoughts!
Header by Rory Midhani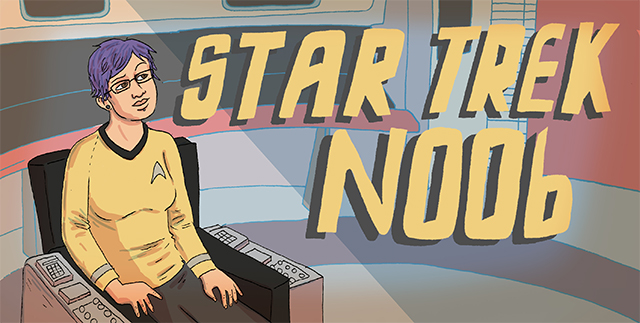 ---
Episode 1: The Cage (of Forced Heterosexuality)
Pilot Confusion
I turned to Netflix to start my journey through The Original Series. I figure this is where many new Star Trek viewers might start, since we're all immersed in our mobile devices and computers.
The first episode listed is "Pilot: The Cage," which seems pretty straightforward, right? Well it turns out that Netflix episode #2, The Man Trap, was actually the first Star Trek episode to air on television in 1966. NBC scrapped "The Cage" because its subject matter was considered "too cerebral." Which is hilarious, when you consider the prodigious brains of the Talosians, the antagonists of this episode.
Footage from this pilot has a convoluted history, reappearing again in episodes 11 and 12. "The Cage" wasn't aired on television until 1988 during a two-hour Star Trek special. Since most of us are accessing Star Trek via current DVDs or Netflix, I've decided to jump into the "The Cage" as the FIRST episode in my glorious Star Trek expedition.
Gender Tensions on the Bridge
The pilot opens inside the USS Enterprise. We are introduced to Captain Christopher Pike and his crew. They are a diverse group – "Number One" is the female First Lieutenant, a Vulcan-human hybrid named Spock, and officer José Tyler. It's interesting how "Number Onewp_postsis never named – she is only referred as her role on the Enterprise. Kind of like "Potterwp_postsor "Shoemaker,wp_postsI guess.
Number One asserts herself as an outspoken leader, asking if they should take evasive maneuvers when the Enterprise experiences space distortion. The interference ends up being a distress call from the Talos star system. At first, Pike decides to skip the investigation, since they have wounded people on board who need medical help. This was my cue to get curious about their previous adventures.
However, Spock announces that the distress call is a recent cry for help, identifying eleven survivors on the surface of Talos IV. Pike decides to visit the planet and provide assistance.
This is when the gender weirdness kicks in. Another woman, Yeoman Colt, appears on the bridge to deliver her report. Twice throughout the episode, she almost crashes into Captain Pike, in a klutzy and intimate way. It's so forced I had to wonder if this was an odd attempt to get some sexual tension going on screen.
Pike seems flustered by the Yeoman's appearance, and Number One tries to do some damage control. "She's replacing your yeoman, sir," his first officer explains. Then Pike says something pretty backwards for a leader of a futuristic starship:
"I just can't get used to having a woman on the bridge!" Oh snaaaap!
Of course, Number One gives him a death stare. Pike blurts out a backhanded complement, saying "No offense! You're different, of course." Awkward!
The Captain decides to ride off with his bros, beam down onto the surface of Talos IV, and assess the situation.
Number One's body language shows that she's pretty disappointed by being excluded. Just look at that sullen expression! Let her beam down, Captain! Pike tries to excuse leaving her behind, saying he needs his most experienced officer on board. *Pat pat.*
Meeting the Survivors
The Talos IV terrain is strange – desolate, and rocky with random quivering blue growths (heh) that make a loud humming noise until Pike and Spock hold the leaves still. For how serious Spock has been during this episode, it was great to see this smile. Based on what little I know about Spock, this is super rare, like witnessing the transit of Venus between the Sun and Earth.
The Enterprise party stumbles across a shanty town inhabited by haggard old men. They claim to be survivors of the crashed Columbia starship. Suddenly Pike goes silent, staring in awe as a young woman parts the crowd, bedecked in Wilma Flintstone couture and wearing a ton of makeup. Her name is Vina, and she snares Captain Pike with her womanly wiles, leading him away from his landing party. Stranger danger, Captain!
Vina exhibits insta-attraction to Captain Pike, calling him a "prime specimen" like he's some kind of livestock. I loved this scene, since it reverses mainstream depictions of sexism and objectivity. Vina's eyeing him like a steak, urging Pike to follow her so that she can reveal "our secret." How worrisome.
"Alien" Identity Politics
Next, we meet the Talosians, a species with gigantic throbbing brains. Ain't gonna lie, Mars Attacks flitted through my mind. These beings are watching Vina on a digital screen as she lures Captain Pike away from his party. Thinking about other species brings up some interesting questions about identity politics.
Is the term "alien" really PC, since it establishes non-humans as something foreign, bizarre, and unknown? Once humans jump into intergalactic space travel, I think it would be haughty to privilege humans as "normal" and deem other species as "alien." For the sake of these reviews, I'll try to minimize and omit the term "alien" as much as possible.
In a flash of action and special effects, Vina pulls Pike through a secret doorway in the rocks and kidnaps him. It turns out that the survivors are just an illusion projected by the Talosians! The human survivors disappear, and the Enterprise party tries to run after the captain. They shoot at the door to no avail; it is too strong to be destroyed! Perhaps it's made out of Amazonium of Wonder Woman lore.
The captain wakes up in a cage, some kind of zoo containing multiple species. The Talosians appear in front of his cell, communicating via telepathy. Their veiny brains quiver as they laugh and make fun of his inferiority. They reveal that their abilities allow them to create illusions out of people's desires. Well that sounds dangerous and fun?
Bonus question (leave your answer in the comments): What illusions would appear to YOU on Talos?
Pike enters an illusory world based on past battles. We're getting a sneak peek into Pike's psyche! He must fight to protect Vina from burly attackers.
Pike tries to resist the fantasies, growling "I'm not an animal performing for its supper." Vina gets creepier, insisting that she exists purely for his pleasure. Yikes.
Rescue Efforts
Number One goes on a mission to save the Captain using an über-laser! She leads the new landing party in the rescue attempt. Unfortunately, the high-powered weapon fails to drill through the door.
The Straight Zoo
Here's the kicker – Vina is using her sexual wiles because the Talosians have imprisoned them in a Noah's Ark of sorts. No wait, it's like the Christian creation story – she's meant to be "Eve" and Pike is her "Adam." They're expected to reproduce and make more human specimens. At this point, I imagine the Blaine Edwards and Antoine Merriwether from In Living Color screaming, "Ewwww hated it!"
The Talosians thrive on reading minds and learning from other species' experiences. "You're better than a theater to them," Vina tells Pike. Sounds to me like the Talosians are filthy voyeurs.
In some interesting power play, Vina ends up trying to coerce the unwilling Pike into a sexual encounter while perpetuating subservient female roles. Yikes!
The pair dives into another Pike fantasy, which is a bizarre vision of futuristic domesticity. Vina urges him to stay, referring to herself as his "wife" and talking about their upcoming "children." But Pike isn't ready to settle down with Vina and his favorite horse.
The Talosians realize that Pike isn't sold, and try to seduce him with a bizarre harem illusion with Vina as a green exotic dancer. Dayum, Pike. You've got some weird fantasies.
The most disturbing part about this scene is the misogynistic conversation the other men have. Creepers #1 and #2 say some really disgusting things as they gawk at the dancing Vina. It seems as if Pike's internal sexism and misogyny are manifesting themselves.
I find it interesting how Star Trek reveals humanity's baser desires in the FIRST EPISODE, but Pike doesn't cave into them. Instead, he runs away from the illusion in a rage. He discovers that the Talosians cannot read his mind when he is feeling intense, primal emotions like rage. Pike focuses on his hatred, trying to block the Talosians from controlling his mind. What a hacker!
Rescue Attempt Two
Spock decides that the remaining Enterprise crew should flee, but the Talosians disabled the ship, making it impossible for the crew to control it. This seems like somewhat of a stretch to me – nothing has indicated that the Talosians have this type of far-reaching affect on tech. Seems a little overpowered for intergalactic zoo keepers. The officers prepare to beam underground to retrieve the captain. Spock warns that they could materialize inside of rock, indicating the level of danger this mission holds.
The Talosians hack the beaming technology, teleporting Number One and Yeoman Colt into the cage. Pike is informed that he can now choose one of the three ladies to breed with. Vina defends her captor's motivations (ahem, Stockholm Syndrome much?) insisting "They don't mean to be evil!"
The Escape
The weapons Number One and the Yeoman have don't seem to work. A Talosian tries to sneak into the cage and steal the phasers. Pike wrestles him to the ground and points the phaser at the Talosian's head. The crew realizes that the weapons are actually functional – but the illusions make them seem ineffective. Pike takes the Talosian as a hostage. Remember Number One's kick-ass, gigantor laser? Turns out it DID work, and the team climbs out of the smoldering exit together.
The Talosians access the USS Enterprise library files and discover the humans hate captivity and can be a violent species when subject to slavery. Surprise! So they decide to let the crew go, how wonderful!
They reveal Vina's true from. She's actually a scarred and deformed older woman – the sole survivor of the Columbus crash. The Talosians patched her up, but didn't know what a human was supposed to look like. Since the Talosians saved her life, Vina feels indebted to remain with them.
Pike is horrified by this tragedy, and he asks the Talosians to give her back the illusion of beauty. They immerse Vina in a dream world where she is young and pretty again. And they give her a fantasy Captain Pike copy to run away with. How strange.
Pike doesn't know how to feel about this. And neither do I.
The crew returns safely to the Enterprise and they leave the Talos star system. The Yeoman asks who Pike would have chosen as "Eve." The on-board doctor tries to plumb for the same information, and Pike remarks, "All ships' doctors are dirty old men."
While this episode contain some very worrisome depictions of gender and sexism, I do admire the captain's composure when faced with these scenarios. He refused to participate, turning his back on recurring sexist fantasies, coercion, and objectification. Pike's refusal to identify "Eve" demonstrates his strong feelings of respect toward the women in this episode, although we never get a final word on whether Pike now feels comfortable with "a woman on the bridge."