Anime is frequently misunderstood in the West. A lot of people think it's just kids' stuff like Pokémon, when actually the majority of popular series among fans are aimed at teenagers and young adults. Others think it's all about giant robots and kid superheroes, when in fact, there's an anime for just about every conceivable genre of media you can imagine, from soap operas to Westerns to historical dramas. If you love anime (which, if the comments of my articles on it are any indication, many of you do) and want to expose some of your friends and family to it this holiday season, or want to dive into it yourself but don't know where to start, here are some of my recommendations as a casual fan of the medium.
Recommended for fans of: Disney and Pixar movies, ballet (obviously)
The most obvious choice for Disney fans would be Hayao Miyazaki movies like Spirited Away, but I decided to make this pick something with a somewhat smaller reputation. Princess Tutu is the story of a duck who becomes a schoolgirl who becomes a magical ballerina princess. On the surface, that sounds pretty silly… but in truth, it's one of the best anime you'll ever see (and my favorite on this list, which is why it goes first). All the characters are actually trapped in a story controlled from beyond the grave by Drosselmeyer, a writer famous for his fairy tales with very tragic endings. The anime is really a work of metafiction, as the characters struggle against various fairy tale tropes and attempt to rework their fates into a happy ending. It also has a Fantasia-like musical soundtrack, taking various classical music excerpts and using them in ways that interweave with the story's themes. You really can't go wrong with exposing someone to this anime, unless they're severely allergic to all things frilly and girly. It's one of the best examples in the medium of something that appeals to both (older) kids and adults.
Recommended for fans of: Firefly and/or Futurama
Cowboy Bebop is considered an anime classic, and really, everyone should give this show a look. But it's particularly recommended to people who love shows about plucky spaceship crews eking out an existence in an eclectic and often uncompromising universe, since that's what the show is about: a colorful group of bounty hunters shooting down crooks and creeps in a futuristic, terraformed version of our solar system. I recommended it for fans of Futurama and Firefly since Cowboy Bebop seems to fit in-between those two shows: sillier and glitzier than the latter, moodier than the former. One of the best things about this show is that all but five of its 26 episodes are stand-alone, so you can jump in at any moment to get an idea of if you or your giftee might be interested. (For an idea of the show's mood contrasts, I would check out "Mushroom Samba" and "Pierrot le Fou".) Cowboy Bebop is full of references, lovable characters, a top-notch soundtrack, and is overall among the best that anime has to offer.
Recommended for fans of: Quentin Tarantino movies, Boardwalk Empire
Baccano! might be what would happen if Quentin Tarantino ever did an anime. It's an ultra-violent, non-linear romp through Prohibition-era New York and Chicago, but where the gangsters not only control the whole cities, but appear to have some secrets to immortal life as well. The fact that the story skips around a lot makes it incredibly confusing at first, but it's so much gory fun it almost doesn't matter. If you know someone who likes mid-century glamour with lots of guns going off, and doesn't mind throwing in some weird supernatural alchemy lore and total slapstick silliness (in the form of the bumbling wannabe criminals Isaac and Miria), this is the anime for them.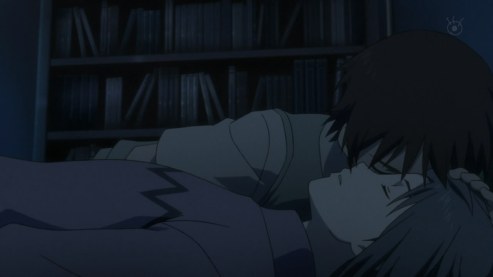 Recommended for fans of: dystopian sci-fi, like The Giver or The Hunger Games
This is a two-for-one recommendation, since these will appeal to different parts of a similar audience. No. 6 follows a boy named Shion, who is set to become part of the elite class in an ideal future society – until he meets another boy named Nezumi, a fugitive he helps nurse back to health. It gets Shion in trouble, and he's forced to give up his privilege and, eventually, escape with Nezumi when he starts to uncover too much about what's really going on in his city. And, yes, your eyes don't deceive you when it comes to that screencap: Nezumi and Shion end up way more than friendly. Essentially, if you know someone who loved dystopian YA novels like The Giver or Scott Westerfeld's Uglies, this is similar fare, except much gayer.
But what about messed-up future worlds that include queer ladies? For that, look to Attack on Titan, the most popular anime and manga series of 2013; if you're on Tumblr, you've probably seen this thing all over your dash. It follows a group of teenagers training in a post-apocalyptic world to fight giant, deformed, man-eating monsters called Titans, who are constantly threatening their homeland. There are also a lot of mysteries involving how the Titans were created and whether humans had any role in giving birth to their greatest threat. Among the many fascinating characters, Attack on Titan includes a whole host of awesome female characters for a boy-centered fighting anime, including the geeky scientist Hange Zoe, stoic fighting dynamo Mikasa Ackerman, goofy big eater Sasha Braus and mysterious Annie Leonhart. And the two girls pictured above, Ymir and her crush, Krista Lenz. The anime (which just wrapped up its first season) hasn't done much with them yet, but they've had plenty of development in the manga (comics), which means we're likely to see more of them in future seasons. Fans of The Hunger Games will love this one.
(Note: The Attack on Titan DVD has not yet been released, but will be in 2014 – and in the meantime, you can gift someone a subscription to Crunchyroll, where the first season of the anime can be found on streaming video. Or the original manga by Hajime Isayama, of which there are currently nine volumes out in the U.S.)
Recommended for fans of: period costume dramas like Downton Abbey
This is a pretty old anime, and as the title suggests, it's focused on Marie Antoinette – but not just her. This shoujo (anime aimed at teenage girls) classic also details the story of Lady Oscar François de Jarjayes, a woman raised as a man and now the head of the French Royal Guard. As one would expect with an androgynous female character in anime, a lot of the ladies at court swoon over her, making it a tad queerer than your typical romance set in 18th-century France. While Rose of Versailles is overall a very fictionalized account of the life of Marie Antoinette and the lead-up of the French Revolution (similar in its story to the 2006 Marie Antoinette film starring Kirsten Dunst), it's impressive in its amount of historical detail and the research that went into it, sure to please any European history buff on your list. It was recently released on DVD in English after decades out of print.
Recommended for fans of: The Twilight Zone and other dark and thought-provoking sci-fi
Kino is an androgynous teenage girl who travels the world with her talking motorcycle, Hermes, and each episode finds the pair in a different "country" (more like cities). Every country has its own interesting quirk, from appearing to be comprised of nothing but machines and no people, to forcing every new traveler to participate in a fight to the death. Like The Twilight Zone, each weird scenario usually leads up to some kind of meditation on human nature – and also like that show, Kino's Journey tends to raise a lot more questions than it answers. It's intelligent and frequently surprising, and is the rare story of its kind anchored by a truly awesome female character, who can more than hold her own in the many dangerous situations she finds herself in as she rides around the world. Another one of my favorites, Kino's Journey is a good pick for anyone who likes shows that make them think.
Recommended for fans of: high-school ensemble comedies
Azumanga Daioh is easily one of my favorite "slice of life" anime. It follows a group of teenage girls, ranging from the boisterous Tomo to the studious Yomi to the spacey "Osaka," making their way through high school, as well as their two very different teachers: crazy English teacher Yukari and more chilled-out PE teacher Nyamo. The cast even has a queer character, Kaorin, who repeatedly tries to deny her crush on imposing animal-lover Sakaki. The humor in this show is very "anime" – absurd, slapstick-y and over-the-top – but it should be charming to anyone who likes silly high-school shows, and wants something a bit different from the typical focus on romance and trying to grow up too fast. For all its strangeness (I've heard it called "Peanuts on LSD"), Azumanga Daioh's cast feel very much like people you might have actually known in high school, and its bizarre scenarios like inside jokes among your friends.
Recommended for fans of: '90s cartoon nostalgia
FLCL (pronounced "Fooly Cooly") is easily one of the strangest anime I've ever seen, and mostly defies comparison or description – but it reminded me the most of some of the cartoons I would watch as a kid on Nicklelodeon and Cartoon Network, in both its wackiness and its rocking soundtrack (provided by Japanese alternative rock band The Pillows). It follows a middle-school boy who has an ordinary, dull life until, all of a sudden, a hyper pink-haired girl on a scooter runs him over, and proceeds to hit him with her bass guitar. This results in strange things growing out of his head that morph into everything from TV robots to his own guitars. Yeah. It's that bizarre. The series also makes numerous references to both anime and Western media alike, including an entire scene mimicking the animation style of South Park. FLCL is surreal, but never takes itself too seriously, and is mostly just a weird, wild 6-episode ride.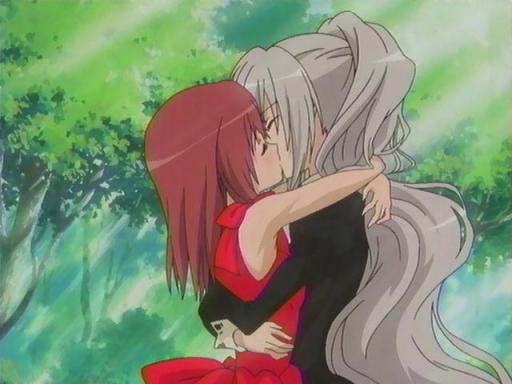 Recommended for fans of: The L Word, Lip Service…any show that's all about lesbians, basically
It's kind of required that I include Strawberry Panic on a list like this, as it's easily one of the highest concentrations of lesbian characters you'll find in any media on either side of the Pacific. Strawberry Panic follows a group of high school students at the three all-girls' academies that make up Astraea Hill, famed for its "inter-school relationships." Every single girl in this is queer, and it's all about their various romantic entanglements. There's not much more to it than that; Strawberry Panic is basically a pastiche of various yuri (lesbian anime) tropes, and serves as a good gateway to the genre. Yet it can be quite funny and heartwarming (and even heartbreaking), along with being a refreshing example of queer romance being treated as just any other type of romance. (Then again, that's easy to do when there are literally zero guys in your show.)
---