Editor's Note: Now that Alex Danvers is officially out and things are really, truly going somewhere with Maggie, we're going to change the structure of our superqueero TV coverage. Going forward, Supergirl recaps will be posted on Tuesday. Superqueero Roundup Recaps will be posted on Friday. They'll include the gay and feminist happenings of CW's other DC shows, because we have no idea where we're going to end up after that crossover. But for now we want to reward and celebrate Supergirl for giving us something so good! 
---
Of the 166 lesbian and bisexual women on TV who have died since 1976, almost 30% of them have died in the past two years. And of the ones who did survive, so few are anything of substance, anything worth rooting for. Most of them are brush-off characters, or offensive stereotypes, or somehow both at once. And don't even get me started on the real world.
But even though this year has been widely accepted as a garbage fire, it hasn't been all bad. Women in Hollywood keep coming out, many of them actually saying the word "bisexual" out loud! Delphine was alive all along on Orphan Black. Laverne Cox slayed in Rocky Horror Picture Show. But honestly, I didn't think anything was going to beat the queer, feminist gift that was the first season of Wynonna Earp.
Until now.
As usual I'm putting the cart before the horse and it's a horse of different color so we're going to want to focus on it. So I'll back up.
We start with Kara waking up Mon-El and helping him get ready for work. She dresses him up like…well, like Kara, and gives him a new name: Mike Matthews. Appropriately bland. It becomes abundantly clear he's not ready for the real world within two minutes of him being inside CatCo, but Kara is determined to make him as good an intern as she was.
But she knows things are going to be tricky to say the least when she has to practically use her superstrength to keep James' new assistant, Eve, from pouncing on Mike the moment they meet.
I'm not going to lie to you, when I saw all the previews for this episode, I thought it was going to be 100% James. I've watched many a queer storyline unfold, and it's either build-up-peak-and-fall-apart in one episode, or it's a snippet every five episodes that you have to gobble up like a puddle in the desert. So imagine my shock and surprise when we cut to Maggie and Alex playing pool in the gaylien bar.
Alex makes some joke about how badly she's beating Maggie and mentions Maggie's girlfriend the way that little kids mention the monster in the book they read that one time because talking about it helps it feel less scary and maybe if they're lucky someone will assure them it's not real. And sure enough, Maggie says that her girlfriend dumped her. And Alex "What Is Chill" Danvers is SHOCKED and APPALLED that ANYONE would DUMP Maggie Sawyer.
Maggie is actually pretty bummed about this. Which is actually really nice; she's not playing the Tough Girl, she's admitting to her new friend that she thought this girl was special, and this girl called her a sociopath. Maggie decides that she needs to wallow in her sorrows alone and not drag Alex down with her and even though Alex clearly doesn't want her to leave, she sends her off with a helpless, "Feel better?"
While out and about on the streets of National City, Kara and James encounter some bad guys with big guns. And not regular guns, either. Guns that knock Kara flat on her back. The two of them fight, but the bad guys get away, leaving James bruised and his camera broken.
Kara takes this intel back to the DEO, where they figure out that these human bad guys had an alien cannon. Cadmus releases another video and it's clear that they're trying to frame the aliens fore more bad deeds.
At CatCo, Kara the Journalist stands up for better gun control, specifically fighting a man whose solution to bad guys having ray guns is that he wants a ray gun himself. It is an all-too-relevant conversation.
But before long, Kara's mood is lifted when Lena Luthor strolls right into the office and invites Kara to be her date to a fundraising gala. And I know this isn't canon queerness, but I don't think Katie McGrath got the memo, because she legit bites her lip as she calls Kara her only friend and basically begs her to come to the party.
Unfortunately, Mon-El (now called Mike) doesn't know what human flirting looks like, so he invites himself to this gala too.
At the DEO, Winn is talking shop when he realizes Alex isn't listening to a word he says. He asks what's on her mind and she says, I kid you not, "Maggie is such a terrible pool player." She doesn't even pretend that it's relevant to their conversation. She's just like, "Maggie is sad and it's really bugging me and I wish I could help."
Winn says he doesn't like to get into other people's personal business, and Alex laughs and laughs because that was literally his whole deal last season. But Winn says that's because he was into Kara, and that's not the same as Alex's situation.
But something inside Alex goes off like a metal detector that's awful close to buried treasure.
And then I blacked out and somehow a police officer ended up in the sky? I imagine from the bad guys with alien cannons. (Okay JK I rewatched and it was definitely the bad guys with alien canons.) But don't worry it wasn't important and Kara saved him. So the bad guys go to Ms. Cadmus and get bigger guns.
Alex goes to see Maggie at a crime scene and rattles off some science stuff and Maggie calls her a nerd in the cutest way possible. Alex has no idea how to cheer Maggie up, but she knows in her heart that all she wants to do is see the detective smile again, that real, genuine smile, the one she got at the masquerade, the one that goes all the way from her dimple to her eyes. So she lists every activity she can think of to see if any of them strike a chord; pinball, tapas, just literally anything, anywhere, as long as it's together. Maggie tilts her head at this.
She says, "I didn't know you were into girls." She said she read Alex wrong, but probably what she meant was, Alex seemed so sure of herself, so surely she would have mentioned by now if she was also queer. Alex stammers a bit, surprised at the statement.
She says, "I'm not," but can't finish the statement. Maggie helps her out, "You're not gay." Alex says, "Right," but even she doesn't sound too convinced. She promises Maggie she wasn't trying to ask her out, that she was just genuinely trying to cheer her up, but the panic is so strong that Alex has to leave.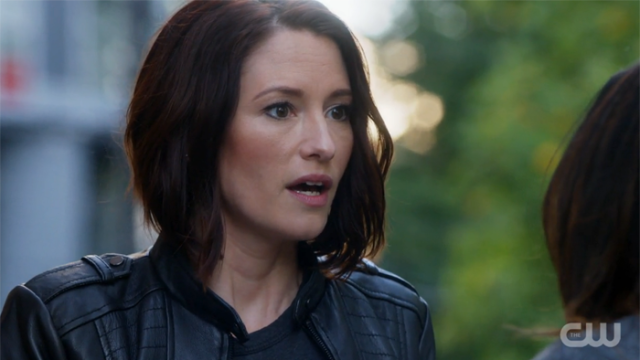 Then James whines to Winn about always being a sidekick and never a superhero and even though that's kind of the whole point of him, he asks Winn to make him a suit and a weapon since he's already a blackbelt. Winn tries to convince him that there's no shame in helping out behind the scenes, which makes me realize I actually do genuinely not hate Winn this season, but James is unconvinced.
Also fun is when Kara catches Mike and Eve hooking up and she reacts the way I do when TV shows push their heterosexual agenda down my throat.
Kara basically tells Mike to fit in or get out. She'll do the best she can to help him but he has to at least try.
Kara storms back to her apartment and catches Alex eating a donut outside her door like she's some kind of Wynonna Earp. Alex says, "I'm confused about something," but even saying that much out loud is like 300 steps ahead of where she was before this morning and because Big Sister is an identity she's 100% sure of, she asks why Kara is looking so stompy.
Kara goes on a rant about Mon-El and how he won't let her help him be the perfect CatCo intern and Alex sits her sister down.
She says that when Kara first came to live with their family, Alex tried to make her just like her. But while Alex was wearing biker boots and listening to t.A.T.u., Kara was tacking boy band posters to her bedroom walls. Alex said they both were better off when Alex let Kara be her own person, and they learned how to get along as different people, and that maybe that's what Mon-El needs, too. Alex looks wistful as she adds that everyone needs to figure out who they are inside, who they were meant to be.
And then quickly snaps back to the subject at hand. Not everyone can rock argyle like the Kara Danvers. Kara suddenly realizes that Alex came to see her and she's been rambling about her own problems and Alex opens her mouth to start to work through the storm whirling through her chest.
Buuuuut she's interrupted by a knock at the door. Kara uses x-ray vision to peep their guest and says, "What is she doing here?" and I swear to Rao, Alex's face and voice do this panic thing when she asks, "Who?" as if her real question was, "Is it Maggie? Did I accidentally conjure her somehow just by thinking about her so hard?"
But it's not Maggie that was pinging Alex's gaydar, it was Lena. She recognizes Alex as the woman who saved her life, and didn't realize it was Kara's sister.
Lenae asks Kara to help her get in touch with Supergirl, due to the quid pro quo favor situation they established last week.
Supergirl goes to visit Lena in her office, and Lena invites her to her fundraising gala (that the bad guys have already said they were going to raid, even though they were explicitly told not to by Ms. Cadmus herself).
Supergirl says maybe she should cancel the whole shebang, but Lena won't live in fear. She just wants Supergirl to accompany her and Kara Danvers.
When she gets to the party, Kara uses Winn to do a little switcheroo and convince Lena that both of them are there, and that both of them have her back.
Lena does that, "You just missed Supergirl!" thing that makes me feel like it's possible she knows? But then again I still don't know if Cat knows, so.
As soon as her date is out of sight, Kara starts shoving pot stickers into her mouth, until Mon-El asks her for a dance. And I say it again, I truly feel like they're setting this up as a cousinly thing. Their dancing is goofy and not romantic at all and I'm pretty sure Kara is still chewing pot stickers the whole time. And if that's the route they're taking, I'm 100% on board.
The bad guys break up the good time, but Lena Luthor is not one to be intimidated.
She stands stock still and unflinching as the bad guy rips the necklace from her neck and demands that everyone hand over their jewelry. Supergirl swoops in and starts fighting them with her heat vision while everyone scatters. Winn ducks under the stage and finds Lena there fiddling with a device. He realizes that the reason she didn't cancel the fundraiser was to catch the bad guys, and watches as she proves she's a genius and has her machine deactivate all the alien tech in the room.
Kara's pretty damn impressed.
Maggie arrests the bad guys, but before they can give up Ms. Cadmus's true identity, Cadmus fries their brains from the inside, leaving Maggie to watch as they all just drop dead in front of her.
Winn goes to see James, and says that he understands wanting to make a difference, so he will make James a suit if he promises not to go full vigilante til he has it, and to think of a cool name while he's waiting.
Kara wakes up Mon-El and tells him that he's been fired. He asks if she's mad at him, and she says she'll probably always be a little mad at him. Which, if that doesn't scream "family" I don't know what does. She sits down next to him and says that she gets it now. He needs to find his own way in this strange new world, and she can't do that for him. But she can help him as best as she's able. So she gives him a promise and a National City Guidebook — with the strip club page ripped out, of course.
Supergirl goes to check on Lena after the gala and Lena thanks her for her help. But they're interrupted by someone coming to see Lena, so Supergirl flies off. The visitor is Ms. Cadmus…and Lena calls her "Mom".
OKAY OKAY OKAY ON TO THE BEST PART.
Cut to Maggie taking shots, alone, in the gaylien bar. Alex comes to check on her, and Maggie admits she's a little shaken by watching three men be murdered by a mysterious outside force while standing three feet away from her. Maggie looks at her again and asks why she's here, but really. Alex repeats that she's just worried about Maggie, and Maggie takes this opportunity to apologize for being forward about the whole liking girls thing earlier.
But Alex doesn't protest this time. She sits down, thoughtful. And then she launches into a beautiful speech that felt like it was made from words formed by the scars on my heart. Alex spent her whole life trying to be perfect. Perfect grades, perfect sister, perfect job, perfect daughter. There was one aspect of her life that was never perfect though; was that WHY she felt like she had to be perfect in everything else? Because this one big part of herself felt so…imperfect? She tried dating, she did. She tried so hard. She never liked hooking up with guys. So she figured, maybe it just wasn't for her.
She had never thought, never even considered…but she can't get the rest of the words out. She stammers in a way that Alex Danvers has never stammered before. Maggie has been listening patiently this whole time, looking at Alex with such kind, knowing eyes. But here she sees Alex needs her help, so she prompts her. When Alex says there's something she can't stop thinking about, Maggie asks her what it is.
"That maybe there's some truth to what you said."
And Maggie repeats the same prompt. "About?"
Maggie won't say it for her, but Alex still can't quite say it. But she made her point clear enough to Maggie, who smiles at her knowingly.
Alex looks terrified, but sort of like how you get terrified right before you go on a roller coaster. It's fear but there's also excitement in the anticipation. But still plenty of fear. But it's a calm, grown-up kind of fear. Not the fear of a teenager's coming out story that's usually (understandably) tinged in anger and an apocalyptic fear. Just a quiet fear, knowing this will change things, knowing she needs time to see if this fits. Especially for someone like Alex, whose family adopted an alien girl, and probably wouldn't care if their daughter is queer. Maggie suggested that Alex might like girls, and her initial denying of this doesn't make it untrue, and Alex didn't get mad. She didn't yell at Maggie and push her away. She thought about why her skin felt like it was on fire when this beautiful lesbian looked curious-in-a-good-way when she thought maybe Alex was asking her on a date. She thought about why it felt like Maggie just gave her a cipher that made her story up until now make so much more sense than it did before. And she came to Maggie to try to talk a little of it out, with more strength than a Kryptonian powered by the yellow sun.
That's about as far out of the closet as Alex has the strength to go today, though, so she tells Maggie that she's glad she's okay, and she leaves the gaylien bar.
One of my favorite things about Alex's coming out speech is something that sets it apart from most characters who have come out on TV before. A lot of queer TV character coming out stories happen on shows where the characters are in high school. They're fraught and dramatic and include a lot of yelling and crying. Adult queer characters tend to either stroll in fully out and proud, or come out after thinking they were happy in a relationship with a man before realizing what happy really felt like after they kissed their first girl. Which is totally valid and is definitely how a lot of lesbians  figure out that they're gay. It's an important story to be told, just like it's important to show the bisexual characters who were happy in a relationship with a man, and then find that they can also be just as happy in a relationship with a woman, and how their bisexuality doesn't disappear depending on who they're dating.
Alex's story is different. Alex's story sounds a little more like mine, and maybe yours. Like one we haven't really seen on TV before. Because we tried to date men. But we never quite got there. And it made us feel different. Broken, somehow. The only difference between Alex and me is that she says she never considered the possibility that she didn't like boys because she liked girls instead. I had considered it; hell, I knew it, on some level, since I was thirteen. But I suppressed it and I fought it tooth and nail for over a decade. Also like Alex, though, it wasn't until I met someone who made my heart do flips in a way it had never done before that made the truth undeniable. And I was old enough by then to not even want to fight it anymore.
Guess what else Alex and I have in common. Alex and I didn't have a show like Supergirl that we watched with our parents every week where suddenly a cop strolled in and called herself not-straight pretty much right off the bat and it was a non-issue. We didn't see that cop kiss a girl on the mouth all casual-like while her new friend watched with a feeling that felt suspiciously like jealousy. We never heard a speech like the one Alex made, listened to and understood with such a friendly ear as Maggie's.
But some kid just did. Some nine or twelve or sixteen year old just watched Alex Danvers, sister of Supergirl, come out to her new friend who is an out lesbian. Some freshman in college who had been trying to figure out why she never grew out of the "boys have cooties" phase of her life heard Alex speak aloud the feelings about intimacy she had been feeling but didn't have the words for. And sure, some kids heard their parents scoff in disgust at this turn of events, but those kids saw Maggie do the opposite thing. Some kids heard their parents declare they'll never watch this show again, but the kids who need it most will find a way to keep watching. Some kids had a discussion with their parents that helped them understand something inside themselves, and helped their parents understand them, that might not have organically come up for another few long, confusing years. Heck, we heard from a mom just this week whose eight-year-old daughter realized she was a lesbian when Kara said it one time as a throwaway line in the pilot! That eight-year-old girl is going to get to watch Alex Danvers fall in love!
So yes, we needed this. We needed this so much. We DESERVE this. This joy, this unadulterated raw emotion that isn't devastation, this truth. This storyline that looks so much like so many of ours being handled with the same care and love as Kara dealing with the knowledge that her aunt wasn't who she thought she was, as J'onn revealing his true identity and his secrets about Jeremiah, with Kara not knowing what she wants to do with her life and being scared of change.
From the beginning, Supergirl has been fundamentally about three things: Women, love, and hope — and knowing how much strength is in each of those three things. Alex's story is no different. Our story is no different.