Style Editor Becky:
Hi! Fall is just around the corner and I'm here to whip you into shape and make you look cool like a prism in the sun so girls will be attracted to your rainbow magicalness and ask you to go apple picking with them. THAT'S MY JOB DESCRIPTION, BITCHES. WELCOME TO THE FALL STYLE GUIDE/THE FIRST DAY OF THE REST OF YOUR LIFE.
We have a lot of special guests today but I am going first.
1. Bow Ties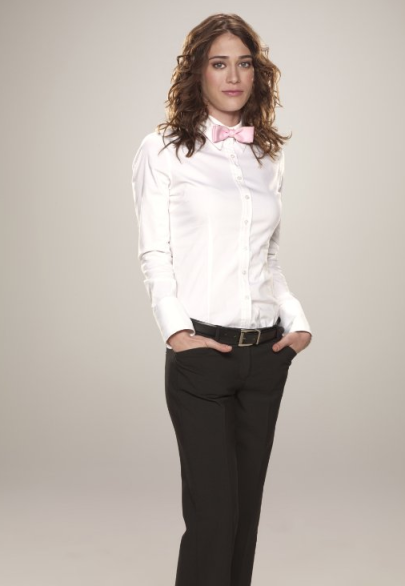 "Hi! You might remember me from that time I played the almost-lesbian in Mean Girls. Do you like my bow tie? I'm wearing it because I think I'm in a promotional photo for a movie I was in about a catering business or something but you should probably just note how good I look in a bow tie and wear one to your first day of classes."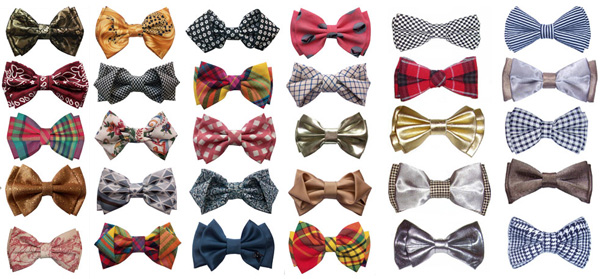 Look at these from Laurent Des Grange for inspiration, and then go hunt for one or two of your own. There are some nice ones over at Amazon and Topman. If you're ambitious, maybe even try making your own. Bow ties are approved by my golden rule: WWJBD? If the answer is, he totes. would, then you should probably do it.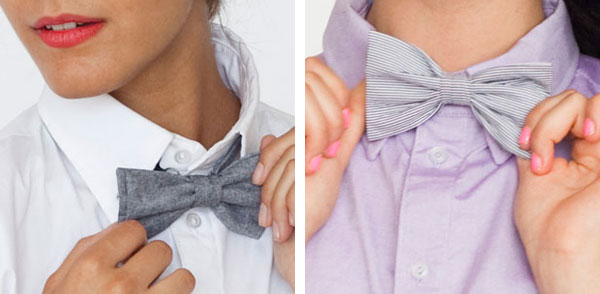 Of course the very non-gendered American Apparel has them for $19 (as seen above).
2. Long-John Pants
In my opinion, just plain wearing long-johns are essentially the "men's" version of wearing leggings.
But I really like the look. It manages to incorporate "bagginess" without having to wear your pants below your bum and it maintains the "skinny" look of the pant our generation is so fond of (and I'm partially glad, even if it's just to keep the return of the bell-bottom at bay for a few more years). Also there's no worrying about camel toe and they're hella-comfortable.
Now these types of pants go by a million different names. Personally I like "carrot pants" but I think most people refer to them as harem pants which kind of makes me uncomfortable. They're also often called "drop-crotch pants" too I believe. Which is nice and umm… descriptive.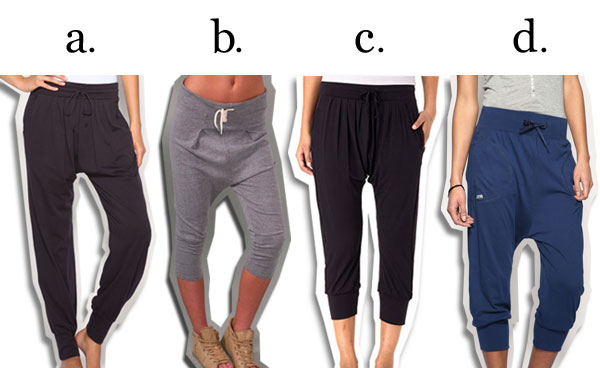 Above:
c. Delia's Drawstring Harem Pant
Essentially, these are like low-crotch, skinny-leg, light sweat pants and I stand by the claim that they'll look baller with some heels or classy work boots and a blazer. You can find whatever-the-heck-you-want-to-call-them pants from places like Asos (as seen above) But if you're on a budget, you might consider just wearing long johns.
And because we believe in non-gendered styles/clothing 'round here – let's here it for the boys: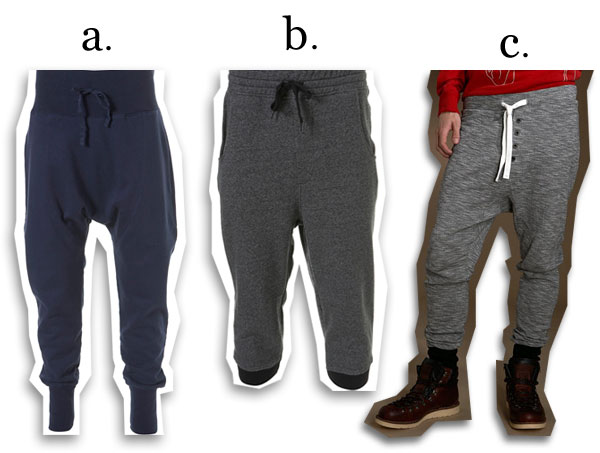 Above:
b. Topman Carrot Cropped Short
c. These are from Topman as well, however we don't have a link at the moment. But don't they look awesome with boots?!
If you don't know this already, Topman is a UK brand so the sizes here run slimmer than the usual american style, which means it's more female-figure-friendly.
Also because I know 95% of you aren't going to be down with the above suggestions, look!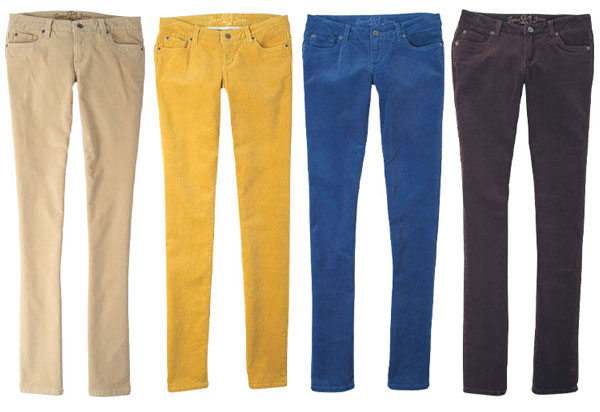 3. Work Boots
Work boots are like hiking boots only not as ugly (sorry hiking boots, you help me get up mountains but rarely help me get dates).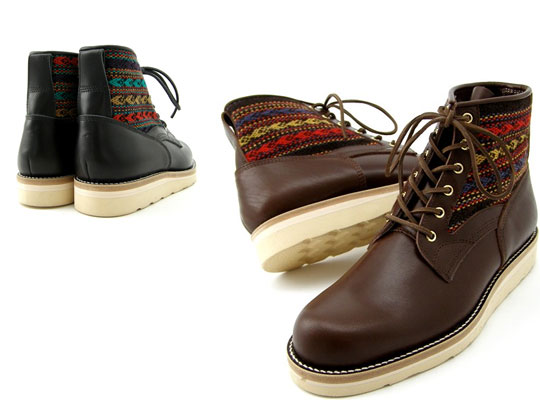 (Above: GDC Union Work Boots)
Look around Ronnie Fieg for inspiration, get a feel for what's out there, and then find the pair that fits your budget. Work boots are more clean cut and classy than hiking boots or combat boots; unfortunately outside the land of Doc Martens it isn't uber easy to find boots like these that are women-friendly…i.e. in smaller sizes. Unless you have big feet. In which case I envy you pretty hard right now and you should get yourself over to a Topman.
Here are some others:

Above:
b. Polo Ralph Lauren Men's Ranger Boot
c. Sebago Boots
4. Wrap-Around scarves
Speaking of clean-cut, here's a trend that started late last fall but never really got it's feet off the ground. Like the carrot pant, these scarves have a million and a half names including but not limited to: connected scarf, infinity scarf, loop scarf, circle scarf…YOU GET THE PICTURE IT DOESN'T LEAVE YOUR NECK EVER.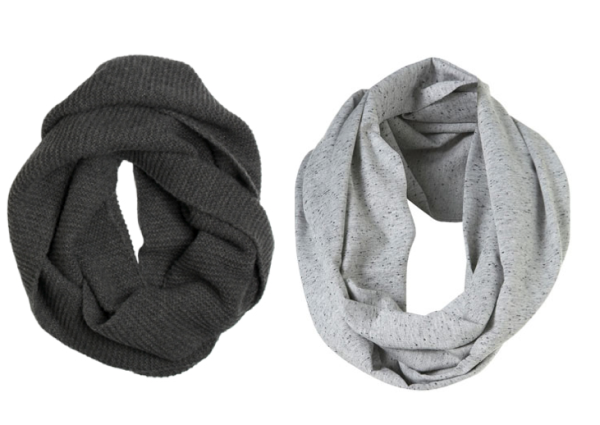 These scarves are great because they keep your neck warm and you don't have to worry about loose ends shifting around and looking weird or uneven or getting caught in a door and choking you to death like you do with regular scarves. You know? In my opinion, the trick to this look is getting a scarf that's not frilly or sequined or stringy or ruffly or overly fuzzy. Just keep it classy or simple.

Above:
b. Collection XIIX Scarf, Gauze Infinity Loop
[Not pictured] Gray Shredded Loop Circle Infinity Lightweight Scarf: On Amazon, inexpensive and cute.
5. Leather
Leather jackets are timeless. So are cuffs and nice leather belts. Luckily, there's a place for most of that. A GAY PLACE. It's called Lucky Dog Leather and it seriously rocks. Like srsly. I myself just got a cuff and a belt from there and NO REGRETS. I feel like a bad-ass cow-hand AND I'm stylish which hasn't happened since the cowboy boot trend. So get on that.


What I like about Lucky Dog Leather is that their products are about as custom-made as you can get on the cold, unfeeling internet–as in, they're really thorough about sizing and making sure you're happy with your purchases.
6. Carry-ons
I know a place where the grass is really greener. It's called Supermarket and it's full of independent designers and you can leaf through their stuff and decide if you like / want to buy any of it. It's kind of like a supermarket. Anyway designer Sarah Porter has these far too adorable coin purses:
That make me not want to discard/ disregard my loose monies and instead keep them in a tiny pouch with a gerbil on it so I can save up for penny whistles and moon pies.  You know?
Also, peep these plaid wallet/holders:
Above:
a. Plaid Pattern Extra Thick Fatty Flat Women's Wallet w/ Checkbook Cover
c. Enjoi Skateboards Panda Plaid Wallet
d. Business ID Card Holder Case
7. Solid Colors
Okay, so maybe I'm getting more and more abstract with each numerical increment. But I'm just as serious about this suggestion as I am with the others. With all the leaves doing their tye-dyed dying fox-trot, it's a good idea to not compete with their patch-work brilliance. Because you will lose. That's really my main advice to you. Don't try to upstage the leaves. This is their last hurrah. Would Justin Bieber do it? No. No he wouldn't. And guess what? Fall palettes of the fashion world are going to conflict. So if you want to know which solid colors you should wear, I'm going to have opt for the annoying but true "seasonal colors are a social construct".

Just look around and see what you like/can afford/ follow your heart/ the northern star or something.
Above:
a. Luke Meier x Vans Syndicate Zero Low "S"
e. Wet Seal Basic Platform Pump
8. Cardigans
It wouldn't be fall if you didn't at least browse through some cardigans. Gap has some nice hybrid jacket/cardigans like this 'Varsity shawl collar cardigan':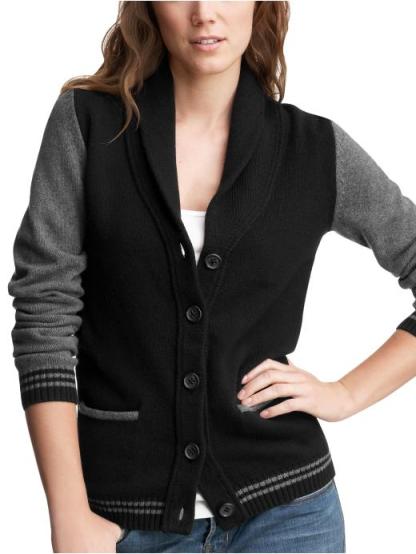 I'm also really digging these ones from Topman. They're totally on sale for only $20 (marked down from $50.) GET IT GIRL.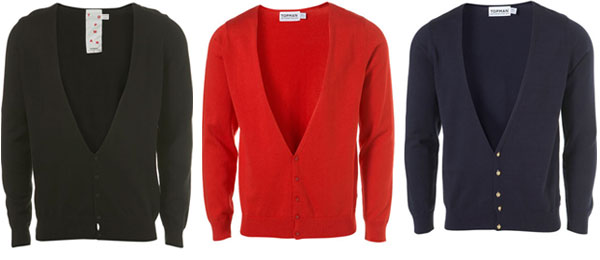 9. Flannel
You wouldn't be a lesbian if you didn't at least have a soft spot for flannel (see what I did there?). And yes, I know I just said solid colors, but let's make an exception for what's basically the unofficial uniform of the dykes. Also, these ones from Acne are just plain wonderful:
Oh, and don't be fooled–flannel is a material, so you can still enjoy this super coze shirt without the plaid design. You know, in case you have an irrational fear of dwindling fades.
10. Blazers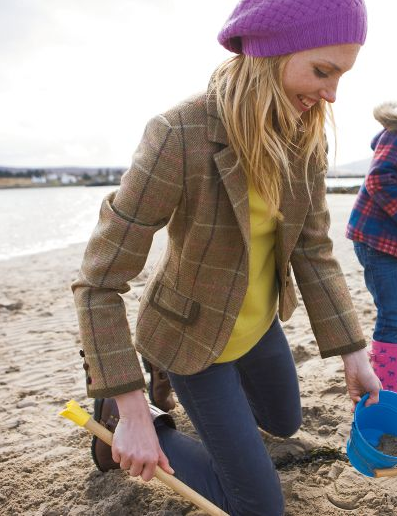 (Above: British Tweed Blazer)
Blazers are the love of my life. You can do anything with them. You can wear them or hang them up in your closet or use them as a magic carpet or take them to the dry cleaners unless you'd rather wash them in a stream. The best part is that blazers are conducive to bow ties and carrot pants and boots and scarves and cardigans ALL AT THE SAME TIME.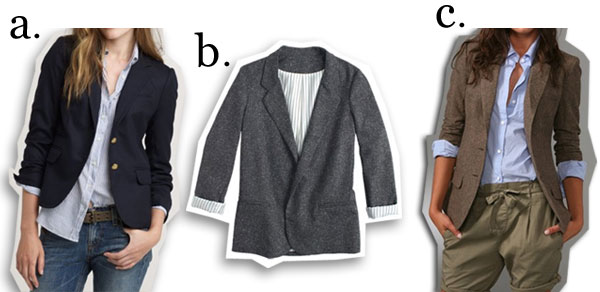 Above:
a. J.Crew Navy schoolboy blazer
b. Paxton Tweed Blazer from Delia's
Also! BONUS:
They're baaaack.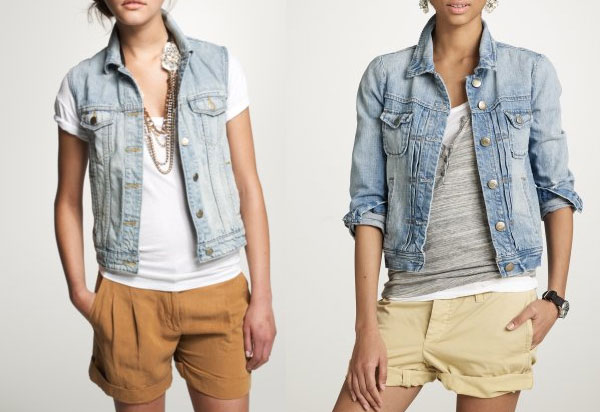 Denim Vests and Jackets from J.Crew
---
+
Next Page:
Fashionista Lily and Special Guest Blogger Nicolette give their fall picks.

---
+
Pages: 1 2See entire article on one page