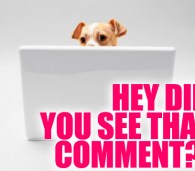 Hey-o. It's almost time to go back to school. Are you excited? I'm excited. Go get new school supplies and outfit yourself in 2010's fall fashions.
So like, this week, Alex went to the BlogHer conference and met the den mothers of Autostraddle, Becky gave you 10 late summer style blogs which made Emily very happy, and then Jess interviewed the people in Whitney from The Real L Word's life, namely, Romi, Sara, and Alyssa. Taylor wrote about the gender trouble with avatars, Rachel talked about being alone and how Eat, Pray, Love isn't really all about it and at get baked, we made bread. Don't forget to enter to win tickets to see The Cliks and Hunter Valentine from AudioStraddle!
---
On NSFW Sunday Special: What We Don't Talk About When We Talk About Lesbian Sex:
Scissor Sisters Award to e: i once got a huuuge orgasm whilst scissoring. and my abs burned which was weird. any one else get this?
On Does Gay Marriage Make Gays Straight?:
The Portard Award to Dina:
I'm squishing the first half of my last name into the last half of my partner's last name when we get married. We wanted a team name because we want to have kids (WHOA HI THERE HETERONORMATIVITY LOL) and hyphenating our names is just a bad, bad idea.
On BlogHer? But I just Met Her! Internet Worlds Collide at the BlogHer '10 Conference:
The Like Father Like Daughter Award to Ailish: Part way through reading this I went to make a cup of tea cos I thought 'hey I really need to enjoy this properly' and when I got back my dad was sitting in my chair browsing through Autostraddle.
I just gave him the tea and left, figured he'd be there for a while.
On Prop 8 Gets its Stay, Gays Won't Get Married Wednesday, Hate Hate Go Away:
The Hug An Ewok Award to GrrrlRomeo, Alice K, kd15: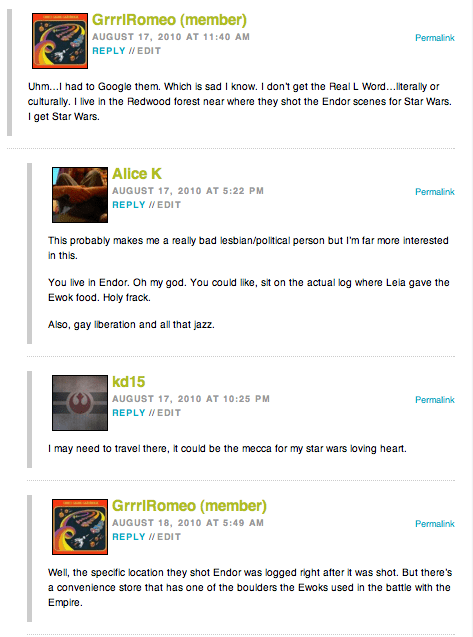 On Autostraddle 2010 Fall Fashion Guide for Various Shapes, Sizes, Gender Expressions:
The Kcdanger is Pantsless Again Award to Kendra, Sally: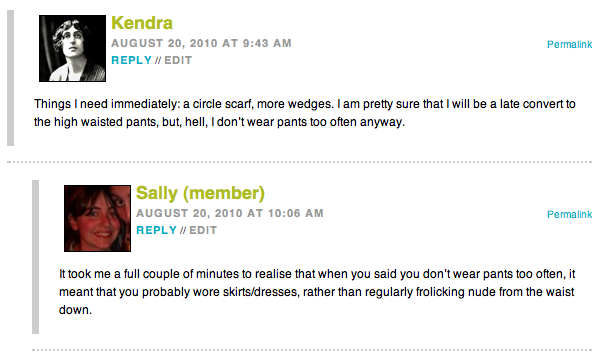 On The (Gender) Trouble With Video Game Avatars:
The Spam Award to tracy and Dina:
The I Know You're An Editor But… Award to kelsey : "at first when I read "chainmail bikiniwp_postsi imagined a bikini that people sent to each other, like in sisterhood of the traveling pants. nobody's seen that? cool. but i think that is not the type of chainmail you are referring to. hopefully yours is much more sanitary."
On Eat Pray Love Won't Teach You How to Be Alone (or, "First Try to See Something, Anything Else"):
The <3! Award to Rachel B: "Autostraddle has quite the collection of Rachels, let's be honest. Probably the only thing there are more of is lesbians. Lesbians and then Rachels. A huge collection of Rachels. And you are my absolute favourite one. You are the best.
I always feel okay about things when you write about them. When I have a day of feeling sad, I'll come back to this post. This post and that video. Which is beautiful and lovely and which I'm appreciative to you for sharing with me. <3"
On Can Queer Sex Queer Sex Ed?:
The Story Better Than The Bible Award to Alice: "I go to a convent school, the Nuns dislike acknowledging that we have vaginas, and therefore have a ban on all sex-ed. Then our English teacher decided that this was probably not a totally rational decision, and decided to smuggle in a sex-ed teacher who proceeded to show us how to open a condom with our teeth. In retrospect I'm pretty sure she wasn't an actual sex-ed teacher, and was actually the woman who worked in the photocopying room. This sequence of enlightening lessons were held in the rectory, which is a place where the Priest makes the Eucharist (the bread stuff they hand out out mass), it's the size of a shoe box and smells like a crack den. Whilst providing me with zero amount of information, the fact that the photocopying/sex-ed lady spilt spermicide and lube everywhere made me feel slightly weird but mostly amused at the next mass when the Eucharist was being dispersed."
The All The Colors of the Wind Award to Laura and Fuzzy:
On Stuff You Should Know: ANTM's Lesbian, Johnny Weir's Weirdisms, Harry Potter 101, Lohan's Career:
The Grown Up Award to anna: ""What little girl doesn't want to model?"
Me. I wanted to be a firetruck."