Phone contract coming to a much-anticipated end? To switch phones in style, you probably want to give the Samsung Galaxy S Series a long, hard look. Unlike many carrier-specific models (like the Droid clan on Verizon and the iPhone 4 on AT&T), Samsung chose to launch a Galaxy S device on each of the four major American carriers.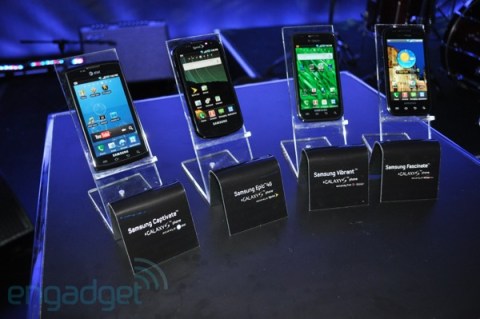 Each flavor of Galaxy will sport a slightly different design, but the main feature set remains constant across carriers. Here's a little breakdown of of each device, so you can peek at the one for your own carrier or develop some serious cross-carrier lust. Meet the Samsung Vibrant, Captivate, Fascinate and Epic. These puppies are on the upper echelon of mobile devices today, so you might want to brush shoulders with them.
Galaxy S Series Features:
+ Android 2.1, but Android 2.2 expected by the end of September, which offers a very noticeable speed boost, tethering and many other wonders
+ The best graphics processing available on a phone to date, for better video streaming and gaming
+ 4.0" (480×800) SUPER AMOLED Screen (more sunlight-friendly than your average AMOLED, but just as bright!)
+ 1GHz Hummingbird Processor
+ 5.0 Megapixel camera
+ HD Video Player & Recorder, captures video at 30fps
+ 16GB/8GB+ MicroSD, up to 32GB of storage (except the Verizon Fascinate for some reason)
+ Swype app pre-loaded, for an awesome keyboard alternative. Check Swype out, if you haven't already. It allows you to drag to select letters, rather than pecking– it can really speed things up.
+ Qik pre-loaded for video chatting
+ Touch Wiz 3, Samsung's custom, arguably useless, Android skin
+ Wireless N capable, for fast Wifi speeds (depending on your router)
AT&T: SAMSUNG CAPTIVATE
+ On Amazon right now, the Samsung Captivate appears to be on sale for $49.99, which isn't a penny but it's still a damn fine steal.
+ AT&T iPhone alternative if you'd like to stay with the carrier but try Android on for size
+ Available now, which counts for somethin'.
VERIZON: SAMSUNG FASCINATE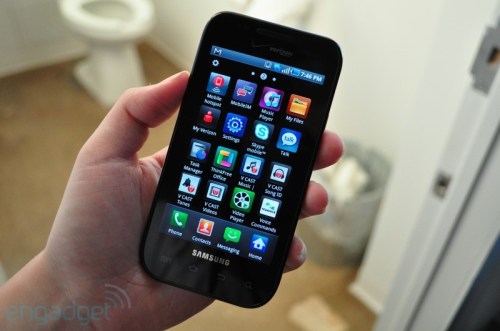 + Expected to have 2GB of internal storage (vs 16GB of the other models)
+ LED flash for the camera (I'm not sure why other models don't feature this– it seems standard these days)
+ Not yet available or priced officially, expected by the end of summer. With the cutting-edge Droid X and Droid 2, it's no wonder they're spacing out these launches)
SPRINT: SAMSUNG EPIC 4G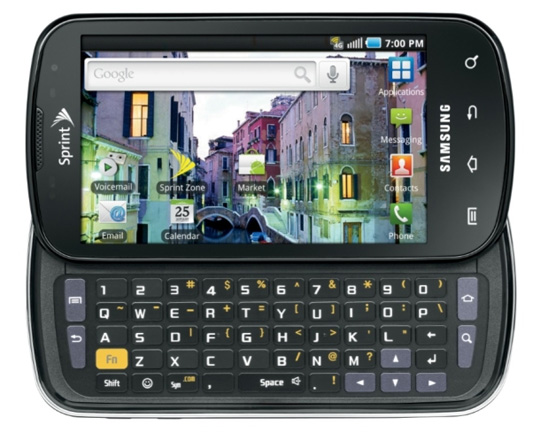 + At $249.99, its the most expensive of the four, but probably also the most distinctive.
+ Front facing 1.3 MP camera (not found on the other devices, inexplicably)
+ Only Galaxy S phone with a slide-out QWERTY keyboard.
+ Speedy 4G network, depending on where you live. This is Sprint's second 4G phone and one of two available on the market.
+ Available 8/31/10.
T-MOBILE: SAMSUNG VIBRANT
+ Insider tip: Buy the Vibrant right now from Amazon Mobile for A PENNY. Repeat! Buy a brand new cutting-edge Android device not for the now-standard $199.99, but for ONE PENNY. The deal appears to only be on Amazon, so don't waltz into the T Mobile store and expect to get the same deal.
+ Bundled with Sims 3 and a full copy of Avatar on the 2GB MicroSD card, if you like your blue cat-folk on the go.
+ Available now
---
While the Samsung Galaxy S series boasts a top of the line feature set, the Fascinate likely won't make as much of a splash on Verizon, since there's an entire fleet of Droid phones with comparable features to choose from. But for AT&T, the Captivate marks a milestone in the carrier offering solid Android devices for those of us who aren't iPhone-inclined. And its nice to see new, competitive options for T-Mobile and Sprint, since the two carriers could use a little bait to attract defectors from the big two.
But since all four devices are nearly identical, design aside, you can't really go wrong in your choice for a Samsung Galaxy S. Pick your poison!