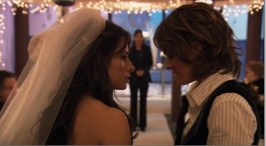 Hey, remember when we told you that you (and here we refer to gay Californians) would be able to marry according to the dictate of your heart and soul starting Wednesday August 18th? Apparently that is a filthy and heartrending lie, because today the Ninth Circuit of Appeals decided to stay Judge Walker's order regarding the requested stay of marriages, and in fact continue staying those marriages until at least December. (@dallasvoice)
I have zero understanding of why this decision was made or what convolution of the judicial system allowed for it to happen; I had been under the impression that Judge Walker's decision on a potential stay was final, but clearly I was wrong about that. The light at the end of the dream-crushing tunnel here is at least the appeals court has also ordered that Yes on 8's appeal of Walker's decision be addressed on an expedited basis, which means that the next step in this process may come while you still have the mental faculty to understand what's going on, at least as well as you do now. The court has said it will hear arguments regarding the appeal the week of December 6th, which apparently in court time is practically lightspeed. Unfortunately in real-world time that is PRACTICALLY THE OPPOSITE OF LIGHTSPEED, and devastating to anyone personally affected by this case and the issues involved.
There is at least an argument to be made for a bright side, though. Since all important legal decisions are like a chess game, where doing anything requires planning eighteen steps ahead of your opponent, every move anyone makes has a dozen complex ramifications, and this stay is no exception. According to some, it may end up benefiting us in the long run.
Loyola Law School professor Richard Hasen said Monday's order was strategically advantageous for supporters of same-sex marriage, no matter how disappointed many couples may be. If the panel had refused to place a hold on Walker's ruling, the supporters of Proposition 8 were prepared to seek a stay from the Supreme Court. The court is believed to be divided on the question of gay marriage, with Justice Anthony Kennedy considered a swing vote. A vote on a hold might have pushed the justices into taking an early position on the question.
"I think there are strategic reasons why even the most ardent supporter of gay marriage could opt for a stay," said Hasen, an expert on federal court stays. "The concern is that rushing things to the Supreme Court could lead to an adverse result [for supporters of gay marriage.] If this case takes another year to get to the U.S. Supreme Court, there could be more states that adopt same-sex marriage and more judicial opinions that reach that conclusion."
(@latimes)
This is kind of related to the point Slate tried to make earlier this week – that while our instinct is to shut this ish down as soon as possible and close the debate before anyone can get a legal foothold that might take away the precious thing that we've fought for here, in the long run it might be best to let it run its course. The argument here is that if Prop 8 is appealed again and again, and the appeals hold all the way to the Supreme Court, and we win there, it will be virtually impossible to reverse that decision later. We'll have won in a much bigger way. Of course, it's crazy to think that you can honestly tell that to families who have been waiting for this moment with their hearts in their hands – "just wait this one out, it'll be best for everyone in the long view and there's definitely a chance you can get legally married by the time your kid graduates high school!" – but since we don't really have a choice in the matter right now, it's at least something to hold onto. (@slate)
So we're back on the ride, it seems, and we won't be able to stop and get off til it's over. The best we can do is hold hands and be brave.