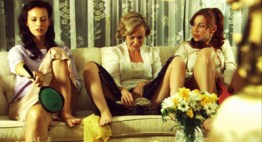 Thank Jesus Whitney & Romi's Real L Word Strap-On Sex smashed open those patriarchaly-painted lesbian sex-talk walls a few weeks back, yeah? Like now that 500+ persons have seen that scene, everyone's on the same page? That's how lesbians do sex, right? Done and done? Questions answered, clam-power acquired, etc?
Well, no! Not at all.
Do I have any bisexuals or former bisexuals/heteros in the house? HAY! So, back when we ran in totally het circles and were engaging in heterosexual dating activities, it seemed like all girlfriends ever wanted to talk about was sex sex sex. How long he lasted, how big he was, how you did it & how often, etc etc etc. Yes, just like in the show!
But queer girls don't always get initiated into that kind of discourse. Although our straight male friends love getting regaled with Real Lesbian Sex tales, our straight female friends aren't always sure where to begin and our queer girl friends — well — not everybody HAS queer friends! And even those of you that DO seem to report that for many newly-out (or young) queers, sex-talk doesn't come naturally. And when it DOES, there's a lot of questions lesbians are still afraid to ask or topics that seem off-limits — even within relationships. And then where do you go.
We've heard about this THING from you. In your emails and silence and ideas and questions and how NSFW Sundays get CRAZY stats, but minimal comments. Also, the minute you crack the conversation open with a few beers, it seems like every lesbian is just dying to half-whisper some long-lingering sexual question or confess a buried desire.
Where's the open, honest, free-flowing homosexual sexual discourse? What zaps certain sexual conversations dry as a fish in a vacuum?
Possible causes of this THING we SENSE:
– We have/want to have/have had sex w/each other, so it's eternally awkward to discuss sex.
– You're all too politically correct to really TALK.
– Our lez-friends are friends/exes of our girlfriends.
– Question-related discomfort relative to inexperience/extreme variance of experience within peer groups.
– Trash-talking other women's sexual behavior just feels fucking TACKY, so we often keep our concerns/problems to ourselves 'cause it feels that way.
– Years of shame instilled by the patriarchy/heteronormative society/lack of peers for productive conversation/the lchan porn board keeps getting shut down.
– Lack of lesbo-sex media 'cause even writing posts like this is a huge barrier w/r/t our ability to attract advertisers.
– We don't think we know what we're talking about.
The ridiculousness of The Real L Word's self-congratulatory sex-talk is, of course, how tired and generic their topics of conversation ARE and how they kinda ignore the fact that a bajillion sex-positive lesbians have been talking about and putting lesbian sex out there forever!
1. Some Questions.
We started a giant anonymous google doc for everyone at Autostraddle to see what people haven't been talking about when they talk about lesbian sex and questions that arose included gems such as: Do you feel like you know what you're doing when you have sex? Scissoring — is it a thing? Are you a girl who squirts or have you been with one? How wet do you get? Have you ever not initiated sex because you knew it would take hours and you'd rather be asleep?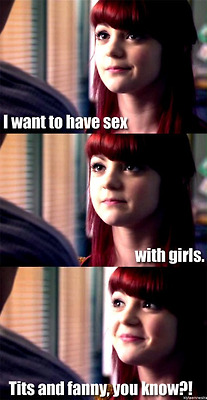 2. Some Answers from our brainstorm, presented here entirely void of context/question being answered for your amusement:
– What if you're being sneaky and put your hands down her pants while she's cooking dinner or something, WHO'S ON TOP THEN??

– People want to make you feel weird about sex, period. Oh, you haven't had sex? Oh, you've only slept with one person? Oh wow, you slept with how many people?!

– I masturbate more or less every day unless I'm on my period and then i only want to eat chocolate and die.

-My partner and I sometimes talk about how ridiculously wet we get. We get really, really wet sometimes. Like if my vag. had a little white t-shirt you'd be able to see it's nipples…err what? Yeah. that wet.

– If someone seemed alarmed by me squirting, I would probably cry.

– 69 is a thing, but I've never gotten off with it. I honestly don't like the position and where our noses have to be. There. I said it.

– Scissoring can be kind of silly, but I think laughing during sex can be good/healthy and when it stops being silly, sometimes it's pretty hot. It's not something I would like request in bed, but don't knock it til ya try it. It's feels like a big wet vagina hug. In a good way.
3. Our question for you today:
WHAT DO YOU FEEL LIKE PEOPLE NEVER TALK ABOUT WHEN THEY TALK ABOUT LESBIAN SEX? What questions do you wish you could ask, but can't?
Because we've decided that the idea of "oversharing" is a tool of the patriarchy so that we'll feel ashamed and won't confide our stories in one another and therefore won't grow/rebel/be, you should answer this.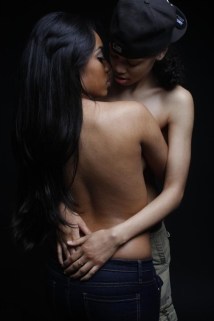 Did you think we're not gonna give you any links today? Of course we are. Because there are totally lots of actual visible humans talking about lesbian sex all ovah the place.
+ Kids these days like to bring their sex questions to  Go Ask Alice and Scarleteen.
+ The sex-positive hosts of Sisters Talk Radio don't shy away from sexy topics, like this video on Why Lesbian Sex Doesn't Have to Be Boring.
+ Greta Christina always has a lot of stuff to say like her take this week on Porn, Social Criticism, and the Marginalization of Kink.
+ Want some sex advice from Lesbian Oil Wrestlers (we believe these ladies also moonlight as local party promoters and other fixtures of the nightlife)?
+ Questions about Non-Monogamy? There's an infographic for that.
+ In Sex positivity and other lies on Tumblr, the pansexual madame thursday wonders how "sex-positive" the internet really is when it seems to "equate sex with the nude bodies of thin, conventionally attractive, blonde white women in male-gaze centric pornography."
+ Susie Bright taught us everything we need to know about fisting in Susie Sexpert's Lesbian Sex World [check out her post on The Velvet Fist] and now she dishes out advice and tips and other sexual funtime in her In Bed With Susie Bright podcasts.
+ LESBOSEXY TUMBLR ALERT: soul sista lesbo likes to "post pictures of lesbians, mostly naked." she also posts feelings, and feelings about feelings. and sometimes kittens.
We'll end with what the mainstream internet can talk about when they talk about sex: