"Hi, everyone. It's 2:48. We're three minutes late and we'd like to start. Hi! My name is Alex. [over-enthusiastic applause.] Thank you. I'm a graphic designer, I'm not a blogger like many of you are. Is anyone not a blogger? Where my non-bloggers at? Probably shouldn't encourage [that]. I'm a graphic designer, the site I work on is Autostraddle.com…"
I actually asked 'where my non-bloggers at?' in a room-full of bloggers. And here I am writing a blog about the BlogHer '10 Conference. None of this makes sense! Except clearly the (lack of) timeliness of this here post is pretty telling with respect to my blogging skills.
I WAS ON A PANEL SPEAKING ABOUT DESIGN YOU GUYS. HOW COOL IS THAT? I was so excited. I just wanted to say everything at once!
Our panel was called "Good Blog Design: The Role of Layout in an Online Medium" and I got to join the likes of Grace Bonney from design*sponge and Gabrielle Blair of DesignMom.com on this panel who were amazing and so informative about this stuff. I was seriously impressed. Go read their blogs. DO WHAT I TELL YOU – I was on a panel!
This thing was actually liveblogged. It's hard to believe but 95% of what we said was captured by a unicorn stenographer with a computer and published on the internet immediately as/after it happened. Which for me is a little horrifying because while Grace and Gabrielle provided extreeemely useful information and a cohesive presentation to the audience, I pranced around the elevated platform like a monkey on meth.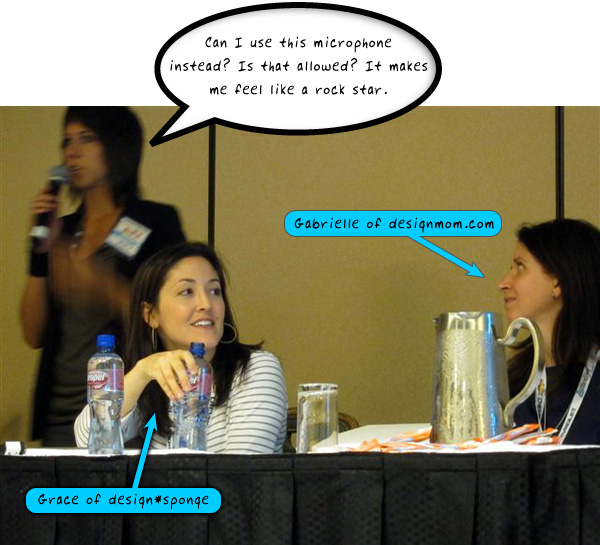 (I stole this photo from Paris Breakfast which is an art blog by Carol Gillett who was in attendance at the panel wearing cute red-framed glasses! Hi Carol!)
+
+
For those of you who are unfamiliar with BlogHer, I found this nifty little description:
"For the uninitiated, BlogHer, founded in 2005, is a network of over 2,500 female-centric blogs, a 'curated selection of authentic voices,' according to BlogHer's About page. BlogHer is also a community for female bloggers, where they can find support, help, and inspiration. And finally, BlogHer is a yearly conference, which this year was held in New York City, August 6 and 7."
---
+
So let's get on with my
Top 5 Feelings About The BlogHer '10 Conference:
+
5
Free Foodz & Swag
Food tastes better when it's free, amiright?! No really though, excellent noms were provided. Plenty of coffee was supplied. I am a little bit of a foodie maybe, so this made me very happy.
And there was free stuff everywhere. My fave swag item is definitely a Pur water bottle I swiped off a table that looks something like this: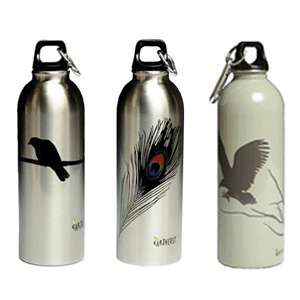 4
Parties!
It was nice to feel like I was celebrating something, even if that meant I was in the hotel bar for the BlogHer Reception alone, drinking a beer I bought with my one-free-drink ticket. (You get drink tickets when you go these cocktail parties!)
Later on the kick-off night of the conference, Riese and myself mosied on over to the Queerosphere cocktail party where we finally met some of our fellow bloggers in person for the first time. Here we are:
I managed to eat every sandwich and dessert twice, which makes me the winner.
Here are some pictures from other fun parties that I somehow missed:


3
Meeting These People
Ahh the internet became a smaller place this weekend. All of us bloggers and internet personalities brought our relationships to the 4th dimension by congregating in the same room to do what we do best: drink and discuss feminist theories and stuff.
Riese and myself had the pleasure of meeting Deborah of Peaches and Coconuts, which is her own personal blog of lezbolicious awesomeness. Riese and I had a team meeting and we agree: Deb is the funniest person we've ever talked to in our entire lives.
Look it's Deb on the dance floor! (In the white.)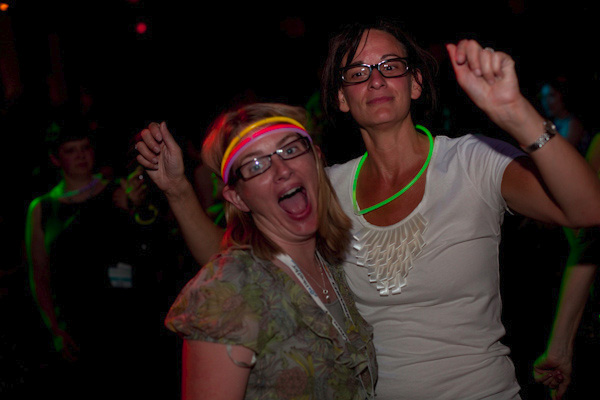 Deborah was actually one of BlogHer's Community Keynote Voices of the Year, which makes her a big shot because her submission was one of the 15 chosen out of 1,000 to be read at the Keynote this year. Just saying.
Also, you guys… Riese and I finally met Autostraddle's Den Mother in person: Up Popped A Fox! Look it's Vikki! In person, Vikki is vibrant and I enjoy her energy. That sounds mystical and weird but it's true. I wish she was around here more often to be our den mother in real life and not just on the internet!

2
Lesbian Brunch
On Sunday, the queers set up a big brunch date. I was up north in the woods at the time. Because Riese spent most of the chain e-mails about said brunch whining about how she hadn't been invited to speak on a panel and nobody would let her in to see my panel, nobody knew if she'd show up or not, but she did!
She has left me the following notes from which I am supposed to make into a paragraph but you know, it's easier not to:
– Riese WOKE UP MOTHERFUCKERS and went to brunch at Cafe Forant b/c it is owned by LESBOZ and Riese wrote about it for GO! Magazine, you should read her article
– Jess was there and we had a lot to talk about w/r/t the Real L Word
– Deb on the Rocks amazingly made all this shit happen, sent emails and is clearly magical and very responsible, also was funny and I think is how alex got on the panel to begin with, says she reads AS on Sundays LANEIA WRITE THAT DOWN and has no issues with our navigation
-people asked Riese questions about Autostraddle and California she didn't know what to say b/c our hands are tied until the redesign is up gahahhh need xanax
– Grace Yip but her real name isn't Grace, she's super cute also
– Grace Chu our weirdo friend from AfterEllen was there with her giant camera, she was on a panel btw,  look she took an AMAZE photo of tinkerbell
– Lesbian Dad, Polly, has a photo of Riese in which Riese did not even recognize herself and also is going to find Riese a house in Berkeley and take care of her when she's sad and sleep on her couch
– Alex, write words about the funny Peaches and Coconuts recap of BlogHer and how she read our palms BUT DON'T TELL THEM ABOUT MY POWERS ALEX – also mention that she is one of the funniest people I have ever talked to in my life k?
1
NEXT YEAR IN JERUSALEM
BlogHer '11 is already set to take place in the fine city of San Diego, which is SO convenient for Autostraddle because most of us will have relocated to the West coast by then! This is especially perfect because I am scared that Riese will get violent if she's not invited to be on a panel next year, because apparently she loves being on panels.
See you at BlogHer '11?