THE BIG COMMIT:
So the National Organization for Marriage has had this Summer of Marriage tour happening for a while now, which is like the Summer of Love except the exact opposite. You haven't heard much about it here because it's been pretty underwhelming as far as orgiastic displays of hatred and willful ignorance go; counterprotestors have outnumbered attendees at almost every event. The finale of their tour was no exception: in Washington DC an incredible coalition of gay groups organized a counter-protest so large and complex that it completely outstripped the original NOM event it was supposed to be in response to, and pretty much turned into a carnival of activism and love all on its own, with some weird bigoted people standing confused and upset on the sidewalk. Sorry, haters, but this is how we roll. There were so many gay organizations there that it is honestly hard to keep track of them, but we have definite attendance records for GetEQUAL, Full Equality Now, the Courage Campaign, Freedom to Marry, Queer Rising, and best of all WILL MOTHERF*CKING PHILLIPS, the ten-year-old who wouldn't say the pledge of allegiance because America doesn't care about gay people. (@pamshouseblend) (@queerty)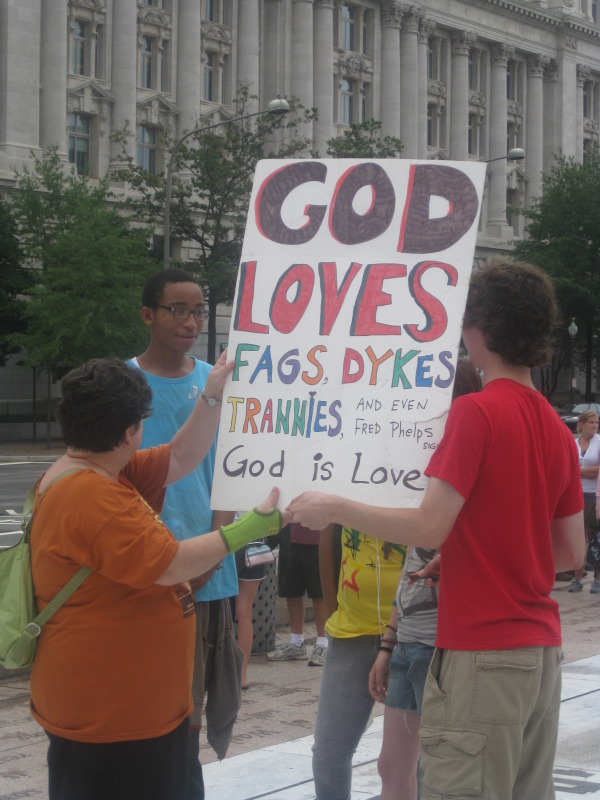 Activists from Queer Rising also participated in a Die-In, an activity the specifics of which I am unclear on but is probably very effective in changing hearts and minds, and also went to the White House to demonstrate against hate crimes and hate speech. Pam's House Blend sums the day up like so: "Despite using different tactics, we all spoke loudly and clearly in support of equality; we all won today." Yeah, that's right, WE WON ACTIVISM. Also, despite the fact that this was the last and theoretically biggest stop on the "tour," Maggie Gallagher didn't even bother to show up. Metro Weekly reports: "When asked by Metro Weekly about Gallagher's absence, Brian Brown, president of NOM, said Gallagher was initially listed as one of the speakers, but there was a conflict in her schedule. "She's on vacation," Brown said, adding that he did not know where Gallagher was taking her vacation. " (@metroweekly)
And here is your Will Phillips moment of Zen. OMFGSOCUTEYOU'REWELCOME.