Fashionista Lily:
I have a confession: I don't know much about fashion. But I love clothes, I love contributing the Autostraddle's fantastic style posts, and a lot of gay people complimented my outfits during NYC Pride. What I mean to say is, picking out clothes can be scary and stressful but in all honesty you don't have to know anything about fashion to still look spectacular! I promise!
After spending a whole school year in the northeast, I'm still not sure I understand the concept of "Fall", much less what I'm supposed to wear. All I remember about the fall was that for about a second there were a bunch of pretty leaves and then BAM, it was too cold for me to even thinking about leaving my room.
I've managed to compile a list of clothing items that I'm pretty sure work for  "Fall Fashionwp_postsbut then again, I've spent most of my life in a Fall-less existence so  some of these clothes might not keep you warm but they will keep you awesome.
1. Coats
I'm a big fan of both of these coats because of their length, color, and buttons. Both of these coats hit the leg at the perfect midpoint between the waist and knee, which looks really look with skinny jeans and wedges.
The navy coat from shopnastygal.com has a cute little hood for when your ears get cold or for when you are having a bad hair day! The coat on the right, by Tulle looks really good in khaki but can be found in white and black as well, plus it is priced fairly decently for a well made coat.
2. Jackets and Blazers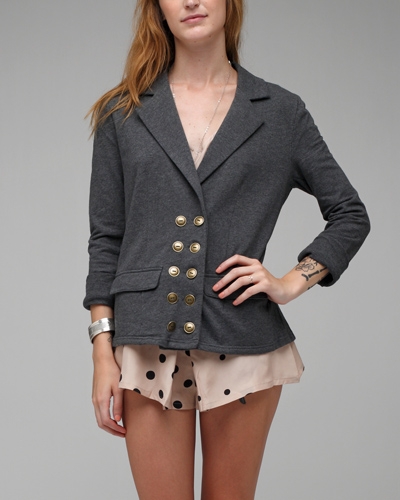 This Military blazer by Tulle has super cute buttons and would definitely be something I would wear if I were in the military. Too bad I'm gay. Take that DADT, you could have had a really well dressed lady who looks crazy adorable when she does army stuff. You're loss.
3. Dresses
You can still wear dresses in the fall!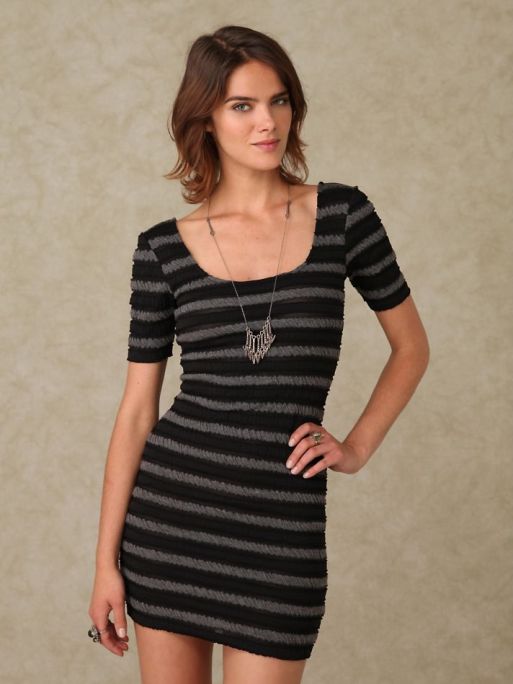 This Free People dress would look amazing with the above mentioned military blazer and a pair of black tights.
4. Tights
Speaking of black tights!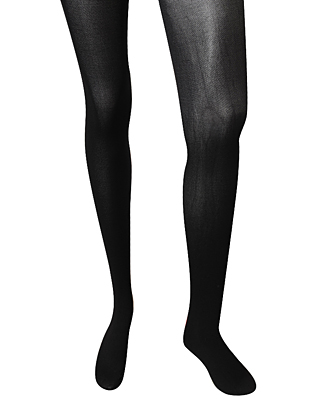 These opaque tights from Forever 2 ($6.80) are a staple to have in you closet like a school sweatshirt or a brown belt.
5. Bottoms
I'm really glad that high waisted pants have made a comeback because honestly, I'm sick of seeing people's cracks when they bend down…like really, is that necessary?  I'll take mom jeans any day.
High waisted woven pants are the perfect little gateway pant from summer to fall. They are light enough to wear in the heat but are long enough to continue wearing into the colder months.
a. American Apparel Linen High-Waist Pleated Pant
b. ASOS Paperbag Waist Pyjama Peg Leg Trouser
c. Gap Cropped slouchy trouser pants
d. J Brand 'Houlihan' Skinny Stretch Cotton Cargo Pants: If you aren't totally sold to the mom-jean craze, J Brand makes these pants that sit a little lower on your waist and always look good.
These J Brand pants found on needsupply.com have pockets that suggest you are outdoorsy and/or collect stuff. I am not outdoorsy but I love to think that I could be mistaken as such. If you have similar feelings regarding the outdoors, then you will love these pants! (I've used a lot of clothes from needsupply.com because their model is hot and I'm really attracted to her. I look at this website because of her. I love her tattoos. I love her hair. I love her face. I love everything about her.)
6. Bags
Crossbody bags seem to be a big deal right now so I'm sure they will be a big deal in the fall! This Free People bag is more just a part of the outfit than something that holds all of your stuff but really, who needs more stuff when you look really good?!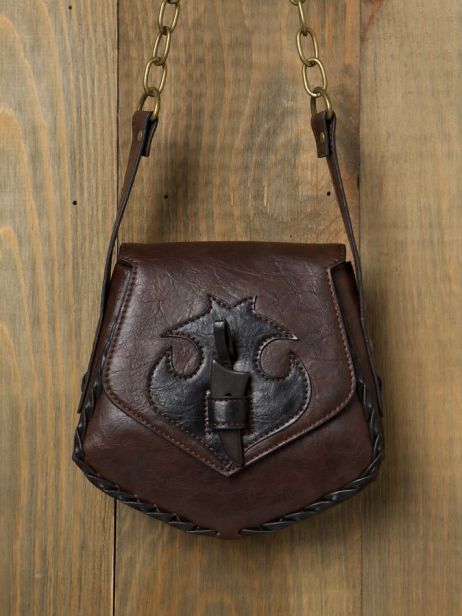 Forever21 makes similar style bags (and awesome bags in general) at a third of the price!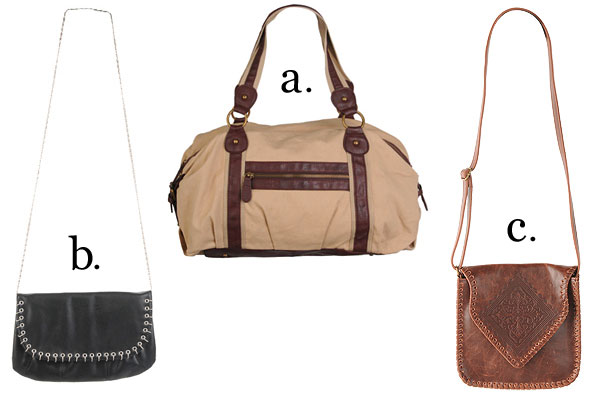 b. Chain Trimmed Leatherette Bag
c. Distressed Faux Leather Shoulder Bag
---
+
Special Guest Writer Nicolette:
The Fierce Femmes Guide to Fall Fashion
Nicolette Mason is a Brooklyn-based queer femme who makes a living as a freelance design strategist, contributing fashion writer for Vogue Italia, and lifestyle blogger.
1. Animal Printed Outerwear
It's hard to admit a weakness for leopard print because it conjures up images of Atlantic City, the Golden Girls (okay, yeah, they're awesome – but not many people actually want to look like Blanche Devereaux, bless her heart), and JWoww, but I guess I'm lucking out that it's actually on trend this fall.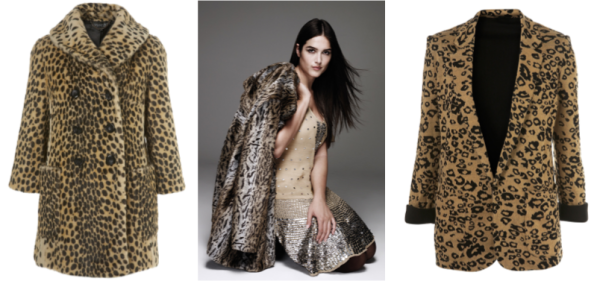 One of my absolute must haves is a leopard print faux fur coat, available from Topshop in tall and petite sizes ($190), and in plus-sizes via Evans ($110) available in September 2010. If a faux-fur coat seems like a little too much look, a soft Jersey blazer ($110) like this one from Topshop is an amazing alternative.
2. Velvet
Maybe there's part of me longing for the 90's, but I'm so glad to see velvet and velveteen making a comeback.
As a New York City Femme whose default is all-black-all-the-time, it's nice to throw in different textures to mix things up a bit.
(ASOS One Shoulder Dress – $60.66,
Topshop Velvet Stripe Tee – $80,
ASOS Curve (Plus) Dress – $64.03)
3. Sheer Button Down Tops
Sheer tee-shirts have been fairly ubiquitous for the last couple of years, but the button down variety upgrades this trend to a slightly more sophisticated and polished look. Whether you layer them over a sexy bra or wear one under a cardigan, it's a great piece that can transition easily from a weekend saunter with your crush to a night out. Not to mention, warm tones like cranberry and caramel are great complements to fall scenery.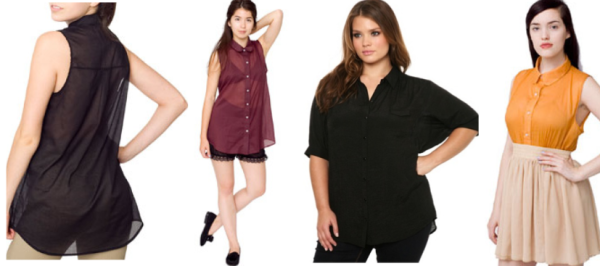 (American Apparel Sleeveless Lawn Button Up – $42,
Z. Cavaricci Couture Dolman Top for Torrid – $34.98)
4. A Little Yellow Dress
I'd be hard-pressed to find a femme without a little black dress already in their wardrobe, but this fall I'm reaching to the depths of the color spectrum to introduce a little yellow dress into my wardrobe.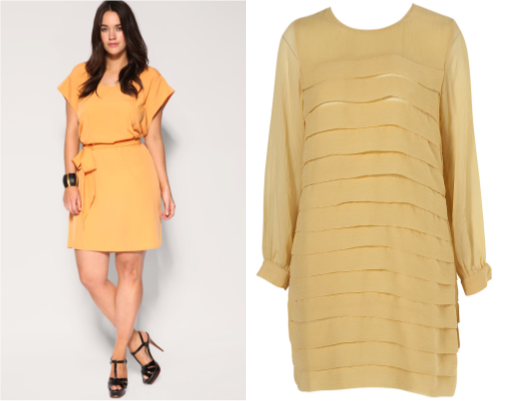 If yellow isn't your thing, the ruffle dress also comes in a gorgeous burgundy.
(ASOS Curve (Plus) T-Shirt Dress – $50.55, Topshop Pleat Dress – $90)
5. Chunky Heels
Heels might not be an everyday ritual, even for the most diehard of femmes, but wedges and chunky heels make the entire practice of wearing heels entirely too easy. Some of my favorites this fall are inspired by oxfords and clogs, and then more simple variations that draw color inspiration from the season.
(Jeffrey Campbell 99 Tie – $170,
Cooperative Canvas Wedges – $48,
Forever 21 Edgy Studded Wedge – $27.80)
6. These Boots Were Made for Walkin'
Let's face it: it's not really autumn until you get a chance to bust out your shiny boots and stomp on some leaves or into some puddles. A toughened up boot with hardware details or grommets can balance out feminine flour-ishes like lacey dresses or floral prints, and they have the added bonus of being functional for the changing weather.

(We Who See Fringe Boot – $78,
Vera Wang Lavender Boot – $382,
Seychelles Meteor Shower III Boot – $150)
7. Accessories
Bucket bags and satchels are some of my favorite hands-free solutions for fall (I don't know about you, but I need somewhere to put the copious amounts of junk I insist on carrying with me on a daily basis with my lack of clothes-integrated pockets).

They also happen to be roomy enough to tote a few essentials if you have an impromptu overnight stay, and it's a hell of a lot more subtle than carrying a weekend bag.
(ASOS Slot-Through Satchel – $110, Deena & Ozzy Stud Bucket Bag – $98,
Buckle Strap Satchel from TopShop– $170)
8. Putting on Your Game Face
Since the fall and winter months are notorious for their dark colors and somber tones, punchy colored make-up is a really fun and easy way to add color to your look. Sheer, bright colored lip glosses are both sexy and unintimidating, and glittering nail polish is an instant mood-lifter.
(Lipstick Queen Glossy Lip Crayon – $20,
Anna Sui Sparkle Nail Polish – $15, Stila Cheek & Eye Palette – $10)
Pages: 1 2See entire article on one page