I'm hard pressed to think of an art form with more manic energy or more potently edgy weirdness than comics. Then again, I've loved comic books from a young, presumably impressionable age. I've watched them grow, and it seems that I've grown, because unfortunately I now seem to be paying my own utility bills. That brings us to a very exciting point in the wild trajectory of the comic book, and I'm here, as your resident comics evangelist, to convince you of just that.
You know how everyone likes cheese? Maybe you're a brie person, maybe you could wolf down a whole tray of gruyère (ick), or perhaps you prefer a good ol' sharp cheddar. Yeah, comics are like cheese. There's a comic book out there to suit absolutely everyone– I'm convinced of it. Unless of course, you don't like cheese. Then I just don't know what to do with you. But you'll like comics; I do know that.
So pop a benzo and quit worrying about how many damn X-Men there are for a second– we'll fill you in on what you need to know to dive headlong into the weird and wonderful world of comics. And hey, comics are the cutting edge of cool for a reason: they're good. I'm not selling snake oil here guys. This stuff sells itself.
Q: What is a comic book?
A: This question is deceptively simple. Kind of like how all squares are rectangles but not all rectangles are square-ish, 'comic book' is both a general and a specific term. So, stuff with Wolverine in it is called a comic, we know that. But you can call Dykes to Watch Out For, Toothpaste for Dinner and Ghost World a comic too. And those things are all really, really different! Let's break it down.
A thing featuring Wolverine is a comic book. Dykes to Watch Out For is a comic strip. Toothpaste for Dinner is a web comic. Ghost World is a graphic novel.
It sounds complicated already, but stay with me. All of these things can be called 'comics' or 'comic books,' like I said. They've all got drawings and they're usually arranged into "panels" with characters who communicate via speech bubbles. That's the common ground, pretty much. And most of these things are serialized, meaning they come out, over time, as snippets of a larger story. So what makes them distinct from one another?
Q: What are the different types of comics?
A:
1. COMIC BOOKS:
+
Like I said, a comic book, generally speaking, can be pretty much anything. I could call my 600 page copy of Blankets a comic book, just like all of the above examples. But let's get specific. It's natural if the term 'comic book' conjures images of Superman, Batman, Spiderman and all manner of superhero running around dispatching criminals. Comic books are often superhero-based comics, but they don't have to be.

A comic book, in the specific sense, is a single-issue and it looks like these. It's got cover art, it costs around $2.99. There's a little publisher logo in the upper left-hand corner. And across the top you'll find the name of the series. Usually a comic book is a little chunk of a story that gets published every so often– monthly is pretty standard, but so are delays in publication. These stories over time are usually collected into a book called a "trade paperback" or a "trade" if you wanna sound like you know what's up. Which you do and will.
Beyond these relatively traditional comics, indie comics and all kinds of cool self-published gems are called comic books too. In fact you could probably make a comic book yourself today, if you're into DIY and have a good pair of scissors.
2. COMIC STRIP:
+
A comic strip is the newspaper version of a comic. In the era of the iPad, newspaper comic strips aren't exactly booming with the same kind of creativity and innovation you might find elsewhere. In fact, they're kind of floundering in an unfunny, often boringly illustrated twilight period that probably heralds their demise. You know, the death of print, blah blah. But comic strips (ostensibly) should be funny and topical. I'd say that web comics took that baton and fucking ran with it.
A lot of comics in the newspaper totally suck, like all of that Rex Morgan, Apartment 3-G and Mary Worth stuff. But newspaper comic strips helped pave the way for the recent tidal wave of total brilliance in other forms, so we have to be grateful. And along the way some amazing stuff bubbled up to the surface through newspapers: Calvin & Hobbes, Foxtrot, Dilbert and The Far Side to name a few of my favorites.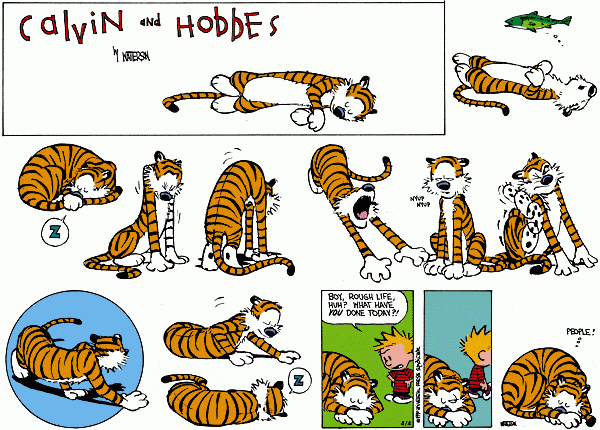 3. WEBCOMIC:


+
Arguably the cutting edge of comics today. Instantaneous online self-publishing fosters all kinds of weird, brilliant stuff and webcomics are totally flourishing in a climate that constantly demands weird and brilliant stuff. Draw something awesome, sit back and watch it go viral  (if you're lucky). Or carve out a little corner of the web and make a career for yourself, cranking out a strip a week and building an underground fanbase. Webcomics are all over the board too– they really push the definition of the comic, which in turn pushes the art form toward new and more ingenious kinds of weirdness.
Do this: Look at The Oatmeal. Now look at A Softer World. And now look at Tiny Kitten Teeth. Wow, those things are really different, right? This is the comic book equivalent of the Wild West.
4. GRAPHIC NOVEL:
+
The arguable summit of the art form, graphic novels are really opening people's minds to the comic book. Most traditional major newspapers now review graphic novels with the same degree of professional criticism as the regular novel and that's great news for us comics evangelists. The graphic novel is a mainstream gateway drug. Buy one for a skeptical friend and watch their elitism soften into wonder.
"You can't pinpoint it exactly, but there was a moment when people more or less stopped reading poetry and turned instead to novels, which just a few generations earlier had been considered entertainment suitable only for idle ladies of uncertain morals. The change had surely taken hold by the heyday of Dickens and Tennyson, which was the last time a poet and a novelist went head to head on the best-seller list. Someday the novel, too, will go into decline — if it hasn't already — and will become, like poetry, a genre treasured and created by just a relative few. This won't happen in our lifetime, but it's not too soon to wonder what the next new thing, the new literary form, might be.
It might be comic books. Seriously." (@nyt)
But because graphic novels are crossing into the mainstream, they're vulnerable to a lot of skepticism. Are graphic novels art? Are they intrinsically superior to their not-so-ancestral ancestors, the comic book and the comic strip? Does anything differentiate a graphic novel from these other kinds of comics?
Well, to that I'd say yes, no and not necessarily. I won't get into the first two debates– that's the advanced class and this is just Comics 101, after all.
To answer the third question, which is a little more practical and less philosophical, a lot of different things are called graphic novels. The quintessential graphic novel might be some like Alison Bechdel's Fun Home, a wildly successfully "crossover" hit for comics, or an Alan Moore opus, like Watchmen. Maus and Persepolis also crowd into this category, but these things are remarkably varied. But we've learned that comics are a delightfully malleable art form, so you shouldn't be surprised, right?
Bechdel crafted Fun Home into an acutely self-aware, affecting memoir which happens to be illustrated. Moore's Watchmen deconstructs the superhero archetype, through a darkly dystopian meta-story about, yes, superheroes. Maus and Persepolis tackle potent cultural issues (the Holocaust and Iranian theocracy, respectively) with cartoonish zeal. All of these are standalone stories, consolidated into books much like a traditional novel. They tend to be more narrative, can be more serious, but they are certainly still comics.
Particular trade paperback collections of comic books are often "elevated" to graphic novel status by the masses when they reach a certain level of critical acclaim or popularity– Frank Miller's Batman: Year One is a good example of this, as is Mike Mignola's Hellboy series. People who're afraid to be caught reading something with pictures like to employ the label 'graphic novel' as a euphemism, but it's a useful term to win the hearts and minds of a wider readership. But really, any comic collected into book form can call itself a graphic novel, and rightly so. Contrary to elitist belief, this is more a case of cross-pollenation than cross-contamination.
Sure, we can draw boundaries between graphic novels and "lesser" forms of comics (like the superhero comic book or the Sunday morning comic strip) but ultimately these genres are all just points on a shifting continuum. I don't care what you call them– I'm just happy to see the comic book find its footing.
---
Whew. That was comics 101! Have any burning questions? Ask us in the comments, because next up we've got a comic book Q&A and a truckload of starter comics for each category. And I could use a little Q to my A, if you know what I mean.