ANN COULTER:
So, a while ago, it was announced that Ann Coulter had been invited to speak at Homocon 2010 by conservative gay group GOProud, which represents "gay conservatives and their allies." We had a few questions about this: Why was Ann Coulter invited to speak at something called a "homocon" and we weren't? What would she talk about? Was this a joke? What about the posters billing her as "the right-wing Judy Garland," were those a joke? Did she know about them? Ultimately, we made the executive editorial decision not to publish anything about this until there was, you know, something that happened to write about. Now, however, something kind of did happen – Coulter was un-invited from speaking at another, non-gay conservative conference. And so we started looking into it, and it turns out everything about this is hilarious and terrible/AWESOME.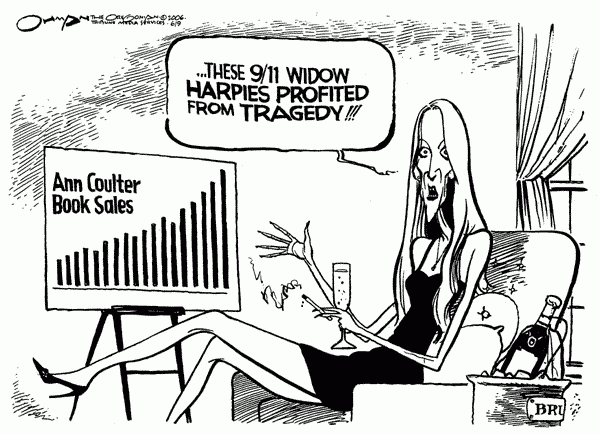 I don't think I'm alone in wondering sometimes about what hardcore right-wing conservatives are like in their private lives. Are they able to function in the world with that intense a phobia of the vast left-wing conspiracy? What kind of breakfast cereal do they like? With the Daily Caller's publication of several personal emails between Ann Coulter and Joseph Farah, editor of WorldNetDaily, we learn the answer: they are pretty much like us, at least in terms of sending electronic communications that they may later regret! Also, sometimes they are petty and snipe at each other in a way that's so childish it's almost endearing!
For instance, see Farah on Coulter:
"Ultimately, as a matter of principle, it would not make sense for us to have Ann speak to a conference about 'taking America back' when she clearly does not recognize that the ideals to be espoused there simply do not include the radical and very 'unconservative' agenda represented by GOProud,"
and Coulter on Farah:
"I will say that [Farah] could give less than two sh-ts about the conservative movement — as demonstrated by his promotion of the birther nonsense (long ago disproved by my newspaper, human events, also sweetness & light, american spectator and national review etc, etc etc). He's the only allegedly serious conservative pushing the birther thing. For ONE reason: to get hits on his website."
Yeah! You tell 'em, Ann! (PS: Earlier, before these dark times, Ann had emailed Farah saying "I think you're nuts on the birther thing… [though] I like you otherwise!")
I'll be honest, I had thought that the funniest thing possible about Ann Coulter was my dressing up as her for Purim in 2008. But it turns out I was wrong, because intentionally or no, a lot of the stuff she says is really enjoyable to me. "I don't know why all gays aren't Republican," she once said. "I think we have the pro-gay positions, which is anti-crime and for tax cuts. Gays make a lot of money and they're victims of crime. No, they are! They should be with us."
Okay! Sign me up! Let's go to Homocon together Ann Coulter and I'll watch you eat the cold lunch meats at the buffet in between speaking engagements while you verbally abuse me for being vegan and gay. I'm sold!
Since this is now something we care about, look forward to finding out what she actually says at Homocon 2010, because we're going to cover it. I hope it's something about lies or liberal greed!
IN OTHER NEWS RELATED TO CONSERVATIVE WOMEN:
Sarah Palin again invokes the power of the first amendment where it's completely irrelevant, as she defends Dr. Laura. Until Dr. Laura is arrested or executed by the government (you know, the people that wrote the constitution), Palin needs to shut her trap. Actually, Palin should just generally shut her trap. Mary Cheney is donating to anti-gay candidates, even though she IS gay, which is weird! And Elisabeth Hasselbeck per ushe finds the most long-winded way of all time to sorta-kinda approve of same-sex marriage. Also, 18 percent of Americans wrongly believe that President Barack Obama is a Muslim, so really, shit just keeps getting better.
RACHEL MADDOW
Also in Big News, the U.S combat troops are finally being sent home from Iraq!!
This means that MSNBC had to send Rachel Maddow to the zone, and she has never looked quite as sexy as she looks with her hair all messed up and sweaty and her shirt unbuttoned and her face flushed and her sleeves rolled up right? We just thought you might need to recover from thinking so much about Ann Coulter etc. Troops going home! Rachel Maddow is hot!