We have so many feelings about soup. I've made a list of our favorite soup feelings:
+ You can make a million pounds of soup at once and freeze the leftovers, which Future You will really appreciate.
+ Soup is incredibly easy to put together. You just like, put things in a pot and make them hot.
+ Soup is versatile! Do you want to add zucchini instead of corn? Okay no problem!
+ There is usually only one large pot to wash when you are finished making soup.
+ Soup is so inexpensive it's stupid.
+ Bowls are nice.
I think this might be our largest collection of recipes in one edition of Get Baked. You guys, you could make a new soup every day for two weeks or something. Some of the soups even have animals in them! Also if you need some naan to go with your soup, Laura has you covered. And then you'll probably want dessert, like Lemon Granitas or Triple Chocolate Brownies! I'm referencing articles within an article, do you like it? Is my hair shiny? Can we get a puppy?
1. French Onion Soup: Abby
2. White Bean and Kale Soup: Rachel
3. Rustic Tomato Lentil Soup: Stef
4. Potato Leek Soup: Taylor
5. Pumpkin Tortilla Soup: Rachel
6. Vegan Matzoball Soup: Stef
7. Miso Soup: Stef
8. Sweet Potato Black Bean Stew: Laneia
French Onion Soup
by Abby
I typically eat vegetarian when I can – but shhh – I cheat for this recipe! This is my most favorite soup recipe from culinary school.
Ingredients:
1/2 stick of butter (go on, make Paula proud)
4 large onions, sliced
¼ cup dry white wine
*are you under 21 and don't have a wine-o for a parent? or you just can't acquire the wine? use stock or broth its place, procedure stays the same
8 cups beef stock or broth
1 tsp peppercorns, crushed
1 medium bay leaf
½ tsp dried thyme
1 garlic clove, broken
6 sprigs fresh thyme (this presents a good opportunity for time/thyme jokes with your local grocer)
6 sprigs fresh parsley
Kosher salt
A baguette (sourdough, FTW)
Gruyere cheese (any hard-rind white cheese will work), grated
1 oz brandy (optional)
Extra virgin olive oil
Do you like lots of meat? Like, can't go a meal without it? I'd suggest you add ground beef, cubed sirloin, or cubed steak when the onions are beginning to brown. Cook the meat all the way through prior to adding your stock.
Equipment:
Large stockpot
Large saucepan
Sauté pan
Sheet pan, if your sauté pan isn't oven-friendly
Acquire all the herbs, peppercorn through parsley. The traditional way is to tie all of this up in a bundle with semi-porous cloth. If you happen to have cheesecloth on hand, you get brownie points. If not, you can just use string to tie up the fresh thyme and parsley and add the rest of the herbs to the soup, mkay? Mkay!
Use those killer knife skills and slice the onions. Ever wondered how to properly slice an onion? Watch. Are you crying? Put a piece of bread in your mouth or sharpen your knives, yo. For the best results, the onions should be as thin as you can consistently slice them (shoot for ¼-½"). Put the beef stock/broth in a saucepan on the back burner and let it get hot, but don't let it boil rapidly.
Heat your stockpot on medium and add the butter. When the butter has melted, add the onions. Do you like to stir ALL the things? Cease that shit. The best french onion soup flavor comes from the caramelizing (technically Maillard browning, but whatevs) of the onions. This happens when you leave them alone. Wait until the onions acquire a light brown color, and then stir. (*Add beef here) Walk away, come back in like 3 minutes, and stir again. Stir – only occasionally – until the onions are deeply and evenly colored. Preheat your oven to 350°F.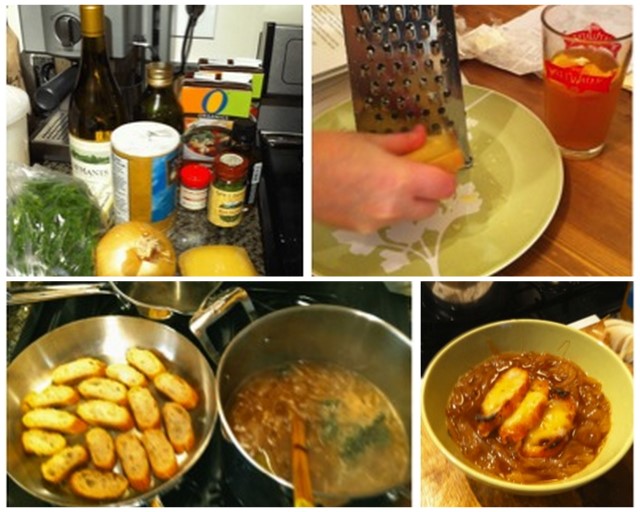 Salt the onions. I'd recommend about 1 tablespoon. Add the white wine to the pan to deglaze, stir, and then continue to cook until the wine has reduced by half, but isn't gone. Remember that stock/broth you put on the back burner and those herbs you tied up? You're going to use these next. Get ready! Add all the stock at once and hang the bundle of herbs down the side of the stockpot, tying the loose end to the handle. Throw in the rest of the herbs, bring your soup to a boil and stir, and then lower the heat to a simmer for 15 minutes. While this cooks, we're going to make croutons!
With some sort of serrated knife, slice the baguette on a bias, about ¼ to ½ an inch thick. Add enough olive oil to very lightly coat the bottom of your sauté pan. Heat your pan on medium and then add enough slices of bread to just cover the bottom of the pan. Once the bottoms have gotten lightly toasted, flip each piece over and turn off the heat. Transfer the sliced bread to a sheet pan (unless you have an oven-safe sauté pan), toasted side up, and pile them high with cheese, salt, and pepper. Repeat with your remaining bread, if necessary. Throw these in the oven for about 5 minutes, or until the underside of each piece has toasted and the cheese is melted.
Time to serve. Turn off the heat on your soup, remove your bundle of herbs, bay leaf, and garlic clove (if you can find it!). Adjust the seasoning, if needed, and stir in the brandy. Do you like to be entertained while you eat? How about you put some extra cheese in the bottom of the bowl. Serve, but wait to drop your crouton(s) into your soup bowl until you are ready to devour. Cheers!
RE: pic #5 – oops, someone had a few too many day brews and forgot her bread was toasting
*credit to my autobros Elyse and Kirsten for the pics and assistance in the kitchen
WHITE BEAN AND KALE SOUP WITH QUINOA
by Rachel
I have no recipe for this. I just had a bunch of kale I needed to use up. But this turned out delicious, so, LUCKY ME.
Ingredients:
2 carrots
1 large onion
2 tbsp olive oil
4-5 cups vegetable stock
1 bunch kale
1.5 cups uncooked quinoa
1.5 cups cooked white beans
2 tsp cumin
2 tsp coriander
1 tsp dill
1 tsp smoked paprika (regular if you don't have it, but Jesus Christ smoked paprika is good)
1 tbsp red wine vinegar
1. Chop up the onion and carrots into small pieces. I used baby carrots because that's what was in the fridge. You don't have to use baby carrots. Heat the oil over medium heat in a soup pot, and when it's hot throw them in there. Stir them every once in a while.
2. While they soften, chop up the kale. You probably don't want to use too much of the stems because they're kind of hard and woody, but using some is fine. I don't know, mostly I just don't have the patience to devein every piece of kale.
3. When the carrots and onion are soft, after 6-8 minutes, add your vegetable stock. You can use water if you want but vegetable stock will make it taste better. Turn up the heat a little at this point if you like. Stir this until it's heated through, and then add your pieces of kale.
4. While that stuff cooks, get out your quinoa. Quinoa is delicious and also like a nutritionally perfect food BUT you have to rinse it. It's covered in weird bitter stuff that will make it taste bad if you don't rinse it first. So, you know, do that.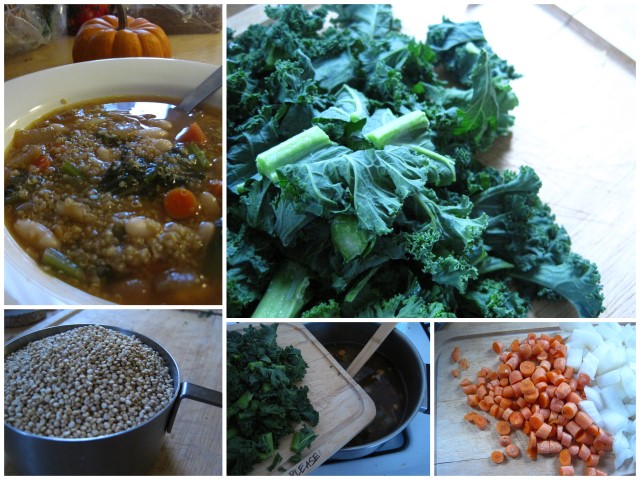 5. Once the quinoa is rinsed, add it to the pot. I added another cup or so of water to make up for the liquid that the quinoa will soak up as it cooks. Now you have a few minutes to doodle around, but keep an eye to make sure the quinoa isn't overcooking. You want the soup to come to a boil, and then turn it down to a simmer.
6. Get out your white beans and spices; you can stir them in when everything else is basically done. Another school of thought re: spices says that you should have stirred them in at the beginning, with the onions and oil; normally I am of this school of thought, I think I just forgot that seasonings were a thing until it was almost done.
7. You're done pretty much! Taste it and see if it needs salt or pepper. It probably does. Also, I'm not gonna pressure you, but stirring in some red wine vinegar just before serving is a fucking fantastic idea.
OTHER IDEAS:
1. Some sourdough croutons or a nice slice of multigrain bread would be pretty great with this, I think.
2. This soup could also be kicked up a notch into more of a dinner and less of a lunch with the addition of some vegan sausage; I recommend Field Roast or Soyrizo. (You can also use real meat if you're gross.)
3. Another potential non-vegan riff: some Parmesan grated into the bottom of the bowl before serving, or a Parmesan rind added into the broth while it cooks.
Rustic Tomato Lentil Soup
by Stef
In wintertime it's really difficult to convince me to leave my nest, which is easy because I work less in the winter, and also tough because I am constantly hungry. The secret is SOUP, my wintertime favourite being this Rustic Tomato Lentil Soup from a great cookbook called How It All Vegan (Arsenal Pulp Press). It's super cheap/easy to make, as well as hearty with a little kick to warm you up. I am never leaving my house again.
Ingredients:
as much garlic as you can stand, minced
1 medium onion, diced
3 medium carrots, sliced
2 tbsp olive oil
2 stalks celery, chopped
6 cups vegetable stock
1 28-oz can diced tomatoes (including juice) or 5-8 diced fresh tomatoes + 1/4 cup water
2 cups cooked lentils
cayenne pepper (to taste)
1 cup dry pasta (any short kind)
1. OK first of all I'm really poor so I bought the $1 package of not-too-sad-looking carrots, store brand elbow macaroni and dry Goya lentils. Do you know how to cook lentils? It's a lot like cooking rice, really, and doesn't take long. First, put your dry lentils in a strainer and rinse 'em off, cos usually there's a lot of weird stuff in the package. Next, pour them into a pot with just enough water to generously cover them (maybe 2 cups of water per 1 cup of lentils?). Bring to a boil, then simmer until the water's gone. I usually make/use way too much, which is totally fine.
2. Pour olive oil into your soup pot, and sautee your garlic, onions and carrots over medium heat until the onions are translucent.
3. Add your celery, veggie stock, tomatoes, lentils and cayenne pepper. Turn the heat up and bring the soup to a boil, then simmer on low for 20 minutes, stirring occasionally.
4. Add your pasta, and simmer another 10 minutes or until the pasta is cooked through and the carrots are soft. Serve hot.
Potato Leek Soup
by Taylor
I was going to contribute this Poblano Corn Chowder I made this summer that is the best thing I've ever eaten, but since I didn't alter the recipe at all really, that might be plagiarism, I don't know, I don't make the rules. Anyway, that corn chowder is so good it kind of makes you cringe thinking back on it, like Ecstasy. Also it's a huge pain in the ass to shuck all that corn and fuck around with a food processor, but by god it's delicious, so try it some time. Instead I will contribute a Potato Leek Soup recipe that Kelsey and I have already made two times this week alone, because we are sick and leeks are awfully pretty when you cut them and we found some at the farmer's market. We featured this soup on Things to Cook Later, which is a Tumblr cooking collective in theory, but really just a Tumblr with maybe 10 posts in practice. This is adapted from a Creamy Potato Leek Soup recipe on Allrecipes.com.
Ingredients:
8 potatoes, peeled and cubed
4 cups faux chicken broth
3 leeks, sliced
olive oil, some
garlic, a clove probs
1/2 cup low fat milk
1/2 cup heavy cream
In a large pot, bring potatoes and (faux) chicken broth to a boil. Cook until potatoes are tender if you fork at them. Sautee the leeks in the frying pan with olive oil and garlic.
When the potatoes are tender, stir in the fried leeks, heavy cream and milk. Stir to blend and remove from heat. Serve hot.
Top with shredded cheddar cheese and fresh cut chives or just serve plain. Yom!
Pumpkin Tortilla Soup (Vegan!)
by Rachel
originally featured at the kitchn
HEY are you guys tired of pumpkin yet? Too bad, because I'm not. Actually though don't be alarmed either way, because this is not a pumpkiny soup at all; I wouldn't have guessed it was there at all based on flavor. Really it just serves to make a really thick, dinner-serving soup instead of something that's traditionally more brothy. And if you happen to have like ~20 inches of snow on the sidewalk outside that you need to shovel within the next 4 hours or else get fined by the city (AHEM) then that sounds pretty good, no?
Ingredients:
12 (6-inch) corn tortillas (I used like 8.)
4 tablespoons olive oil
1 medium white onion, finely chopped
2 cloves garlic, minced
1 cup finely chopped cilantro, plus more sprigs for garnish
1 teaspoon ground cumin
Chile pequins, other dried hot peppers, or cayenne pepper to taste (I used aleppo chiles? It's what I had?)
1 1/2 cups pumpkin puree or canned pumpkin
1 (28-ounce) can diced tomatoes, undrained
5 cups unsalted vegetable stock
1/2 teaspoon salt
Vegetable oil for deep-frying
1-2 ripe avocados, peeled, pitted, and cubed
Cut 6 of the tortillas into 1/2-inch squares, or just kind of tortilla confetti. Heat 4 tablespoons olive oil in a large saucepan over medium-low heat and add the onion, garlic, cilantro, and chopped tortillas and cook, stirring frequently, until onion is soft. The tortilla will fry a little and get crispy and delicious. You will be tempted to just eat what's in the pot now, and no one can judge you for that.
Add cumin and crushed peppers or cayenne and sauté for another minute. Then add pumpkin, tomatoes, vegetable stock, and salt and stir to combine. Bring to a boil. Cover, reduce heat, and simmer. The original recipe says one hour, but that sounds like crazy talk to me. I simmered it for maybe half that long and it was still super thick and hearty. Really, it's about what your heart tells you. You do you. You do your soup.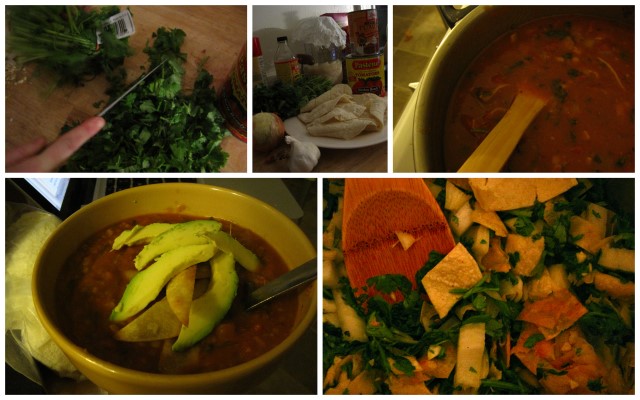 While the soup is simmering, cut the remaining tortillas in half and then into 1/4-inch-wide strips. Heat a thin layer of vegetable oil in a medium skillet over medium-high heat until very hot but not smoking. Fry tortilla strips in two batches until crisp and light golden (about a minute). Using a slotted spoon, transfer tortilla strips to towels to drain.
To serve, ladle soup into bowls and garnish with tortilla strips, avocado, and cilantro. Stop and savor the fact that this soup is so thick your tortilla and avocado can easily rest on top of it like a delicious caloric raft. Refrigerate or freeze the rest, but maybe think about keeping some more stock handy to add when you reheat, as I think it will thicken even more the next day.
Vegan Matzoball Soup
by Stef
My friends and I are huge proponents of having our own veganized versions of holidays, and because most of us have been chastised so much by our Jewish grandmothers for our veganism ("You can't drink milk, it makes you sick, I understand, but a piece of BRISKET?!?!?!"), we go especially hard on the Jewish holidays. We made this matzoball soup on a whim one afternoon about two years ago and have been dreaming of it ever since.
Matzoballs
2 tablespoons oil
1 tbsp ener-g egg replacer
4 tbsp water
1/2 cup Manischewitz® Matzo Meal
1 teaspoon salt
2 tablespoons soup stock or water
Stock
4-6 cloves garlic, diced
1 red onion, diced
3 large carrots, peeled and diced
2 stalks celery, diced
8 cups vegetable stock
salt + pepper to taste
whatever spice you're into
1. In a large bowl, mix egg replacer and water until they are of a vaguely egg-like consistency. Add matzo meal and salt. When well blended, add veggie stock/water.
2. Here is where the vegan matzoball recipe differs from your general Manischewitz fare – while the recipe on the matzo meal box tells you to refrigerate your mixture for twenty minutes, egg replacer doesn't really work that way; it's time to boil those bad boys NOW.
3. Using a two or three quart size pot, bring walted water to a brisk boil. Reduce the flame, and start dropping in balls of your mixture. You'll know they're just about done when they float up to the surface. You want to make sure they're cooked all the way through, but if you cook 'em too much they'll fall apart. Set matzoballs aside; they can be refrigerated or frozen if you're not making your soup right away.
4. As for the soup part, this is pretty open to discussion. We decided to start by cutting up a lot of garlic, red onion and carrots and sauteeing that in the bottom of my dearly departed great aunt's HUGE industrial soup pot, because making giant pots of soup in that thing makes me feel all warm and fuzzy inside. So you know, if you have one of those, use that.
5. When the onions are translucent, add your veggie stock, celery, salt and pepper. Now's the part where you can get crazy with spices. We decided to heavily flavor our stock with rosemary, because rosemary is delicious, but you can use anything! You can use thyme! You can use sage! You can probably use the mysterious spice in my spice rack simply labeled "savory!" T.I. told me you can use whatever you like. Just taste it while you go, and don't be too heavy handed; you can always add more flavor, but it's tough to remove it.
6. Bring your soup to a boil, then lower heat and simmer for about 20-30 minutes. When you're ready to serve, put the matzo balls directly into your soup bowl so they stay fresher longer. Enjoy at your grandma's seder.
Miso Soup
by Stef
Miso soup is super easy to make for one person or large groups, really fast and really easy, JUST LIKE ME.
Ingredients:
1 pkg wakame or other/comparible dried seaweed
1 pkg miso paste
1/4 block tofu, cut into small cubes
diced scallions? mushrooms? get creative
1. Fill your saucepan with as much water as you plan on making. Miso, you're so versatile! Heat your water over a medium flame, but make sure it never boils.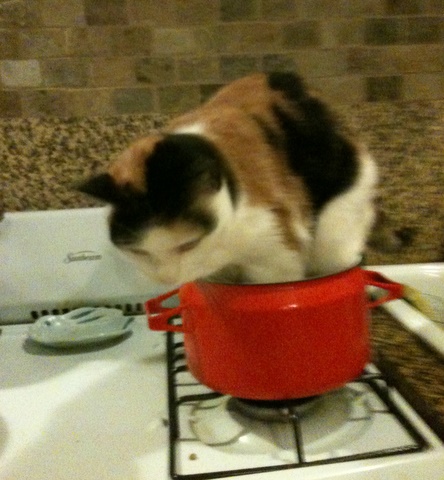 2. As your water heats up, gently sift miso paste into the water with two spoons until you have the desired consistency. You're gonna keep tasting the soup until you've gotten just enough miso.
3. Add your tofu, wakame and whatever else you feel like adding. Stir gently.
4. Serve. No, really, that's it.
Sweet Potato and Black Bean Stew
by Laneia
originally published in Dec/Jan issue of ReadyMade magazine
This issue of ReadyMade has four different soup recipes, so if this post isn't enough for you, get your hands on a copy. You'll be like, "BITCHIN' SOUP. BITCHIN' SOUP" And all of your friends will love you and you'll win the lottery and never get another hangnail.
Ingredients:
1 T canola oil
2 sweet potatoes, peeled and chopped into 1-inch cubes
1 onion, diced (I usually get bored about 3/4 of the way through an onion and just stop cutting, so 3/4 of an onion is fine, too.)
1 red pepper, chopped into 1/2-inch pieces
1 jalepeno, diced
1 clove garlic, minced
1 T chili powder
1 tsp cumin
1 tsp cayenne pepper
3 c vegetable broth
1 can black beans, rinsed and drained
1 can diced tomatoes, not drained
1 c (or more) frozen / fresh corn
1/4 c chopped cilantro
1/4 c lime juice that you squeezed from an actual lime
shredded cheddar
cooked brown rice (if you want to serve this over brown rice)
Did you decide about the rice? If you want it under your stew, you should start cooking that now. Heat the oil in a large stockpot over medium-high heat and add sweet potatoes, onion, red pepper and jalepeno. Sautee this for about 5 minutes, adding the garlic after 2 or 3 minutes. I get nervous about burning garlic.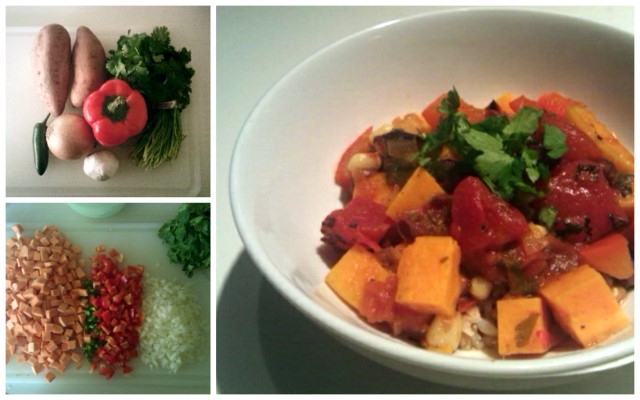 When the onions and peppers are a little soft, add the chili powder, cumin and cayenne. I misread the measurements and added a tablespoon of cumin instead of a teaspoon. If this happens to you, apparently nutmeg is the answer. Stir everything up. Lower the heat just a little bit and cover so the sweet potatoes can cook. This will take around 7 or 8 minutes. Obviously you need to stir it a few times while this is going on.
Now it's time to add the broth, beans and tomatoes. You're very excited about this step because now this looks like soup. When everything is stirred up and boiling again, add the corn. Put the lid back on that mother and simmer it on low for about 15 minutes or until you can't take it anymore.
Before serving, stir in the lime juice and cilantro oh my god it looks so good right I KNOW. Now put it in a bowl and top it with cheese and a little bit of cilantro. There are variations on this recipe in the magazine but I'm not going to share them with you because I want you to buy your own copy.
Now you can stay in and cook soup until spring! Which is only a few weeks away really. What's your best toppiest most favorite soup recipe? Share in the comments!