GEORGIA SHELTER HATES GAYS:
You may already be familiar with the Salvation Army's discriminatory stance on queers. Sadly but not shockingly, they are not the only charitable organization who picks and chooses who to bestow their mercy upon based on who they have sex with. Today we look at the House of Mercy homeless shelter in Columbus, Georgia, where the head of the organization refuses to serve queer homeless people unless they have committed to trying to change their sexual orientation. Their efforts to turn straight will be monitored by a staff member to confirm that they're genuine.
Although this is morally reprehensible and perhaps the dictionary definition of "not mercy," it is not in itself 'news.' There are dozens of Christian charitable organizations that withold their charity from groups they disapprove of, but there's evidence that House of Mercy may receive government money.
"In the new report by WRBL, the station notes that House of Mercy hasn't received any local or state grants since 2007. But as Alex Blaze uncovered at Bilerico, the House of Mercy sure looks like it receives some federal grant money, at least according to its 990 form. Moreover, Georgia's government approved a measure last year that earmarked $75,000 for the House of Mercy, via the state's Special Housing Initiatives program. That's an awful lot of taxpayer money to be giving a shelter that refuses to serve and shelter all who are in need."
There are plenty of other shelters of all kinds that serve all people without discriminating in Columbus; show them your support with a donation, or contact the Georgia Special Housing Initiative to tell them to fund a shelter that doesn't leave some homeless people out in the cold.
ELTON JOHN CENSORED:
A grocery store in Arkansas has hidden the US Weekly magazine cover featuring Elton John's new baby with the same censor film used for porn magazines. Because a happy gay family is potentially offensive or damaging to 'young shoppers.'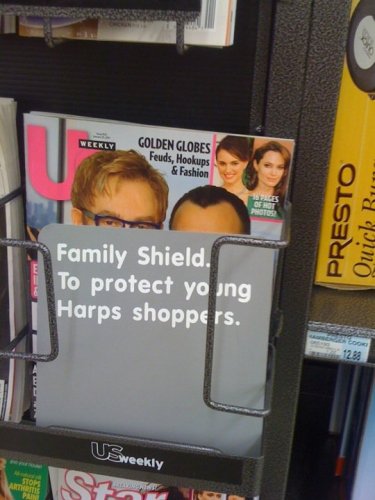 NO GAY SUPERBOWL ADS:
Once again, there's a clever male-focused gay Superbowl ad that isn't actually going to be shown because the network is very concerned about "observing respect for everybody."
PAINTBALL ATTACK:
A GLBTQ center in San Diego was the victim of a hate crime when an unknown assailant with a paintball gun attacked two people outside it. "The passenger had a gun of some kind in his hand and I heard just one pop after another go off," said Raymond Penko, who was hit in the head and leg with paintballs."