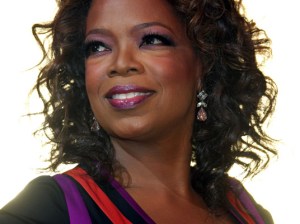 Yesterday's Oprah was actually advertised as her "gayest show ever" and it sure was – although Oprah & Gayle's Yosemite camping adventure was a close second, believe me. You know how sometimes, even when a thing isn't "gay," it's still totally GAY?
Anyhow, this special show about her 25 years of supporting the LGBT community brought back some of her most memorable guests, including the Olympic gold medalist diver Greg Louganis who came out as an HIV+ gay man way back in 1995 and India's openly gay prince, Manvendra Singh Gohil.
Oprah's influence on the gay community shouldn't be taken lightly. Oprah's prime demo – housewives in Middle America – worship her like a deity and using her show to increase visibility and normalize gay people is more than we could ever ask for. Even as I was preparing this post my mom called me all excited asking if I had my DVR set. Exec Editor Laneia's mother texted her to let her know about the topic of Oprah yesterday. That's power people. Let's not forget that Oprah has also given Rosie O'Donnell a brand new daytime talk show on OWN (Oprah Winfrey Network) set to debut in the fall.
Did you know that Oprah actually helped change homosexual laws in India?! See, Prince Manvendra is the only known person of royal lineage in modern India to have publicly revealed he is gay. He came out on Oprah in October 2007, and has since traveled the world as a kind of Indian gay ambassador.
Manvendra credited the big O with helping to change the laws in India regarding homosexuality. Previously, homosexual acts were punishable by 10 years to life in prison. But after he came out on her show and traveled to Australia and Brazil, the publicity made Indians reappraise their thinking about gays and the law was taken off the books. You go Glen Coco!
So, I'd like to take this moment to pull out some of our favorite homosexy Oprah episodes and share with all of you. Most of her theme episodes (with non-celebrity, regular gay commonfolk) aren't on the internets but they are definitely some of the more memorable shows. Girl, I KNOW you remember watching Wives Confess They Are Gay (featuring a pre-Real L Word Nikki Weiss) after school that day.
+ A Secret Sex World: Living on the Down Low
+ Can You Pray Away Being Gay?
+ Ask Deepak: How to Accept Your Sexuality
+ Accepting Gay Children
+ The Dina McGreevey Interview
+ Free from Life on the Down Low
+ Ted Haggard Talks
+ Chely Wright Comes Out
+ Rosie O'Donnell on Life, Love and Family
+ Why Women Are Leaving Men for Other Women
+ Transgender Families
+ Gender Identity
+ Comedian Carol Leifer's Midlife Surprise
+ New Faces of HIV/AIDS
+ Same-Sex Parents

Autostraddle's Fave Homosexy Oprah Episodes
(that we could find on YouTube)
Ellen's Coming Out Interview, May 1997
+
Ellen & Portia's First Joint Interview, Nov 2009
+
Ricky Martin Comes Out, Nov 2010
+
Melissa Etheridge & Tammy Lynn, Fall 2003
+
Adam Lambert, Jan 2010
So, what's your favorite gay Oprah show?