I'm sorry to say it, but this is not my Aunt Necy's sweet potato pie recipe. That's something I truly have to apologize for because Aunt Necy's sweet potato pies are perfect. They have been for my whole life. They're so good that I see Thanksgiving dinner as the stuff you have to eat before it's time for pie. There are years that Aunt Necy makes over a dozen sweet potato pies to fulfill requests from family who know that one slice at the holidays just isn't gonna be enough. No no, we need one to take home as well. She sent me back to school with an extra pie every year while I was in college. I'd tell her I shared it, and sometimes that was true, but sometimes I just ate the whole thing myself 'cause I couldn't help it! They're that good!
I've never loved a pie as much as I love her sweet potato pies. I can see her so vividly standing in the kitchen over a giant metal bowl full of sweet potato that she peeled hot with her bare hands by some form of magic I've yet to learn, pouring in sugar and milk, tasting and adjusting the spices as she goes. That's part of the reason this isn't her recipe, 'cause there isn't really one you can follow. There are steps you can be told but no exact measurements. She just knows it. It's done by taste and feel, and learning a recipe like that takes careful study of its creator in action.
The thing is, I do know Aunt Necy's sweet potato pie recipe. I can make It pretty well too, but even still it's just not hers. 'Cause it doesn't have her love, her essence, her decades of practice and devotion to contributing to our family's wellness and celebration via sweet potato pie. This is also not her recipe because one of the few southern culinary superstitions I believe in is that the best recipes should be kept secret, and if you do share you have to tweak the recipe juuuust enough that it'll still be delicious, but not as good as the original. So that's what I've done here.
Given that it's Black History Month and we're doing a lot of talk about celebration here since Autostraddle is turning ten, I thought it was only fitting to share a recipe for this pie that's such a tradition in Black American celebrations. Truly, pumpkin pie who? I will die on the Team Sweet Potato hill, hopefully with plenty of brown sugar and cinnamon. So, while this recipe is not my Aunt Necy's and therefore not perfect, it's still one of the best. Roasting the sweet potato brings out it's natural sugar so you don't need as much in the filling. No chance of a cloyingly sweet vaguely sweet potato flavored pie here. It's sweet and rich like the New Orleans jazz I listen to while baking it, and smells so good out of the oven you might just pop it on the window sill and hypnotize someone into following the mesmerizing scent trail to your kitchen cartoon-style.
I could tell you about how the flaky buttery crust supports the vibrant, caramelized sweet potato so well, or I could just say that to me, this tastes like all the best things about home. Like history and a connection to ancestors long past. Like a love letter to a little baby queer cook who loves her Aunt Necy and her sweet potato pies. That's what my version tastes like. How wonderful, too, that yours will be filled with whatever love and legacy you bring to the kitchen. Food is so incredible in that way.
---
Ingredients:
1 prepared 9 inch pie crust*
2 cups (400g) roasted, mashed sweet potato
1 cup (8oz) evaporated milk
4 tablespoons (57g) butter, melted
3/4 cup (150g) brown sugar
1 teaspoon vanilla extract
1/2 teaspoon salt
1/2 teaspoon lemon zest
1/4 teaspoon ground cinnamon
1/4 teaspoon ground nutmeg
2 large eggs
Note: I use the crust recipe from my apple turnovers, subbing buttermilk for the ice water for this recipe! It can be made and refrigerated a day ahead, then just let sit at room temp for 30 minutes before rolling. The pie filling (excluding the eggs) can also be made, covered and refrigerated a day ahead. Just don't forget to whisk the eggs in before pouring the filling into your pie plate!
1. Preheat the oven to 350° F.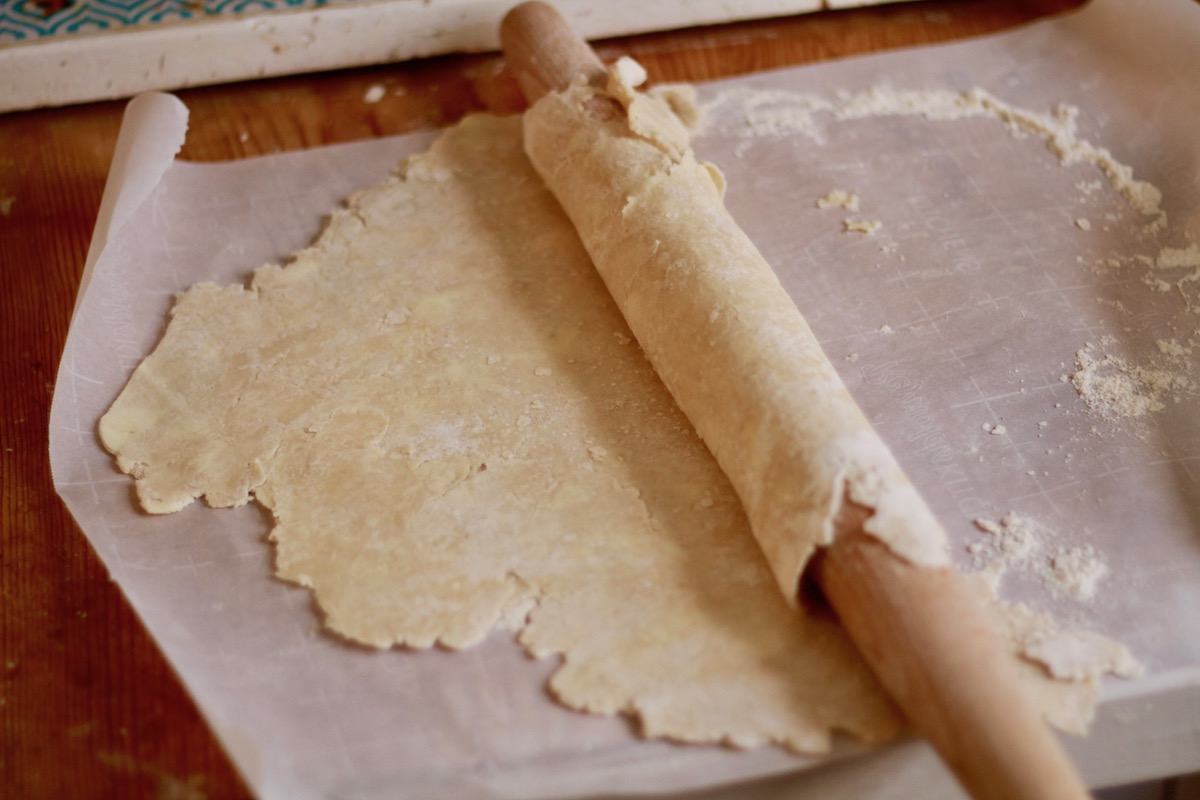 2. Roll out the pie crust then transfer to a 9 inch pie pan.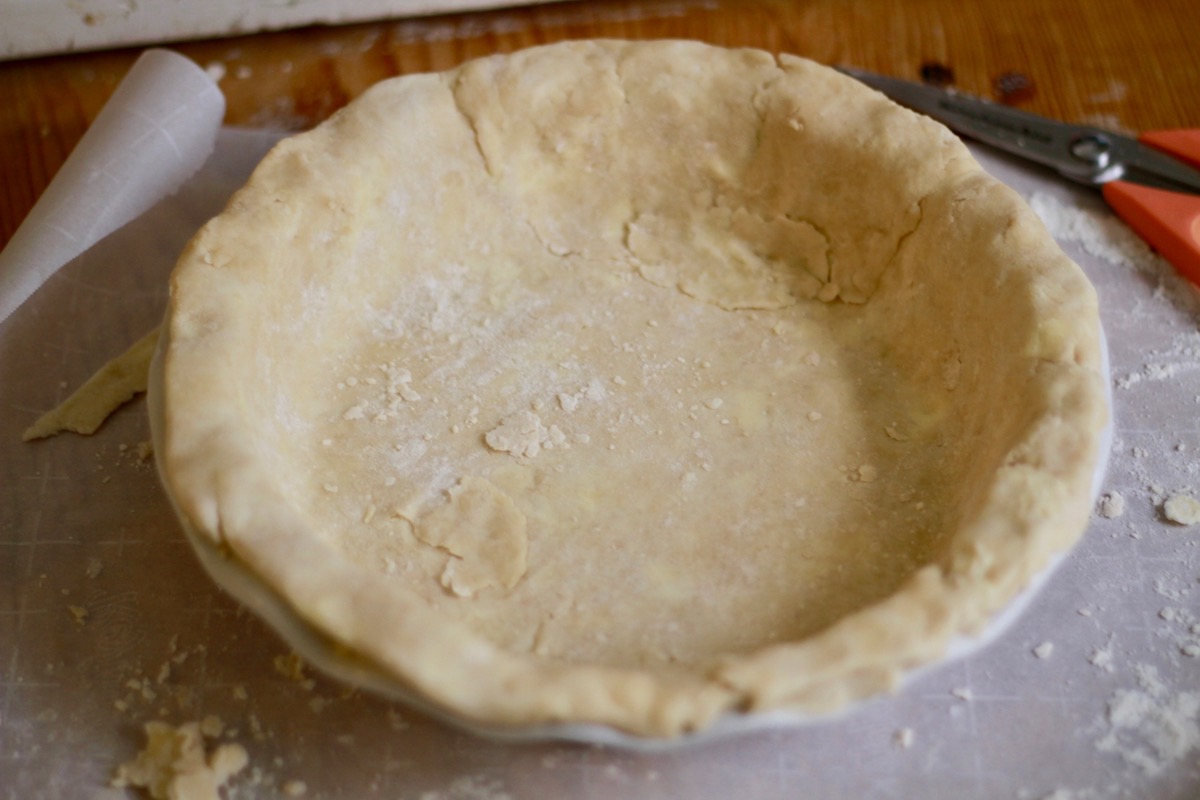 3. Fit the crust to the pan and trim the edges, leaving about a 1/2 inch overhang that you'll then fold underneath to reinforce the crust. You can use dough scraps to patch any broken or thin areas of the crust.
4. Add any decorative touches to the edge of the crust that you'd like, I just went with scalloped edges, and set aside.
5. In a large bowl using a stand or hand mixer, mix together the sweet potato, evaporated milk, melted butter, sugar, vanilla, cinnamon, nutmeg, salt, and lemon zest until smooth. Add the egg last and mix until incorporated. If you like a really silky texture, which I do, you can blend it with an immersion blender.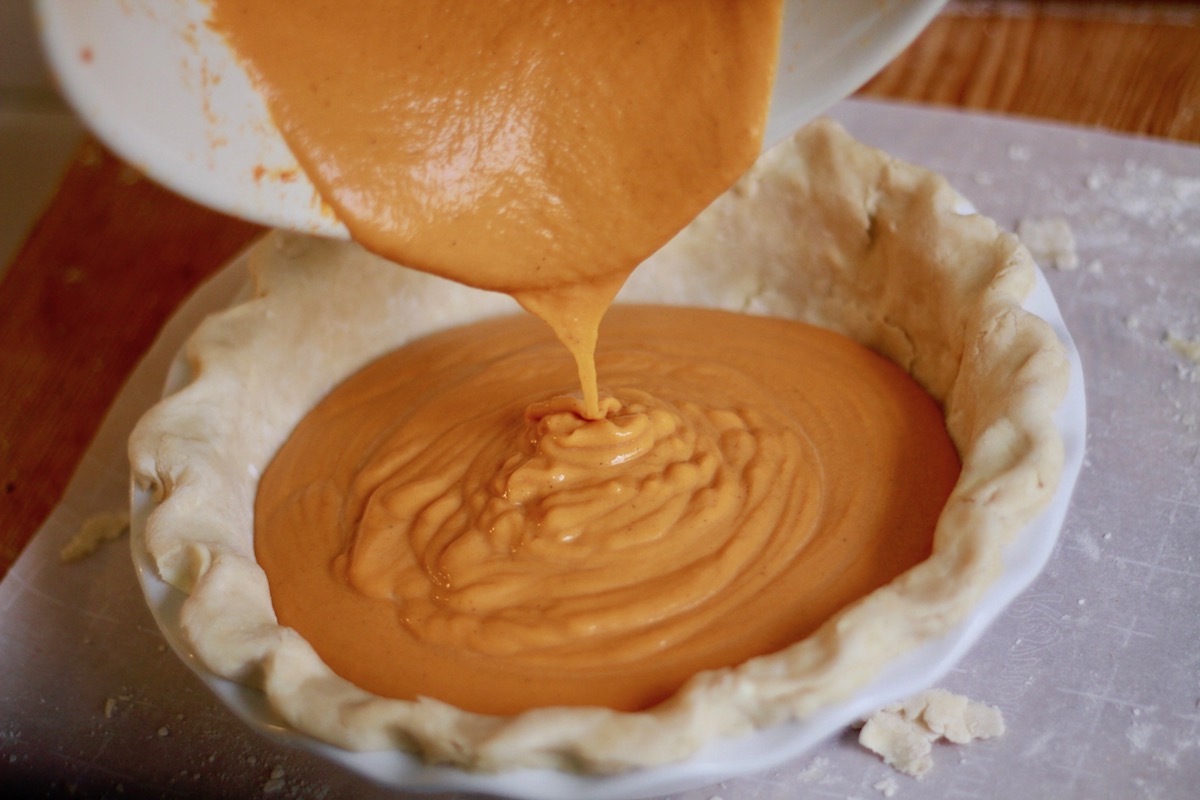 6. Pour into your prepared pie pan.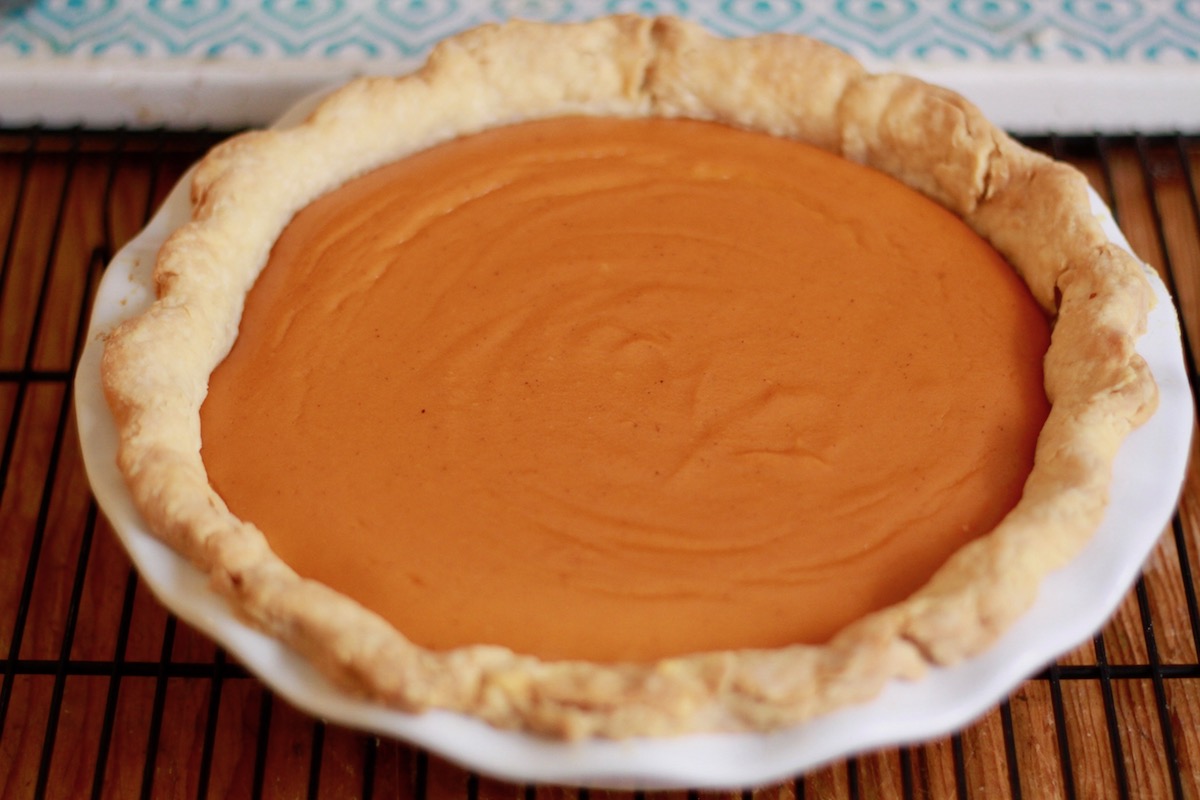 7. Bake for 35-45 minutes or until the edges are set and the middle of the pie jiggles just a little when you shake the pan. I like to sing "Jiggle it" by Young leek when I check the pie,  In case you were curious. Now comes the time for patience. You've gotta let this pie cool to room temperature on a rack and then for at least 2 hours –but overnight is best– in the fridge. This allows it to set and gives the flavors time to blend.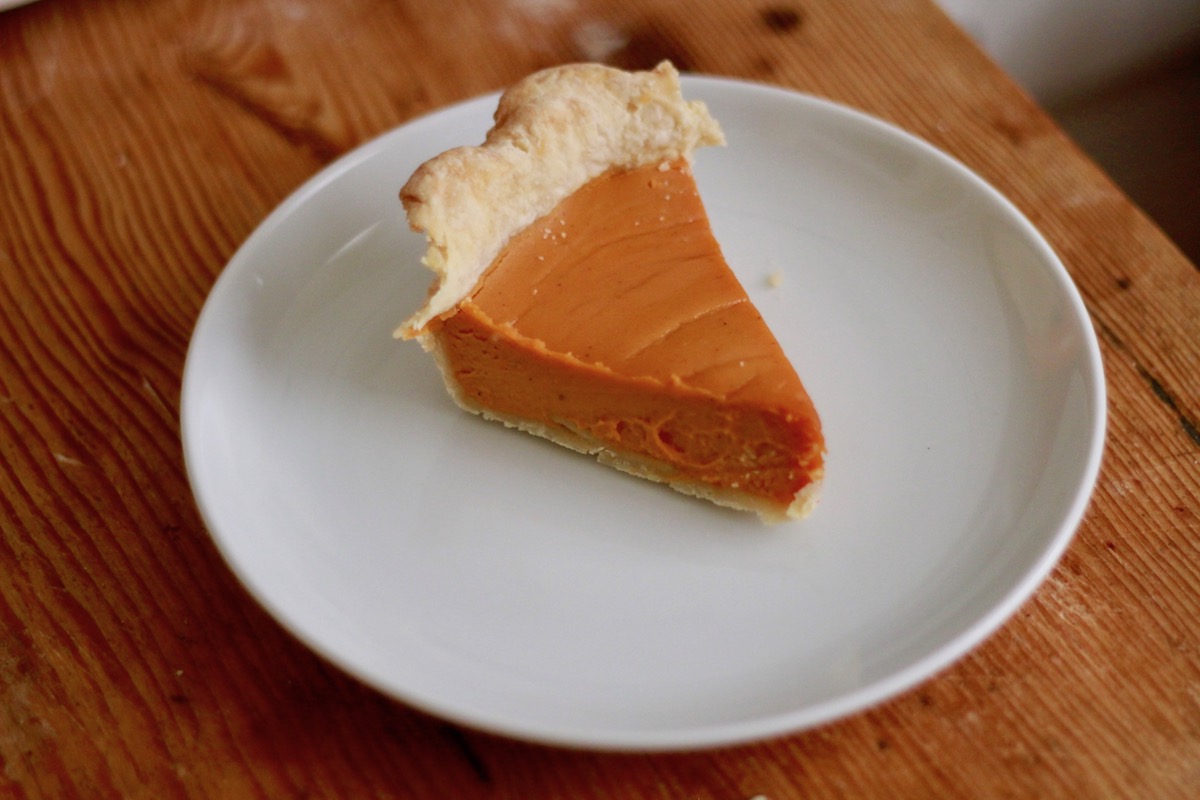 8. I'm a firm believer that sweet potato pie is best eaten cold and all on its own like the star of Black culinary culture it is.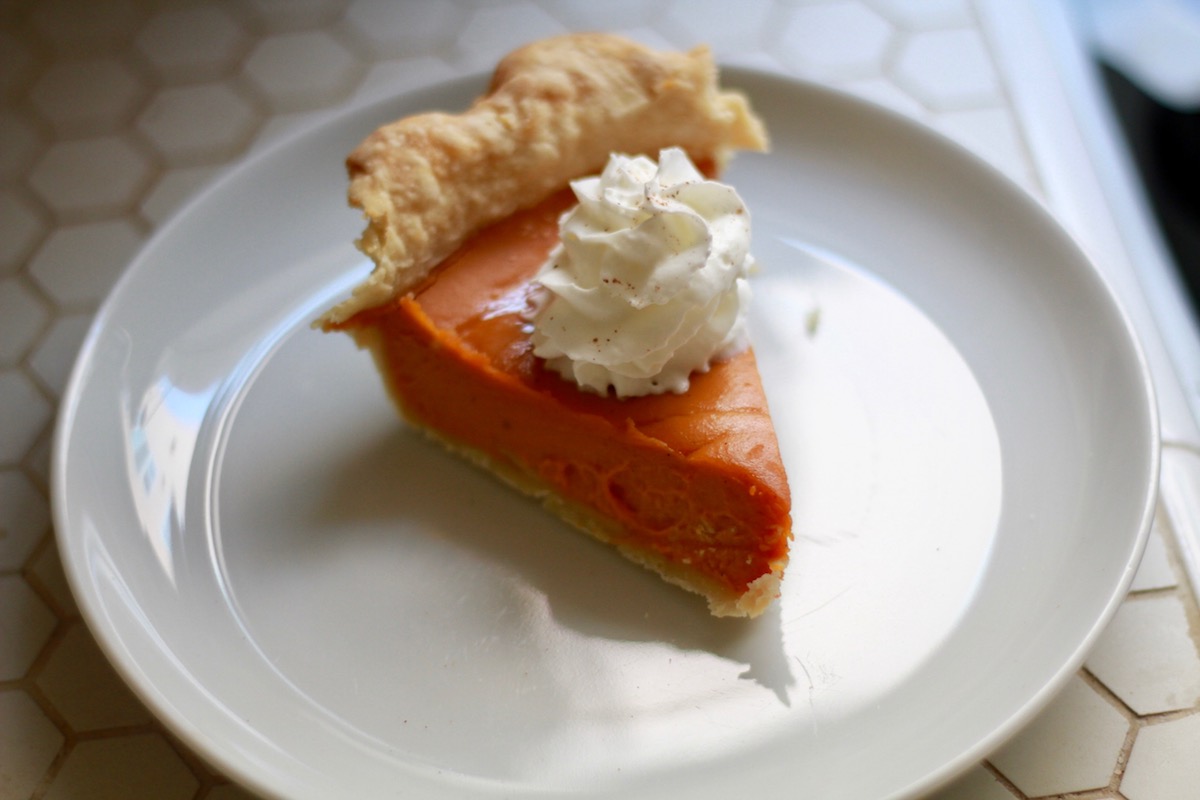 9. But a little whipped cream and extra cinnamon definitely doesn't hurt. Happy Black History Month!