Only one week til it's officially fall in the US! You might remember from last year that fall is my absolute favorite time of year, especially in terms of food. I get serious apple fever, can't get enough butternut squash, sweet potato, and sage plus I look really good in scarves. The flavors, scents and feelings of fall really bring out the best in me. I'm motivated to spend more time in the kitchen than I am during the heat wave months, and the fact that i'm cooking and baking more means I'm making more people smile, which is my favorite thing to do. For me fall is synonymous with making more connections via food and its magical powers of comfort; how could I not love this season? I know I'm early and I could've squeezed an end of summer recipe in this week instead, but some seriously adorable apples made their way home with me and I knew it was time. Apple turnover time!
I looooooove turnovers, mostly because they're little personal portable pies but also because they're "rustic," aka freeform, and imperfect, which I heavily relate to. Of course they can be perfect if you want them to; if neatly folded triangles with perfectly crimped edges are included in your vision of a turnover that's amazing and commendable. I too love a perfect turnover; however, mine are never perfect. I think of turnovers as the quickest, most foolproof way to get something flaky and sweet and pie like into my mouth and usually find myself wanting and making them very early in the morning as I sip my first cup of coffee with my mind demanding something comforting and sweet. Turnovers are incredibly forgiving of sleepy baker brains. The wonderfully flaky dough comes together quickly and rolls easily, and the filling is so simple it can be made successfully on the sleepiest of mornings. The apples here are lightly spiced and just sweet enough. I give a range for the sugar in this recipe; be sure to taste your apples first and add sugar depending on their natural sweetness. Its the best way. You can also play around with other spices in the filling, but cinnamon and nutmeg are my personal favorites. Regardless these will make your kitchen smell like a dream, and brighten up any meal you make them a part of. They also gave my first two food-happy smiles of the season from friends. It was almost better than eating these. Almost.
Ingredients:
For the crust:
1 1/4 cups of All Purpose Flour (160g)
1/2 teaspoon kosher salt
5 tablespoons vegetable shortening, cold and cubed
2 tablespoons unsalted butter, cold and cubed
6 tablespoons ice water
For the filling:
3 apples, peeled, cored and sliced ( I suggest Braeburn, honey crisp, and/or gala)
1/3-1/2 cup brown sugar
1/2 tablespoon lemon juice
1/2 teaspoon kosher salt
1/4 teaspoon cinnamon
1/8 teaspoon nutmeg
For the egg wash:
1 large egg
1 tablespoon heavy cream, milk, or water
1. Preheat the oven to 375° F. Line a sheet pan with parchment paper or a silicone baking mat and set aside.
2. Add the flour and salt to a large bowl and whisk, then cut in the shortening and butter until the mixture is coarse and the fat is about the size of peas. Next add in the water and stir just until the dough starts to clump together. 
3. Pour the dough out onto a piece of parchment paper and using the paper fold the dough over on itself 4 or 5 times until you have a rectangle. Wrap the dough in plastic wrap and refrigerate for at least 30 minutes or up to two days.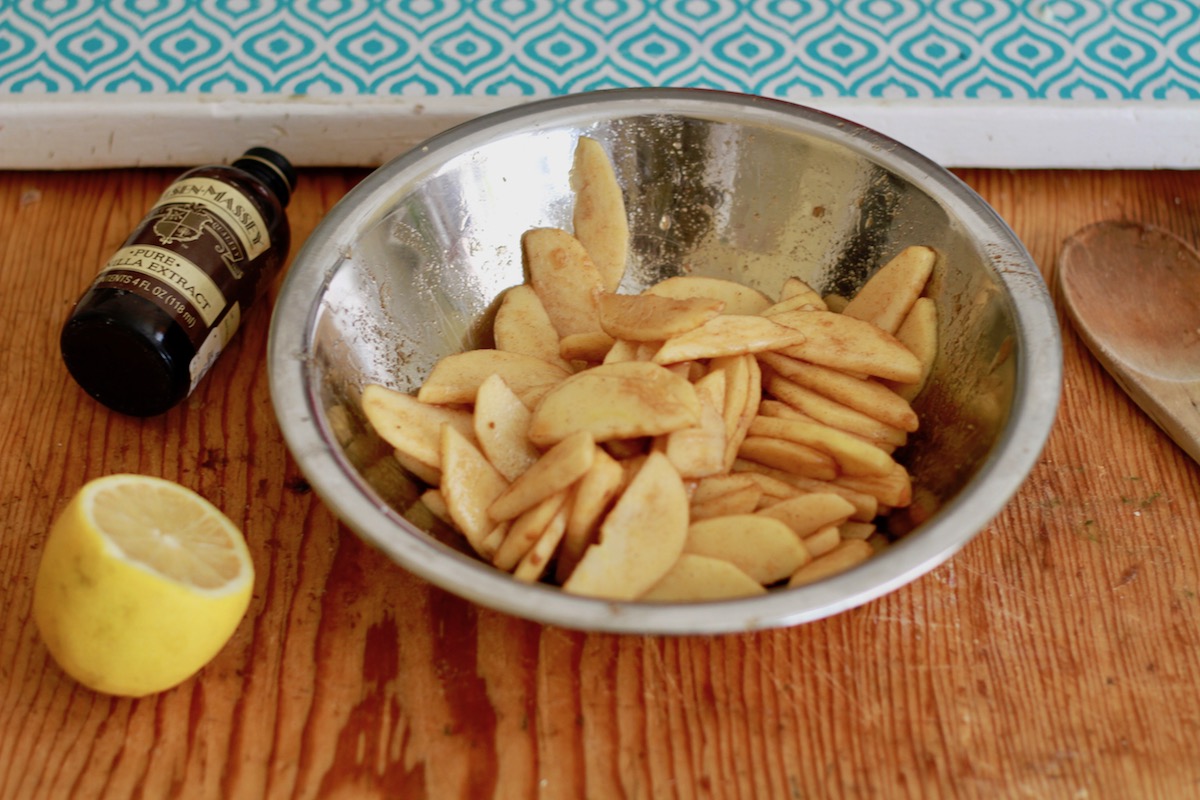 4. While the dough chills make your filling! Place the peeled, cored, sliced apples into a large bowl and toss with the sugar, lemon juice, salt, cinnamon and nutmeg until every slice is coated in fall spice happiness. Set aside.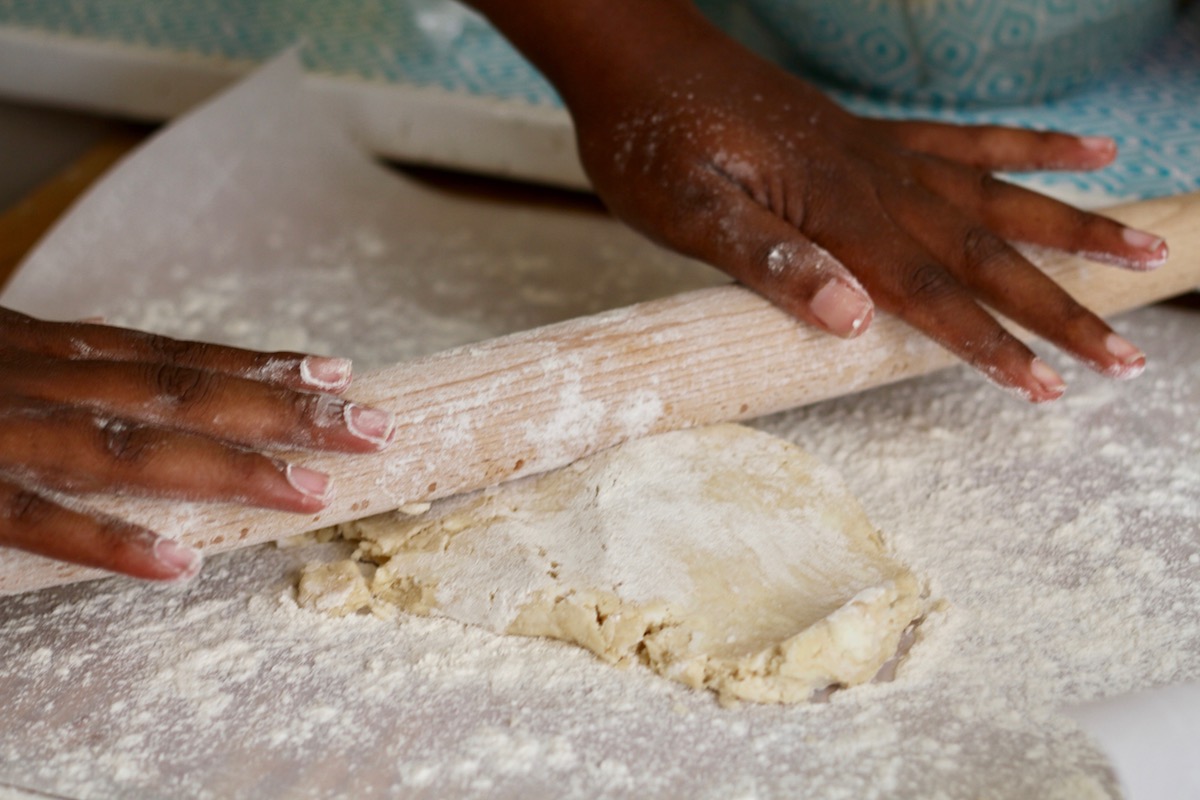 5. When the dough is ready generously flour your counter and rolling pin and roll the dough out into a large square. If you want to be precise, you're aiming for a 12×12 situation but again, today wasn't about precision so I just eyeballed it. 
6. Once your dough is rolled out, use a pizza cutter to divide it into four squares for your turnovers. You should have some scraps left over after trimming the dough; save them!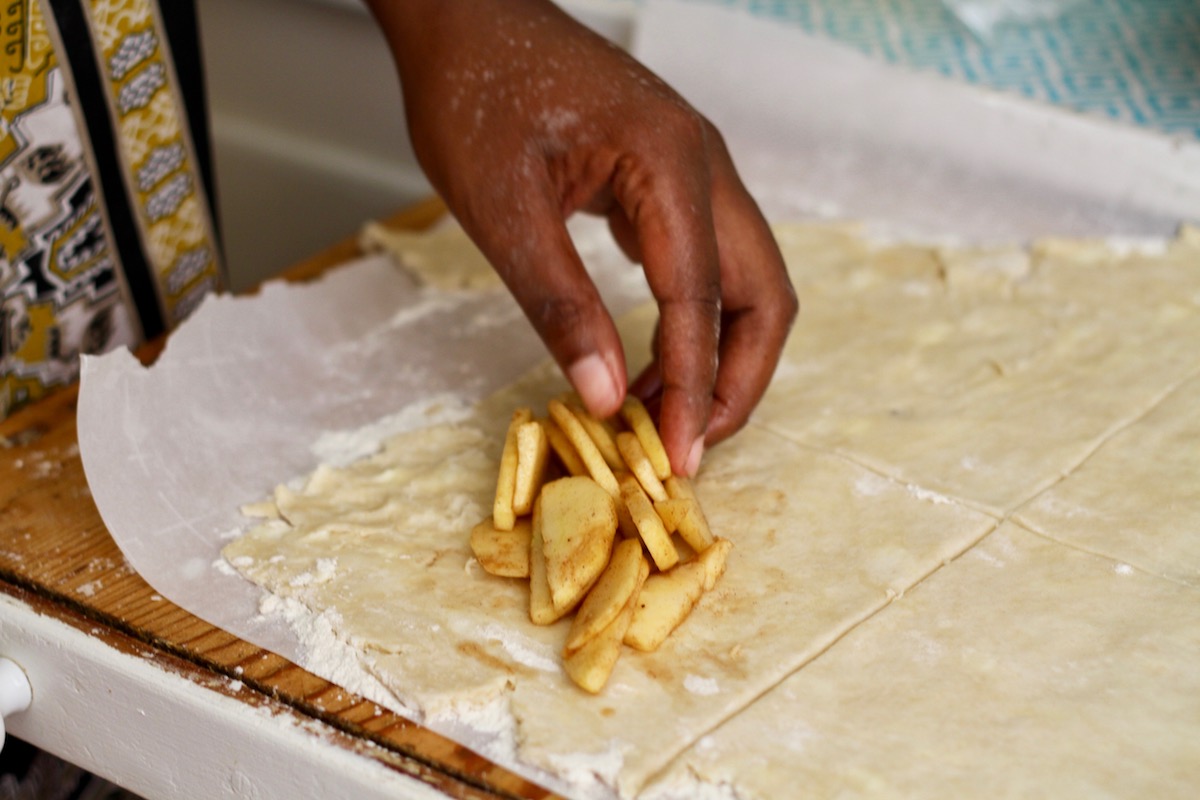 Add about a 1/2 cup of filling to each turnover. Then fold the dough over the filling, push the edges together, and press down with a fork to seal the edges. If the dough breaks while folding over one of the turnovers, patch it with some of the leftover scrap dough. Next, cut three slits in the top of each turnover to allow steam to escape while baking.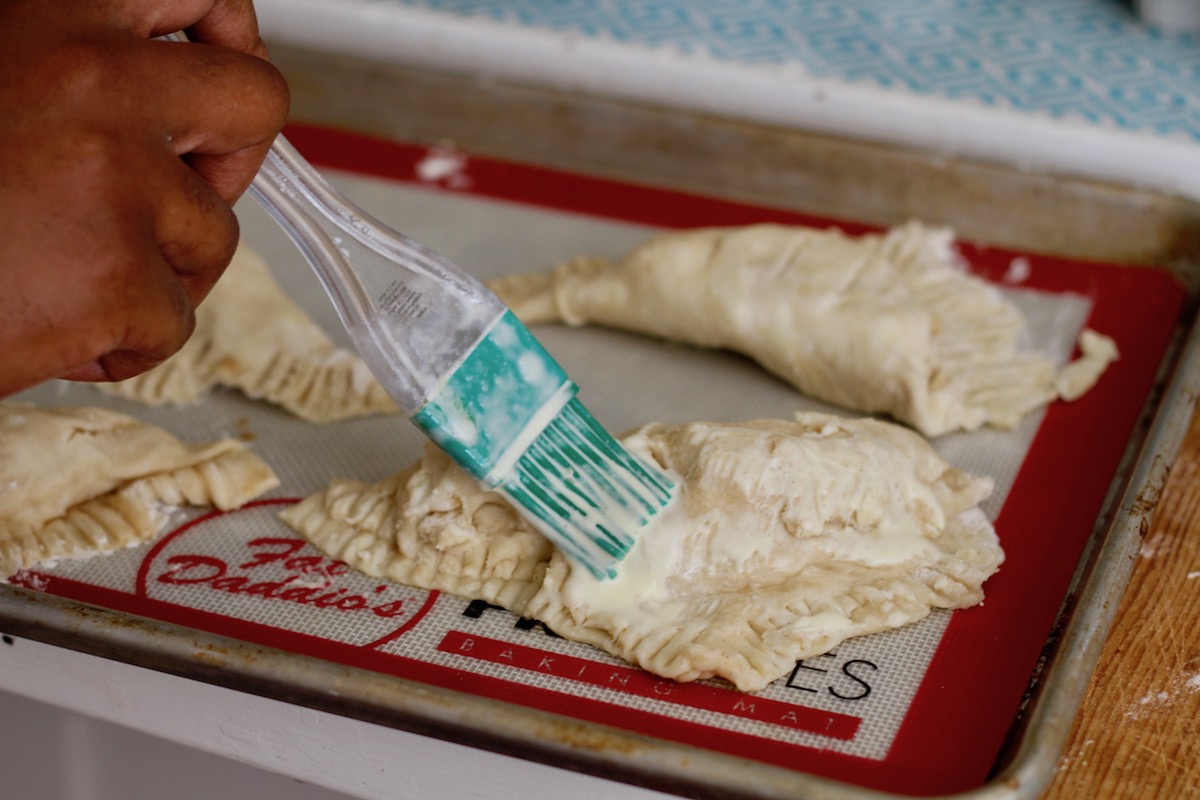 7. This is optional, but if you want your turnovers to be shiny and bronzed whip up an egg wash. Whisk together the egg and cream/milk/water then brush on top of each turnover in a thin even coat. 
8. Bake for 25-30 minutes. The filling should be bubbling and might've escaped out the sides, and the edges of your turnover should be golden but not burnt. Transfer to a wire rack to cool.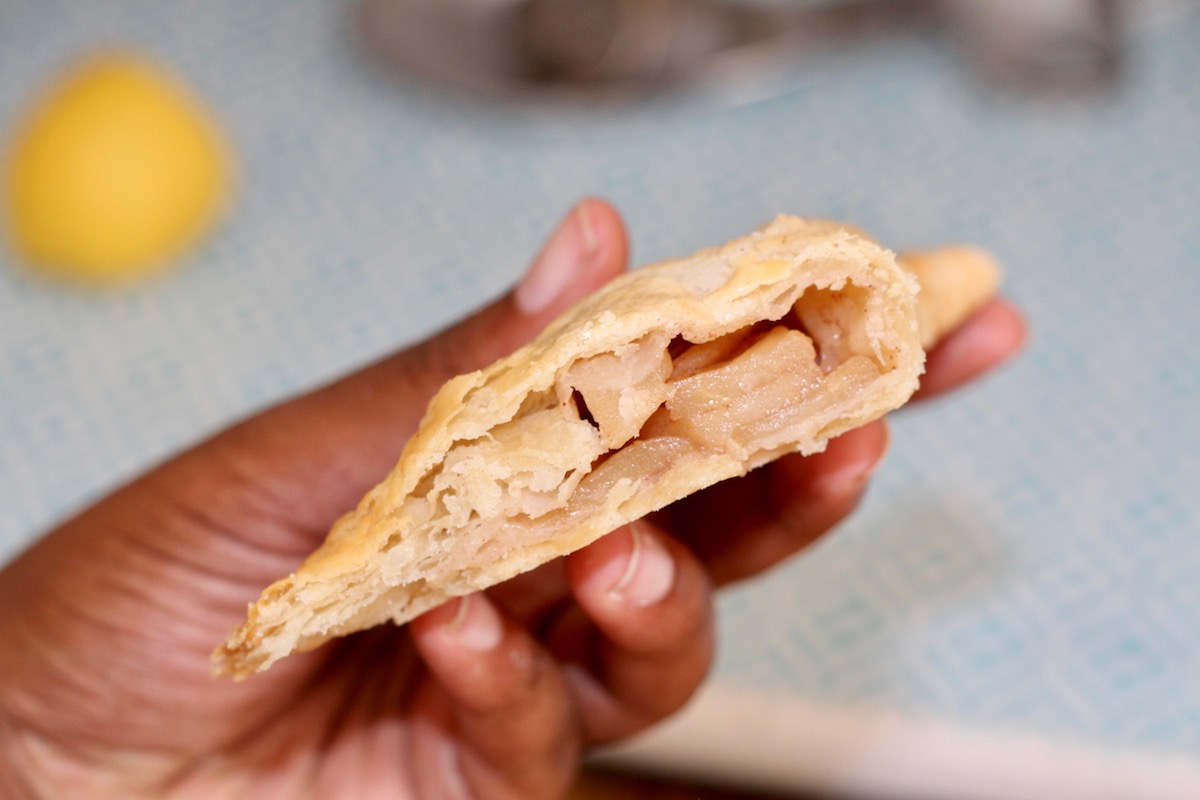 9. These can be eaten warm or room temp.
Either way, they won't last long.