by riese & crystal
Without going into too much detail, it's important that you understand that we were born to write this recap. Drugs? Check! Mania? CHECK! Psychosis? Check! Abandonment? Check.
And I mean really, why would you want to read a recap written by someone who's never been led down the rabbit hole and ultimately to visiting hours at the mental hospital when you could read a recap by TWO people who've done just that? Also that means we can make fun of everyone still, right?
Sidenote! We'd like to acknowledge the following tumblrs which we thought had way better graphics than ours. You should all appreciate & follow: Kaya Scoldelario, Skins FTW and Fuck Yeah Katie Fitch. Seriously, SKINS FTW big up to you. Your tumblr is the best thing to happen since Skins!
---
Skins Episode 405: Freddie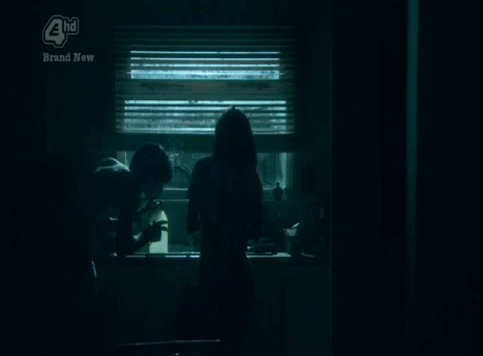 I Am Nothing If I'm Not With You
405 opens on Sid & Nancy in the kitchen with the bottle, freebasing a suspicious substance — the legendary MDMA?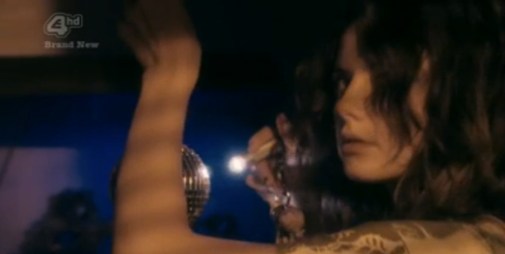 Sunday Night Fever
Kids. The room is really dark, I guess they spent their utility money on drugs. Always the gentleman, Freddie holds Effy's hair back while she inhales. I hope she does the same with his fringe.
Party Monster
The Freddie & Effy Junkie Lovers montage begins; it's all delirious trippy pills, joints, disco balls and running through Bristol with water bombs. Throw in some making out on the staircase to screamy music with dancey beats and some artificially enhanced orgasms and two beautiful kids that really who needs MDMA Goggles and you've got yourself Freddie & Effy's glam ep of Intervention.
Where are these kids' parents? Where's Mrs Stonem or that dick who kicks everyone out of school?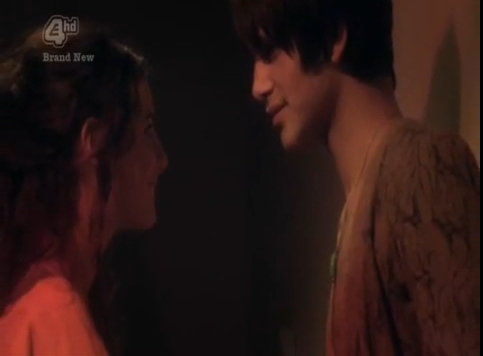 We Are Really Cute Together, Aren't We?
Freddie: I really fucking love you.
Effy: [we have no idea]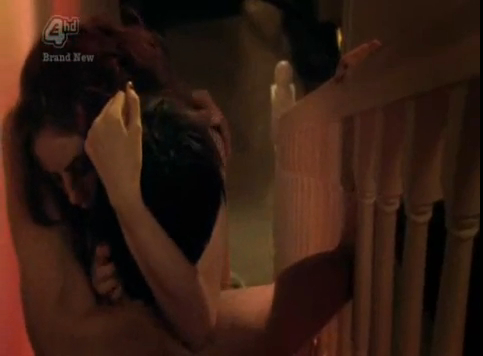 I Am Intense, I Am In Pain, I Am in Need, I Am in Love
Get a room! I mean; up the down staircase we go! Opening with a teenage sex scene, Skins, you daring little bastard.
---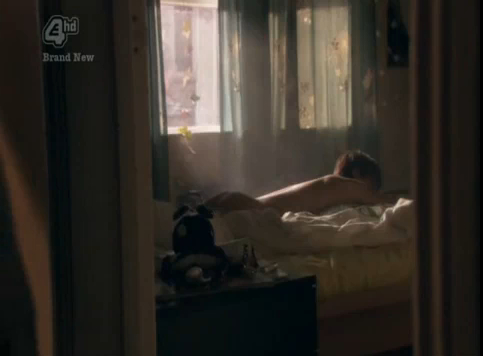 How Do Druggies on TV Shows Always Maintain Such Clean White Sheets?
The morning after, Freddie is passed out bare-arsed in bed. Mrs Stonem is leaving a vice I MEAN VOICE mail. While Effy is chugging vodka from the bottle (that's the cowboy way), she's in Rome drinking "fucking macchiatos" in St Peter's Square and is gonna stay there a little longer which is excellent for Effy's adandonment issues, and mine. Where's Tony?
Probs best Mum stays away, she might be surprised that somewhere between seasons three and four, her house transformed from a broken-yet-somewhat-loving family home into a crack den. With paper cranes!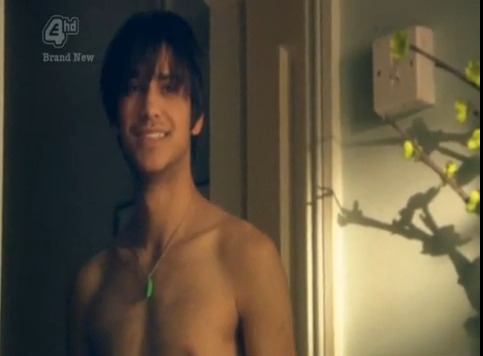 Rome if You Want To
Freddie wakes up and remembers that it's Judgment Day! No, not the Prop 8 Trial, but the disciplinary hearing at college 'cause his grades have been slipping. (Side effect of sex, drugs, and no supervision. Slippery slope.)
Effy is sad that he's abandoning her, albeit momentarily, so she's being all dark n' shit.
Freddie: Eff, what's the matter? I won't be long, I'll only get a bollocking for ten minutes or so.
Effy: Just —
Freddie: Are you coming down?
Effy: Still up. Way up. This is me happy.
Freddie: I can't miss a disciplinary, Dad will flip.
Effy: Be a long time dead.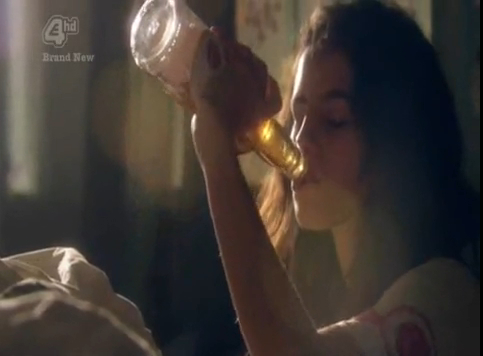 Luckiest Whiskey Bottle Ever
As soon as Freddie exits, Effy rebels by turning on the stereo and drinking whiskey straight from the bottle. Next up: Portishead and chasing the dragon.
---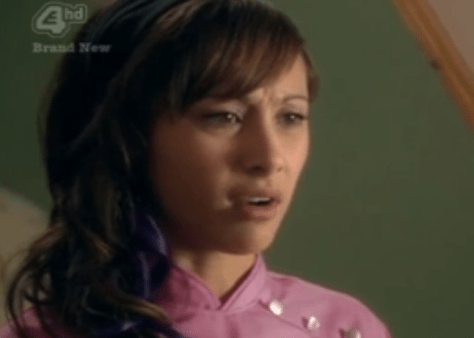 Karen for Wax
Freddie runs home, where his sister Karen, dressed like Flight Attendant Barbie, demands that he allow her to cut his hair or else she'll fail her Feathering module. She doesn't realize that Freddie has perfected scrawny druggy hipster hair and the only stylist he'll ever need is Shane circa 2004.
She asks when his fuckathon will be over. Listen Karen, no-one ever wants a fuck-a-thon to end, it's not like a martathon even though they both use the word "thon."
She shouts, "I want to cut your fucking hair."
OMG ME TOO.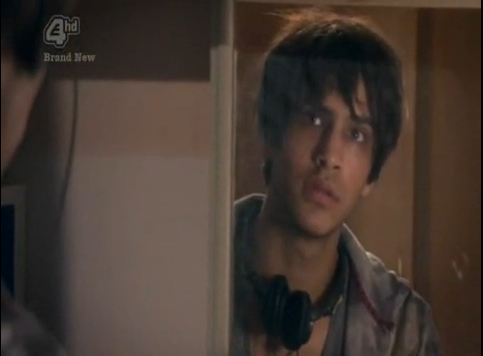 Headphones Per Autostraddle's Queer Girl Accessory Guide
Freddie catches his disheveled, bag-eyed reflection in the bedroom mirror and double-takes, not even those magical cheekbones are pulling him through today. He should start taking his pills with food. He also catches his father hiding in the closet, he'd been snooping or "dusting." Dad has a few words about neglecting his studies –
Mr McClair: I'm glad this young lady is making you happy, but —
Freddie: No you're not, you're jealous.
Mr McClair: What? … Clean yourself up.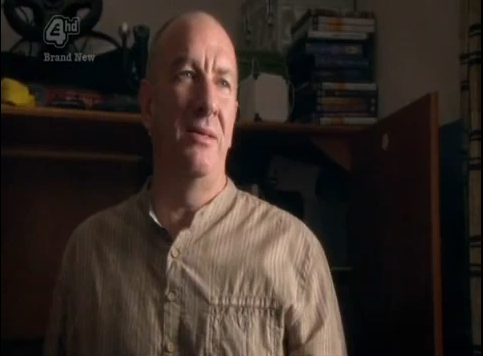 Mr McClair is concerned about his son's health, but doesn't seem too jealous of Effy. Me on the other hand: very. Well, for the time being.
Also when Freddie bikes to school, he seemed very Angela Chase to me!
---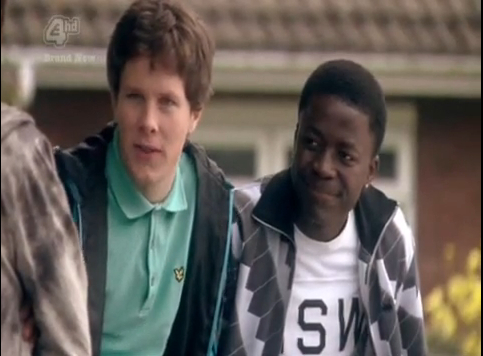 Colour Me Good
Freddie runs into Thomas and JJ out front of the school, where I believe they are beatboxing in French or something. Kids these days.
Thomas: Hello stranger. I thought study was too 2009 for you and Effy. Where is she?
Freddie: She's at home, she didn't feel very well.
Thomas implies that Effy is worn out from all of the drug-fueled teenage sex they've been having. JJ, who has lots of experience having straight sex with a lesbian, doesn't get how it can't get boring.
Freddie's gotta jet, he has a disciplinary meeting with someone they nickname "Tough Love." JJ suggests that he blames "sexual OCD" for interfering with his study.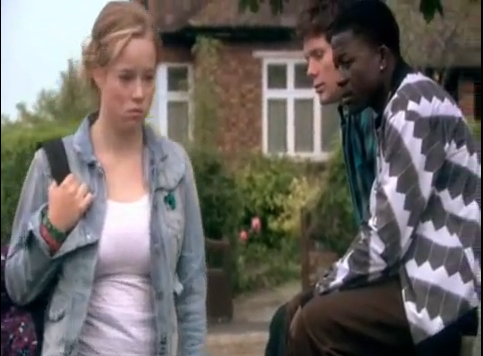 Pandora walks by Thomas and snarls "What are you looking at?" Um, probs her rack, not gonna lie.
---
It's Gonna Be a Thriller, Thriller Afternoon
"Tough Love" is in charge of Educational Intervention. That's what we used to call Expulsion. Firstly, Tough Love is in one of those scary rotating chairs like he's Dr. Evil or something. Then he turns around like he's in a porn movie and he's about to ask Freddie to atone for his sins or be on a reality show.
Tough Love's office is sparse except for motivational quotes plastered over the walls and a poster of Michael Jackson looking down on them. Get it? That's foreshadowing. Because Michael Jackson is dead you guys. Because of drugs.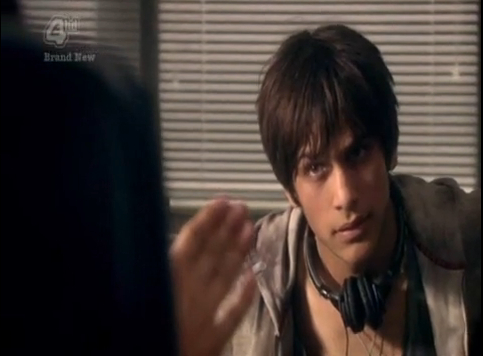 Rock of Love
Tough Love makes Freddie shift his seat until he's lined up in the perfect position. For what? I dunno. Maybe as an offering to MJ. jk.
We learn that everything Freddie does is either late or inadequate, or both. As some weird intimidation tactic, Tough Love puts Freddie's name in the shredder. I think this happened in Back to the Future 2, and it was kinda silly there too, and maybe involved a Dot Matrix Printer.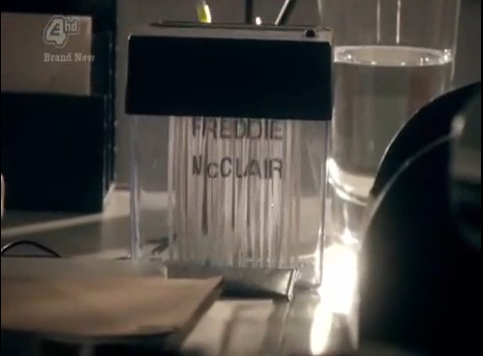 This is the New Egg-in-the-Frying Pan
That's when a really weird and disturbing conversation happens. It's like an SNL skit.
Tough Love: What would Michael say?
Freddie: Pardon?
Tough Love: Michael. What would he say?
Freddie: I'm bad?
Tough Love: Yes, and what else?
Freddie: Beat it?
Tough Love: No! He'd say "gotta be startin' something!" Okay?
BTW Freddie already looked at the man in the mirror earlier and it didn't do jack shit!
---
I Have Spent Nights With Matches & Knives
Freds returns to Effy's house as promised and finds her in her mother's bedroom, cutting pictures out of magazines. Aww, she's made a giant collage out of crucifixion, torture art and Polaroids of Freddie. She laughs maniacally, breathing wild-like, throws papers in the air and tells Freddie she's found her new "porn stash."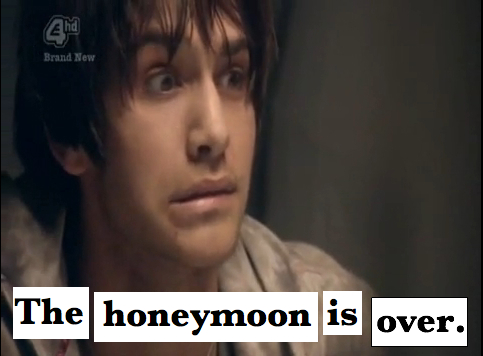 Effy is muttering about "making thing easier," Freddie wants to know what drugs she's on. I'd transcribe, but really at this point it's as hopeless to us as it is to Freddie.
Freddie: End? And what fucking end would that be?
Effy: Mine, Freddie.
This episode is showing us a whole new side of Effy. You know the manic depressive drug-abusing side. "Dual diagnosis," as they say in the psych biz. Man no wonder I'm so attracted to her.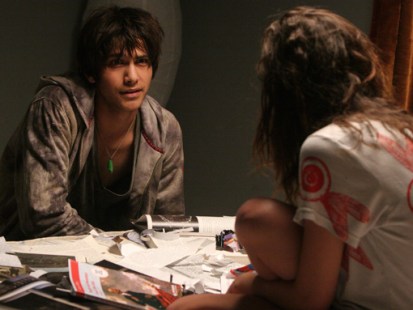 Your Face Don't Look Like Before
There's come close-ups as Freddie touches her skin, tenderly, listening to Stina Nordenstam's delicate serious plucky voice.
---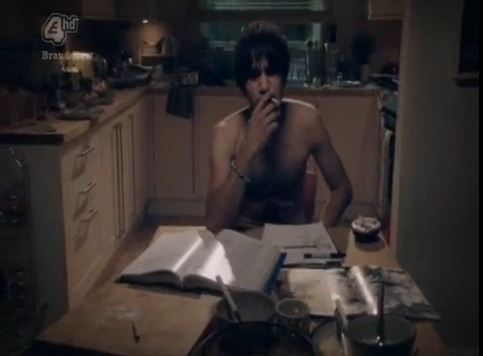 Is the Drug Den Out of Adderall?
When Effy falls asleep, Freddie tries and fails at studying. He keeps doing more coke. Classic mistake! Now you'll just get agitated and then want more coke! BTW, he's got chest hair now. Kids grow up so fast.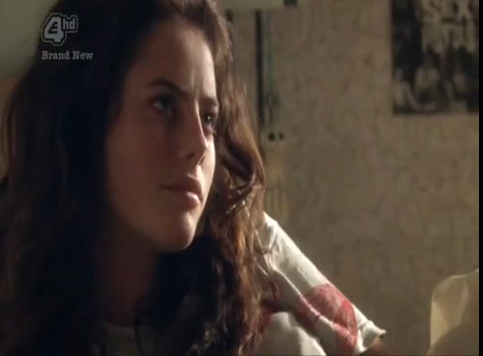 Feeling, Sweet Feeling, Drops From My Fingers, Fingers
Freddie brings Effy breakfast in bed the next morning; perfect 'cause now she'll have some cereal to pour in her vodka. She's so badass.
Freddie: You alright?
Effy: Hunky-fucking-dory.
Freddie: Right, maybe just calm it down a bit yeah?
Effy: I'm not the one grinding my teeth.
Freddie: Both of us. For a bit. Do you want to fuck up your A Levels?
Effy puts her hand around his throat and pushes him back on the bed, kissing him. He pushes her off and tells her to "drop the dark shit" but she's not hearing him.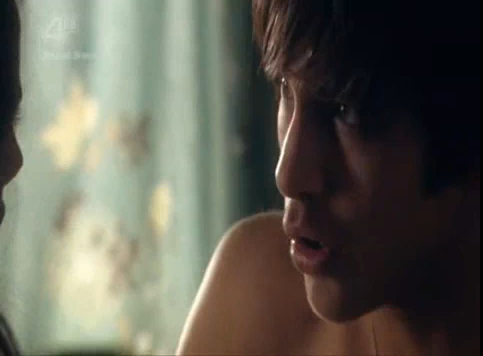 You Make Love, You Break Love, It's All The Same

Freddie: Effy, listen alright? It's me. Me.
Effy: And this is me.
Freddie: Jesus, I thought we were happy.
Effy: Too fucking happy.
Freddie: What, so you want to end it then, is that what you're trying to say?
Effy: No. It's gonna happen.
Freddie: Why are you head-fucking me, Eff? I can't handle it.
Effy: Better fuck off then.
Freddie runs out of the room, leaving Effy alone and distressed/abandoned/relentlessly insane. Poor Freddie's got quite a bit to learn about walking away from people who obsess about The End. Jim Morrison wrote a song called "The End" once. Just sayin'.
But look, at least he gets to the heart of the matter, stat:
Manic Depression is Catching My Soul
Freddie's in class, struggling to write a paper on "The Future Is History Repeating," which is actually kinda what it's like to be a manic depressive with the ups and the downs and the same stories every time and HEY-O! What's that on the world wide web?
Manic Depression… Psychotic Depression. Will experience Manic episodes which will include Hyperactivity, Euphoria, Increased Sexuality, Paranoid Delusions, Reckless Behavior… and ain't that the kicker… wondering if he's part of the delusion, too.
Is Effy taking drugs because she's having a depressive episode, or to enhance her manic episode, or is she depressed because she's taking drugs?
Freddie walks the halls with his headphones around his neck not his ears but we can hear the music which is Sparklehorse. It's kind of muffling, I'm sure. I mean, I imagine it is. In his head right now.
---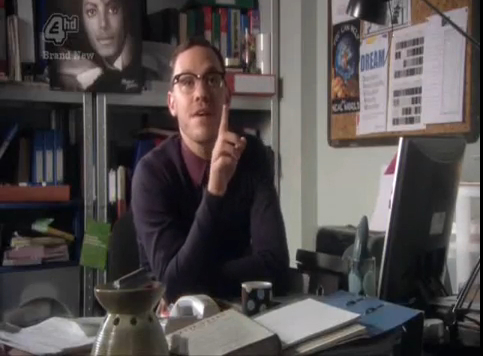 You're Bad, You Know It
Freddie decides he needs adult help and so he goes to visit the Student Counsellor, only to find Tough Love's in the house with his motivational quotes and BRAND NEW Michael poster, seemingly floating on top of the bookshelf. Tough Love says the Counsellor has a breakdown, so he's taking over, which might be 'cause he is teaching in a SCHOOL OF MISFIT TOYS.
Freddie goes against his instincts and opens up a little.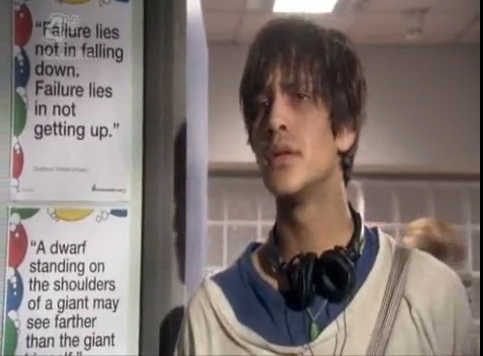 SO BTW My Girlfriend is Interrupted

Freddie: So what do you do when you can't tell anyone shit, 'cause it might really fuck things up. And you don't know what to do, or what is happening – you just know that something really, really fucking bad is going down.
Tough Love looks to MJ for the answer but no dice, he's dead, probs 'cause something really fucking bad was going down with him, too. Well, there you go Tough Love you just used up Freddie's one chance at seeking outside help.
This "Tough Love" character and his Michael Jackson fixation is I suppose meant to be a little bit of comedy relief during what is otherwise a really heavy episode. But it just doesn't sit right with me, and I keep thinking he might be a funny ghost, except not funny.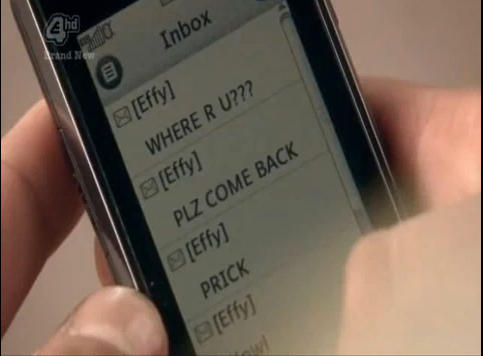 Just Like the Drugs You Are Keeping Me
Freddie sits on a park bench, studying a whole lot of texts from Effy that range from hate to love. Up… down. He doesn't reply.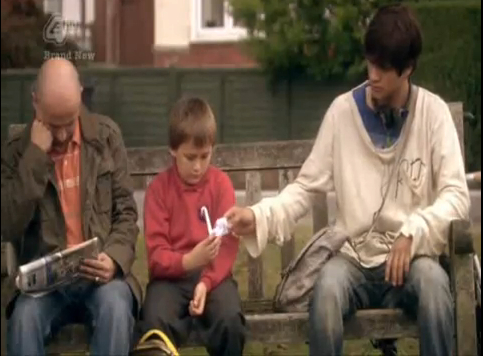 You're Still Too Young to Drink, But HEY HERE'S A PAPER CRANE KIDDO
He folds the Psychotic Depression fact sheet into an origami crane and gives it to a little boy sitting beside him, I guess maybe he's decided that he won't stick around to help her after all. But nothing can stop the incredible force of giving Origami to children.
---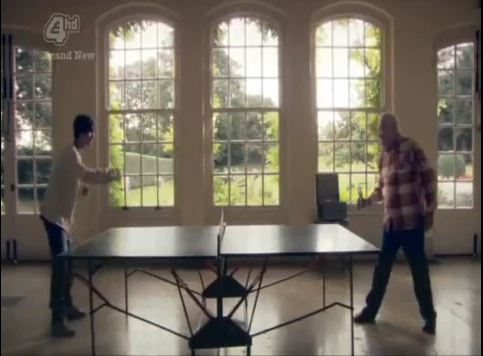 I Just Loved Playing Ping-Pong with my Flexolite Ping Pong Battle
Freddie visits his grandfather at a fancypants home. Grandad can see Freddie's got 'psycho junkie girlfriend' written all over his face and so he leads him off to play table tennis and talk women.
Grandad: Who is floating your boat these days? Still not chasing that Elizabeth one?
Freddie: No, I'm not chasing anymore.
Grandad: So you finally snared her in the end then?
Freddie: She snared me, Grandad.
Grandad: Oh. You'll never get out of that headlock.
Freddie: I just did.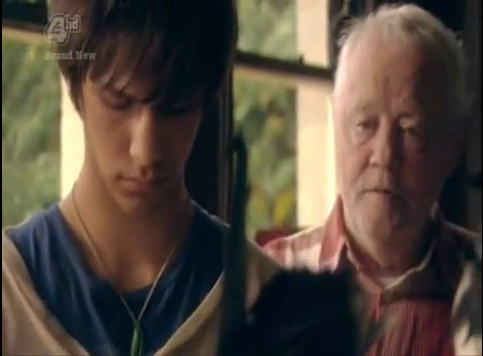 Time for the "You Can't Save Anyone Who Doesn't Want to Save Themselves" Talk
Back in Freddie's grandfather's room, there's a bookshelf full of Freddie's Mom's origami cranes. Apparently "the worse she got, the more she made." Grandad pours him a whiskey straight up, a sweet gesture but seriously he should probably eat a toasted cheese instead.
Freddie: Grandad, when mum was young did you know that she was ill then?
Granddad: The days I spent thinking on that… Maybe I did. Maybe I didn't want to. Memories play tricks.
Freddie: So did hospital make it worse? She did get worse in there, right?
Granddad: It's the chicken or the egg. You never know with the mind. The old invisible universe.
Freddie: We should have been the ones to look after her, without anyone else butting in. We could have, if he hadn't of just given up.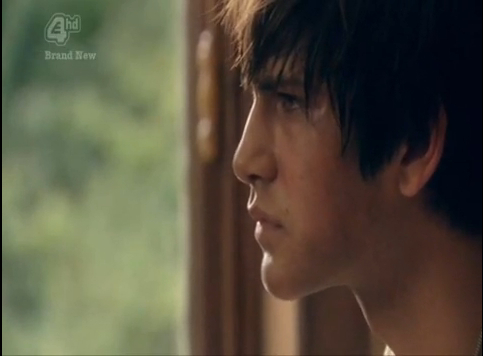 But You'll Fight And You'll Make it Through
Granddad: You can't blame Leo for what happened to your mum.
Freddie: It's his fucking fault, grandad!
Granddad: Anger will help you survive for a while, but then it'll eat you alive. So let it go. Living in the past will only fuck you up. Do what you can now. Forget what wasn't done then.
Freddie's got a really hard decision to make, does he let Effy become someone else's problem, much like he feels his father did to his mother? And risk that the hospital won't fix anything, but only make matters worse, which happens? Does he know that sometimes the hospital makes things better? Regardless living with that fear is f*cking criminal, really.
Or does he chase her straight down that rabbit hole and deal with all of the pain and saddness and suffering that's inside it? He's only 17, really no kid should have to make that decision.
Oregon Trail Comin Through GET OUT THE WAY
He chooses the latter. Effy's voicemail is "It is me, whoever that is. So leave whoever a message."
I don't think Freddie knows who Effy is at this point either, but he's going to try to help her figure it out.
A rickshaw knocks Freddie off his bike. The driver reminds me a little of Mr Fitch, I think it's the accent. Freddie doesn't have time for a broken bike, he "needs to tell someone something," it's gonna be like the last scene of a rom-com and he's going to the airport! Deliver the baby! I mean, kick your bike and yell!
The driver is a smartass. But he is also a smartass with a motherfucking carriage and Freddie has to go tell someone that he is going to take care of them, because maybe he doesn't know yet how hard that really is, that you need more than just devotion. Like maybe Seroquel.
---
HEY-O! Someone's having a party! Thump-Thump-Thump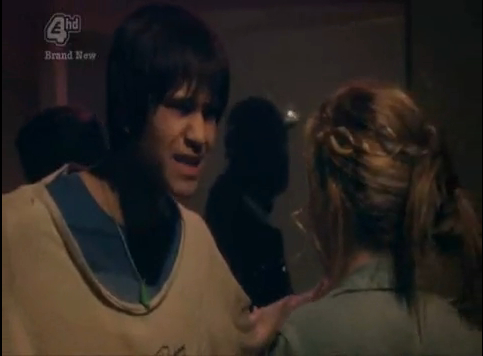 Was it a Facebook Invite or Something? You Know I Never Check my Facebook Invites.
Freddie wants to know wtf is going on. Pandora says there's a guy in the kitchen with his hand stuck in a cock ring and she can't find a first aid kid. Katie delivers a half-second of comic relief with, "I am not mingling with goths!"
Apparently Effy posted the news of the party on the internet. I'm surprised she hasn't already pawned off her computer to buy paint thinner or had it stolen during a long walk to find Jesus.
Panic sets in when Katie points out some graffiti on the wall –
A Distant Ship, Smoke on the Horizon
Pandora walks past Thomas and as he attempts to speak to her, she slaps him. Then she kisses him. Then she walks off. It's kinda sexy.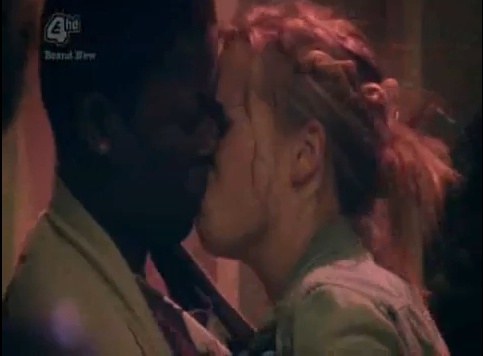 ---
Freddie runs into Effy's room, her collage has grown, there are now pictures of skeletons and darkness and devastation, complimented by words cut out like "loss" and "sick" and "ignore" and most troubling, "death" and "the way out".
Your Filthy Room Your Drama Blues
His trance is broken when Effy's voice comes from out under the bed. WHAT COULD IT BE?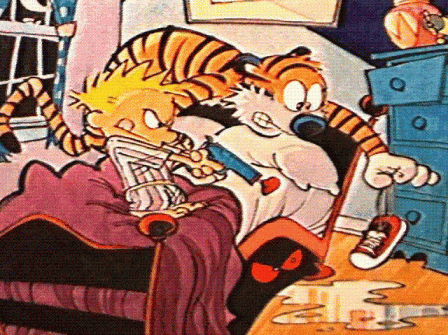 ---
Next:Freddie chases Effy down the rabbit hole, where Katie is dressed like a sexy angel!
Pages: 1 2See entire article on one page