CAMILA GREY/ADAM LAMBERT:

Camila Grey is officially the luckiest lesbian in the world. She's (as far as we know) dating Clea Duvall, she's in a band with Our Lover Leisha Hailey (Uh Huh…Her?) and they make lovely music, she's able to play songs beautifully despite her bangs always being in her eyes, she's very pretty, and NOW SHE'S GONNA BE OUR BOYFRIEND ADAM LAMBERT'S KEYBOARDIST. Uh Huh Her broke the big news on Twitter: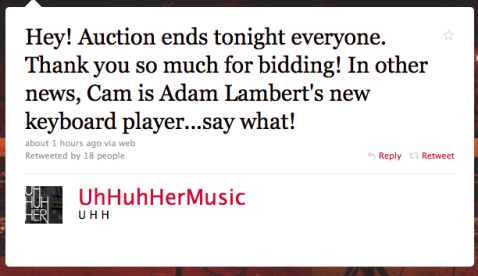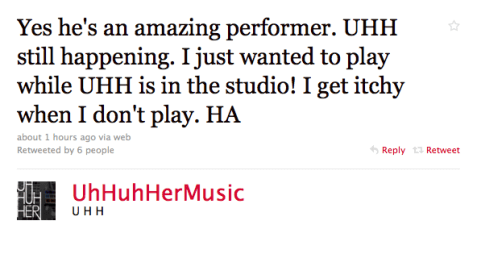 She says to watch out for tour dates! I hope they find a way to synch up Camila's druggie acid-dance of hippie darkness with Adam's glammy sex-dance of screaming darkness, because that would be one hell of a show.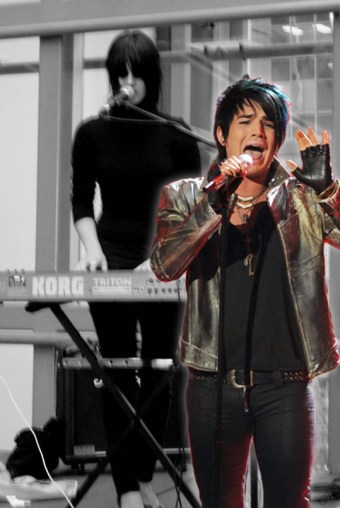 This seals the deal: Adam Lambert is officially a lesbian phenom. Also: this is going to be the gayest band since The Village People! I JK, I JK! I know there'll be only 2-3 gays in the band, obvs they can't hold a candle to The Villlage People.
I mean… we know that Tommy Joe Ratliff the bassist is like "straight" or whatever, but like, if Adam Lambert tongue-kissed me, I would probs become a gay man. That's all I'm gonna say about that except this one more thing; Adam's nickname for Tommy is "glitterbaby." Just saying! Maybe Adam & Cam can go gay clubbing today and make us funny vlogs about it!
Here's the band — and Adam Official has serious deets —
Adam's drummer Longineu Parsons (married, straight) was actually the drummer for emo-punk band Yellowcard. Monte Pittman is also married & straight. Lisa Harrington (formerly of The Smashing Pumpkins — she currently keyboards for Ke$ha) must be who Camila is replacing? Shortly before that photo up there was taken she got her head caught in a fishing net so that might be why.
No but seriously if she is keyboarding for Ke$ha she's probs pretty busy right now.
Here's one of our fave head/explosion pictures, just for funsies! There's Cam! On the far left!
And from our photoblogger Robin's fab photoshoot with Uh Huh Her: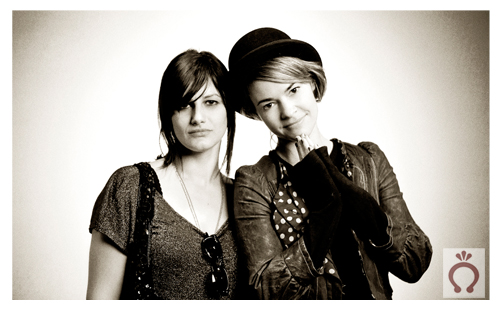 In other Adam Lambert news, he's had a lot of feelings lately, like that he loves Johnny Weir: "I'm glad he's a trailblazer. He's comfortable in his own skin, clearly. And he's expressing himself. I think that's what art's all about."
Furthemore, Adam will be performing on American Idol though the date has not been booked yet. He performed for a sold-out crowd of 3,500 people in his first big solo show last night:
A select group of 600 fans adorned with glitter, black eyeliner and Goth- style outfits packed a two-hour pre-concert party, which was put on by the casino when Lambert fans began talking online about meeting up before the show.
This will come as a surprise, I'm sure, but according to this interview with News of the World, Adam Lambert has done drugs before! Of course he does not now, because That Would Be Bad, but he says "There are certain drugs out there that are really fun and recreational and can mean a good time. I'm not an advocate for drugs but it is all rock and roll and we are all adults." If you read his interview with Rolling Stone twelve times, you already knew that he was sorta tripping at Burning Man when he decided to do Idol. See this is why ADAM IS REAL AND WE LOVE HIM. (@ohnotheydidnt)
GAY MARDI GRAS:

Gay Mardi Gras rocked Australia this weekend with tens/hundreds (depends where you look) of thousands of people coming out to celebrate tolerance and to release the anger & frustration they have towards the Australian Senate which killed a gay marriage bill mere days ago!
The 33rd Annual Mardi Gras Parade, themed "History of the World" featured more than 9,500 people and 125 floats, was lead by Transgender Model Amanda Lepore. Rumor has it that Destiny's Child singer Kelly Rowland and George Michael were in the crowd.
POTTER:
Daniel Radcliffe has agreed to be the "voice of a gay suicide prevention charity." He says ""I've always hated anybody who is not tolerant of gay men or lesbians or bisexuals. Now I am in the very fortunate position where I can actually help or do something about it. The fact that I'm straight shows that straight people care a lot about this as well." He did not mention anything about making out with Draco Malfoy, which was weird, but whatever. Also, here is a picture of him where he looks like a robot. (@newsoftheworld)
GAY BOWEL SYNDROME:
By itself, the fact that Tea Partier and Republican congressional candidate Barb Davis White announced that "Rosa Parks did not move to the front of the bus to support sodomy." is not that funny. But when you read on and find out that in the same speech she said gay marriage should not exist because "gays and lesbians have higher rates of STDs than anyone else in the world, including gay bowel syndrome, it does get kind of funny, yeah. Maybe she can take something for that. (@pamshouseblend)
CHRIS ROCK:
We like Chris Rock! He is funny and also smart. So we were excited to find that he appeared on Bill Maher's show for a surprise discussion on healthcare! "Rock… [compared] the Republicans' opposition to the health care reform to buying a first class ticket on an airplane and sitting next to someone to who got a free upgrade from coach. "Republicans are like, 'How the hell you gonna sit next to me and you didn't buy the seat?'" Watch the full video here.(@huffpo)
SAD:
You guys! Look at this thing we found! Sad Magazine is a publication out of Vancouver, BC that looks really awesome, and we're kind of in love with it. Maybe because they kind of sound a lot like us, in a way? "Sad Magazine was going to be a place where we could publish work we were truly proud of — the kind of stuff we couldn't pitch to our editors or clients because they just wouldn't get it." They're nonprofit and entirely volunteer-run, and they're accepting submission from everyone from writers to graphic artists to stylists. Make it happen!
NICKI MINAJ:
Remy Ma is protesting too much: "She told the Jenny Boom Boom show, "I'm not gay, how would I have sex (with) Nicki Minaj ? No, I never had sex with Nicki, anybody. I've never done girls ever in my life and I never would. Actually, that video came out years ago. I was home ; actually, when it first surfaced, and I don't know who that is. I don't even know what the logic was behind that."
RECOVERY:
There are a million articles about young anorexic girls on the internet, and it's nice to finally read one about the other side. Constance Barter almost starved herself to death at 14, but now at 17 she says "My main hope is to provide hope and inspiration to other young sufferers," she says. "And to show it is possible to make a full ­recovery. I have a very strong belief that I will never return to anorexia… My life is so much more fun and free without it." (@guardian)
SUSAN MILLER:
Anyone But Me's Susan Miller is going to be on The Stupid Cancer Show TOMORROW, March 1, at 9 PM EST. Tune in for "Sex and the C Word – I've Had Them Both!"
LILO:
Remember when everyone was all "Why wasn't Lindsay invited to the Fashion Week show, she must be so sad?" Well f*ck all y'all, because she was at the Milan Fashion Week Womenswear Autumn/Winter 2010 festivities on Saturday night and she looked bangin'. (@ohnotheydidnt)