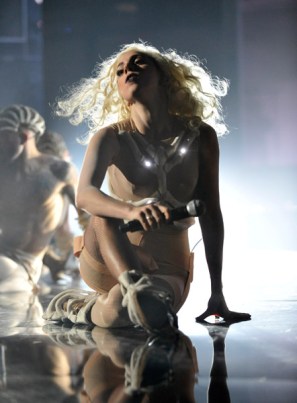 By early reports, Lady Gaga's second album The Fame Monster is quickly cementing her position as the decade's greatest pop star. And then; on November 22's American Music Awards, Lady Gaga performed 'Speechless' and 'Bad Romance' and these performances were exceptional. The AMA's cemented our suspicion that Lady Gaga is here to stay, and that we can expect further innovation and subsequent success from her forever & ever.
Lady Gaga's hair was down, literally. Her first costume was flesh & bone and her second was the same but consumed in smoke. There was a violinist in a glass cube, and a bottle broken on a piano and things lighting on fire.

At one point you realized that Lady Gaga never does it the same way twice. Essentially Gaga's brilliant songs are merely the soundtrack to Lady Gaga: The Performance (as explained in The Theory of Gaga by Bernard, Wooley, Choo and Casino 2009), as saucily suggested by the Gossip Girl Lady Gaga-scored Snow White musical campily paraded in prime-time last week — and what pop star at the height of their career subjects themselves to that? Lady Gaga! Because she's an equal opportunity performer, finding value in every stage on every set.  She goes through incredible effort to assure universal access to Lady Gaga; The Performance, which is unique for an artist of her style. She's appeared on just about every award or talk show and performed just about everywhere in the world. She has made herself impossible to forget for over a year of the kind of 'round-the-clock monitoring pop stars are subjected to in the age of twitter and technologies.
Sometimes the most amazing thing about Lady Gaga is how all stages are created equal for her. I mean, The American Music Awards? Do people normally watch this show? Would you watch it if twitter didn't exist? Did Taylor Swift win anything? Anyhow, it's probs a lovely show, but it's not on the edge of anything.

Lady Gaga chooses the most random places to parade indecipherable outfits (Ellen, assorted obscure German television stations) and to perform her greatest performances yet — the fact that people still consider her MTV Video Music Awards performance underwhelming blows our minds. That whole MTV VMA performance thing felt like a Kathy Acker-directed play called "Performance at the Awards for Videos Created for Music Television by Stunning pop star," and "Speechless" and just now on the American Music Awards she one-upped the masterpiece by making us feel something so hard you accidentally started crying. "Speechless" felt like something that would make the panel of Dancing With the Stars not just cry superficially in self-congratulatory pandering but probs flood the studio, Pharoh-style, with their genuine reaction, even if there wasn't much dancing.
The question is if it still counts when everyone can see it, and the second question is, "who cares if everyone can see it."
See for yourself:
Do you see that she's just as likely to give this performance at your cousin's Bar Mitzvah, had you hired her, which obvs you did not. I personally had a DJ named Party Time. [Also, she speaks out against homophobic/misogynistic rappers.]
Also, we know you saw Adam Lambert's closing sexually-charged performance of "For Your Entertainment" and have many many conflicting feelings about it. Right? So do we. Firstly, I like the song even better now! And you can't forget the song when evaluating the performance — he's taking a phrase generally used to describe family-friendly circus acts and turning it on its head by giving head.
Secondly, I don't even know where to begin. He fully shoved a male dancer's face in his crotch! (Although ABC cut away mid-oral sex simulation with the male dancer… which is weird only 'cause the female one was left in.) He was totally like Sex God Lord of Darkness Holy Motherfucking OMG!
Will Lambert create a Britney or Madonna-esque scandal? According to Rolling Stone there was even a mirrored prop so the audience could see the look of shock (and horror?) (and awe?) on their own faces. Amazing.
Sex you guys! SEX! SEX FOR YOUR ENTERTAINMENT. Lady Gaga did death, btw, and then Lambert did sex. They switched it up tonight.
If the media/press/America doesn't get it at this point, perhaps they never will: this was the big "eff youuu" to everyone that wanted to push the issue of his sexuality front and center and a kind of gloriously glittered response letter to those who challenged him fairly. Something doesn't need to be GAY to be — you know — gay — after all.
He is making you like a queer sensibility and surrender to its power during a media-saturated era of oft-dashed hopes, and so is Lady Gaga, so maybe this is the year you start to love the rowdy inverted stereotype you've always had of us. Because music is supposed to be about deviance, and that means pop music too — fuck bubble gum.
Photos from the event, including Adam Lambert, Janet Jackson, Melissa Etheridge, Kelly Clarkson and more …
You can download Lady Gaga's The Fame Monster (Deluxe) [Explicit] and Adam's For Your Entertainment (for $3.99!) today, November 23rd!
+