Have you ever wondered where the Reddick of Reddick, Boseman & Kolstad is? I have, each time I have to type "Reddick, Boseman & Kolstad." And I always felt a little strange typing the name over and over without knowing who the person was. Well, not anymore. Because the Reddick of Reddick, Boseman & Kolstad is now very much here.
In fact he is enthralling the entire office with a speech about fearlessness and fighting injustice and opposing an "out of control president." He is being played by none other than Louis Gossett Jr., who I almost didn't recognize without his moustache.
Everyone seems thrilled to have Carl Reddick leading the pep rally, except for Adrian. As the second name on the wall, he knows having the first name show up can only mean trouble. And, as if on cue, Reddick asks to talk with Adrian so he brings Barbara and Diane with him as backup. Diane is like, "Who me? Oh no – my name still isn't on the wall yet even though I brought in that $86 million account from Mr. ChumHum, who now dislikes me for calling him out on his shitty intentions. You know what, it's complicated."
Reddick proceeds to lay into Adrian about losing the firm's founding principles. Barbara says they're still fighting the good fight, which – wait, is there a rule about saying the show's name in the middle of dialogue like that? Diane excuses herself because part of checking your privilege is knowing when you should butt the hell out. In essence, Reddick vs. Boseman boils down to old-school purely noble intentions versus newer sensibilities with slightly less noble intentions but a whole boatload of money. I mean, I've had noble intentions before. But I've never had a boatload of money. So I say let's let this thing play out and see who wins.
Just then Pastor Jeremiah, an alum Diane knows from The Good Wife, arrives asking them to help him evict a tenant at his halfway house. Um, do lawyers normally do that for people? Adrian wonders, too, but Diane says she'll do it as a favor. She takes Jay and Maia with her because, again, I have no idea. But I like this combo, a lot.
On the way Jay asked if they're expecting trouble and Diane replies, "I don't think so." So of course, that's exactly what they find. There is a rule about that; I looked it up. The little "favor" turns into our litigation of the week – or at least threat of litigation of the week. The tenant, named Paul Johnson, claims Pastor Jeremiah has been forcing him to have sex. That turns into an allegation that the pastor raped him when he was 17, which he will make public if he doesn't get "money and a lot of it."
All of this news is delivered by Paul's chocolates stealing and Harvard-hating lawyer, Gabe Kovac (played by Fisher Stevens). Hey, remember when he wore brownface to play an Indian computer scientist in Short Circuit and Short Circuit 2? Good thing diverse representation in entertainment and whitewashing isn't a problem anymore, right?
Anyway. He leaves after more bumbling threats and making a weird pass at Marissa while talking about eHarmony. Do they still not let queer people on that site? Or do have they kept that weird separate but totally not equal site for us? Diane deadpans a perfect, "Wow" afterward. I mean it, someone gif that for me.
So now Colin and Lucca are on their art gallery date. He had promised to go down on her in the bathroom to get her there. Yeah, that's cool and all. But can we save like even one-tenth of the dirty talk on this show for Maia and Amy? Like it doesn't even have to be super dirty talk, just more than her handing her girlfriend a drink and disappearing again.
Otherwise, you know, that whole thing where you ran prominent promos featuring these two women in bed and these two women in the shower together and these two women fending off a sex scandal would seem, what's the word – baity, it would seem queerbaity.
Just as I'm starting to get really bored by the whole Lucca/Colin sexy but scared of intimacy thing, who shows up but Colin's mother, Francesca. She is played by Andrea Martin, who has made a career of late playing wacky family members. Colin makes introductions, but forgets Lucca's last name. Oh, hellllll, no. You look uncomfortably like Paul Ryan and you can't remember the full name of the goddess standing next to you? A curse on both your houses. Again, he's wealthy, so I wanted to make sure I covered all my bases.
Colin's mom is at the show with her new attorney, the Jimmy Cagney-looking rapping lawyer. And, in case you were wondering, he is still awful. He and Colin's mom commiserate loudly in front of Lucca about "what Trump is doing." Francesca then invites Lucca to his birthday party, which Colin had conspicuously not invited her to, or even mentioned. That's two, two strikes for you buddy.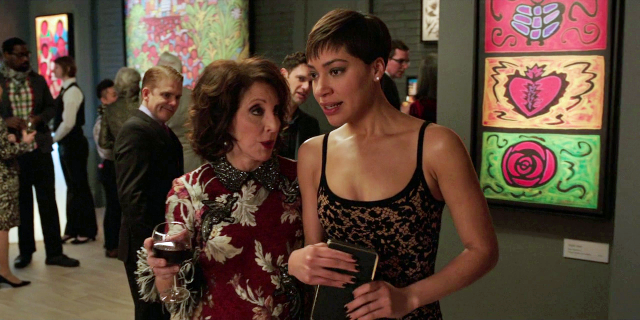 Back to the pastor's case, the firm is deciding whether they will take it or not. Adrian argues with Reddick about its merits. Adrian doesn't believe Pastor Jeremiah and certainly doesn't want to be caught on the wrong side of another pastor sex scandal. But Reddick invokes some article that puts the firm's leadership to a vote. In other words, let the politicking and power playing begin.
Diane goes to see Kovac, whose law office is above a cheap beauty salon with a neon sign, as you'd expect. He is disappointed Marissa isn't there, but decides he'll make do with Ygritte the Wildling. They are there to inform him, in between his rounds of Candy Crush, that they won't be giving him any money. He mentions that they "keep sending out white lawyers," which is both true and a weird thing to bring up. But then he hits them with some incriminating looking security footage of the pastor entering Paul's room at night and leaving half an hour later. He embellishes what could be happening during that time with some truly disgusting sound effects.
So now they've got the video evidence to confront the pastor with, which he explains away as giving him a drug test. Jay then discovers almost an hour of footage is missing from the surveillance video. I gotta tell ya, things look not great for the pastor. Also, this is an interesting episode because it questions our allegiances with sexual assault allegations.
This is, obviously, a fraught subject, but I would be remiss if I weren't to mention how incredibly rare false reports are, particularly criminal reports. According to the National Sexual Violence Resource Center, only between two to ten percent of reports are false. In contrast, an estimated 63 percent of sexual assaults are never even reported to police.
Right, so back on the investigation, Jay and Marissa are reviewing the surveillance video again when Marissa notices something. Paul is wearing a Fitbit. And, because they are part of the fitness program at the home, the data is readily available. So they check it and, wouldn't you know, the pastor's pulse went down during the time he was in the room with Paul. I mean, I know (consensual) sex can be relaxing and all – but not that relaxing.
Marissa's discovery convinces Jay to sponsor her for a detective's license. I'm not going to lie, I would watch the shit out of Jay & Marissa's Special Detective Agency.
Maia is reviewing the new findings with the group when Amy shows up. Yes, it's Amy again. I swear to God, if she just hands Maia a rum and coke and leaves I'll scream loud enough to wake all the Dead Lesbian Syndrome victims. Luckily, she isn't there to deliver a beverage, unluckily she's there to alert Maia to her dad's possible impending suicide.
Maia had been avoiding him, but now when she calls no one picks up. So they rush off together. At the Rindell estate, Henry is getting neatly dressed while listening to "I'll Fly Away." He finally picks up and Mia pleads with him, but he hangs up on her without a word. She then calls her mom, and tells Amy to try Jax's. This seems to puzzle Amy, which in turn puzzles me. Wouldn't Maia have told her about her mother's possible affair with her uncle long ago? Like, isn't that what couples do?
Meanwhile, Henry heads to the barn where he plans to hang himself with a garden hose. But then, as he goes to throw the rope over the rafters, he falls over the railing instead. Don't worry, he lives.
When they finally get there they find his suicide note and him on the barn floor. He begs them to cover up his suicide attempt so his bail won't be revoked. Maia obliges and cleans up the evidence before the ambulance arrives. Still, who checks the roof in a suit? Or is this a normal cover story for the rich?
Lucca and Colin have shown up at his birthday bash. Half the guests immediately start trying to commiserate with her about how bad Trump is. Then the other half expects her to be the definitive voice on all things concerning black people. And also to see if she knows Jay Z. Poor Lucca, it must be truly, truly awful to become the vessel for so much overcompensating white guilt and/or uninformed white obliviousness. Plus, you know at least half those people voted for Gary Johnson or Jill Stein anyway.
Lucca excuses herself to get a well-earned drink, or twelve, when Mini Cagney shows up and starts asking about rap lyrics. The amount of self-control it must have taken to not smash that glass over his head is truly commendable. But then he starts blabbing about what great arm candy she makes for Colin now that he is going to run for senator. Then he calls Lucca a steppingstone to office, the hot black girlfriend. "It's like de Blasio!" he chirps.
Now I don't feel sorry for Lucca, I feel rage for Lucca. This is some Grade-A horribleness right there. She leaves the party in a rush, telling Colin it's just lawyer stuff. She has called herself a Lyft, because they're not Uber. (Though, side note, corporations should never, ever call themselves "woke.")
At the hospital, Maia's dad has been bandaged up and Lenore arrives, trailing Jax. Maia tells her she has to end it, but her mom continues to say it's not what she thinks. But then Maia whips out her dad's suicide note and reads her part of it, which I would say is pretty high on the emotionally devastating ammunition charts. This finally pushes her mom to tell Jax "It's over," if my lip reading is any good.
Diane goes back to Kovacs to present their FitBit evidence, a phrase I could never have imagined typing ten years ago. But he counters with a claim that Paul can identify a birthmark on the pastor's penis. Easy to verify or disprove, right? Wrong. Pastor Jeremiah vehemently refuses to disrobe for the case. He fought too long for the dignity and respect his forbearers were denied. And he's not wrong. So the partners advise him to settle.
But before they do they decide to dig into Kovac a little. They find a woman who had sued him for assault a few years ago. She can't talk about the case, but does tell them his company made her sign it. You see, he was working for an alt-right cause. Come on, folks, just say it. He was working for racists.
So, now armed with this new information, they threaten Kovac back with disbarment for his clear conflict of interest. You see, the whole lawsuit was a sham being funded by the alt-right group to embarrass the good reverend. Kovac leaves in a hurry, followed by a trail of laughter. Admit it, it feels good to punch a Nazi, even if only symbolically.
Not laughing, or punching any Nazis, is Colin who is confronting Lucca about her ghosting him. She says she's busy, they had their fun and now their relationship has run its course. He leaves confused. And then Lucca sits in her car and sobs silently. I don't have anything funny to say here. I really, really don't.
The vote has finally arrived. Jay's secret headcount reveals Adrian is up by one. But then Julius Cain takes his seat. See, plenty of time to change his name to Brutus before he leaves the firm.
The vote tally is 12 Reddick, 11 Boseman. But Barbara pipes up that she hasn't voted, and casts her ballot for the future with Adrian. So now it is tied. A disgruntled Reddick says that's the problem with the world, "You think the fights are different. But you're wrong. They're exactly the same." And, you know what, they're both right. People need idealism and pragmatism to get things accomplished. Dreams take work. Success needs meaning.