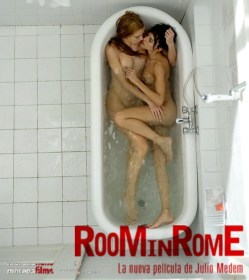 ROOM IN ROME:
Yes. We're behind. Usually it literally kills us to be three hours behind on any story of import (surely there is some reward for our slavish computer devotion?), but we admit it we are F*CKING BEHIND on Habitaciòn en Roma aka Room in Rome, the sexiest trailer to ever hit our lesbian eyes since pretty much forever.
We're behind because we did not believe this film and this racy trailer was possible, surely all these enthusiastic links were directing us to something Better than Chocolate-esque.
Mainly we assumed anything this NSFW would also be hopelessly corny, not directed by the smart subtitled dude who directed Sex and Lucia! It's one of the Most Anticipated films of the year! And we're daring to speak of it just the same, even late, because it's that important! Here's what Heather at AfterEllen said when she talked about it ohhhhhh over a month ago:
I am going to tell you about Spanish director Julio Medem's new film Room in Rome (Habitación en Roma), and when I do, you are going to go on a clip-watching, YouTube-prowling, Google-searching frenzy; so I have to warn you that 73 percent of clickable Room in Rome content is super-duper NSFW — including the trailer I've linked to at the end of this post.
+
According to Chud.com: This movie is coming to America in 2010 from IFC. You can be happy, since they have a day and date video on demand policy, which means you can rent it on your cable system and whack it discreetly at home.
Also, hey, we have NEW NEWS ABOUT IT: Julio Medem will be in the spotlight at the 13th Malaga Spanish Film Festival, which will close with the world premiere of his film Room in Rome. Moreover, the Basque director will receive the Retrospective "Malaga Hoy" Award, which will be accompanied by a retrospective of his works.
I mean are we ok with situations like "I love you, but I love men more?" Is that the sacrifice we are willing to make? Here's a bit more info (albeit with a livejournaly tone) from IONCINEMA
This is a remake of Chilean Matias Bize's "En la cama" and sees two strangers (Anaya and Natasha Yarovenka) who meet and spend a passionate physical encounter in a hotel room. The original film was a man with woman encounter.
Here's the long synopsis: Early summer. A hotel room in the heart of Rome. Two young women who have only just met travel together on an intimate, passionate physical journey that will mark their bodies and souls deeply. The story unfolds over twelve hours, through the night and into the early morning, before each woman departs, Alba to Spain, and Natasha to Russia.
The room seems always to have been waiting for them. Its ancient walls exudes a magical atmosphere heavy with sensuality and ripe with endless erotic possibilities. As Alba and Natasha enter into the unknown, intense new feelings are awakened, and a natural understanding between them grows giving rise to comic as well as powerfully intimate moments, before the unexpected arrival of love pierces them.
At first they hide, cautious, protecting themselves. Slowly they allow themselves to be borne away, each into the unknown terrain of the other, yet never abandoning the honest love felt for their respective partners – in Alba's case, a mother of two, in Natasha's, the man she is due to marry in one week… Until at last both find themselves transfixed before a completely new truth, a shared abyss, a secret kept in a hotel room in Rome. A true freedom to do whatever they most fervently desire.
SEX.COM:
Sex.com is for sale: Sex.com domain, the most valuable domain name in the universe, is heading to the auction block. Starting bid is $1 million. (don't you wish you'd bought it in the 90s? You'd be really rich now, even just from google adsense!) Well now you can buy it if you have like 14 million dollars handy. (@salon)
GIRLS IN THE BATHROOM:
Uh, just two girls making out in the bathroom. (@drivenbybordem)
COLOR:
The Erotic Lesbian Coloring book needs your help. (@illustrosity)
KISSES:
In 2008, this dude website made a list of their Top 22 Favourite Celebrity 'Lesbian' Kisses and they have videos so I don't know, you might still really like it. (@hecklerspray)
SEX ADVICE:
Sex Advice From People on Chatroulette (@nerve)
I'm in a monogamous relationship, but I like jerking off with people over the internet. Is this cheating? Should I tell my partner?
Definitely don't tell your partner. You are creepy, and if they haven't figured it out yet, telling them is just not going to help the situation.
MINDBLOWING:
"This is about the first time I had sex with a guy, after I'd finally started having sex with women: And it's about how having sex with women radically changed the way I have sex. With everybody. Men, women, everybody." (@blowfish)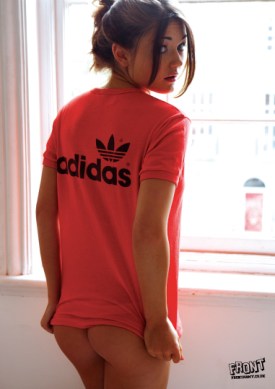 DO IT TO YOURSELF:
The hard stuff has gotten boring for many people. A new site where real people submit videos of their faces as they come shows a different direction for porn: All about Beautiful Agony. (@sexis)
GLEE:
Is this even like legal, somehow it just feels wrong: Hustler Video announced open casting for "This Ain't Glee XXX," the latest video in its "This Ain't" parody series. They are looking for adult performers with a background in vocal performance or who possess excellent singing abilities. (@xbiz)
Is it weird that I miss GLEE so much I actually would maybe watch that movie?
LESBIAN SEX ADVICE:
AskMen.com has recruited two actual lesbians (authors & lovers Dr. Joni Frater and Esther Lastique, authors of Love Her Right: The Married Man's Guide to Lesbian Secrets of Great Sex!) Top 10 Lesbian Sex Secrets!
They suggest a night of mutual masturbation, watching porn together, playing with toys "and sexual enhancements," and advise that you don't "just thrust away," "don't underestimate the power of breast play," "kiss her more often during intercourse," "compliment her on her genitalia," "become an expert on female anatomy" and to "never underestimate the power of oral sex." Their number one tip – "she has to climax at least once before intercourse" seems well-intentioned, but also a bit um, a little discrediting towards the 71% of women who can't always orgasm with their partners.

CURLING:
Photo Gallery of the Women of Curling: "Canadian curler Cheryl Bernard is one of the women featured in a new, very sexy calendar called "The Women Of Curling." The 36-month calendar features a number of female curlers posing nude or nearly nude. The photos were taken by fellow curler Ana Arce. Here are some of the photos from the racy calendar, which give me an entirely new appreciation for the sport of curling." (@examiner)